I've compiled a list of my Recommended Reads for 2011 – Happy Reading!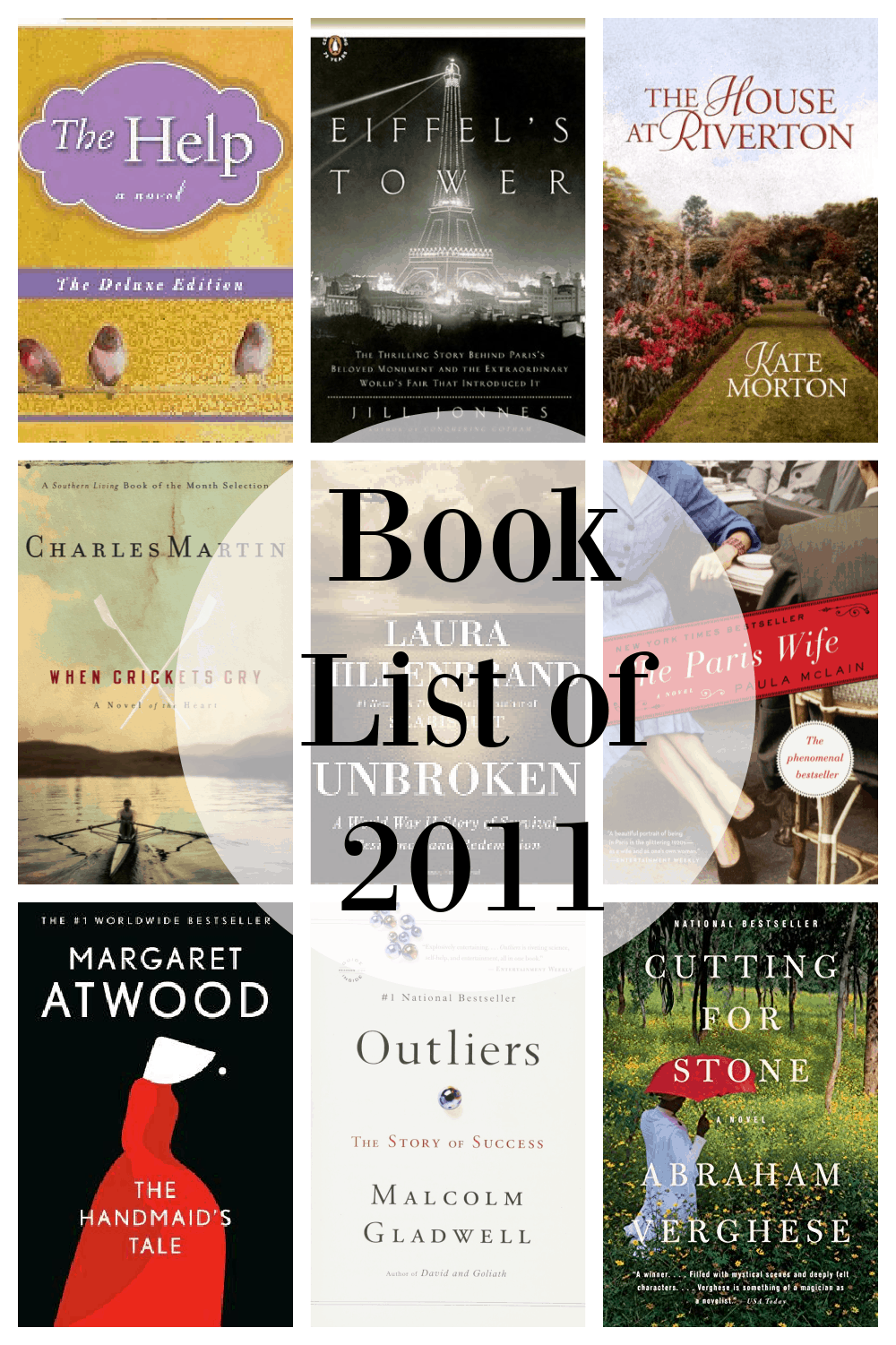 Several of you have been asking when I was going to post my list of books read in 2011 – so here it is!!
You may also want to check out my book lists from 2010, 2009, 2008.
I only read 42 books this year, down from 53 books last year but I think I should get extra credit for reading all of Harry Potter. Those are some big books!
As I said last year, just because I read the book doesn't necessarily mean I recommend it although usually if it is on my list it's worth reading. If a book ends up with too much language or sexual content I will stop reading it and those books are not on the list. But my list is not G rated. Using movie ratings, the books on this list range from G rated to PG 13. So I highly recommend that you consult this great site – Rated Reads before you read the book to make sure it is something you want to read.
This year I have given the books I read a rating system (1-5 stars) There are no 1 stars on the list because those are the ones I didn't finish. The lowest score that made the list was a 2.5.
We need to take personal responsibility for what we read and watch and we all have different standards so please be sure and check things out. Although the majority of what I read I would consider rated PG there may a few books that I have read that don't meet with your personal standards so please be a responsible reader. I don't want to offend anyone.
2011 was the year I finally read Harry Potter. Yes, believe it or not I had only read the first one but I can now proudly say I have read the entire series and watched each of the movies. I must admit I enjoyed them more than I thought I would and I was so sad when Dumbledore died. I kept hoping it really wasn't true. I now have a list of Dumbledoreisms that I love! I am not even going to attempt to rate the Harry Potter books – how do you rate a classic? But there definitely are some I enjoyed more than others and to be perfectly honest with you they have all run together in my brain!
Picking my favorite book of the year is difficult and quite a responsibility. This year there were a couple. Of course, like many of you I loved The Help but hesitate to pick it as my favorite because it is such an "expected" choice. I loved it though and loved the movie almost as much.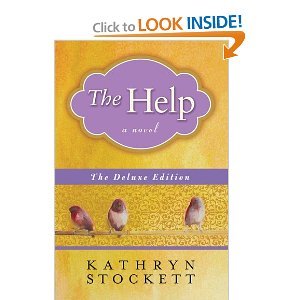 My husband is not as big a reader as I am so when he started reading this next book and couldn't put it down I knew it had to be good. He gets up very early for work but he would stay up past his bedtime to read. He couldn't wait for me to read the book but I had to wait to get to the top of the waiting list at the library. That book was Unbroken – a sometimes difficult to read but beautiful story of endurance, strength, survival, and redemption. I loved it and it is one of my two top picks.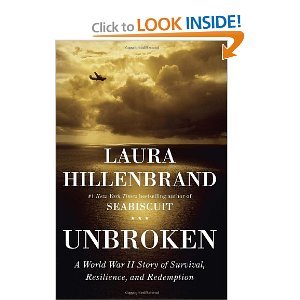 As always, I LOVE to hear what you have been reading. Please share with me what your top picks for 2011 are and what you're reading right now and loving!! Just leave a comment below.
My 2011 Book List
Ape House by Sara Gruen (2.5) Probably my least favorite book of the year but I did finish it. I had read Water for Elephants and really enjoyed it but this one was a disappointment. Guess I just don't like apes.
Come, Tell Me How You Live by Agatha Christie Mallowan (3) If you have ever been an Agatha Christi fan you may enjoy this story of part of her life. It is not a book I would have picked up on my own but read because it was a book club pick and really enjoyed it.
When Crickets Cry by Charles Martin (4.5) Loved this book and want to read more of his work.
The Cookbook Collector by Allegra Goodman (3)
Harry Potter and the Goblet of Fire
Harry Potter and the Half Blood Prince
Harry Potter and the Order of the Phoenix
At the Little Brown House by Ruth Alberta Brown (3.5) A sweet G rated read
The Help by Kathryn Stockett (5) Almost loved the movie as much as the book
Once Upon a Time, There was You by Elizabeth Berg (3) Not my favorite Elizabeth Berg book.
A Jane Austen Education by William Deresiewicz (3.5) Interesting view and interpretation of Pride & Predjudice
Harry Potter and the Half Blood Prince
Harry Potter and the Deathly Hallows
Ten Thousand Sorrows by Elizabeth Kim. (2.5) Did not enjoy at all but kept reading because it was for book club.
Peach Keeper by Sarah Addison Allen (4.5) Love all her books. Hope she writes more!
The Double Comfort Safari Club by Alexander McCall Smith (3.5) Don't enjoy these as much as I did the first ones but I keep reading.
The Paris Wife by Paula McLain (4) Watch the movie Midnight in Paris after reading this book. Story of Ernest Hemingway during his Paris years.
Viola in Reel Life by Adriana Trigiani. (3.5) This is young adult fiction. Love all of her other books better.
The Element by Ken Robinson (3.5) non fiction
The Go Giver by Bob Burg and John David Mann (4) non fiction
The Recipe Club by Andrea Israel & Nancy Garfinkel (2.5) Not worth reading but there is a recipe at the end of each chapter.
Dreams of Joy (Sequel to Shanghai girls) by Lisa See (3.5 – rape scene may be offensive)
The Saturday Big Tent Wedding Party by Alexander McCall Smith (3.5) Again, read because I've read all the others.
A Year on Lady Bug Farm by Donna Ball. (4.5) First in the series of three. A delightful, easy read.
The Happiness Project by Gretchen Rubin (5.0) A book club but I would have read it anyway. Highly recommend
The Great Divorce by C.S. Lewis (4.0) My son's favorite CS Lewis book.
At Home on Lady Bug Farm by Donna Ball (4.5) Enjoyed as much as the first
Love Letters from LadyBug Farm by Donna Ball (4.5) Was sad this was the last in the series
Distant Hours by Kate Morton (4.5) Really enjoy her books – a little Gothic Romance
I Still Dream of You by Fannie Flagg (3.5)
Eiffel's Tower by Jill Jonnes (3.5) Interesting history of the Eiffel Tower. Similar type book as Devil in the White City but didn't like it as much as Devil.
Cutting for Stone by Abraham Verghese (4.5) My third favorite book of the year
The Persian Pickle Club by Sandra Dallas (3.5) Nice story of women supporting each other.
The Lost Symbol by Dan Brown (3.5) Not sure why I waited so long to read this one.
Keys to the Castle by Donna Ball (3.5) Fun, easy read. Wish someone would leave me a castle in France!
Outliers by Malcolm Gladwell (4.0) non fiction
Heaven is for Real by Sandra Dallas (3.5) non fiction, story of life after death. Interesting.
The Little Prince by Antoine de Saint-Exupery (4.0) I read it in English than time. In French the first time years ago.
Summer Rental by Mary Kay Andrews (3.0) A beach read
Unbroken by Laura Hillenbrand (5.0) Parts were difficult to read but overall an amazing story and book.
The Handmaid's Tale by Margaret Atwood (4.0) Not my typical genre (dystopian) but enjoyed it more than I thought I would
The House at Riverton by Kate Morton (4.0) Have read all of her books.
The Book of Mormon – A yearly read for me.
So share with me your favorite reads of 2011!