Sharing my 2009 Book List of everything I read this last year.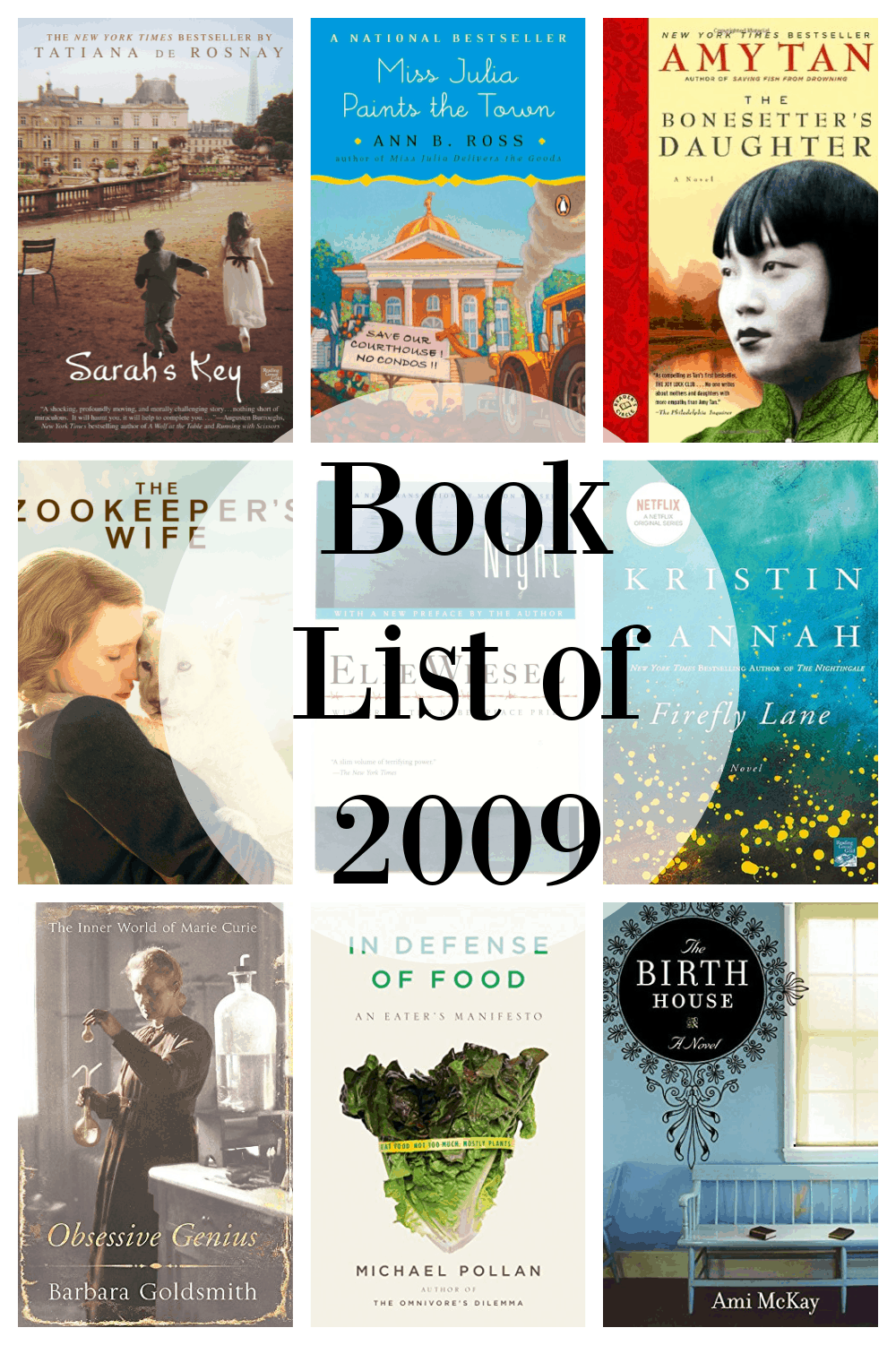 Some of you may recall that one of my goals for 2009 was to read 50 books.
In 2008 I set a goal to read 100 books and I read 32 books. I am thinking 100 books was just a little bit unrealistic for me.
So this year, 2009, I decided to be a bit more realistic and I set my goal at 50. I did better this year but didn't quite hit the mark. I tried and read a lot of great books along the way but only made it to 40!
So today I am sharing the list of books I read in 2009 and my Top Pick for 2009.
Last year's (2008) Top Pick was Molokai a piece of historical fiction that dealt with the leper colonies over in Hawaii. I highly recommend it.
My favorite genre of book by far is historical fiction so it is no surprise that this year's Top Pick is also historical fiction.
This year's top pick is Sarah's Key. It takes place in France and tells the story of the round up of the Jews in Paris during WWI. A tragic and sad story but fascinating and well written.
I hope you'll enjoy the list and maybe find a few new books to add to your To Read List. I'd love to hear what your top read for 2009 was.
And for my goal for 2010 – I think it will be to just read more books in 2010 than I did in 2009. I am going to make it this time!!
Leigh Anne's 2009 Reading List
1. Slowing down to the Speed of Life – Richard Carlson
2. Benjamin Franklin – Walter Isaacson
3. Miss Julia Paints the Town – Ann Ross
4. Night – Elie Wiesel
5. The Book of Unholy Mischief – Elle Newmark
6. Knit Two – Kate Jacobs
7. Firefly Lane – Kristin Hannah
8. The Bonesetter's Daughter – Amy Tan
9. Obsessive Genius – The Inner World of Marie Curie by Barbara Goldsmith
10. Change of Heart – Jodi Picoult
11. Entre Vous – Women's Guide to Finding Her Inner French Girl – Debra Olliver
12. Things I Want My Daughter to Know – Alexander Stoddard
13. Reality Check – Guy Kawasaki
14. ProBlogger – Darren Rowse
15. Very Valentine – Adrianna Trigiani
16. In Defense of Food – Mark Bittman
17. Wednesday Letters – Jason F. Wright
18. The Piano Teacher – Jamie Lee
19. Moby Dick – Herman Melville
21. Nothing Like It in the World – Stephen Ambrose
21. Astrid & Veronika – Linda Olsson
22. The Birth House – Ami McKay
23. The 3 big questions for a frantic family – Patrick Lencioni
24. The Boy in the Striped Pajamas – John Boyne
25. The Zookeeper's Wife – Diane Ackerman
26. Comfort Food – Kate Jacobs
27. Hotel on the Corner of Bitter and Sweet – Jamie Ford
28. Home Safe – Elizabeth Berg
29. The Rule of Four – Ian Caldwell
30. Tea Time for the Traditionally Built – Alexander Mc Call Smith
31. Not Becoming My Mother – Ruth Reichl
32. My Antonia – Willa Cather
33. Shanghai Girls – Lisa See
34. Sarah's Key – Tatiana de Rosnay
35. The Story of Edgar Sawtelle -David Wroblewski
36. Traveling with Pomegrantes – Sue Monk Kidd
37. Twenties Girl – Sophie Kinsella
38. Olive Kitteridge – Elizabeth Strout
39. Knit the Season -Kate Jacobs
40. The Book of Mormon
What's your Top Pick for 2009??