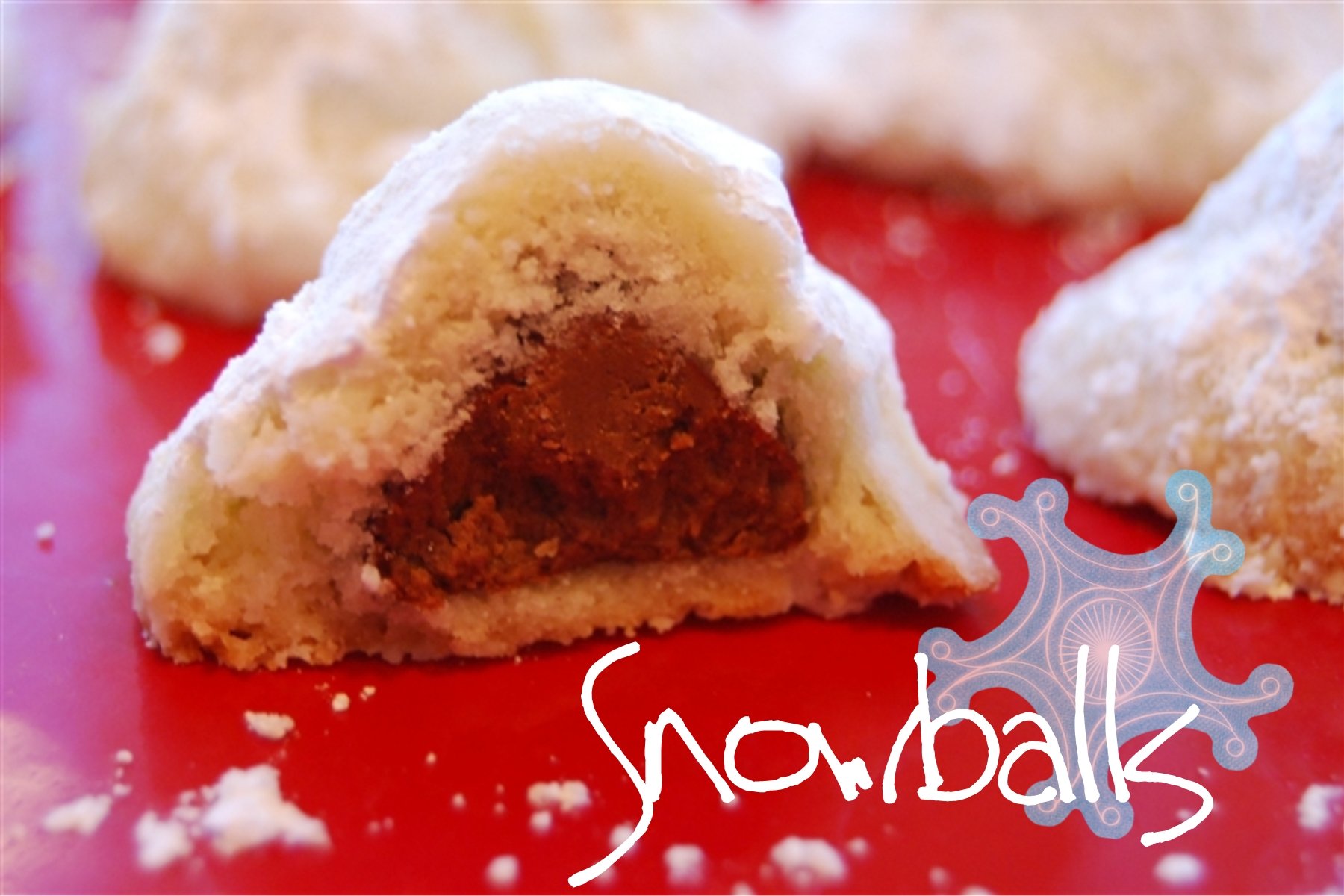 I love surprises!  I especially think it's fun to bite into a cookie and find something you didnt' expect (as long as it is some form of chocolate!)  This week I had the girls from my church class (14-16 year old girls) over for a holiday cookie baking night.  One of the girl's moms (thanks Claudia!) taught them how to make some fun Christmas cookies and one of them I just have to share because it was so good – Snowballs.  The best part of this cookie is that hidden inside is a Hershey Kiss!  These cookies freeze great too.  You can make them with or without the nuts.
My class from church making Snowball cookies
Snowball Cookies
The Cookie Jar – Hidden Surprises
Ingredients
2 sticks butter, softened (1 cup)
¾ cup sugar
2 cups flour
1 cup finely chopped walnuts
8 oz. chocolate kisses
powdered sugar for dusting
Instructions
Cream butter and sugar well until smooth.
Add flour and then walnuts.
Gather dough into disk-shape and wrap in plastic.
Refrigerate at least ½ hour.
Preheat oven to 350 degrees.
Remove foil from kisses and insert one inside a ball of dough 1 inch in diameter.
Make sure each kiss is completely covered by dough.
Bake on ungreased baking sheet for 12 minutes, until just cooked through.
Roll in powdered sugar after cooled.
Another fun "hidden surprise"  cookie is Snickers Cookies – you guessed it – hidden inside is a mini Snicker candy bar – yum!  This recipe was shared with me by another food blogger -Katherine of How to be  a Domestic Goddess.  These are so awesome – you won't be able to eat just one!  Happy Baking!
Snickers Cookies
The Cookie Jar – Hidden Surprises
Ingredients
1 cup butter
1 cup creamy peanut butter
1 cup sugar
1 cup brown sugar
2 eggs
2 tsp. vanilla
3 cups flour
1 tsp. baking soda
1 tsp. baking powder
60 minature (bite size) Snickers candy bars (these are the smallest size ones - NOT the fun size)
chocolate glaze (see recipe below)
Instructions
Preheat oven to 350 .
Cream butter, peanut butter, sugar, and brown sugar.
Add eggs and vanilla.
Combine dry ingredients and add to peanut butter mixture.
Take 1 Tbsp. of dough and flatten into round shape in palm of hand.
Place Snickers bar in center and fold dough around it.
Roll in palms of your hand to form a smooth ball with the Snickers bar totally covered with the dough.
Place on an ungreased cookie sheet.
Bake for 10-12 minutes.
Remove from cookie sheet and place on a wire rack to cool.
Drizzle top of cookies with chocolate glaze.
Chocolate Glaze
The Cookie Jar – Hidden Surprises
Ingredients
1 cup powdered sugar
1 Tbsp. unsweetened cocoa
1 Tbps. milk
Instructions
Mix powdered sugar, unsweetened cocoa and milk
Add additional as needed to thin mixture enough to drizzle from spoon
Stay Updated!
Need more recipes and creative ideas? Sign up and get a FREE copy of my ebook! Do you think your friends would love this too? Please share my blog with them. Thanks!