The very first thing I ate after arriving in Paris last Spring was French Onion Soup.  Of course in Paris it is not called French Onion Soup – it is called Soupe à l'oignon.  No need for the French part because you're in France!

Whenever I go to a restaurant that has French Onion Soup on the menu I order it.  I love it but I had never made it at home.  I had decided it was just too hard to make at home.  I am happy to report that I was wrong!!
Remember those Slow Cooker Caramelized Onions I shared a few weeks ago?  Well, they make a perfect onion soup and make it so easy.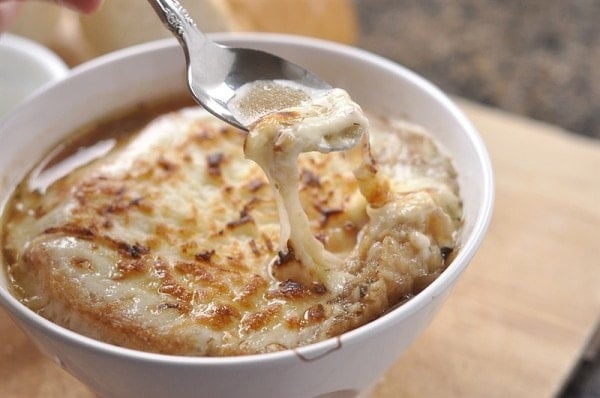 I used a cup of caramelized onions that I had put away in the freezer. You could use more but I don't like my soup too oniony.
I had a delicious bowl of french onion soup in no time at all!!  French Onion soup is made with a base of beef broth.  I actually used a combination of beef and chicken and then it is topped with some toasted baguette and covered in cheese!!  Place it under the broiler and you have Soupe à l'oignon.  Translation:  delicious!

Here's how I did it.  I made my broth and added the caramelized onions.  I sliced a baguette and then brushed the bread with a little olive oil and placed it under the broiler to toast.
I then placed the bread on top of the soup and covered it with a couple of slices of Swiss cheese.  Then covered that with mozzarella cheese! My favorite part of French onion soup is the cheesy part on top. Lots of ooey, gooey cheese!

I then placed the bowl onto a cookie sheet and placed it under the broiler.  Watch it carefully and pull it out when the cheese has melted and gotten bubbly and golden brown on top.
Then grab a spoon and dig it!!  Just close your eyes and imagine yourself sitting at a little sidewalk cafe in Paris!  Oh la la!!
From some other tastes from France try these:
French Cream Puffs and Eclairs
Crepe Bar
French Onion Soup with Slow Cooker Caramelized Onions
Ingredients
1 C caramelized onions
32 oz. chicken broth
32 oz. beef broth
1 Tbsp Worcestershire sauce
1 tsp parsley
¼ tsp thyme
1 bay leaf
1 Tbsp balsamic vinegar
salt and pepper to taste
4 slices of French bread/baguette
olive oil
8 slices of Swiss cheese
½ C shredded Mozzarella cheese
Instructions
Mix together broths, Worcestershire sauce, seasonings.
Add in caramelized onions
Simmer for 20 minutes.
Remove bay leaf and reduce heat.
Add in vinegar and season as necessary with salt and pepper.
Cover and keep on low heat until ready to serve.
Slice french bread,
Brush with olive oil and place on cookie sheet.
Place under broiler until golden brown
Place slice of bread on top of bowl of soup.
Cover with 2 slices of Swiss cheese
Add ⅛ C of shredded Mozzarella Cheese
Place under broiler until cheese is melted, bubbly and beginning to brown.
Notes
For directions on how to make caramelized onions go to http://www.yourhomebasedmom.com/slow-cooker-caramelized-onions/
Recipe adapted from allrecipes.com
 Enjoy!
Leigh Anne
You can also visit me on Facebook, Pinterest, Twitter, Instagram
and Google+
For a list of where I Link Up each week go here