Cast a spell over your guests with this fabulous Witch's Cauldron Halloween Sundae.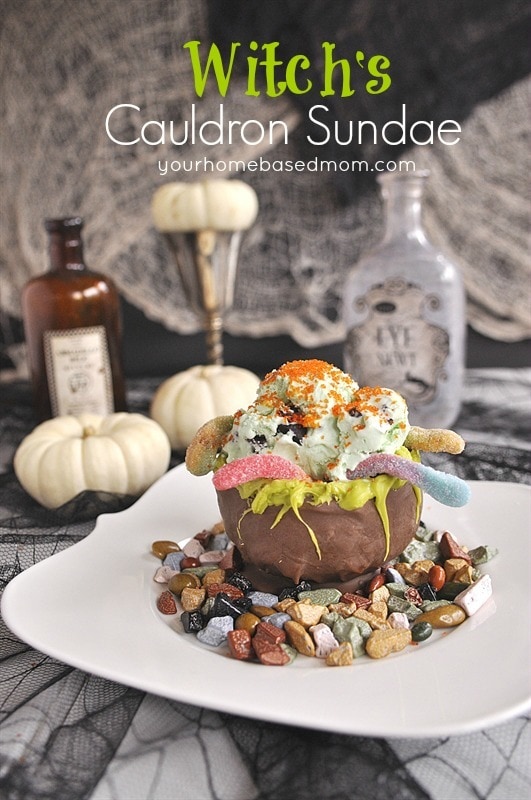 I love Halloween.  I think I actually enjoy it more now than I did when my children were younger.  It seemed like when they were younger all the time and energy I had to devote to Halloween went towards making and putting together Halloween costumes for my children.  Yes, I was one of those mother's that always made their children's costumes.  No store bought costumes here.  I was usually the room mom so all my party planning energy went towards that.
But now I put my Halloween party planning energy towards our annual Halloweenie Roast.  I love hosting this yearly event for all my neighbors.  It is always an opportunity to try out some new fun, spooky Halloween treat and this year we may just be enjoying some Witch's Cauldron Halloween Sundae.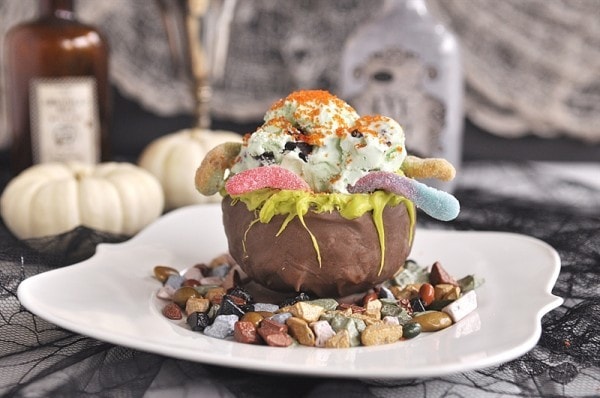 These little chocolate cauldrons are so fun to make!  You will need some small balloons and melting chocolate.
How to Make Chocolate Bowls
Wash your balloons before you start and then blow them to the size you want your cauldrons to be.  Melt your chocolate and then dip the balloon into the chocolate.  The first time I did it I didn't dip the balloon in far enough.  You want the chocolate to come up more than half way to make a nice cauldron shape.  Place on a wax paper lined cookie sheet and allow to set up.  You can place them in the refrigerator.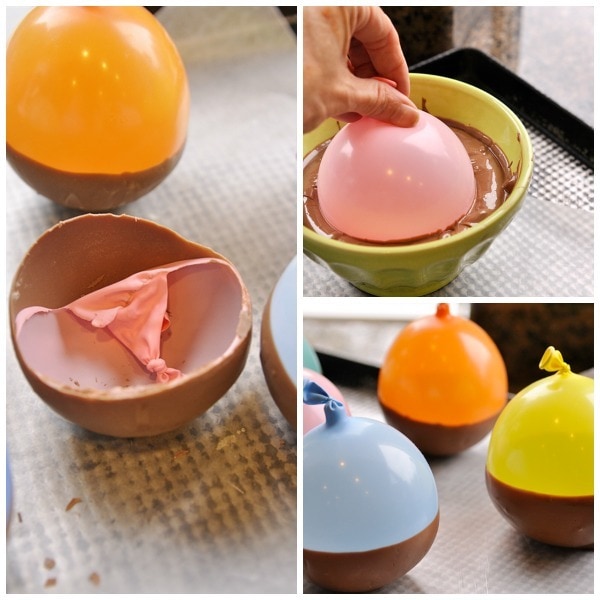 After they are set up, melt some green melting chocolate and use a clean brush to apply the chocolate to the edges of the cauldron.  Be sure your chocolate is not too hot as it will melt the edges of the cauldron. A little melting is o.k.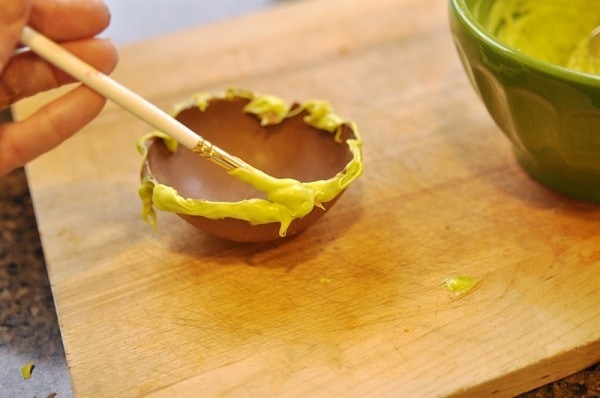 Allow that to set up again in the refrigerator.  When you are ready to party just fill them with your favorite green ice cream.  I used mint chocolate chip but lime sherbet would work too.  I bought some chocolate rocks at the bulk food section of my grocery store to place around the cauldron and then a sprinkle of orange decorating sugar on top.  How cute is that!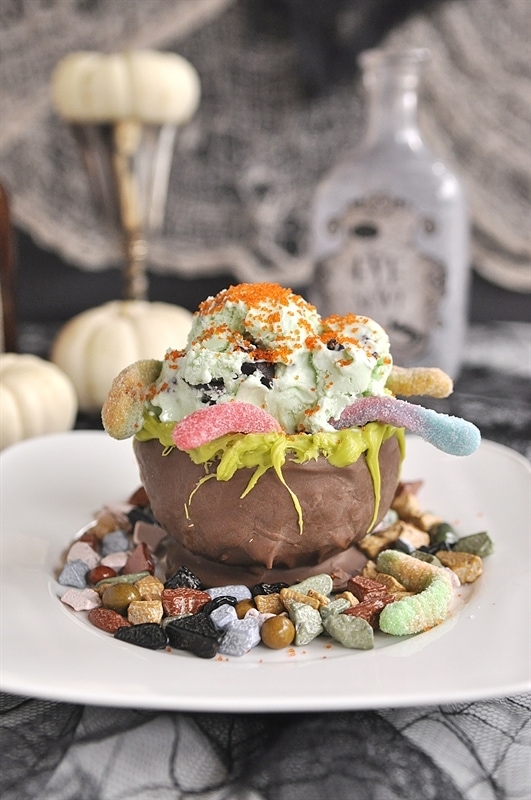 It's almost too cute to eat but you'll have a lot of fun eating!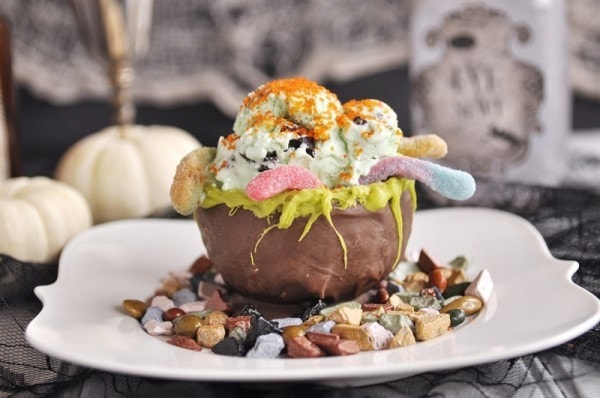 Try these other fun fun Halloween treats:
Halloween Sundae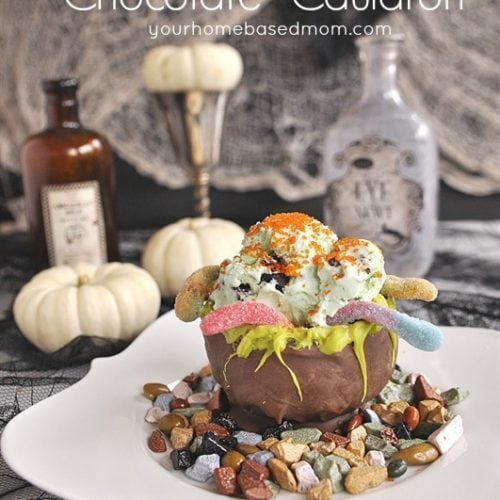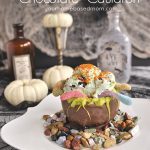 Print
Witch's Cauldron Halloween Sundae
Fun and delicious witch's cauldron Halloween sundaes made with edible chocolate bowls.
Ingredients
12

ounces

of chocolate candy coating for melting

6

small balloons

4

ounces

of green candy coating

green ice cream

orange decorating sugar

candy rocks
Instructions
Melt chocolate according to directions on package.

Inflate balloons to about 4 inch diameter.

Dip the balloons into the chocolate a little more than halfway up the balloon.

Dip several times to make sure the whole area is covered well.

Place on a cookie sheet covered with wax paper.

Place in the refrigerator to harden

Melt green candy coating

Use a clean brush to apply to edges of cauldrons. Be sure chocolate is not too hot as it will melt the edges.

Refrigerate again to firm up chocolate.

Fill with ice cream.

Sprinkle with sugar

Place chocolate rocks around cauldron
Nutrition
Calories:
166
kcal
|
Carbohydrates:
20
g
|
Fat:
9
g
|
Saturated Fat:
8
g
|
Sodium:
34
mg
|
Sugar:
20
g
Get my Weekly Menu Plan for FREE!
Receive my FREE "What's for Dinner?" Meal Planning Course, a copy of my FREE ebook that includes my most popular recipes and my FREE weekly Meal Plan.