Sharing our Kate Spade Inspired Wedding Rehearsal Dinner Ideas. It was a beautiful, magical evening to celebrate the marriage of our son and his bride.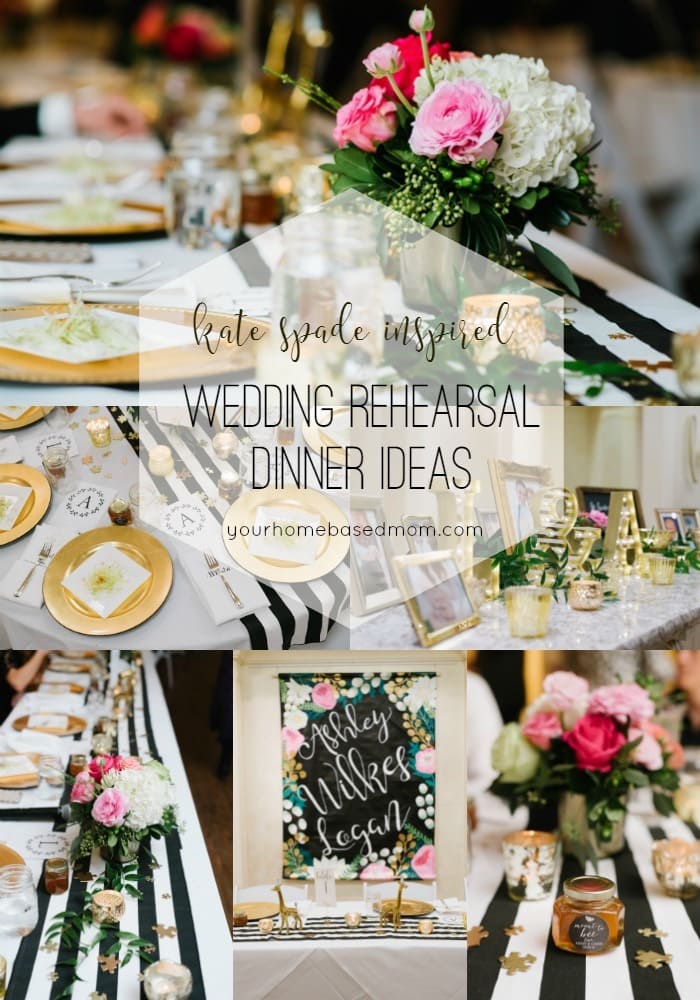 I am excited to finally be able to share the professional photos that were taken at my son's Wedding Rehearsal Dinner. This is a long post! But if you make it all the way to the end of the post there is a fun video of the entire wedding weekend.
A special thanks to Jessica of Jessica Kettle Photography who took all the photos for the dinner and the next day at the wedding.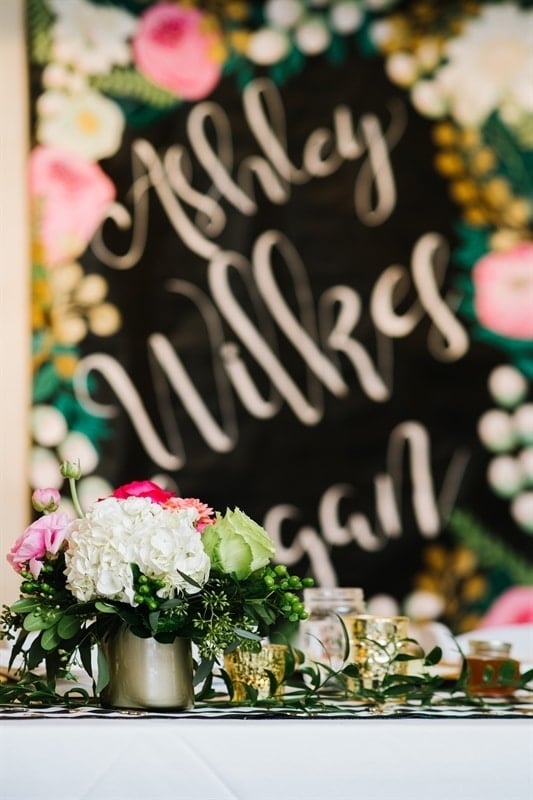 Wedding Rehearsal Dinner
This was such a fun party to put together and it turned out just how I had imagined. The reception the next night was going to be large so it was nice to have a time for just family and close friends. There were over a hundred of us but it was a beautiful, intimate evening where we were able to celebrate the bride and groom and get to know them and each other a little better.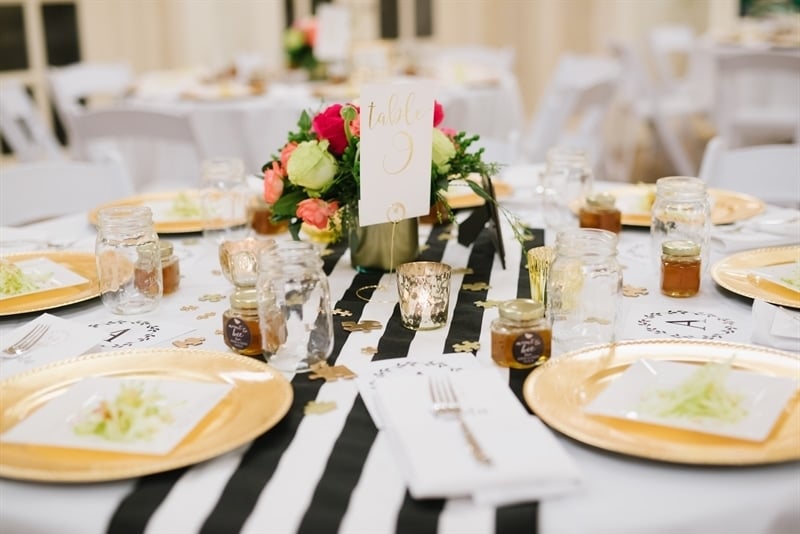 The party was held at The Manor in Provo, Utah. It is a beautiful venue and they were great to work with.
Rehearsal Dinner Color Scheme
I believe that all good parties start with a color scheme! The first thing I did was choose a color scheme for the evening of gold, black, white and pink.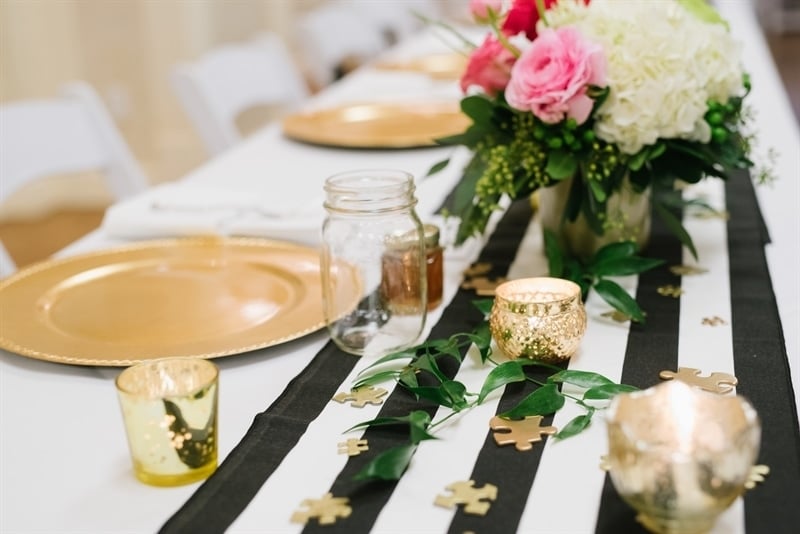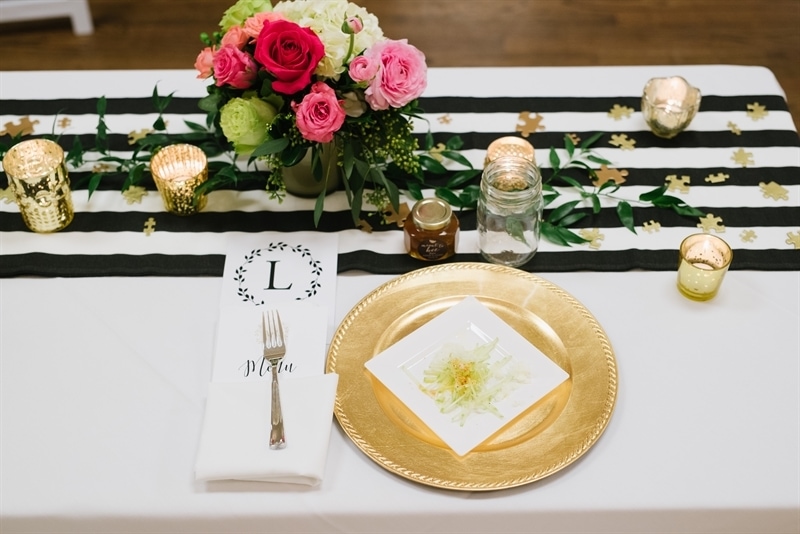 I was going for a Kate Spade inspired look and of course I found a few photos on Pinterest to fuel my inspiration.  My family dressed to match the color scheme.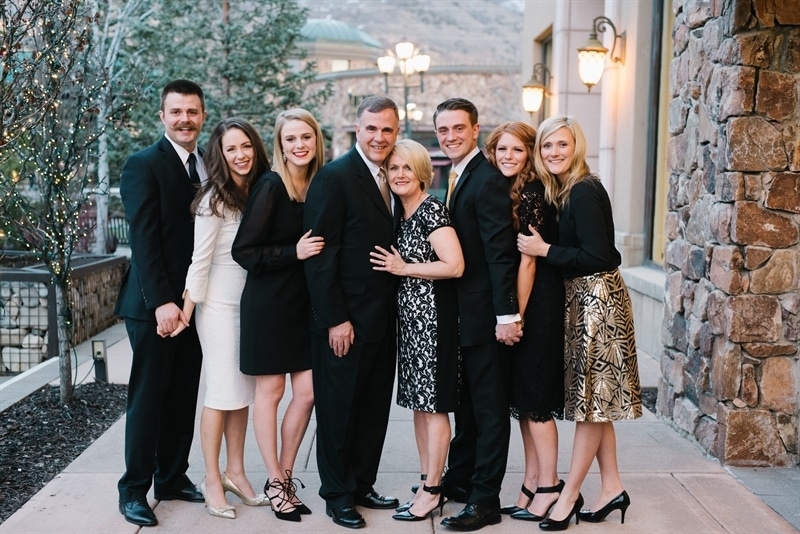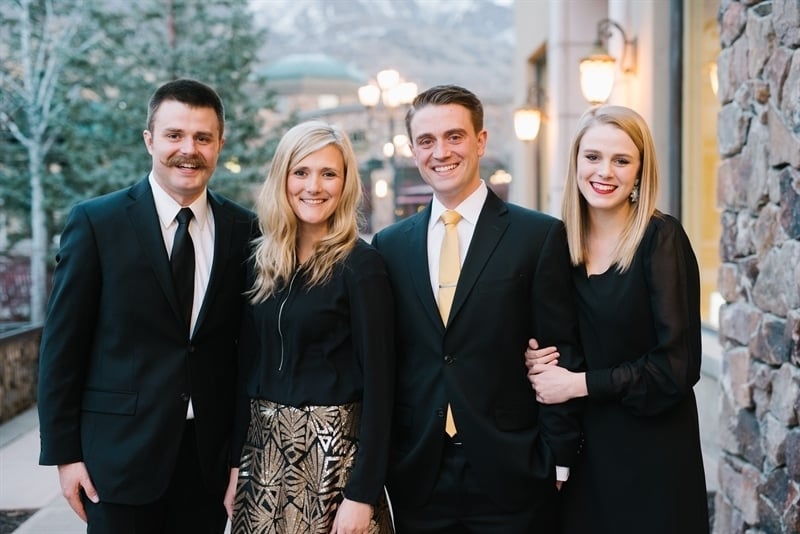 I love these kids of mine and and I love how our family is growing!!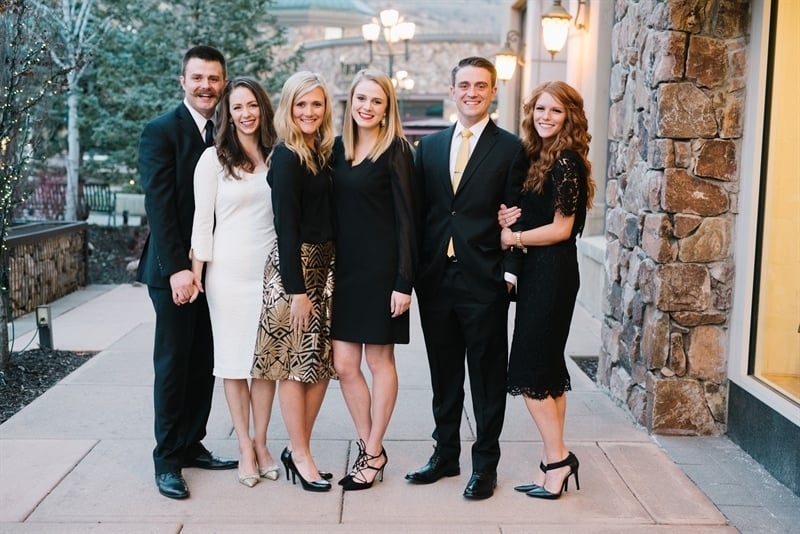 Rehearsal Dinner Decorations
For the tables, I found these black and white table runners on etsy from a great shop. In addition I purchased gold chargers. Yes, I am now the proud owner of 110 gold chargers!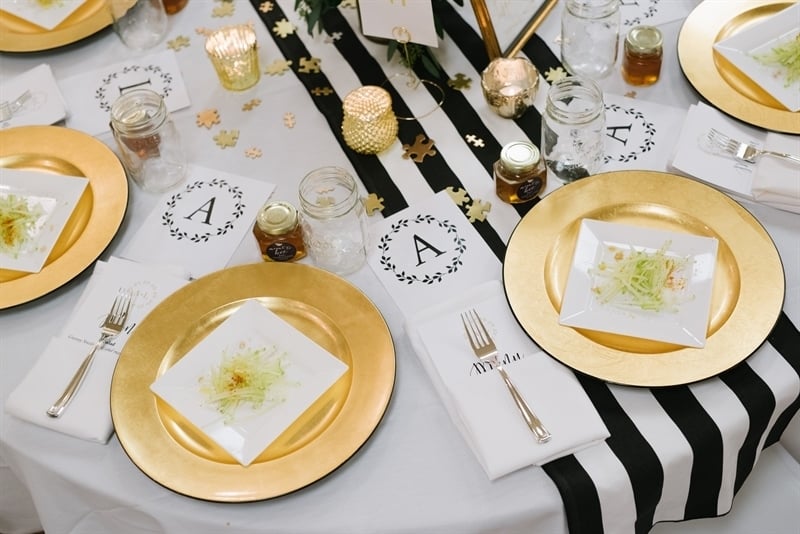 I knew I wanted beautiful flowers so I contacted Foxglove Flowers in Provo who I had followed on Instgram for a while and had fallen in love with their work. They did an amazing job. The flowers were stunning. I used gold mercury votives on all the tables. I also scattered puzzle pieces I had bought at Goodwill and spray painted gold on all the tables. There is a story behind this.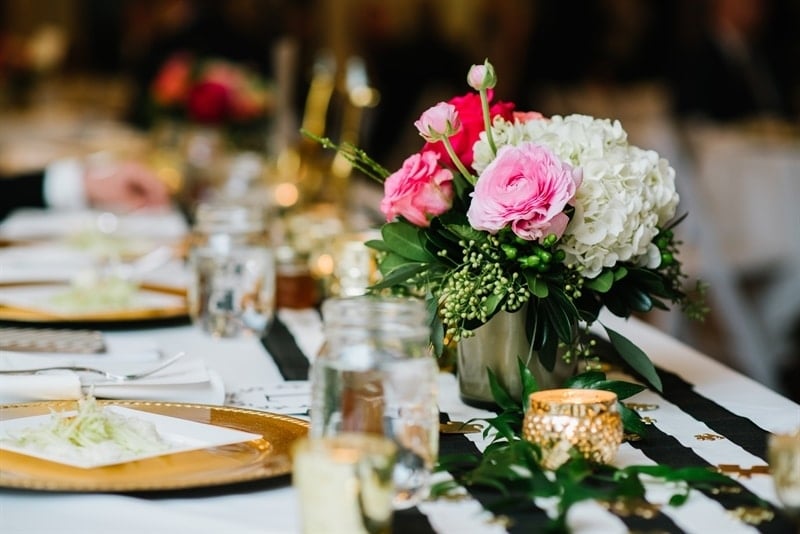 When my son proposed to his wife he did it with a book he wrote, had illustrated and printed called The Missing Puzzle Piece. It is the story of a giraffe who has put a puzzle together but there is one piece missing. He sets out to find that missing piece, asking a lot of different animals he mets on his journey if they have it. None of them do until he meets a beautiful, ginger giraffe. She has the missing piece. The story is so sweet and I loved incorporating it into the evening. My new daughter in law loves giraffes.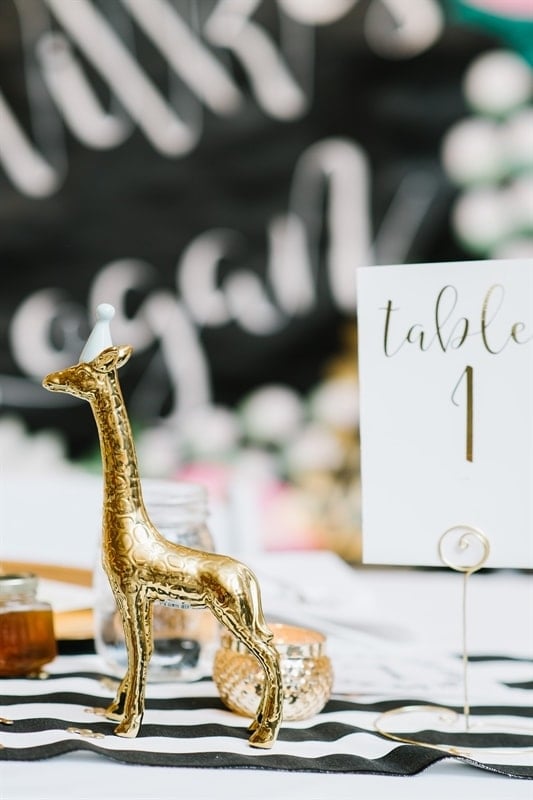 I even found these cute gold party giraffes at Target to put on the table in front of the bride and groom.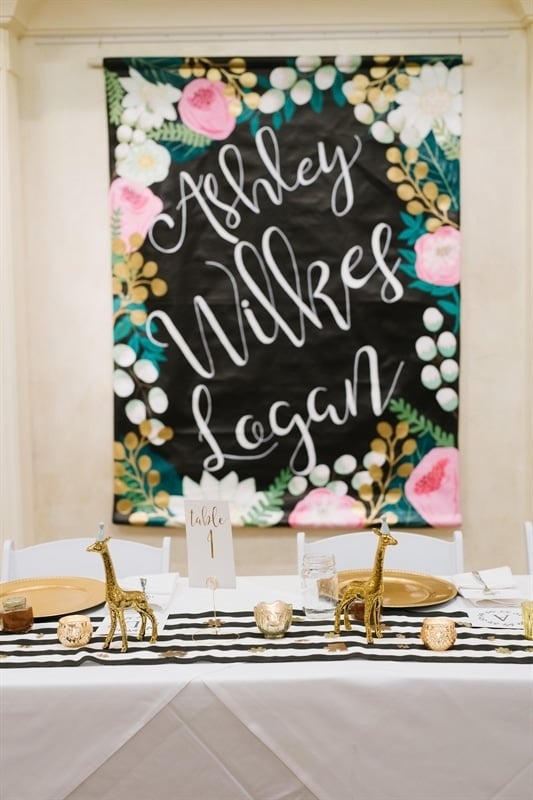 Rehearsal Dinner Decor
For the centerpiece of the evening a dear friend of mine painted this amazing canvas as a backdrop.  I had seen something similar on Pinterest and she outdid herself!  Lucky for me a friend was driving to Utah and she transported the canvas to Utah for me!  It made the perfect backdrop for the bride and groom.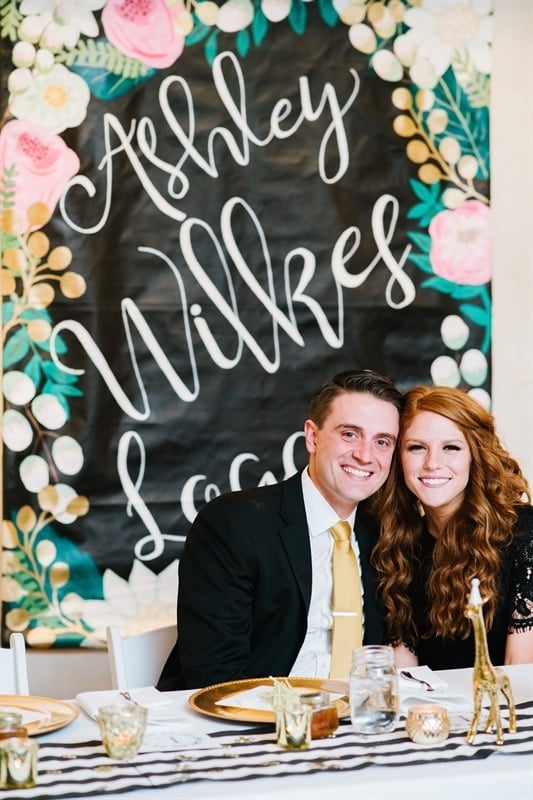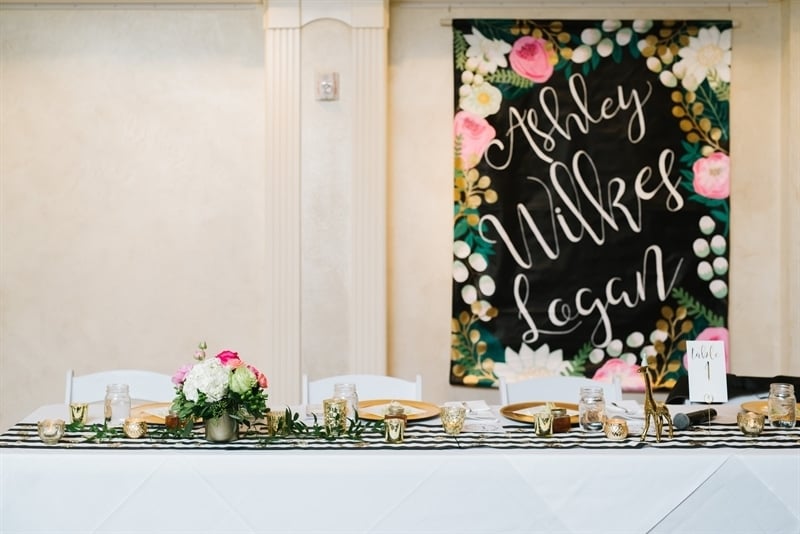 When people entered they could sign in by adding an idea to the Date Jar. I had large craft sticks with the ends painted gold that they could write their favorite date idea on and then add it to the date jar which the bride and groom took home with them. The gold sequin tablecloth can be found here.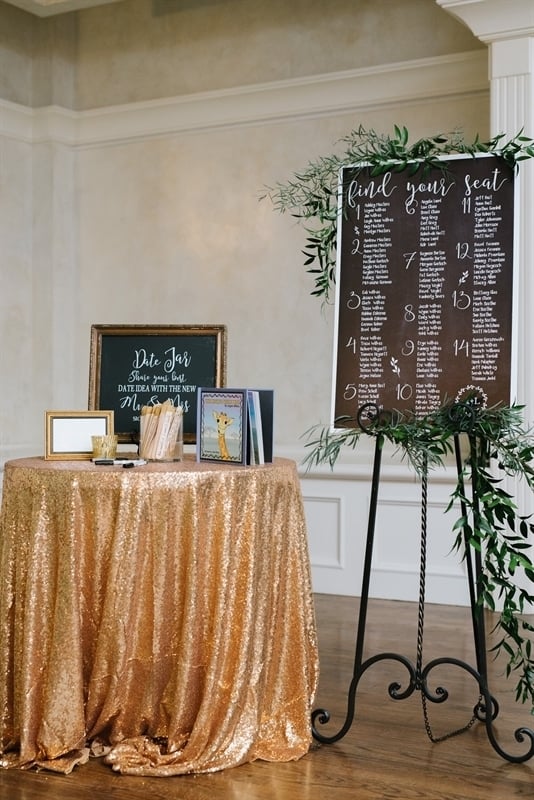 If people hadn't seen the book Logan used to propose there was a copy on the table they could look at.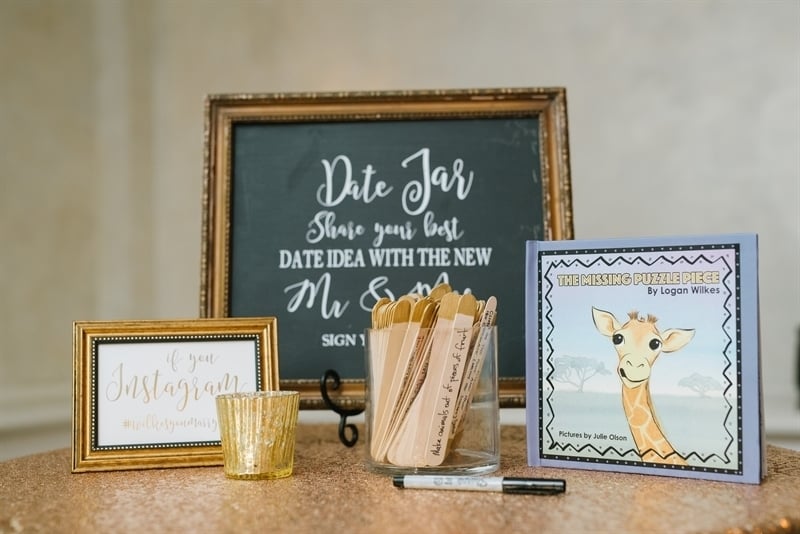 I also had the seating chart which I had had printed at Costco on heavy posterboard.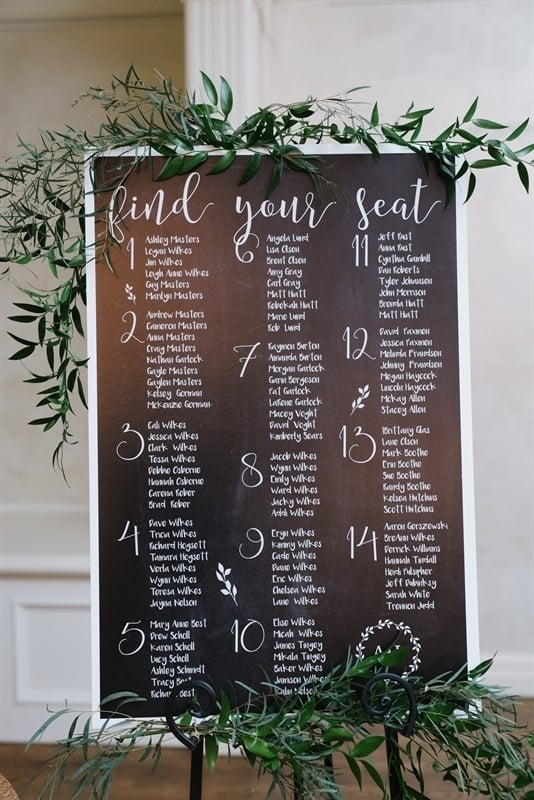 Also at the entrance, in the front window, was this fun My Cinema Lightbox. It was the perfect way to let everyone know where the party was!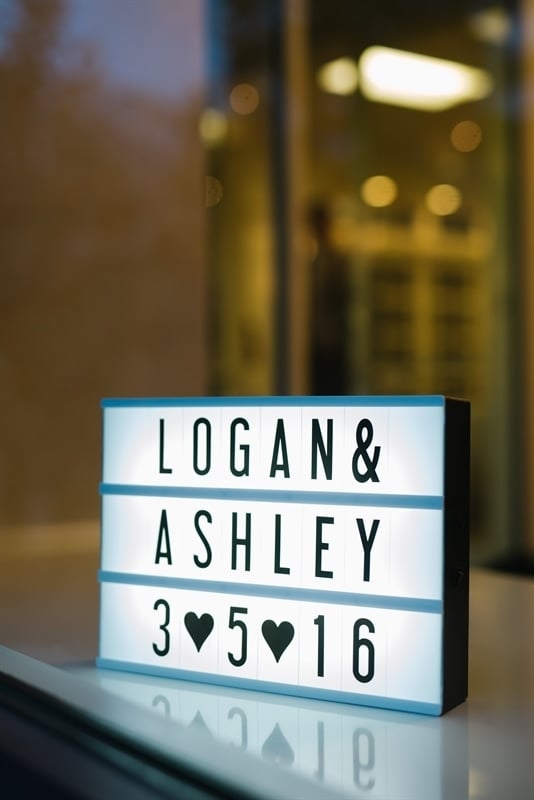 Table Numbers
For the table numbers, I used my new Heidi Swapp Minc machine to foil the numbers.  This machine is awesome.  You can turn anything you print into beautiful foil lettering!  The gold stands to hold the numbers came from etsy.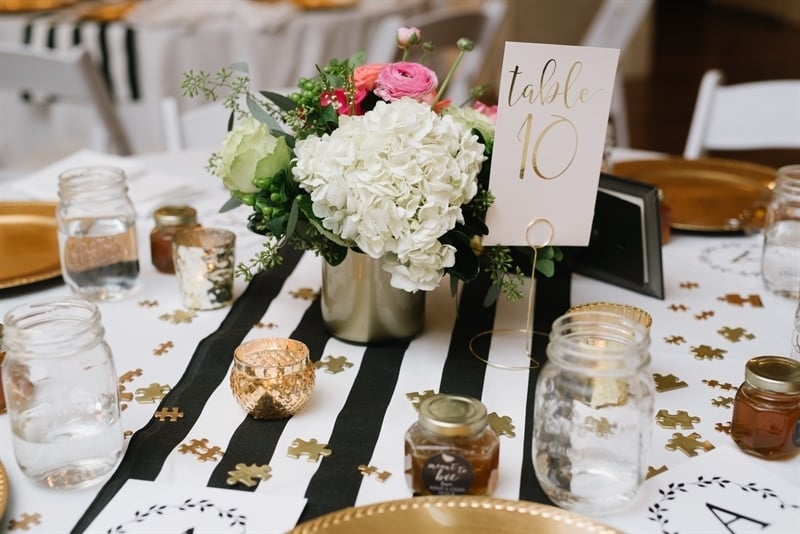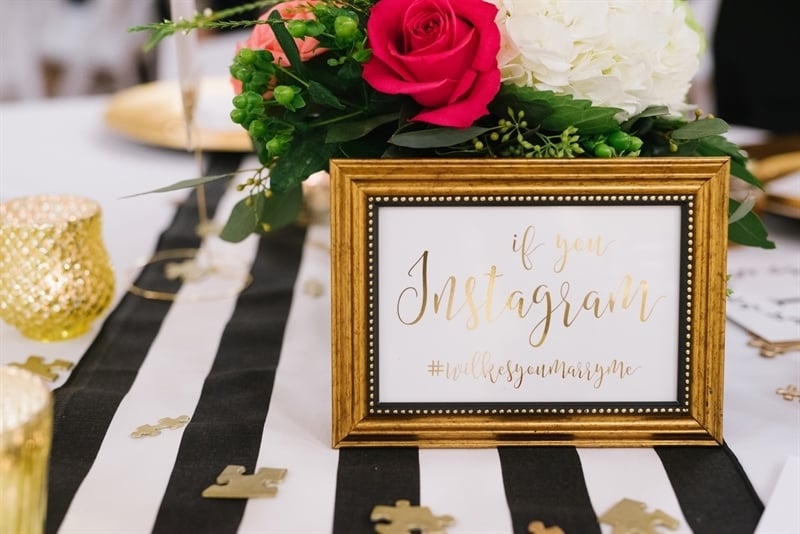 I also used the minc machine to create the little Instagram/hashtag signs that were on each table. I loved their hashtag! #wilkesyoumarryme
There was a photo booth set up in the corner. I purchased the backdrop stand here and the gold sequin backdrop curtain here.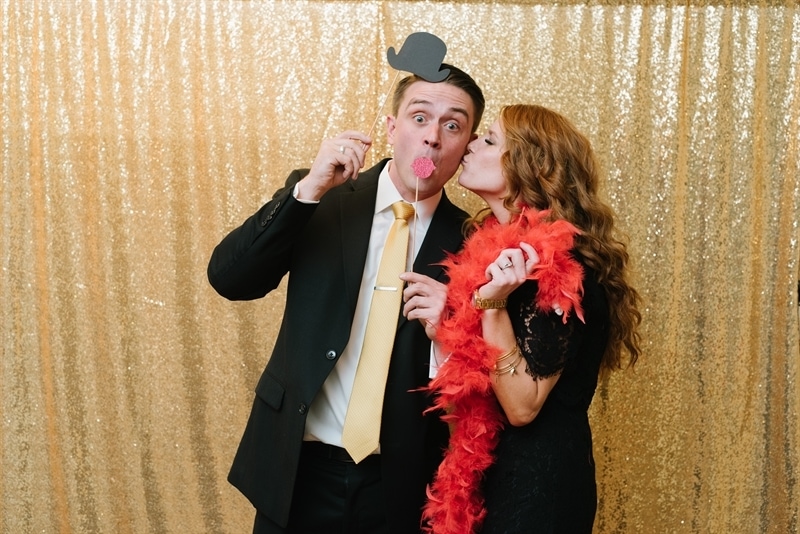 I found some photo props for it on etsy.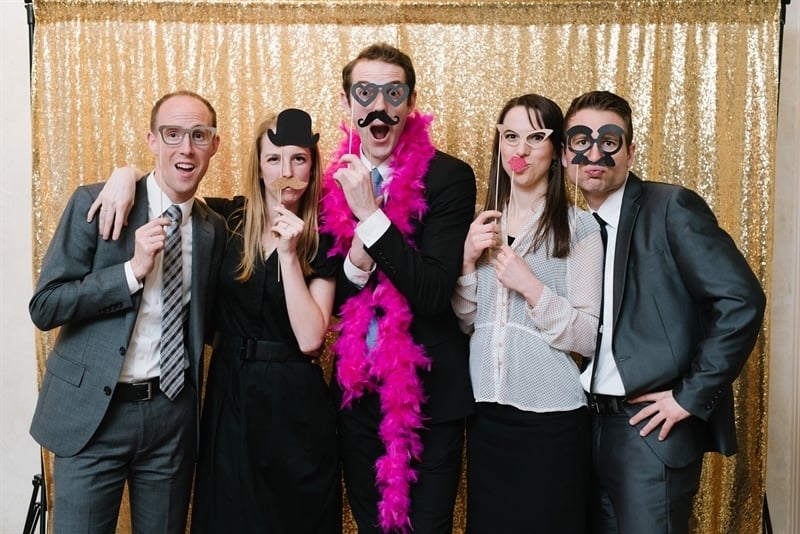 Look at these two cute cousins!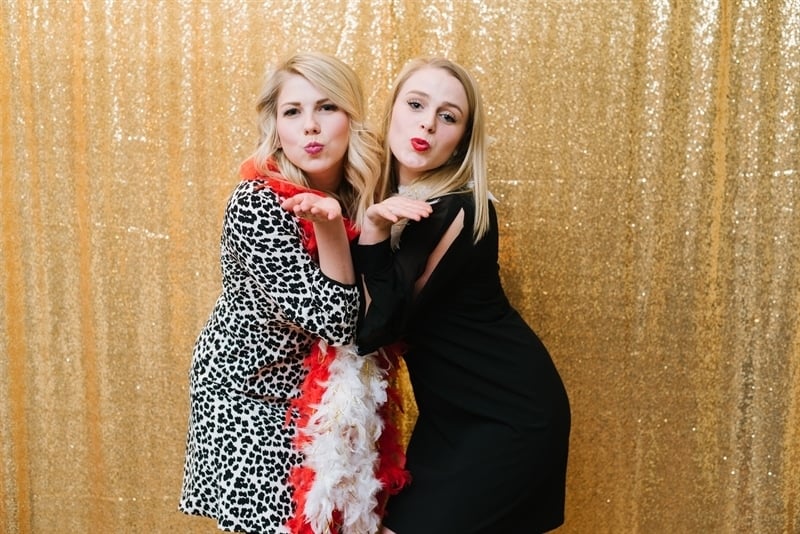 I also set up a gold candy station. Rolos, Hershey Nuggets with Toffee and Reese Peanut Butter Cups all had perfect gold wrappers.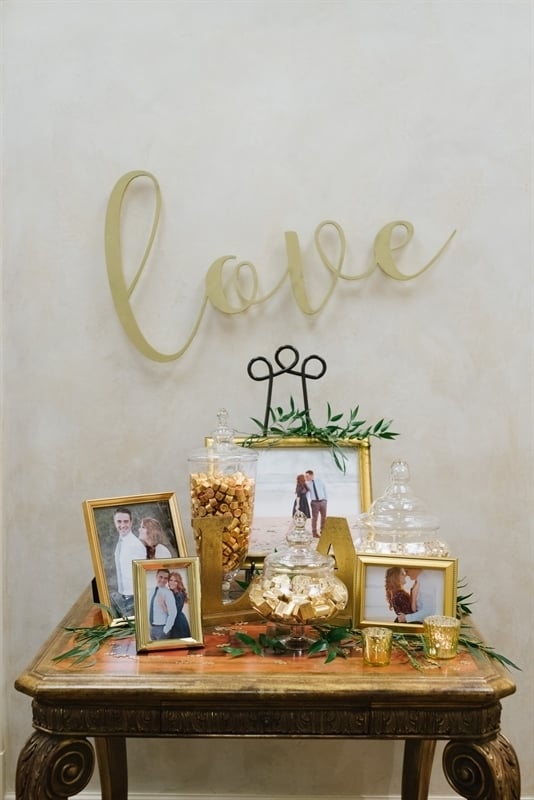 I framed a lot of their engagement photos in gold frames I picked up at Goodwill. The backdrop to the candy station was this fun LOVE sign that my friends over at Lolly Letters made for me. Be sure and check out all the fun words they have in their shop! I spray painted it gold and hung it from fishing line.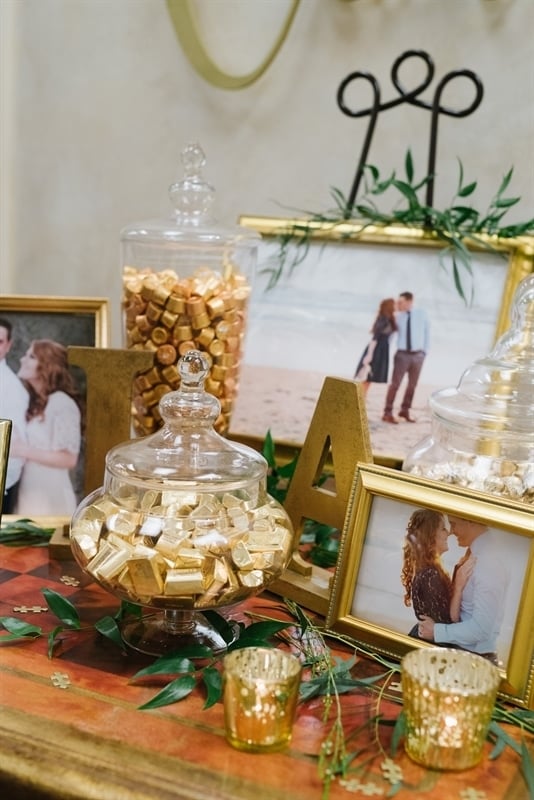 There was a large counter area that can be used for serving food. We used part of it for food but on the other half, I set up a display with some photos and fun marquee letters that came from Heidi Swapp.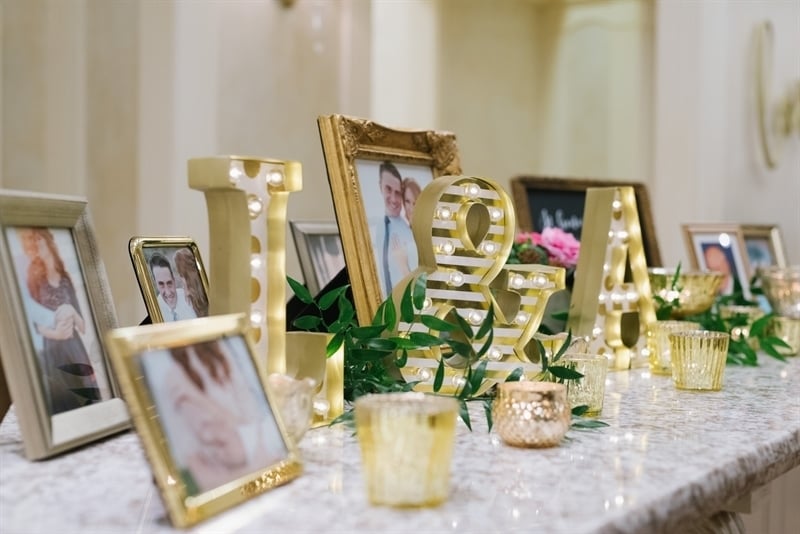 These letters are great because you can spray paint them any color you want and add colored paper to them too. They also run on batteries so you don't have to worry about having a plug near by.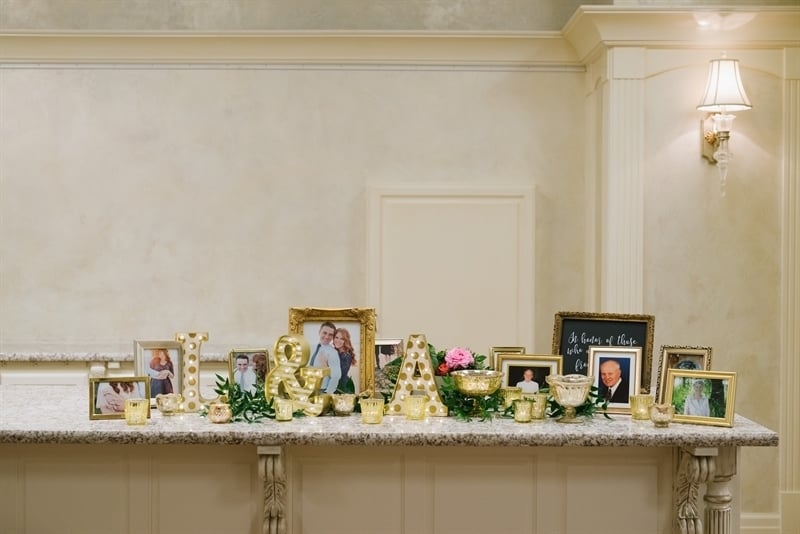 Rehearsal Photo Displays
We also had a little display with photos of the grandparents that had passed away recently.  It was very sweet and it was nice that we could include them that way in the celebration.  My only regret about the wedding was my dad wasn't there to enjoy it.  He passed away a month before the wedding.  I am so glad my mom could be there though.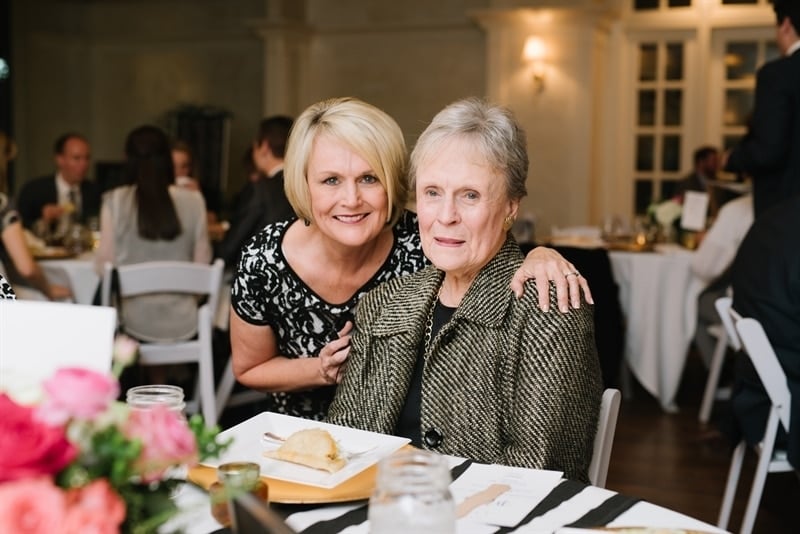 Rehearsal Dinner Food
For food we had the groom's favorite local restaurant, Oteos, cater the event. We had a delicious green apple salad to start.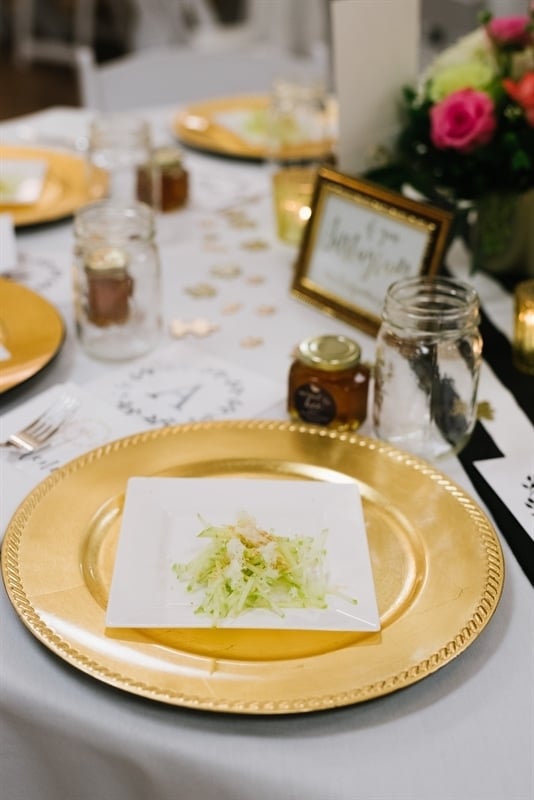 We printed menus to have at each place.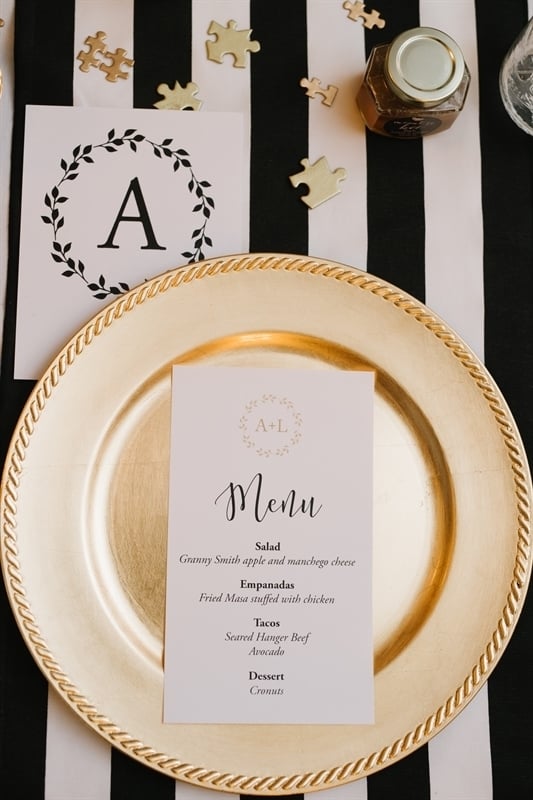 That was followed by chicken empanadas and then a hanger steak taco and an avocado taco. Their food is delicious and so pretty!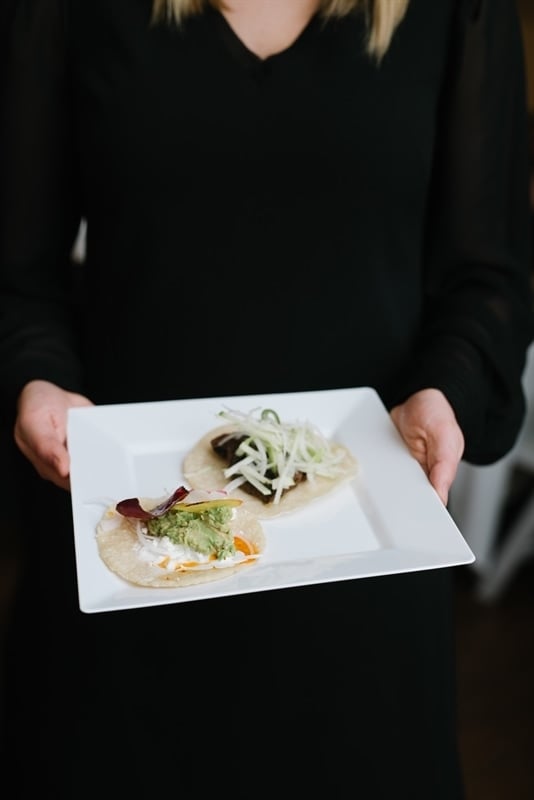 Dessert was a delicious cronut.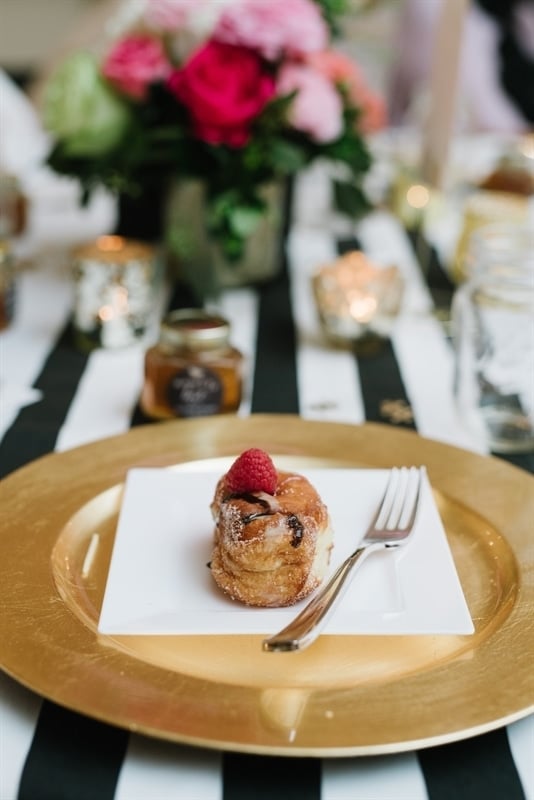 At each place there was a jar of Utah honey as a party favor.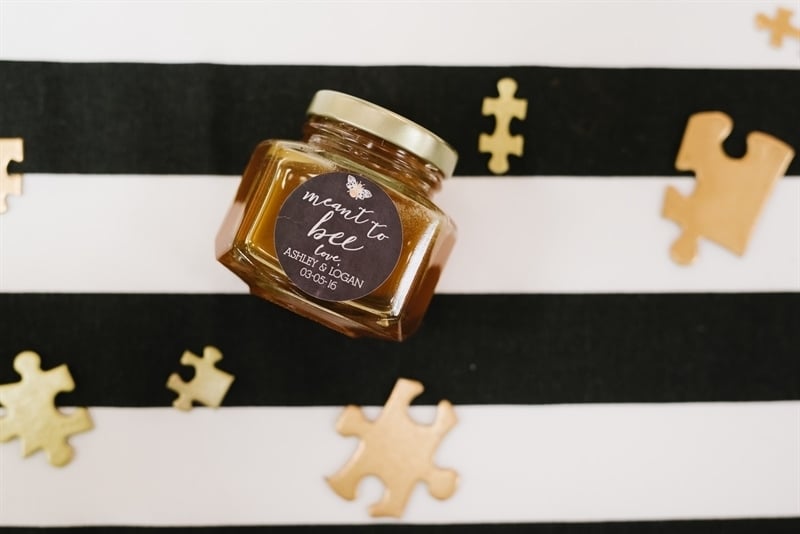 It was the perfect wedding favor not only because it was gold but because this match was truly "meant to bee."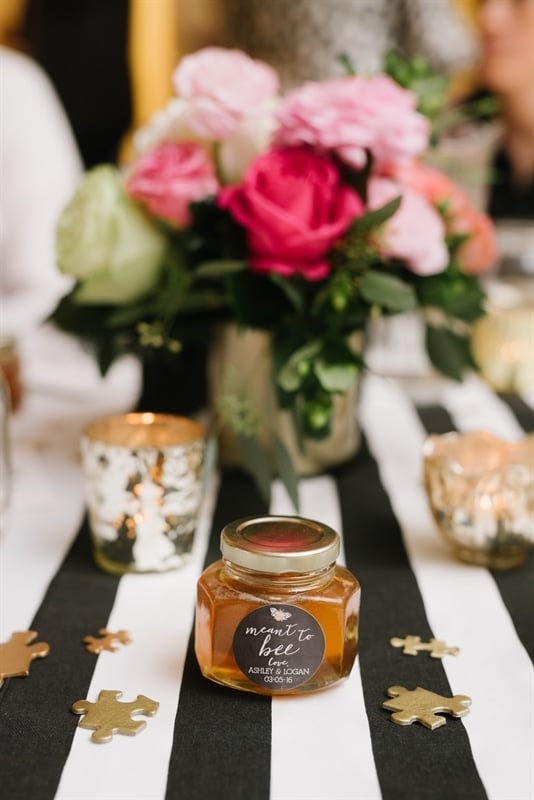 Rehearsal Dinner Games
After everyone had eaten and as dessert was being served, we had a program. We started with a fun game. Everyone had a paddle with an A on one side and an L on the other side.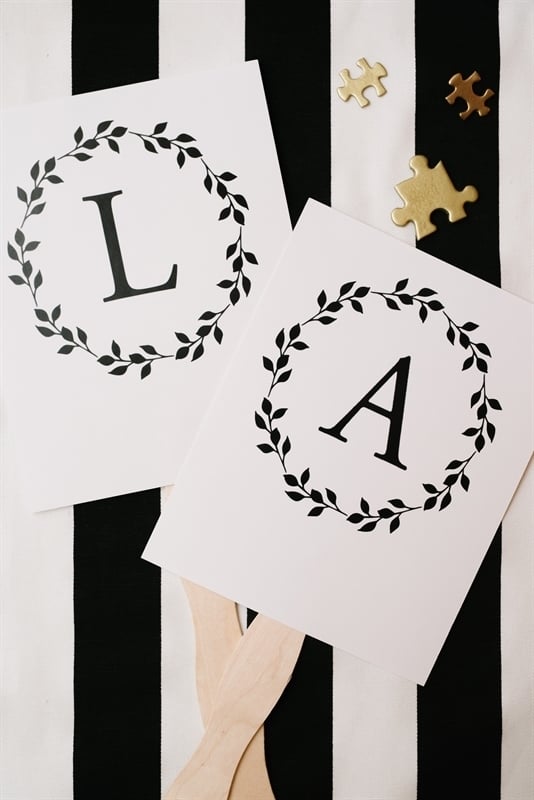 I read off different little facts about either the bride or the groom and the guests had to guess which one it was using their paddle.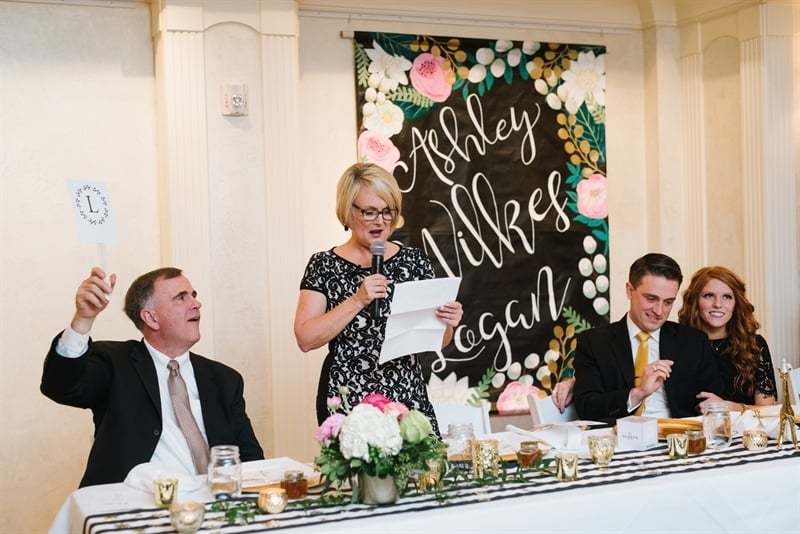 There were lots of laughs and a few secrets were spilled!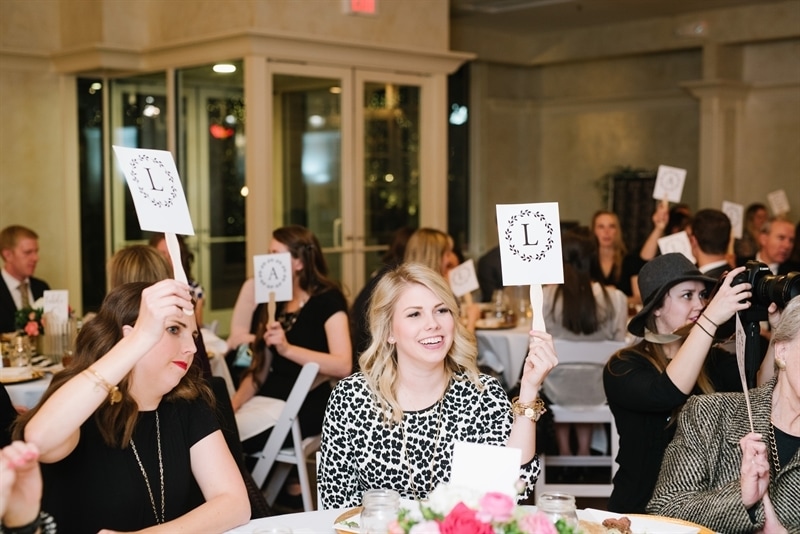 Rehearsal Dinner Speeches
After the game the siblings from both families did a fun presentation to the bride and groom.  My kids put together a collection of gifts for Ashley that would help her as she became a member of the Wilkes family!  They even did a presentation of photos of what they predicted Logan and Ashley's future children would look like and it was pretty entertaining.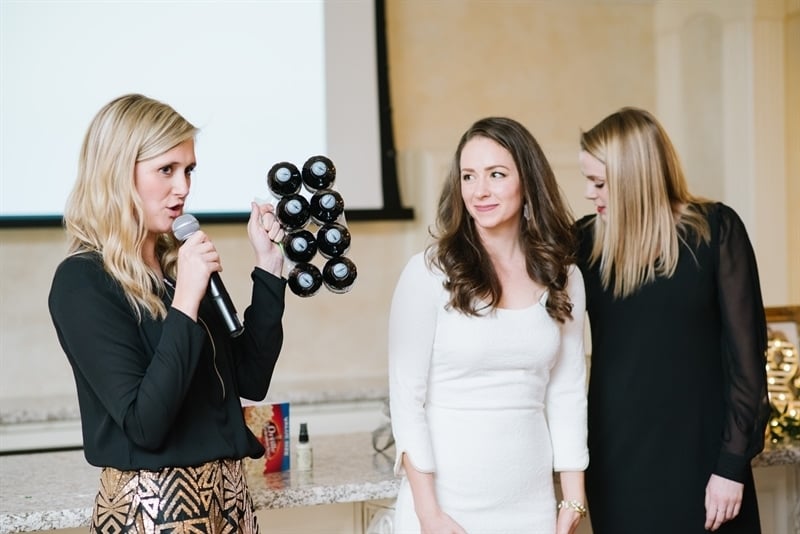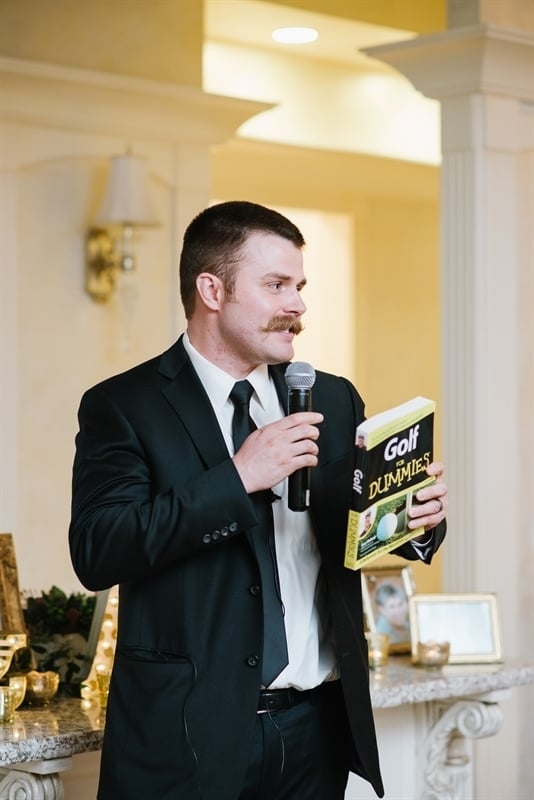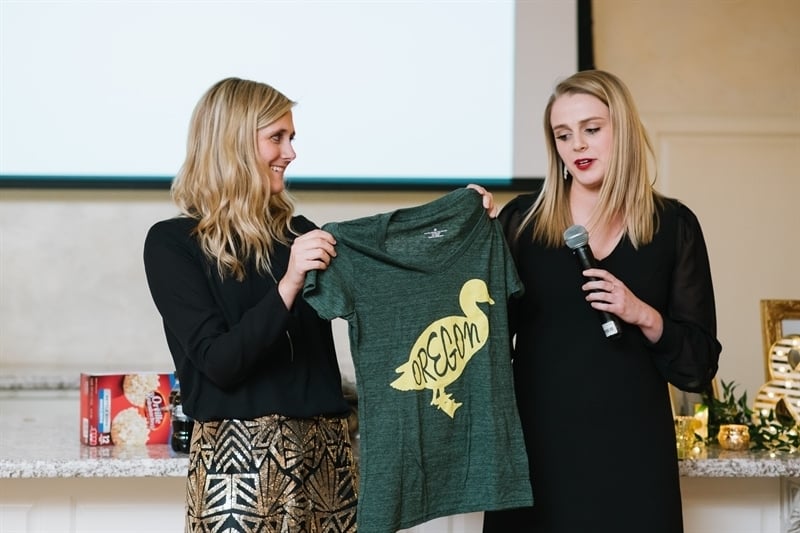 Ashley's siblings did a fun presentation too.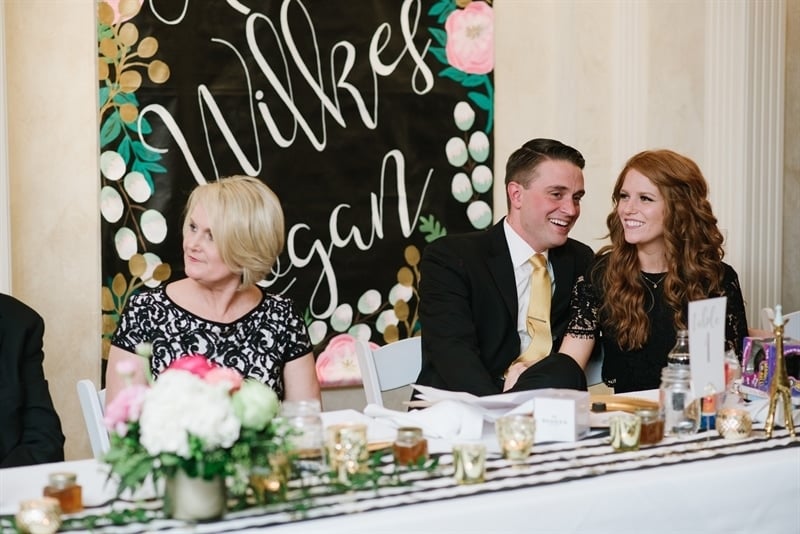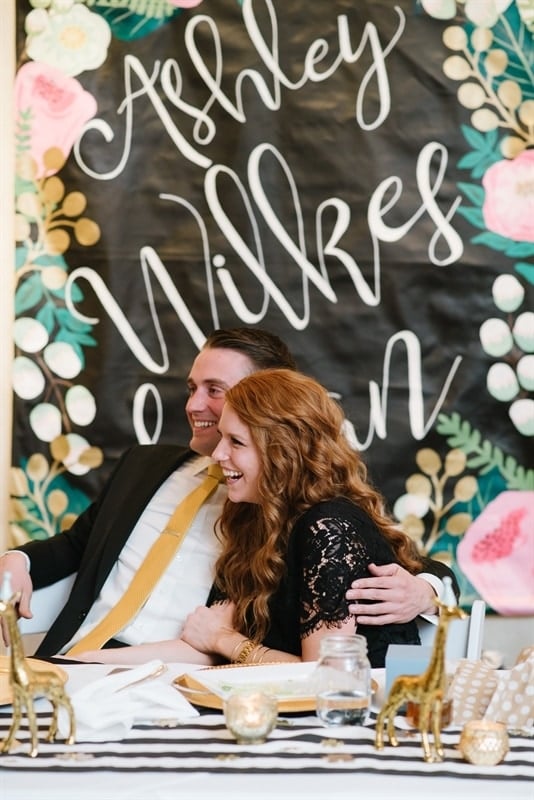 After that, each of the parents talked for a few minutes and some gifts were given. I gave Ashley an Oregon Ducks t-shirt to add to her collection of clothing from Logan's favorite sports teams and a fondue pot since having fondue on Christmas Eve is such an important and long standing tradition in our family.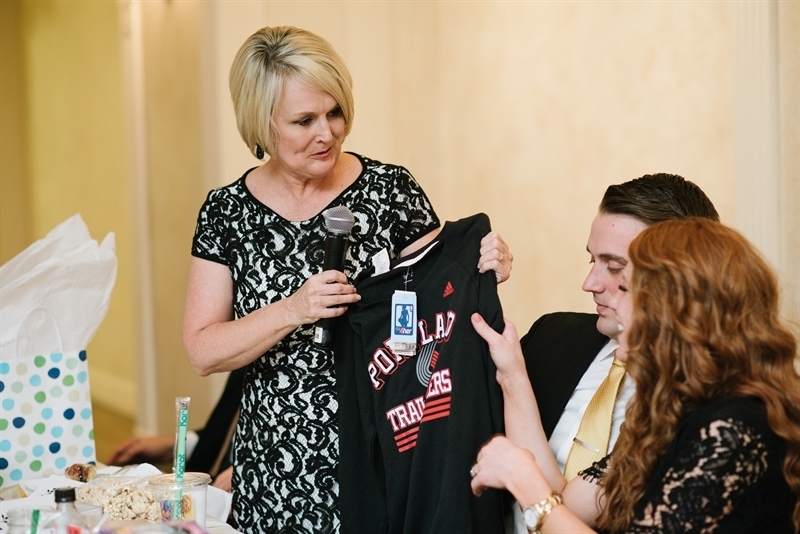 The bride and groom each had a few of their closest friends speak and there were lots of laughs and some tears.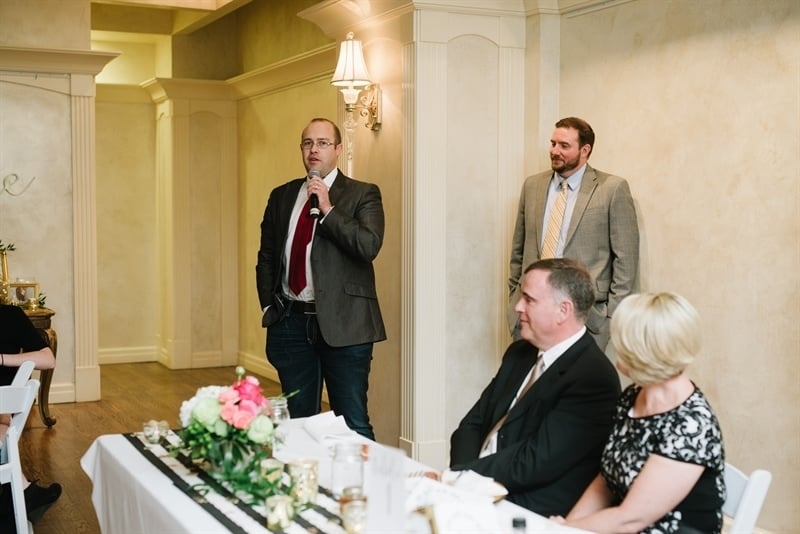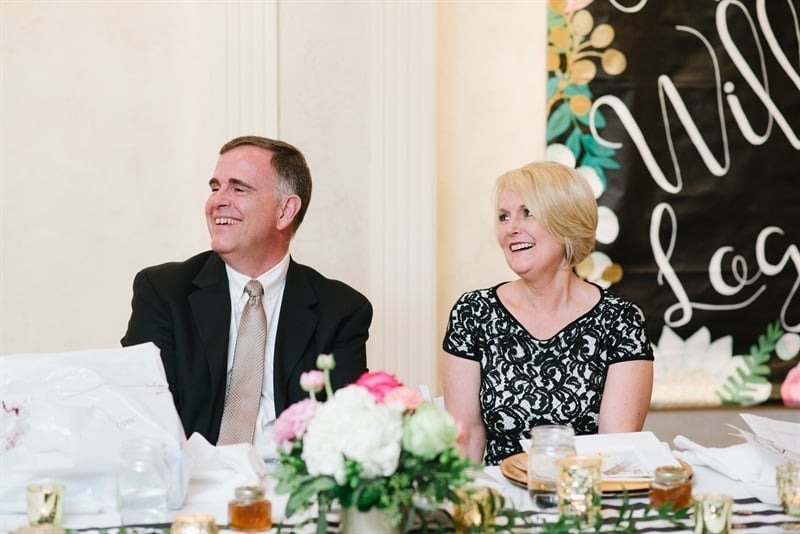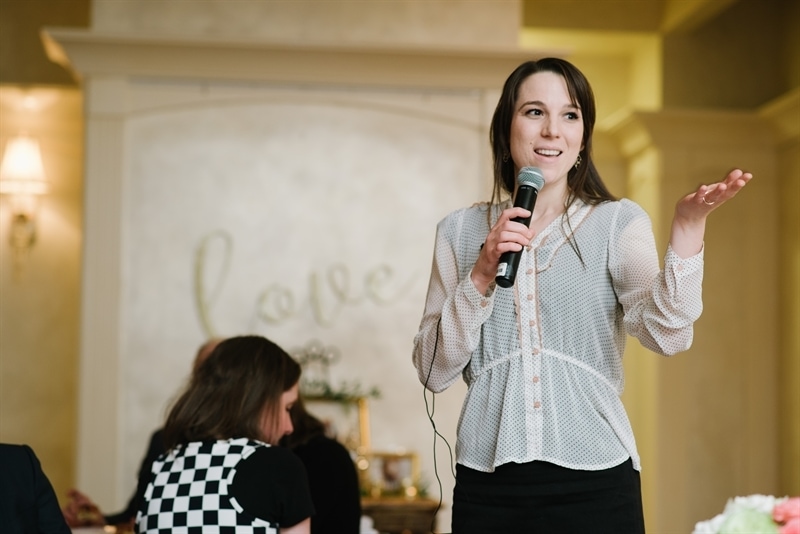 After the parents spoke, the bride and groom shared a few thoughts and shared their love with all the family and friends that were there.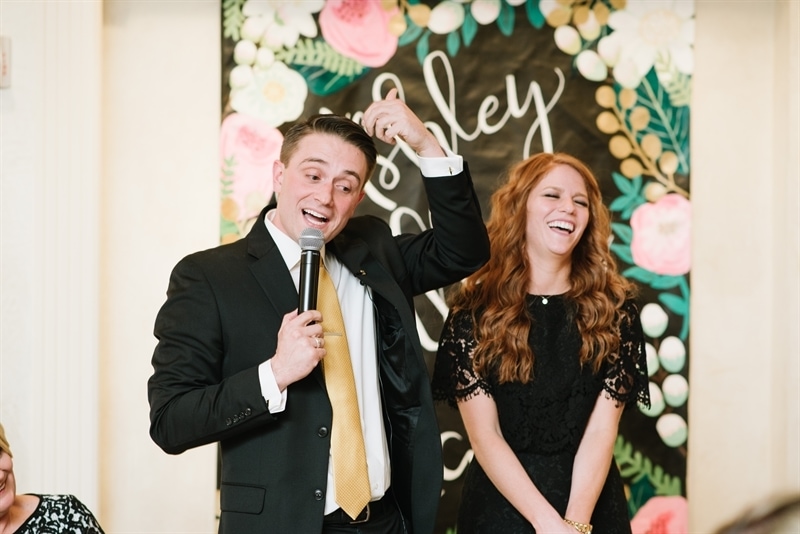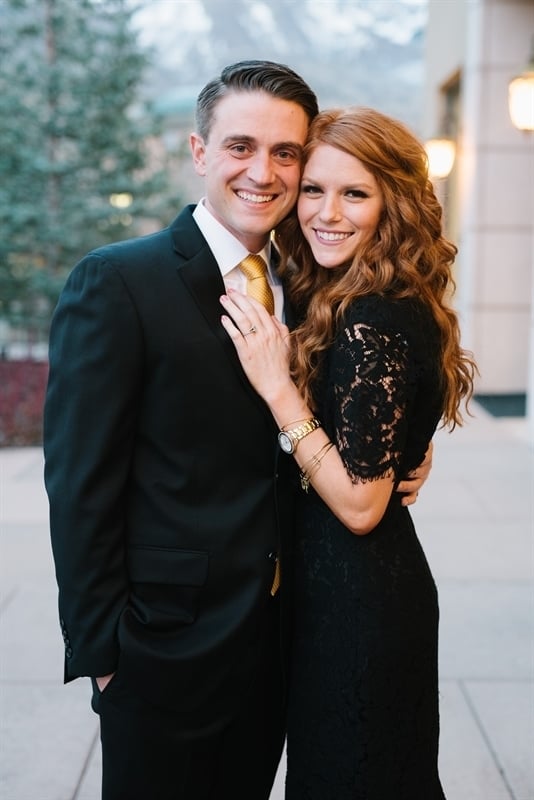 It was a wonderful beginning to a magical weekend! It was so much fun to celebrate these two!

Here's the wonderful wedding video done by Fesler Films in Utah. She does amazing work and we are so glad she was there to capture all the wonderful moments that weekend.