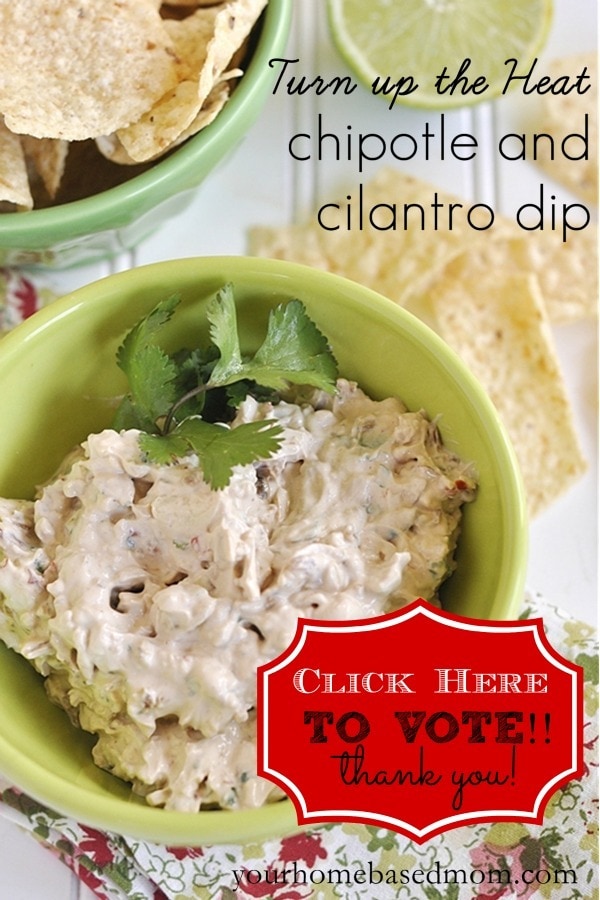 I am excited to announce  that I have been selected as one of the finalist in the
Lipton® Recipe Secrets® Dip to Win Contest which beings today! I was asked to develop a recipe for a dip using their Lipton Recipe Secrets Onion Mix .  You can help make me the winner!  You can vote for my Turn up the Heat Chipotle and Cilantro Dip by going here.  You can only vote once during the contest period so I appreciate your vote.   It also helps me if  after you vote you pin the recipe from the contest landing page.  Just pin the photo of my recipe!
I'd love it if you'd share it with your friends too!  There is a little bit of a cash prize involved and if I win we'll be having a pretty fun giveaway here on the blog to celebrate so I can share with you!
I decided to "turn up the heat" with my recipe and created a Chipotle and Cilantro Dip that is delicious, if I do say so myself!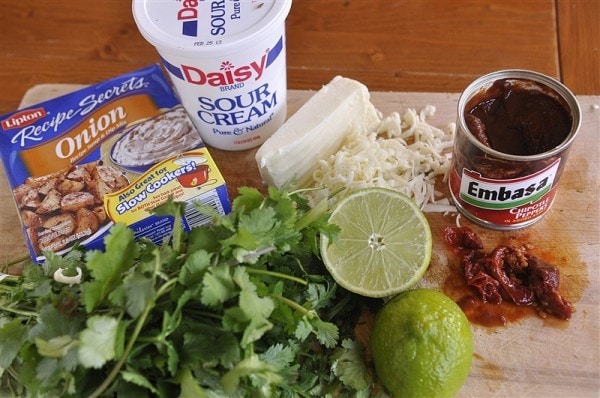 I used some of my favorite flavors in the recipe –  chipotle peppers in adobe sauce, cilantro, lime and monterey jack cheese.  Combine all those ingredients with some sour cream and Lipton Secret Recipes Onion Mix and you've got a winner!  Or at least I hope so!!
I know at my house March Madness is about to begin and Turn Up the Heat Chipotle and Cilantro Dip would be the perfect thing for some basketball viewing treats.  When those games heat up they can enjoy some yummy dip!  My husband asked me if I wanted to fill out a March Madness bracket.  I just smiled and said "sure," seeing as I know nothing about any of the teams!  I think I'll leave that activity to the boys in the family and
I'll just be charge of the food because I can pick the winner in that category.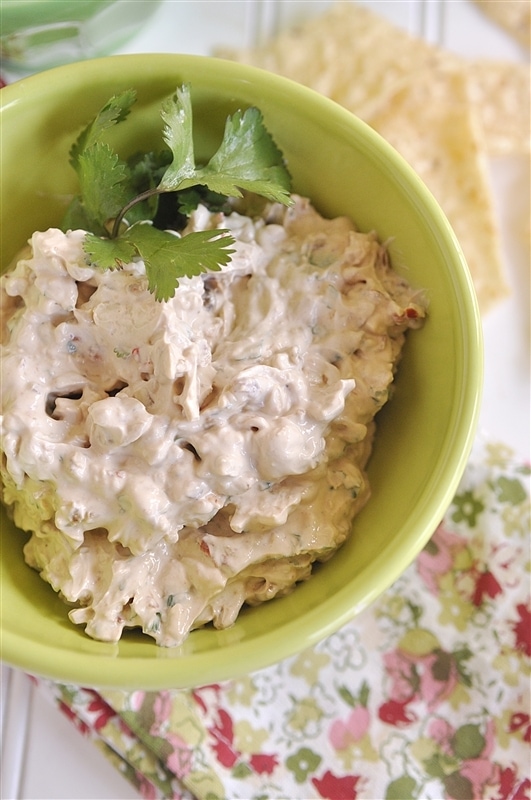 We love enjoying the dip with tortilla chips but any kind of chip will do.
So pretty please click on over and vote for my yummy Turn Up the Heat Chipotle and Cilantro Dip here..  I'd love for you to share it on Facebook and invite your friends to vote too.  Thanks much!
Here's all you have to do:
1. Visit liptondiptowin.com
2. Select your favorite food blogger dip. (Hopefully me and my Turn Up the Heat Chipotle and Cilantro Dip!)
3. Fill in your info at the bottom of the page.
4. Pin your favorite dip (me please!) to any of your Pinterest boards.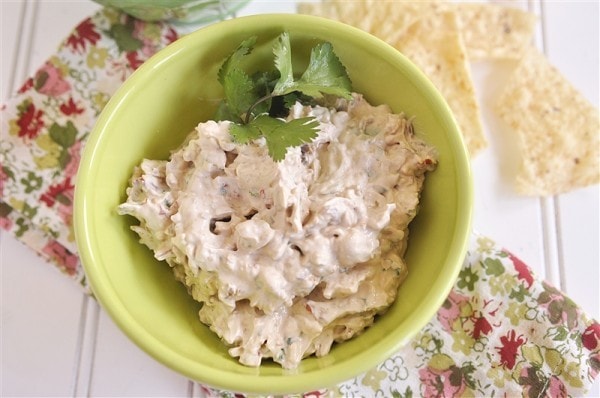 Enjoy!
Leigh Anne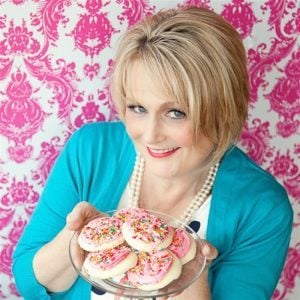 You can also visit me on Facebook, Pinterest, Twitter or Instagram.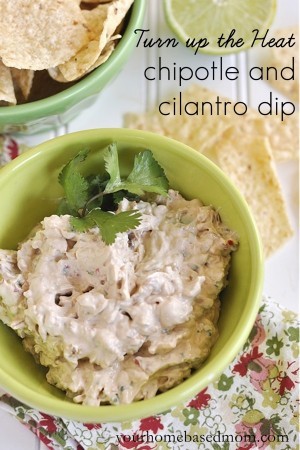 Turn up the Heat Chipotle and Cilantro Dip
Ingredients
1 C sour cream
1 pkg. Lipton Onion Soup Mix
2 Tbsp chopped cilantro
2-3 chipotle chilis in adobe sauce chopped small
1/2 C Monterey Jack cheese
1 tsp fresh lime juice
Instructions
Mix all ingredients together and then chill.

Serve with tortilla chips