Hello friends! My name is Kristen Duke, and I'm a lifestyle blogger who likes to share just about everything on my site from home projects, photography tips, & recipes. I'm currently in the middle of sharing My Love Story, and my recent adventure to Alaska along with snippets of how I am capturing joy in my daily life. I'm a mother to 4 in Austin, Texas, and Leigh Anne and I finally got to meet last April after a bit of emailing back and forth. I look up to her a lot, and love to see her get together with her fam on IG because our kids birth order is similar, so I'm living my future vicariously through her;) I'm so happy to be here today!
I've got a delicious summer treat to share with you, Raspberry Lemon Squares! About half way through the cooking process, I had to make a last minute decision on a substitute that ended up working out–whew!
You start the recipe by making a crust with flower, sugar, and butter.
Once the crust has been pressed into the bottom of the pan, you bake it for about 20 minutes.
At this point, this is where the happy accident occurred.  I realized I was all out of sugar. SUGAR! It is pretty important in any baked good.  I searched around, not wanting to borrow more ingredients from my neighbors,  and stumbled on a lemonade mix in my pantry.  Since lemonade mix is mostly sugar anyways, I thought I would give it a try.
It actually turned out really well! It wasn't  the same consistency as the sugar would have been, but it made it pink, so that was an added bonus!  I poured the sweet lemon mixture on the baked crust and then added my fruit.
 Then I  put the entire thing in the over to cook for a little longer, and soften the berries on top.
Raspberry Lemon Squares Recipe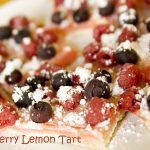 Print
Raspberry Lemon Squares
Ingredients
1

cup

flour

1/4

cup

powdered sugar plus 1-2 T

1/2

cup

unsalted butter

soft and cut into small pieces

2

eggs

3/4

cup

plus 2 T granulated sugar

1/2

t

baking powder

1/ 4

t

salt

1 1/2

T

grated lemon peel

2

T

fresh lemon juice

1

cup

fresh fruit: raspberries

blueberries, or strawberries
Instructions
Preheat oven to 350 degrees

In a medium bowl, mix the flour and 1/4 cup of the confectioners' sugar.

Add the butter and using your hands, a pastry cutter, or two knives, mix well until the butter breaks down into s mall pealike shapes.

Press the crust into the bottom and 1/2 inch up the sides of an 8x8x2 inch baking pan or rectangular tart pan with removable bottom.

Bake on the middle rack in oven for 20 minutes.

Meanwhile, in a large bowl, beat the eggs, with a whisk or electric mixer.

Slowly add the granulated sugar, baking powder, salt, lemon peel, and lemon juice, and beat until light and fluffy, about 5 minutes.

Remove the crust from the oven.

Pour the lemon mixture over the crust.

Bake for another 15 minutes on the middle rack.

Scatter the berries over the lemon mixture and bake another 10 minutes or so. If the tart begins to brown, cover very loosely with a sheet of aluminum foil. The tart is done with a toothpick inserted in the center comes out clean.

Remove from oven and let cool.

Sift remaining confectioners' sugar on top.
Voila! Yummy summer-y treat!
–www.KristenDukePhotography.com
Get my Weekly Menu Plan for FREE!
Receive my FREE "What's for Dinner?" Meal Planning Course, a copy of my FREE ebook that includes my most popular recipes and my FREE weekly Meal Plan.