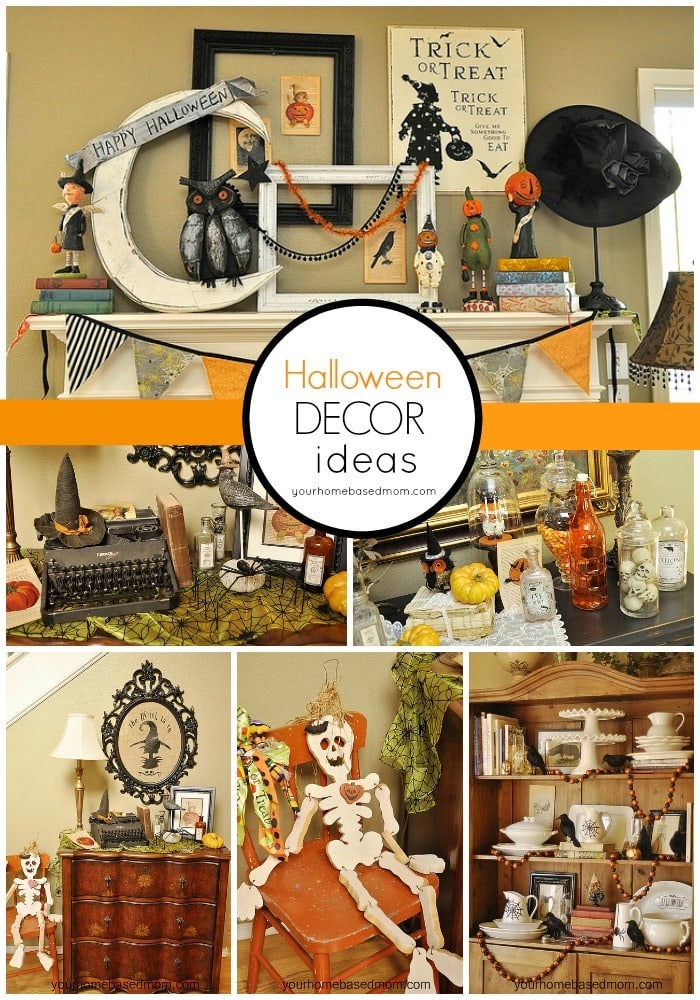 Next to Christmas, Halloween is my favorite holiday to decorate for. Today, I am excited to share with you my Halloween Decor 2012.
Now that I don't have kids living at home you might think I would forgo the Halloween decorating but I think I enjoy it more than my kids ever did. I've also got a couple of parties up my sleeve for October and I need my house decked out for those. I am especially excited to tell you about one of the parties I have planned because you are invited. There will be more details on the blog tomorrow so stay tuned.
So today you get a tour of my Halloween decor. My collection of Halloween decor has grown over the years. I usually add a couple of new items every year. Sometimes they come from Goodwill, a vintage shop, the craft or fabric store. Honestly, I don't remember where I've gotten most of it!!
Let's start in the entryway. This year I was so excited to use the old vintage typewriter my father in law gave me. This was his typewriter and he carried it home from when he returned from serving a mission for our church over 60 years ago in South Africa. It took him several months to get home so this typewriter had a long voyage. I am thrilled to be it's new owner. My husband remembers typing on it as a child.
The old book also came from my in laws recently as they are cleaning out and getting ready to downsize. I have been getting all kinds of lovely treasures from them!

I printed off the vintage prints onto old book pages and have scattered those amongst all my holiday decor. I was inspired by this post I saw over at The Idea Room. I downloaded the vintage prints from The Graphics Fairy.
I found the old bottles at Goodwill and created the labels using my Silhouette Cameo.

I think my favorite part of my entryway decor (next to the old typewriter) is my new framed witch. When I showed it to my husband he just smiled. Not sure what that meant! The witch came from one of my favorite bloggers Kristy over at The Diary of Dave's Wife. I cut mine out with my Silhouette Cameo and she has a free download for the Silhouette file as well as a printable file.


I mounted her onto some burlap, added my lettering and then put her into my IKEA frame. Love her! The font I used was Magic School.
Mr. Bones sits on an orange chair I found a few years ago at a vintage shop at the coast. I fell in love with the orange chair and had to carry it all the way home on my lap in the front seat of the car!

Next is my living room. I have an old French antique piece that I use to house my growing collection of white ironstone dishes. I decided to dress it up a bit for Halloween using some more of the vintage graphics, some black crows I picked up at the Dollar Store and a garland from Tai Pan.


I cut out some vinyl spider webs using my Silhouette Cameo to put on some of my white pitchers.

Loving the vintage Halloween prints!

From there we go into the family room.


This table was originally boring old pine but I gave it a coat of red paint and then black on top of that and I love it. I recently add the fun red knobs that look like a water spigot!


The decor here is a collection of things I already had that I just "Halloweened up." Yeah, I know that is not really a word.


I filled an apothecary jar I had with candy corn and licorice although I noticed there is a lot less licorice in there than there use to be. I'm thinking some of my younger party guests at our End of the SummerDinner may have snuck a few!
I'm kind of in love with my cute new little witch owl from Target. She is perfectly perched on top of some old books I ripped the cover off of and tied up with some lace.


I added a few more potion bottles and some more vintage prints. The lace table runner also came from Goodwill for 99cents as well as the orange bottle!
Our next and final stop is the mantel in the family room. I changed things up this year quite a bit in this area. I had these frames leftover from the photo booth at The Wedding Carnival so I decided to hang them on the wall and add some more of the vintage book pages. I just used straight pins and pinned them right to the wall.


My Halloween fabric pennant banner was from last year. The strand of pom poms draped over the frame was inspired by this post over at The 36th Avenue.
I used my collage of vintage inspired witches on the mantel. My witch hat stand is actually a toilet paper roll holder I found at Goodwill!
I picked up the cute owl on the moon at Tai Pan on my last trip to Utah. My neighbor girl asked me why I had a big C on my mantel!
The Trick or Treat board was from my trip to Tai Pan last year!

I think we're ready for Halloween!
Shared at:
Somewhat Simple*House of Hepworth*The 36th Avenue*The Idea Room*Embracing Change