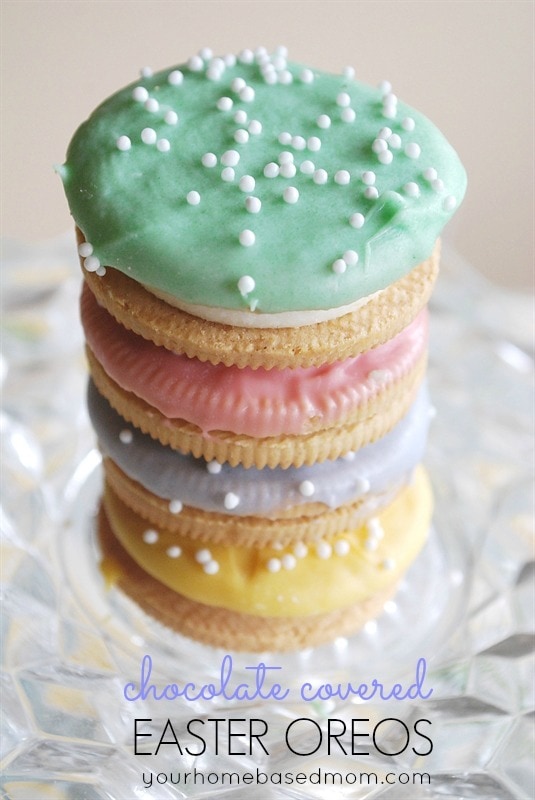 What doesn't taste better covered in chocolate??
I have a confession.
In addition to be a lover of candy corn I also love Peeps.
Yes, those marshmallowy covered in sugar little creatures you can buy at Easter (and other holidays now too!)  I prefer mine a few days old and dried out though!
As I was standing in line at the drugstore a week or so ago I noticed that you can buy dark chocolate covered peeps!  What a brilliant idea!!  Like I said, what doesn't taste better covered in chocolate.  They were a bit spendy and you only got one in the package so I decided to make my own chocolate dipped Peeps!
I used the Wilton chocolate melts, I had both chocolate and vanilla.
I just held those little Peeps by the neck and dunked away!!
I did both chicks and bunnies!

Another one of my secrets is I love chocolate covered gummy bears.  So while I was dipping I grabbed the bag of Bunny Gummy Tummies I had bought at Trader Joes and dipped those too.
They are rather small so I placed them on a fork and submerged them in the chocolate, then tapped the fork on the side of the bowl to remove the excess chocolate.
Just place them on a piece of wax paper to dry.
Why stop here.
Next I grabbed the bags of Oreos I had in the pantry, both chocolate and golden and just kept dipping.  This time I used my vanilla melts and added some food coloring. I prefer the gel type food colorings you can find at the craft store or cake decorating store.
I had seen these cute little Easter egg like Oreos over at Picky Palate earlier in the week! Yum!  Chocolate Covered Oreos!
I just used my fingers to dip them into a bowl of melted chocolate.  Make sure the bowl is fairly shallow which will make the dipping easier.  Then I sprinkled them with white sprinkles and they look like cute little Easter eggs.  O.K., round eggs!  My favorite were the Golden Oreos!  Yum!!
They look so pretty piled up on a plate…
or stacked on a plate.  They reminded me of little French macaroons!

Of course I had to wrap some up to give away!

What a fun Easter basket full of chocolate covered treats – quick and easy too!
Now let's see, what else can I dip in chocolate…..