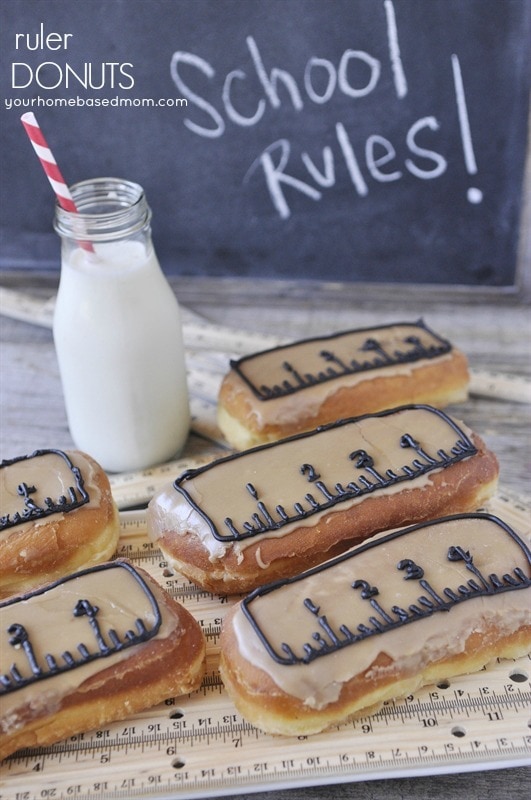 This month's 10 Creative Blogs Blog Hop was a bit of challenge for me.  The theme was rulers since it is back to school time. Trying to come up with a food idea to go along with the ruler theme was hard!  Come check out what I came up with and then go visit all my other friends to see their ruler ideas!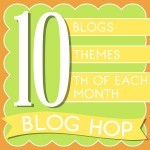 One of my favorite back to school activities has been our Back to School Breakfast.  Having a special treat the first day of school is always fun so why not a ruler shaped donut!
To make it easy I purchased maple bars from my favorite neighborhood donut shop.  If you live in my area you should really check out Donuts Plus!  It's been a neighborhood favorite for years and their donuts are the best and the owners are super nice!  They always throw in some extra donuts for free!
The only other thing you will need besides the maple bars is some black frosting.  I purchased it from my local craft store already made, in the tube!  All I had to do was add my own decorating tip.  You want a small round one.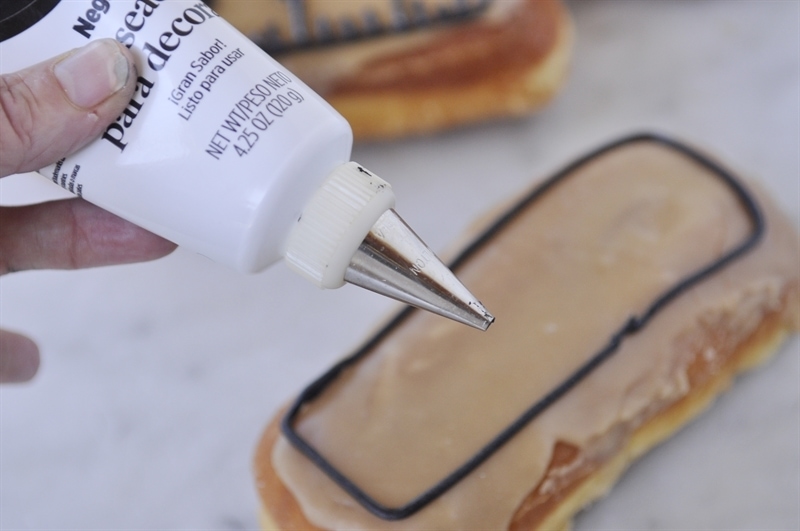 Just draw an outline with the black icing around the maple bar.  Add in your little ruler marks and numbers and you have a ruler donut!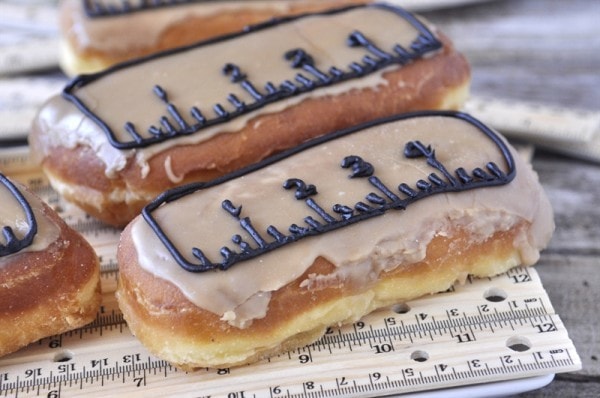 Everyone loves a donut and what's not to love about a ruler donut!
Maple Bars always seem to be the first things to disappear at our house and I think they will disappear ever faster now!!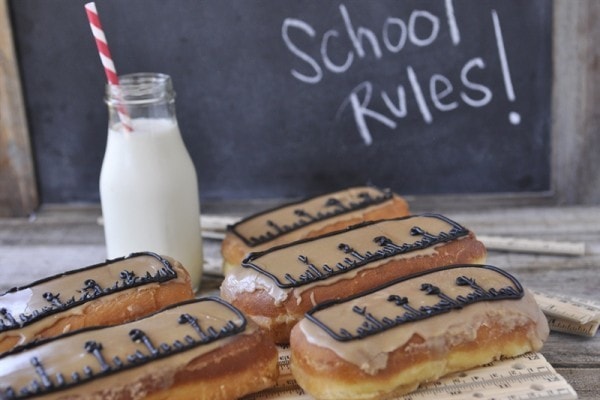 To dress up my table a little more I created a plate cover using rulers.  I picked my rulers up at Target for .31 cents a piece.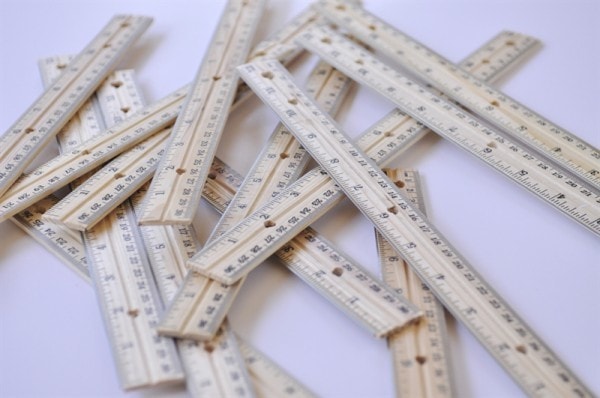 I used a white I already had that was 12 inches long.  The plate was 6 inches wide so it needed six rulers.
I just used my hot glue gun to glue the rulers together.  Put the glue along the flat wooden edge of the ruler.
Then just join two rulers together, I made sure mine were all going the same way.  To make it a little more secure I ran a line of hot glue along the back of the seams too.
Just use as many rulers as you need for the width of your plate.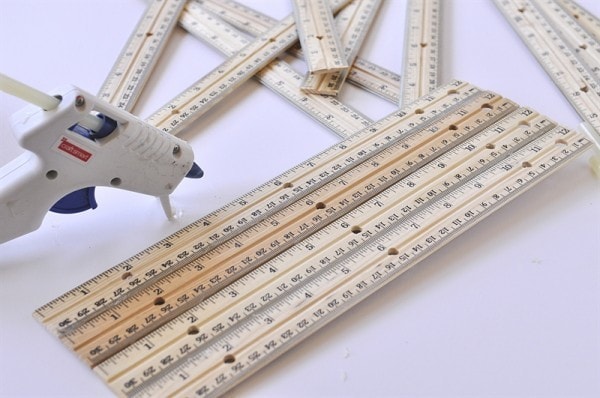 Then just place your ruler tray onto the plate!

And add donuts!
Now go visit everyone else!

1. Classroom Sign & Printable by Capturing Joy with Kristen Duke
2. Ombre Ruler Wall Arrows by LandeeLu
3. DIY Ruler Vase by Lolly Jane
4. Ruler Donuts by Your Homebased Mom
5. Easy Educational Ruler Activity by Or So She Says
6. DIY Pencil Holder or This Pencil Holder Rules by Eighteen25
7. Back to School Ruler Printable by Two Twenty One
8. You Rule! Back to School Printable by Thirty Handmade Days
Check out these cute Apple Donuts too!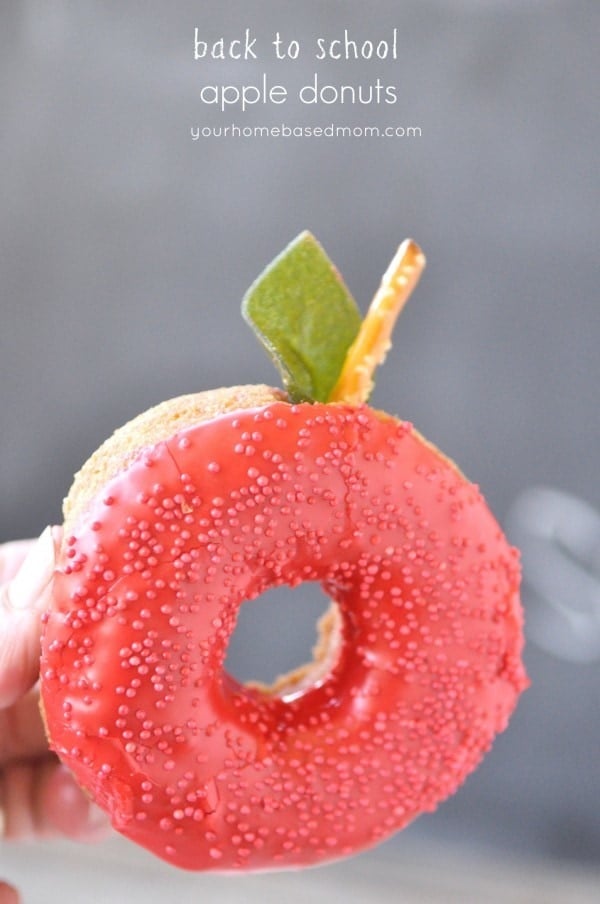 Enjoy!
Leigh Anne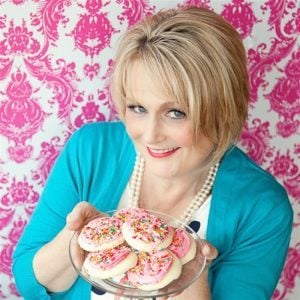 You can also visit me on Facebook, Pinterest, Twitter or Instagram.