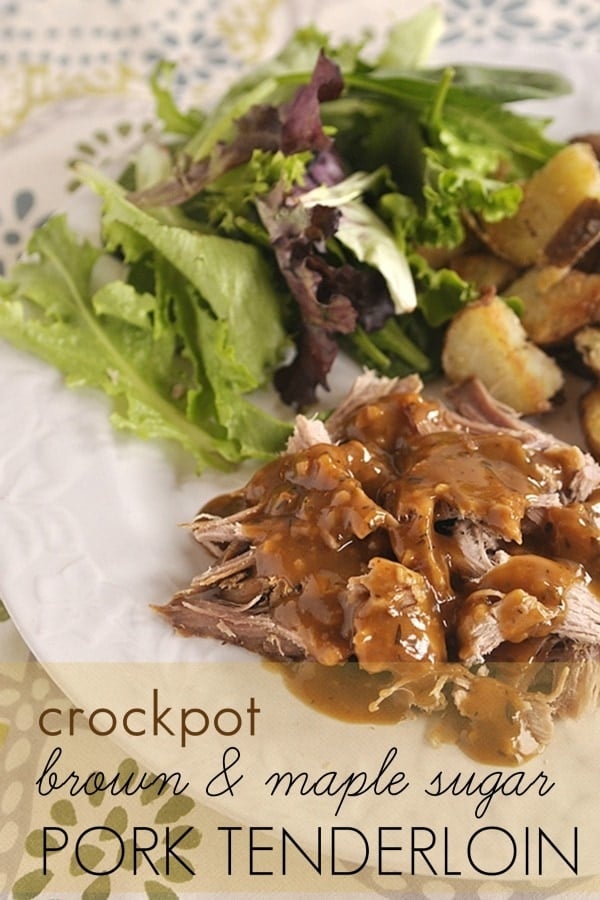 We love pork tenderloin at our house.  It is usually my family's first choice of meat especially since one of my children is allergic to red meat (beef).
For this week's quick and easy dinner idea I put the pork tenderloin in the crock pot using a yummy recipe I adapted from one I found over at Six Sisters Stuff.  One of my goals for this year was to learn to use my crock pot more and I have really learned to love it.  It is totally a great way to put together a quick and easy dinner.  You just have to remember to turn the crock pot on.   Yeah, nothing worse than feeling so proud of yourself because it's 10:00 a.m. and you already know what you are having for dinner and it is cooking away (or at least you think it is) when you leave the house for the day.  As you come home hours later, thinking about the yummy smell of dinner cooking that is going to great you when you get home only to enter the house and smell nothing!  Yeah.  Been there, done that!  Don't forget to turn it on!!!
I purchase my pork tenderloin at Costco in the vacuum pack – there are two tenderloins and each tenderloin is two pieces. Use half of the package (or two pieces) for this recipe.  Be sure and check out some of the other pork tenderloin recipes I have here on the blog for the rest of the tenderloin.  I have linked to some of my favorites at the bottom of the post.
I loved the combination of brown sugar and maple sugar in this recipe.  I love a little bit of sweet with my meat!  Combine that with some dijon mustard, balsamic vinegar (I used white) and some dried thyme and you have a delicious meal.
I served it with some Parmesan Roasted Potatoes I'll be sharing tomorrow as well as a salad.
Check out my favorite crock pot here.
For other yummy pork tenderloin recipes try these:
Pork Tenderloin with Cranberry Apple Sauce
Grilled Pork Tenderloin with Orange Marmalade
Balsamic Roast Pork Tenderloin
Balsamic Honey Pulled Pork Sliders
Crock Pot Brown and Maple Sugar Pork Tenderloin
Ingredients
2lbs. pork tenderloin (this would be half of a Costco package)
salt and pepper to taste
2 cloves garlic, minced
2 Tbsp real maple syrup
4 Tbsp Dijon mustard
2 Tbsp honey
2 Tbsp brown sugar
1 Tbsp white balsamic vinegar (can use regular also)
½ tsp dried thyme
1 Tbsp cornstarch
1 Tbsp cold water
Instructions
Place tenderloin in crock pot.
Sprinkle with salt and pepper.
Combine together garlic, mustard, honey, brown sugar, vinegar, thyme, maple syrup.
Pour over pork. Turn pork to coat
Cover and cook on low for 7-9 hours or on high 3-4 hours.
Remove pork and cover with foil to keep warm.
Put juices in pan and bring to a boil over heat.
Simmer for 8-10 minutes and then add in cornstarch that has been mixed into cold water
Whisk into juices and cook for one minute longer until thickened.
Pour juices over pork.