This traditional Italian spicy tomato pasta is also called Amatriciana.  It's simple to make but packed full of flavor. The perfect last minute dinner idea.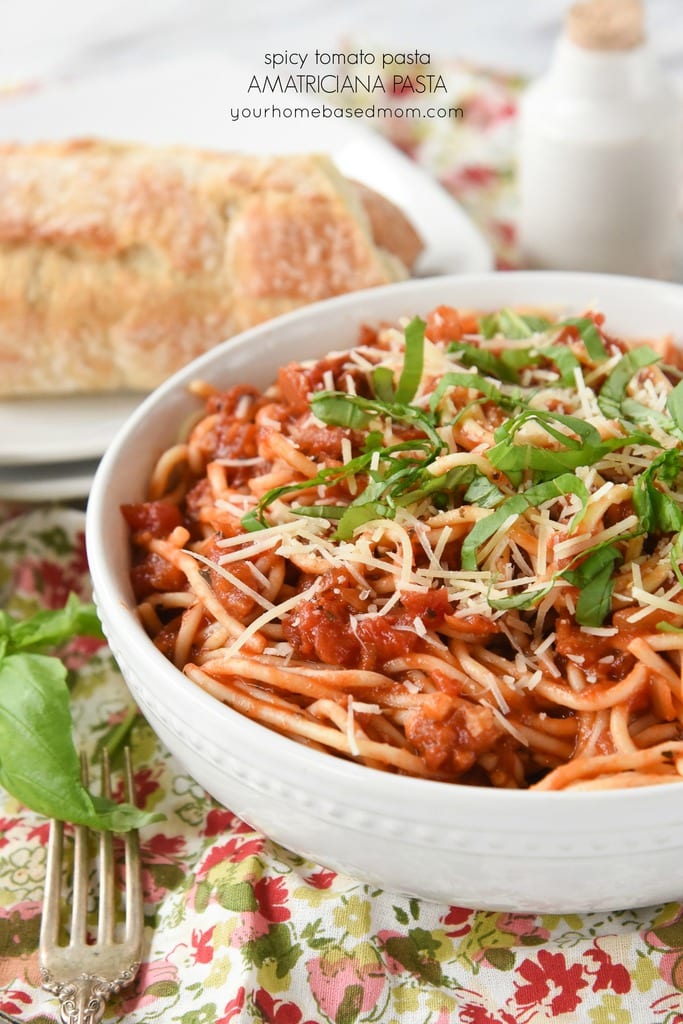 I know I shared another pasta recipe a few weeks ago but I've had pasta on the brain since returning from our #wilkesgrandadventure earlier this fall where we  traveled through Italy and Greece. (I'll do a post on that trip soon!)  It was an amazing adventure full of beautiful places and delicious food.  We pretty much ate our way through the two countries and pasta and gelato were two of my favorite things.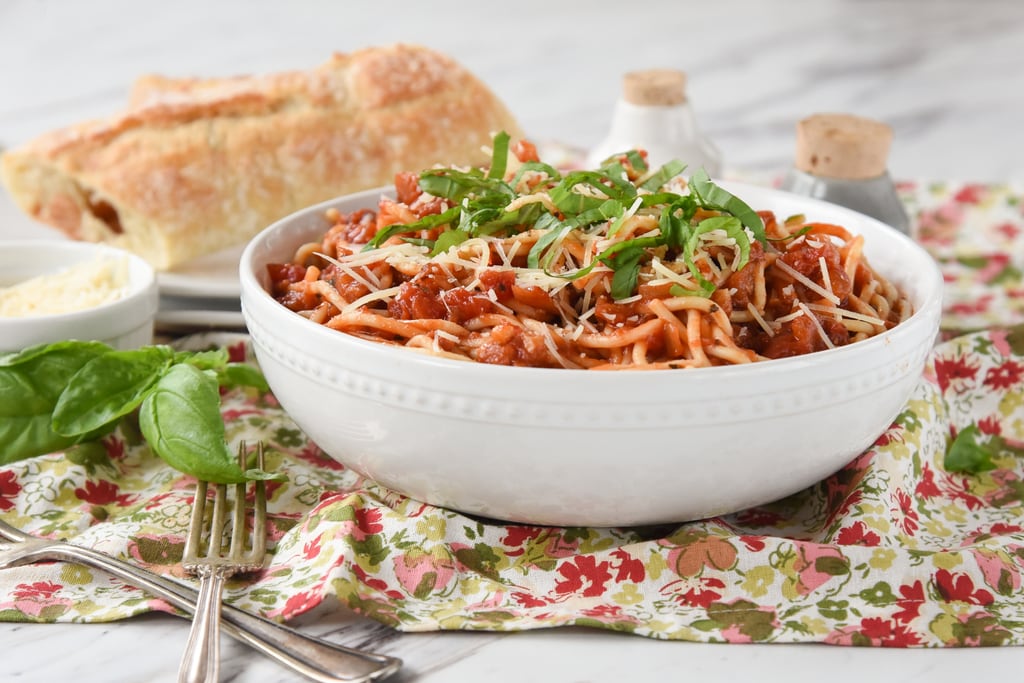 Bucatini all'Amarticiana
The first pasta dish I tried was called Bucatini all'Amarticiana.  Fortunately I had a waiter who spoke English who could explain to me what it was.  It is basically a very simple but delicious spicy tomato pasta (not too spicy) that uses guanciale which is cured pork cheek and fresh basil.  I loved it and ordered it three more times during our trip.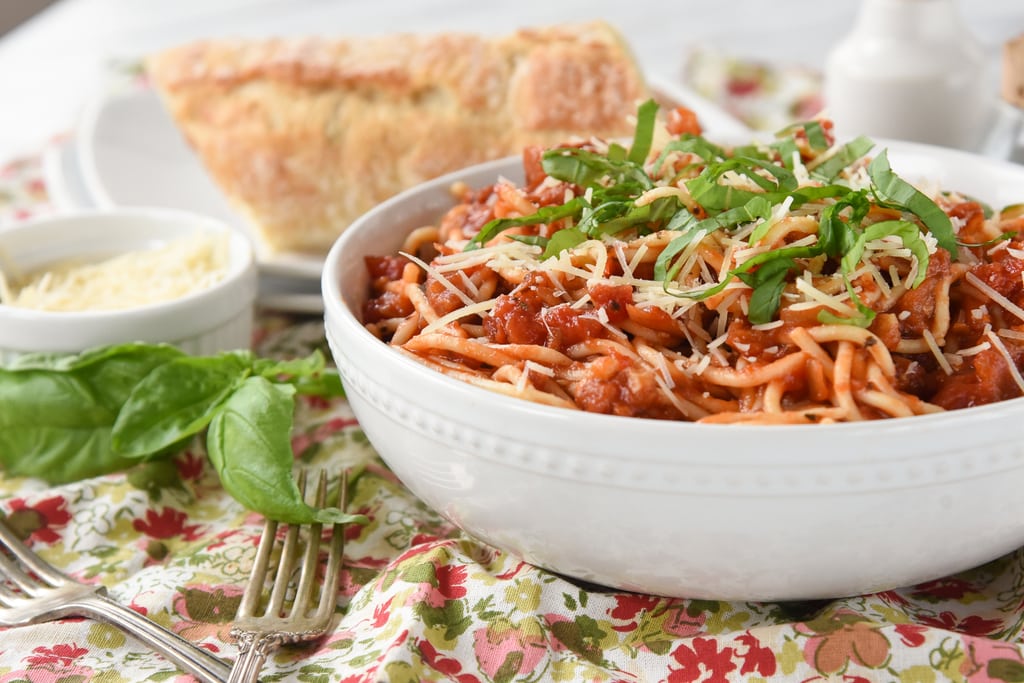 I wanted to be able to reproduce it at home but there were a few problems.  Bucatini is the style of pasta that is a thick noodle but I was not able to find it here in the states so I just used regular spaghetti but a linguine noodle would work well too.  I also discovered that the Italians serve their pasta very al dente.  It was a little too al dente for me so I cooked my noodles a bit more but still left them so they had some chew to them.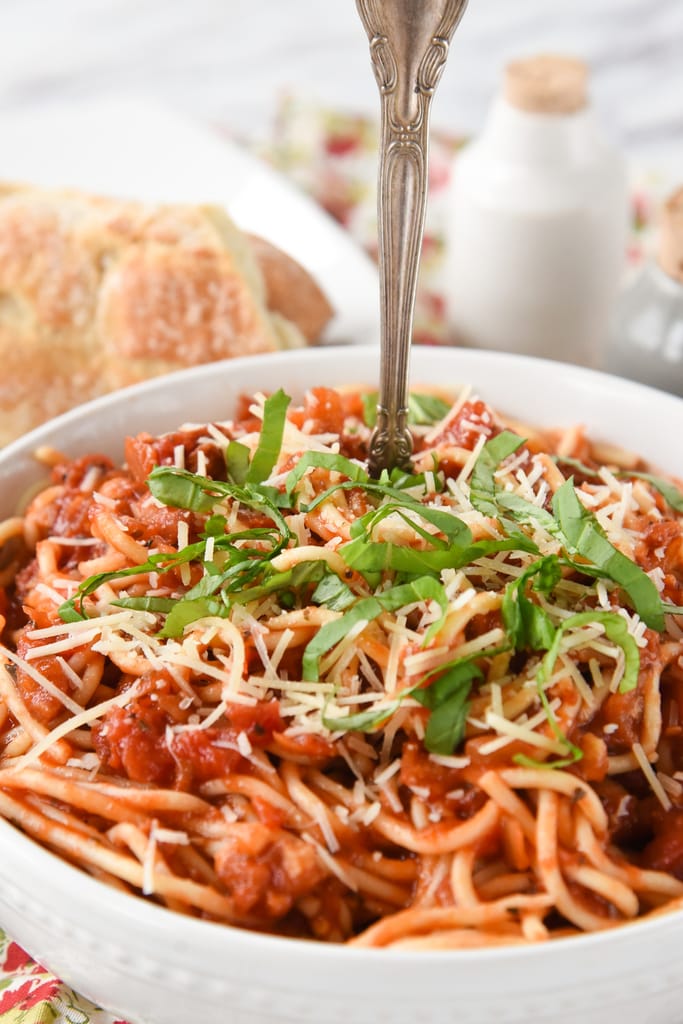 The second problem was that cured pork cheek is not readily available here in the states either but I found that bacon or diced pancetta works.  I prefer bacon. I used canned tomatoes but fresh would be even better.  Fresh basil, freshly grated Pecorino Romano cheese and some red pepper flakes are all you need to make this classic, traditional Italian dish.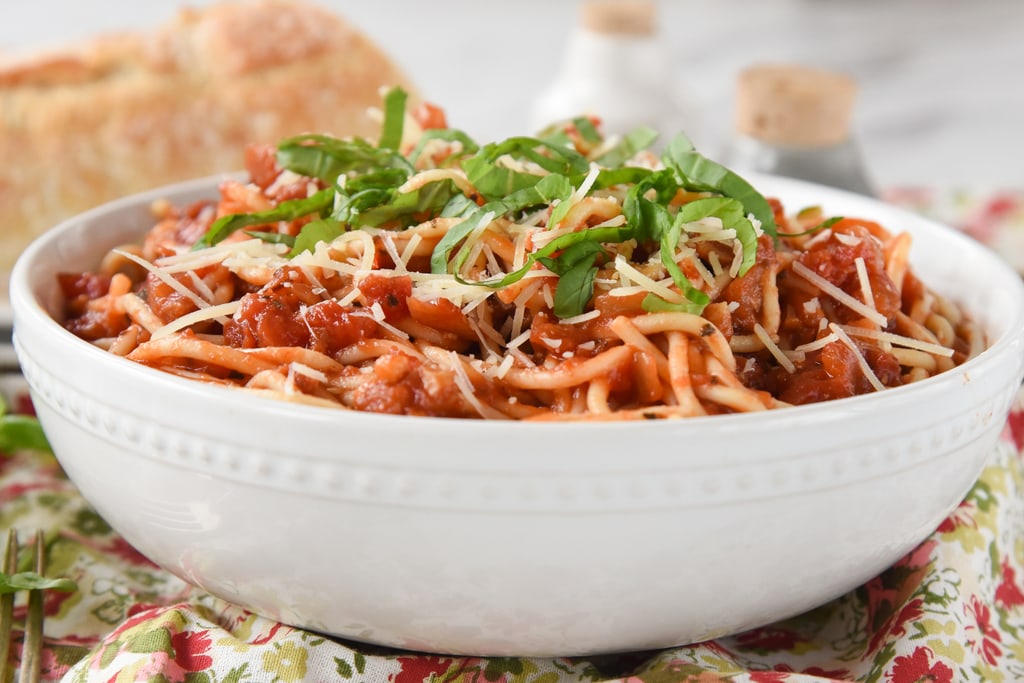 This spicy tomato pasta is a perfect weeknight dinner because it comes together so quickly.  My husband's comment was "you can make this one again!."  I knew it was a winner!  Eating this pasta brought back lots of fun memories of our Italian adventure and we enjoyed reminiscing over dinner and this yummy pasta!
Some other favorite pasta dishes:
Slow Cooker Garlic Chicken Pasta
Lemon Basil Pasta with Walnuts
 Spicy Tomato Pasta Recipe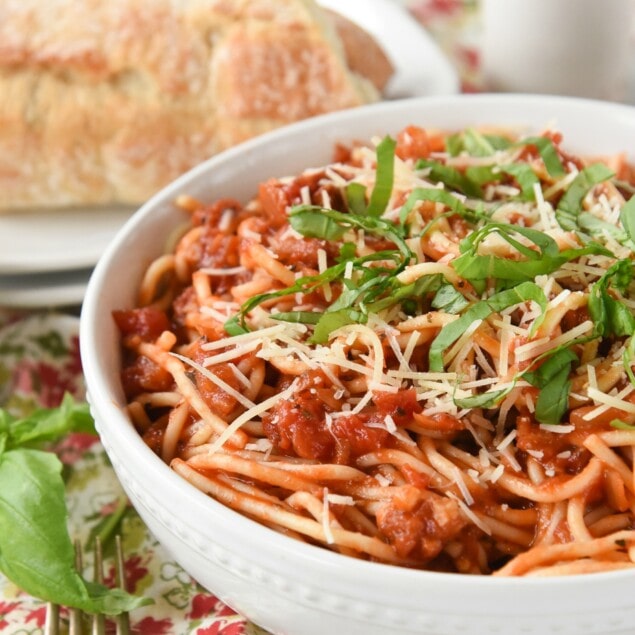 Spicy Tomato Pasta | Amatriciana Pasta
This traditional Italian spicy tomato pasta is also called Amatriciana.  It's simple to make but packed full of flavor.
Ingredients
2 Tbsp olive oil
12 oz pancetta or bacon diced
1 cup onion diced
3 tsp garlic minced
1 tsp red pepper flakes
28 oz crushed tomatoes
1 tsp sugar more to taste if needed
1 lb. spaghetti or linguine noodles cooked al dente
Parmesan cheese grated
2 Tbsp fresh basil chopped
salt and pepper to taste
Instructions
Heat oil in pan and add bacon or pancetta. Cook until crispy

Add in garlic and onion and cook until softened.

Add in tomatoes, red pepper flakes and sugar. Add salt and pepper to taste and additional sugar if needed. Bring to a boil and cook until slightly thickened.

Add in fresh basil and serve over pasta. Garnish with Parmesan cheese and additional basil if wanted.
Nutrition Facts:
Calories: 571kcal (29%) Carbohydrates: 105g (35%) Protein: 19g (38%) Fat: 9g (14%) Saturated Fat: 1g (6%) Sodium: 279mg (12%) Potassium: 902mg (26%) Fiber: 8g (33%) Sugar: 15g (17%) Vitamin A: 628IU (13%) Vitamin C: 22mg (27%) Calcium: 104mg (10%) Iron: 4mg (22%)
* Disclaimer: All nutrition information are estimates only. Read full disclosure here.