Create this simple No Sew Valentine Heart Garland with some tissue paper, glue and string. No sewing required.
For some other fun Valentine craft ideas check out these DIY Valentine Sharpie Mugs, Valentine Peeps Bouquet and Yardstick Heart DIY Tutorial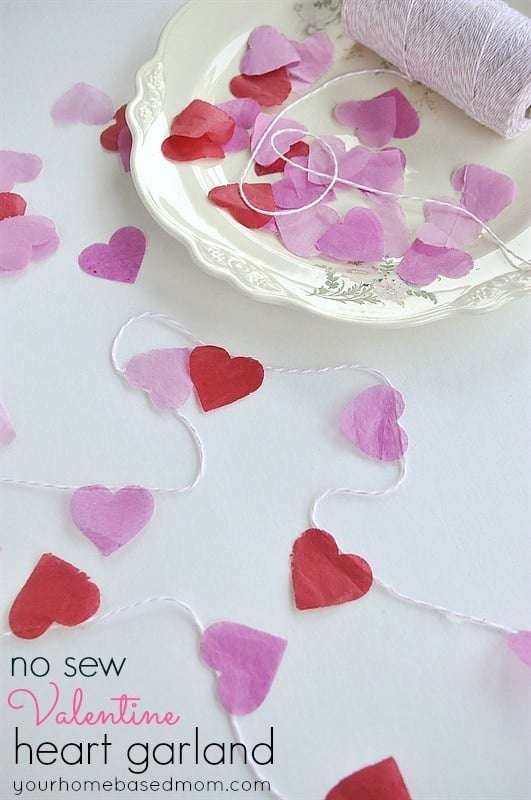 After the Christmas decor comes down the house always looks so empty and bare.  I enjoy it for a few days and then I am ready for Valentine's Day.
I love spreading little touches of love throughout my house.  This year I put together a super quick and easy no sew heart garland to jazz up the dresser in my front entry way.  I know a lot of people don't decorate for Valentine's Day but if you want to add a little holiday color to your home this No Sew Valentine Heart Garland is the perfect thing.  With just a few supplies and a few minutes you've got some darling Valentine decor!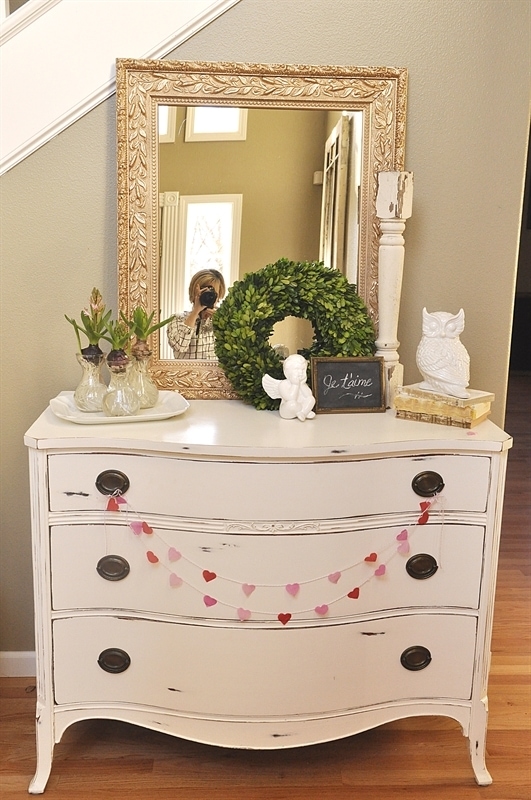 How to Make a Heart Garland
All you need is  some tissue paper, a glue gun, a heart punch and some Baker's Twine.
I recommend using a low melt glue gun since you get pretty up close with the hot glue!
Step 1:
Use your heart shaped punch and punch out your tissue paper.  I did several layers at one time.  Don't stress if you get a few ragged edges on your hearts.  I did too.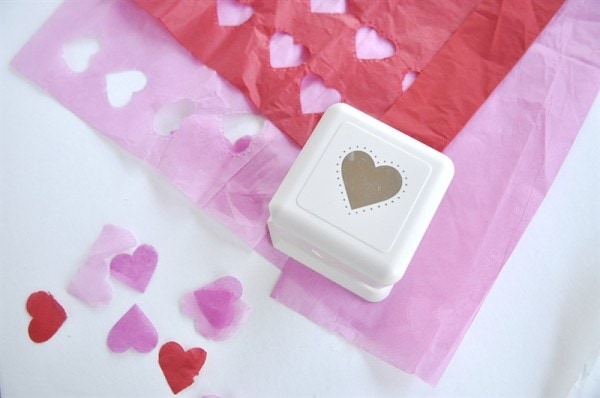 I used three different colors of tissue paper and pink Baker's Twine.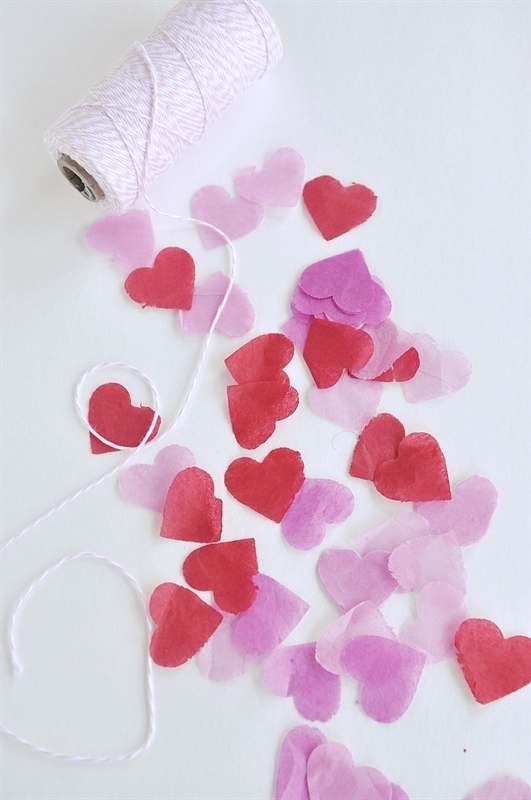 Step 2:
Determine the length of Baker's Twine you would like and cut it.  I placed my hearts about 2 inches apart and I didn't use a pattern to the color placement and I didn't measure for distance.  I just randomly placed them.  Remember I said EASY!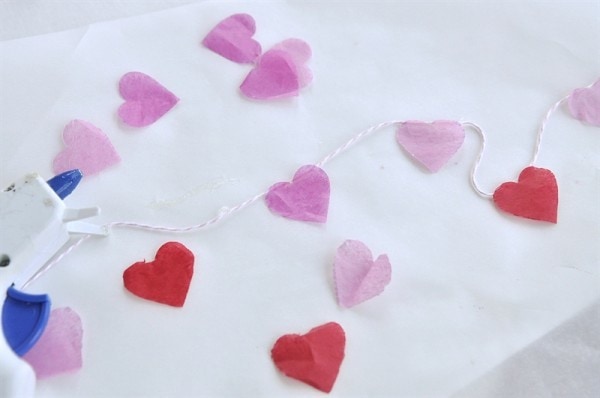 Place a small line of hot glue onto the twine where you want the heart to go and then press the top edge of the heart onto the twine. (Watch your fingers if you are using regular hot glue and not low temp!)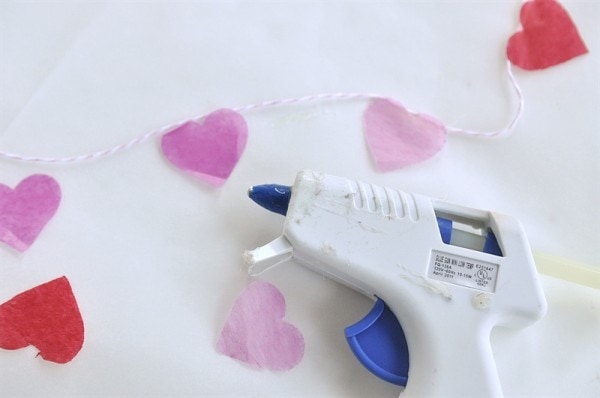 That's it – so easy!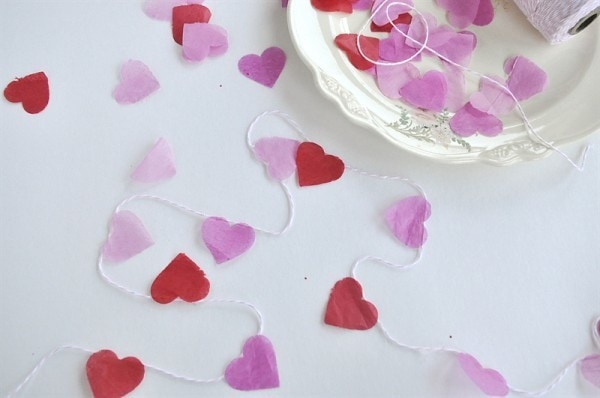 The final step is to hang it up!  Love how it looks on my hallway dresser.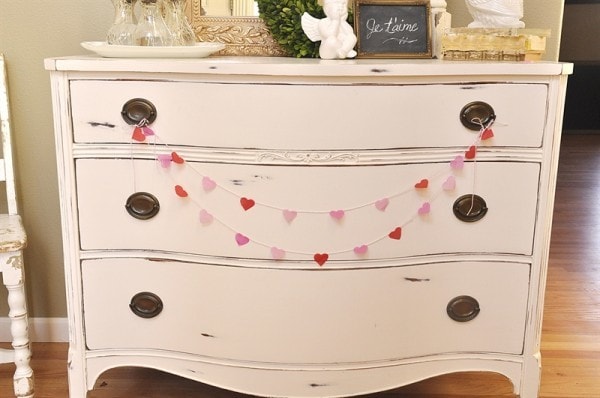 A quick and easy way to add a little holiday decor!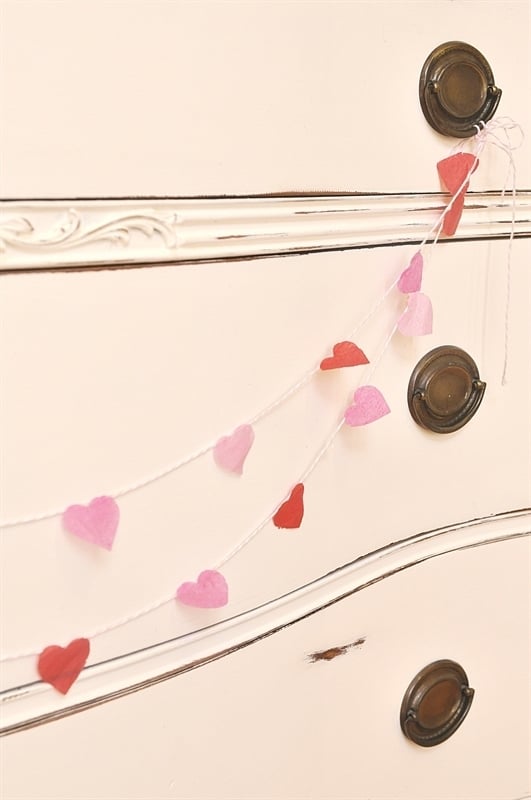 For all of my other favorite kitchen products and tools visit my Amazon Store. 
Did you know I wrote a cookbook?  Check out the Holiday Slow Cooker Cookbook for 100 delicious recipes.