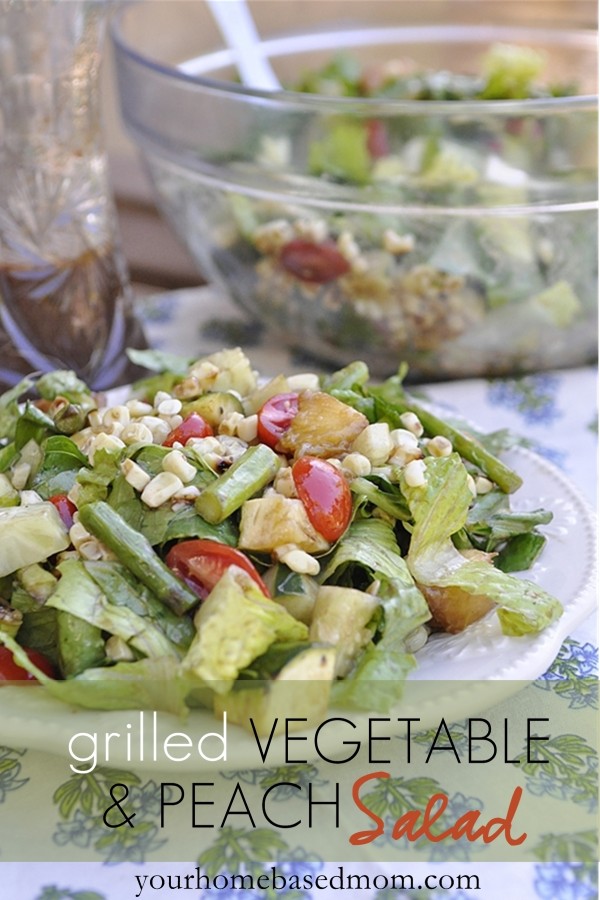 About a year ago my 83 year old mother (sorry mom for revealing your age) started sending me recipes from a TV show called The Chew that she loved watching.  I had never heard of the show but  after I tried one of the recipes she sent me for  Salt and Pepper Butterscotch Pine Nut Cookies that I shared on the blog, I figured I better check out this show.  Glad I did.  It is such a fun show.  It is the perfect combination of a cooking show and a talk show.  It is daytime TV worth watching.
All the co-hosts on the show are great but I must admit that Clinton is my favorite.  I've been a Clinton fan for a long time and love that I get to see him on The Chew.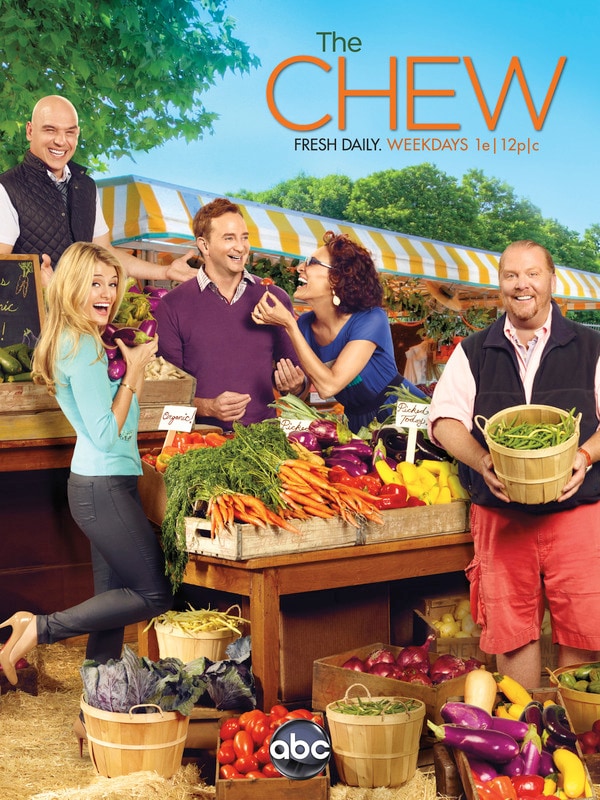 When I was invited to participate in a blogger campaign where we were asked to create a recipe inspired by one of the episodes of The Chew I couldn't resist!  Since we just recently purchased a new grill I couldn't wait to try out the recipe for  Grilled  Cantaloupe and Vegetable Salad  that was shared on their Summer Menu 2 show!
The Chew is your one-stop shop for everything food this summer.  They will feature everything from grilling to outdoor entertaining to picnics!  So many fun ideas and recipes.
One of our favorite things to cook on the grill is vegetables.  Love roasting them until slightly tender.  Today's recipe takes those roasted vegetables and adds them into a salad for delicious flavor and texture.  I used a combination of asparagus, zucchini and corn.  Roasting corn on the grill is so easy and so delicious!  One thing I had never grilled before though was fruit!  On the show they grilled cantaloupe but I decided to uses peaches instead since I am not a big cantaloupe fan.  You just grill them long enough to warm them up a bit and put grill marks on and they are delicious!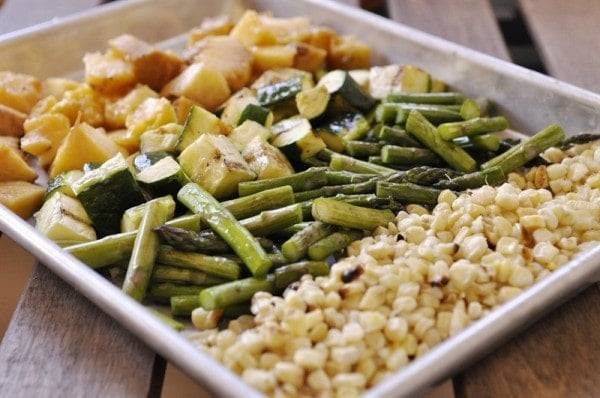 I chopped all the fruit up small after roasting it and removed the corn from the ear and then mixed it into my salad along with some tomatoes and cucumbers.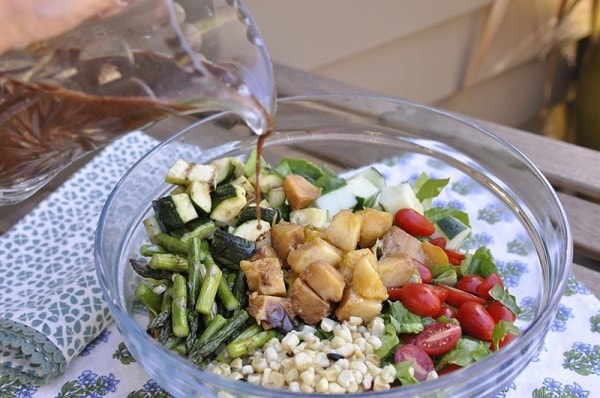 I then tossed it with my good old, always in the refrigerator, balsamic vinaigrette. 
They share a yummy sounding dressing on the show that you might want to try too.  Just mix it all up together and you have a delicious salad full of lots of fun flavor and texture.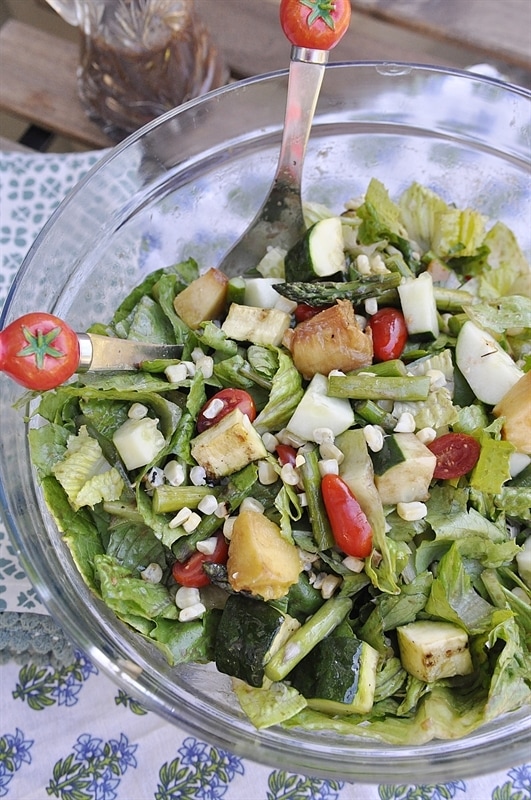 You can find the original recipe from the show here.
If you have never watched an episode of The Chew, you really must.  Check out this one:
You can also visit me on Facebook, Pinterest, Twitter,  Instagram
and Google+
For a list of where I Link Up each week go here.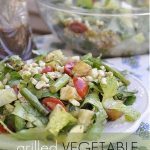 Print
Grilled Vegetable & Peach Salad
Ingredients
2

ears Sweet Summer Corn

I remove the husks to grill

Olive Oil for the grill or grill pan

2

medium Zucchini

sliced lengthwise into 1/2-inch strips

1

bunch of Asparagus

woody ends removed

2-3

peaches

peeled and cut in half

1

head of Romaine Lettuce

finely chopped

1

Cucumbers

sliced into 1/4-inch rounds

1

cup

Cherry Tomatoes

halved

1/2

cup

favorite Vinaigrette
Instructions
Husk the corn and lightly coat with olive oil. Cook on grill for 20-30 minutes, rotating.

Cut off ends of asparagus and lightly coat with olive oil and grill until tender

Grill zucchini until tender also.

Remove corn from cob and cut asparagus and zucchini into bite size pieces

Grill peaches until warmed and grill marks appear

Cut peaches into bite size pieces.

Combine lettuce, grilled vegetables and fruit with other vegetables.

Add salad dressing
I'm always looking for new ways to spice up my Summer dishes, and ABC's The Chew serves up everything from grilling and outdoor entertaining to road trips and picnics. Watch weekdays 1e|12p|c on ABC to see what celebrity chefs Mario Batali, Michael Symon, and Carla Hall, lifestyle expert Clinton Kelly and fresh face of healthy living Daphne Oz are dishing out to inspire you this Summer.
This is a sponsored conversation written by me on behalf of ABC's The Chew. The opinions and text are all mine.
This is a sponsored conversation written by me on behalf of ABC's The Chew. The opinions and text are all mine.
Get my Weekly Menu Plan for FREE!
Receive my FREE "What's for Dinner?" Meal Planning Course, a copy of my FREE ebook that includes my most popular recipes and my FREE weekly Meal Plan.