Today I am so excited to welcome Lindsey of Cafe Johnsonia to the blog.  I have been a big fan of hers for a long time.  Her photos are gorgeous and her recipes amazing.  I am a big white chocolate lover so can't wait to try this recipe!  Be sure to visit her at her blog to enter to win a Blendtec Blender and then check out what Mique and Cindy are sharing as part of the Craft and Sew!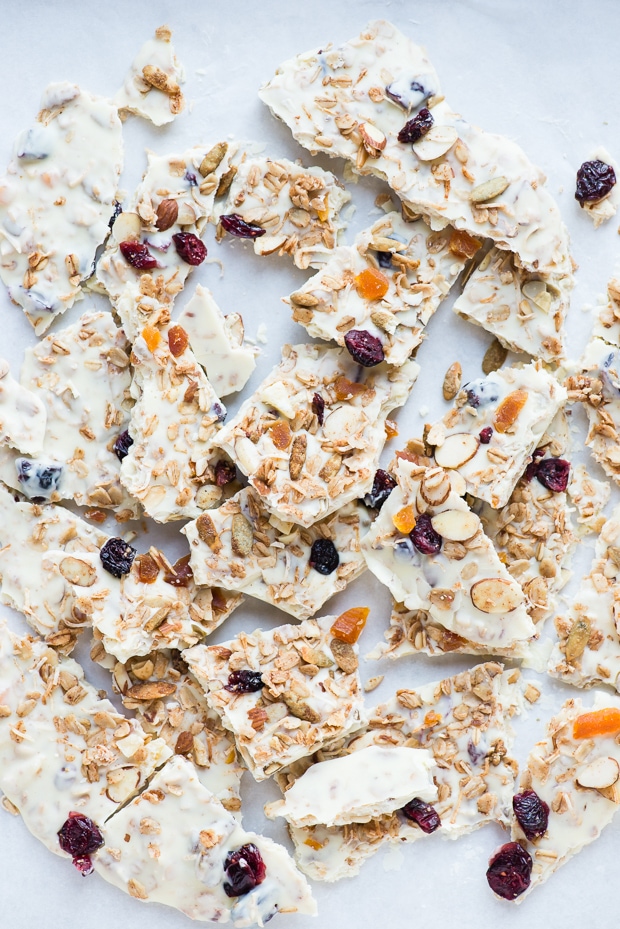 Hi there! I'm Lindsey Johnson and I blog over at Cafe Johnsonia. I work full-time as a food photographer and stylist in addition to blogging. This time of year is my absolute favorite because there are so many delicious things to make. It's hard to know where to start! I kicked off the holiday candy making season at my house with White Chocolate Granola Bark. It makes a great gift for neighbors and friends, or to stash away in a tin to pull out when you need a little treat. The best part is that it is incredibly easy to make.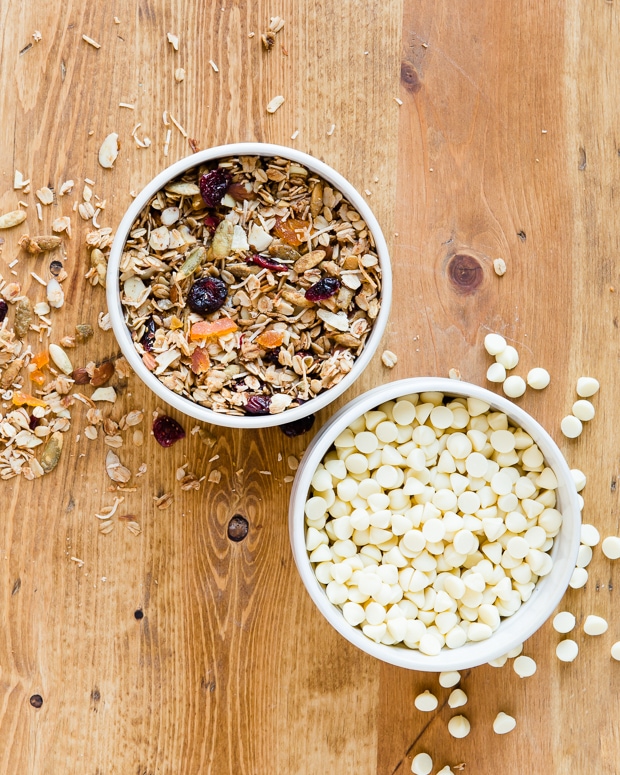 All you need for this bark are two ingredients – white chocolate chips and granola. I make my own granola, so that's what I used for this recipe. Any kind of granola will work just great. Of course, use you can also change things up by using milk, semi-sweet, or bittersweet chocolate. I used chocolate chips because it makes things even easier – no chopping necessary – but bar chocolate is also great to use here. I prefer to use high-quality chips because they melt and taste better. Check the package to make sure it says "cocoa butter" on the ingredient list rather than palm oil.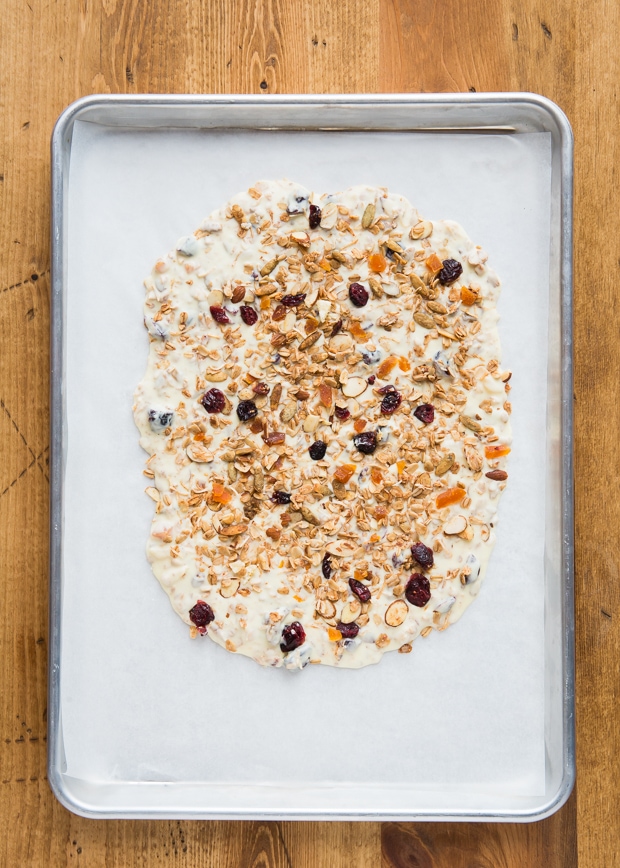 The steps are as easy as can be, which is nice during this busy time of year. Just melt the chocolate, stir in the granola, and spread it out onto a baking sheet. Let it set up then break into pieces, and package. It really only takes about 10 minutes of active time, the rest is just waiting patiently (or not-so-patiently) for the bark to set up so you can eat it!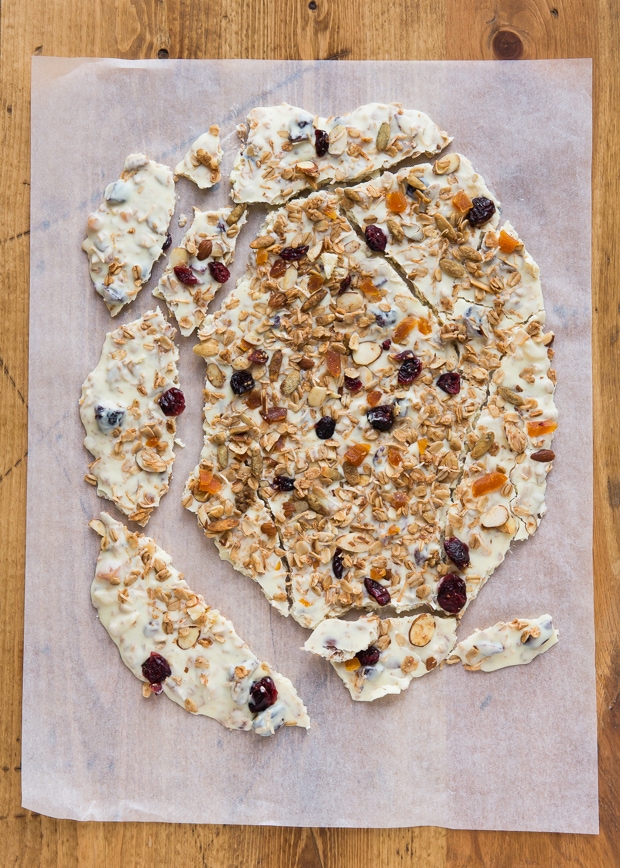 When it comes to packaging, I always go for something super simple because that's how I operate. A small cellophane bag tied with pretty holiday twine and a little tag. I am in love with using a simple stamp set I bought from the office supply store. We use it a lot to make little labels and tags. (I've used it to make business cards too!) And that's it!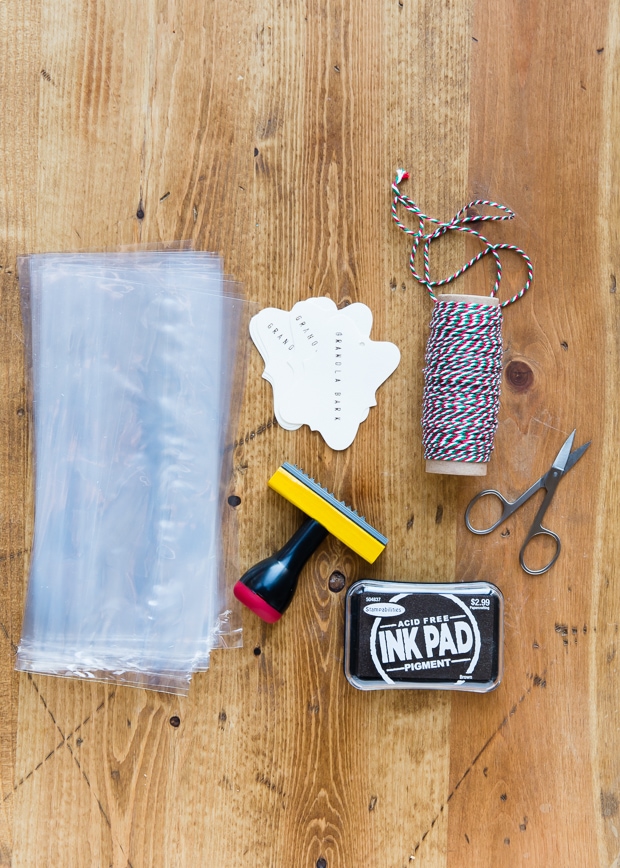 Just be prepared to make batch after batch of this bark – it's so addictive! Everyone will love it.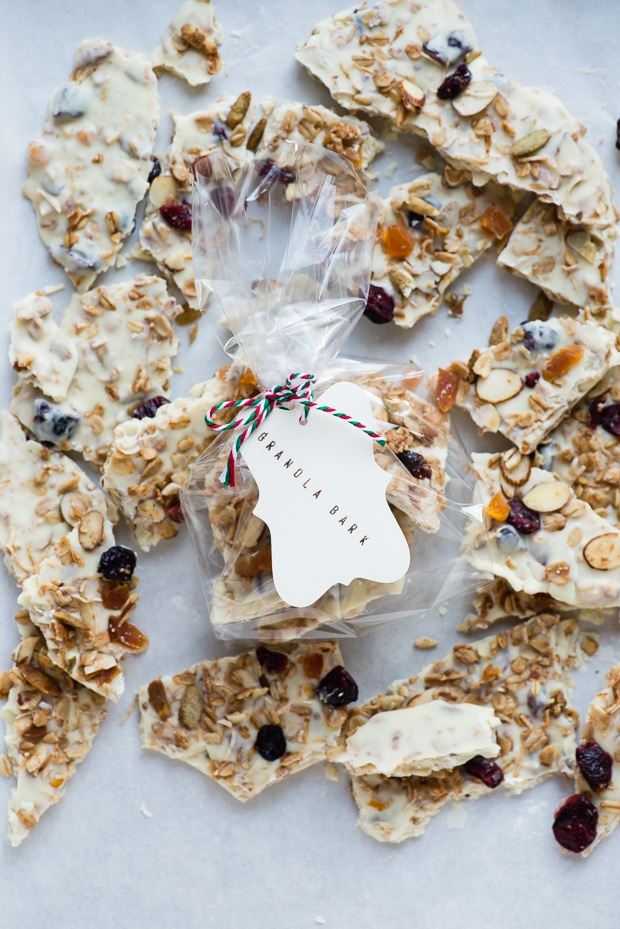 If you're looking for more homemade candy to give away (or keep for yourself) for the holidays, check out three of my favorites: Spiced Candied Orange Peel, Hazelnut Butter Toffee, and Caramel Peanut Butter Fudge.
Be sure to enter to win the Blendtec over on Cafe Johnsonia. I love connecting on social media with new friends. You can find me on Pinterest, Facebook, Twitter, Instagram, and Google+.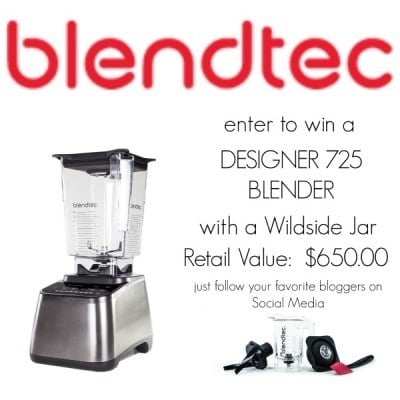 White Chocolate Granola Bark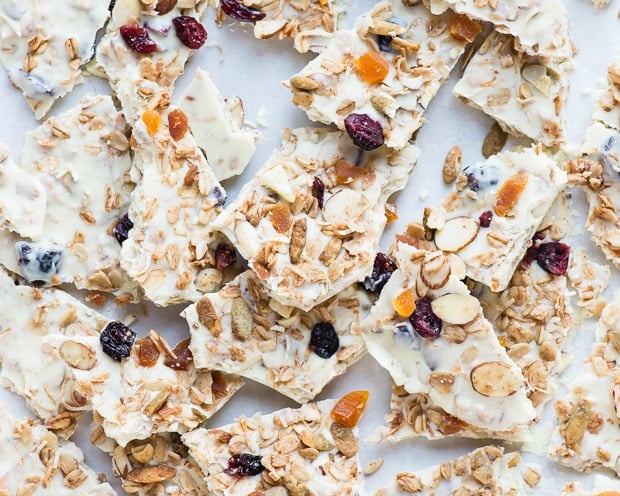 White Chocolate Granola Bark
Ingredients
12 ounces white chocolate chips
1 1/2 to 2 cups granola plus 2 Tablespoons for sprinkling.
Instructions
Line a baking sheet with a piece of parchment paper. (Waxed paper won't work as well here.)

Place chocolate chips in a heat-safe glass bowl. Set over a pan of simmering water or microwave on 50% power for 30-60 intervals. Stir until smooth and fold in the desired amount of granola. (For thicker, chunkier bark use the full 2 cups.)

Pour the mixture out onto the lined baking sheet. Spread into a 1/4-inch thick even layer. Sprinkle the extra 2 Tablespoons of granola over the surface of the bark.

Set somewhere cool to set up for about 1-2 hours. (Can be placed in fridge to set more quickly.)

Break into shards of various shapes and sizes. Package into an airtight container or small bags.