Tired of wondering what's for dinner?  Why is it that deciding what to make for dinner each night is so difficult?  It has always been my least favorite part of making the meal.  I love to cook, but sometimes it seems impossible to decide what to have for dinner.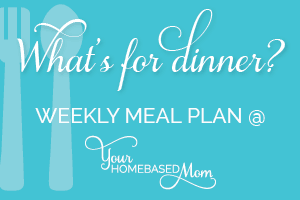 We all know that waiting until it is time to make dinner is not the best strategy.   That is why I have shared my best meal planning tips.  But sometimes you don't have any other choice.  And that is where a well stocked pantry full of pantry staples comes in handy.  But I want to make it even easier for you to decide what's for dinner.  That is why I have started offering a weekly meal plan in my newsletter.  You will receive links to dinner ideas, including sides, for each day of the week.  And a printable grocery list with all of the ingredients you need to put dinner on the table.
Sing up below to receive my newsletter and you will never need to dread dinner time decisions again.  The family friendly meals that are included each week will be a hit with you and your entire family!
So sign up today and smile anytime someone asks you what's for dinner!