I know this may sound strange to some people but I think my favorite part of having a family photo taken is deciding what to wear for a family photo!  Seriously!!
I have had several requests from people to share with you the process I go through when selecting clothing for a family photo.
I did share some of my top tips for clothing for family photo shoots here.
My first step is usually to decide on a color scheme for my photo.  Sometimes that color scheme is inspired by the location of where the photo will be taken (fall leaves, urban backdrop etc.) and sometimes it comes from a piece that I love or inspires me so that I want to build everything around it.
For the photo shoot I did with my daughters this summer it was Cali's dress that was my inspiration.  It became my "anchor" piece. I knew I wanted a fun, feminine, vintagey feel to my photos. In an indoor portrait situation Cali's dress may have been a little too overpowering but in the outdoor setting we were in it worked perfect.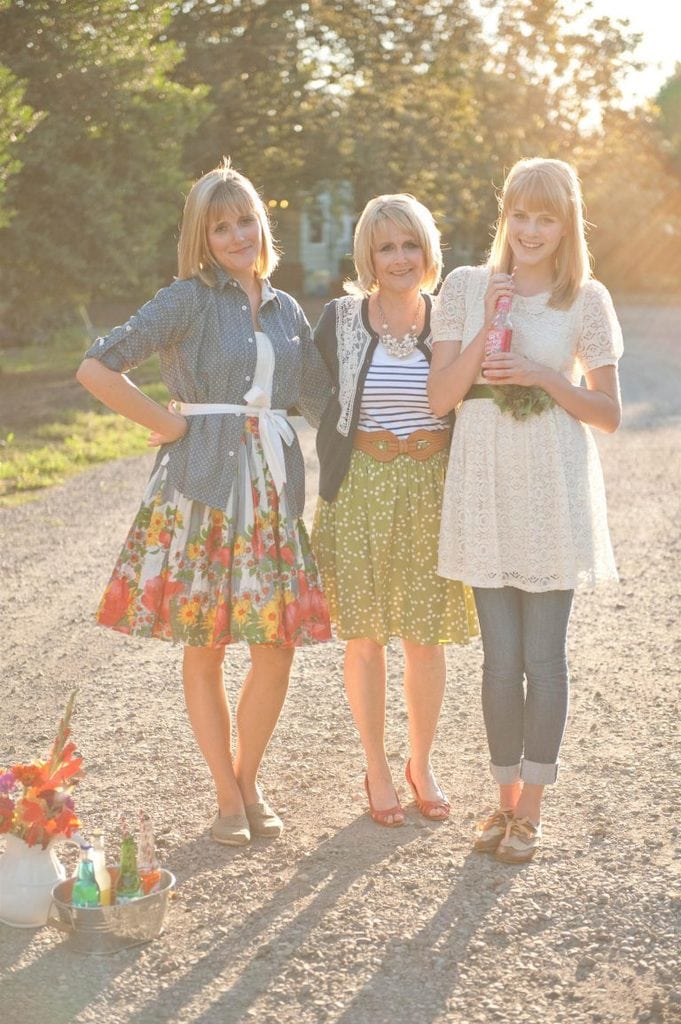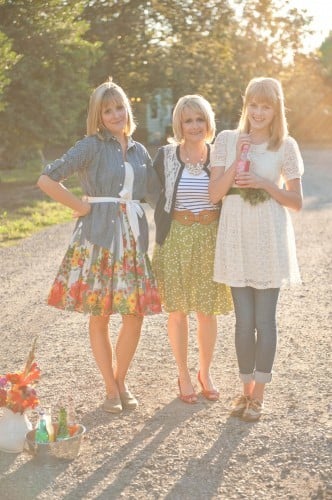 The dress was bright and colorful so I knew I needed to pick outfits for Tessa and I that would blend and compliment and not compete.  I also needed our outfits to have enough interest and detail to stand on their own and not be overwhelmed by her dress.  You always want to make sure that you don't distract from the faces – the most important part of the photo!
For Tessa I chose the cream lace top.  The texture of the lace created  nice interest and then I added a pop of color with the green flower belt which tied it into Cali's dress.  Also, Tessa's skinny jeans she wore with the top connected her to the denim/chambray shirt Cali wore over her dress.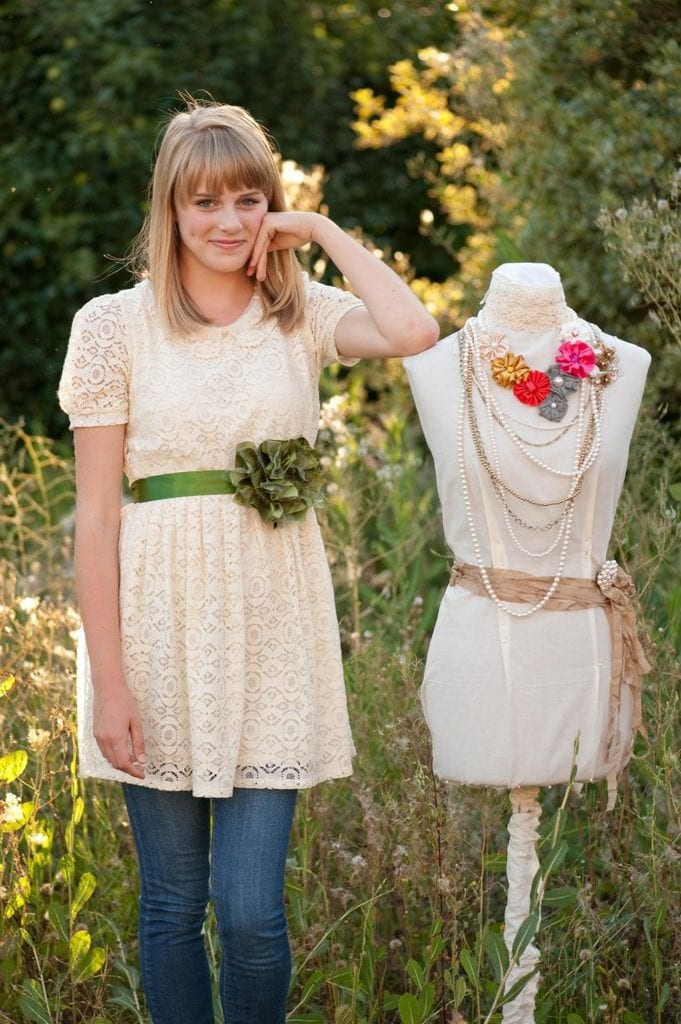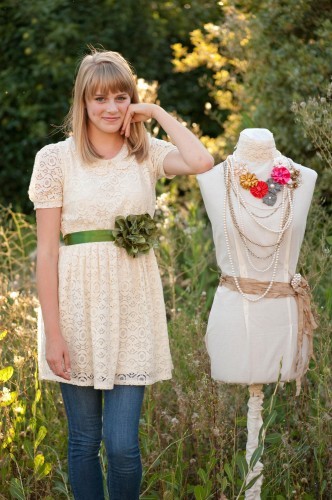 The most difficult outfit to come up with for this shoot was what I was going to wear.  In fact I was still trying on different outfits as the photographer showed up at my house. Just pulling out things I already had in my closet. It was just a little stressful.
My outfit actually had quite a bit of interest/texture going on in it but it really did just seem to tie everything together.  The green polka dot skirt, the striped shirt and then the navy sweater.  I loved the bit of lace that the sweater had which helped connect it with Tessa's lace top.  I literally threw on the red shoes at the last minute.  Even though I had no red in my outfit it tied it in with Cali's floral print.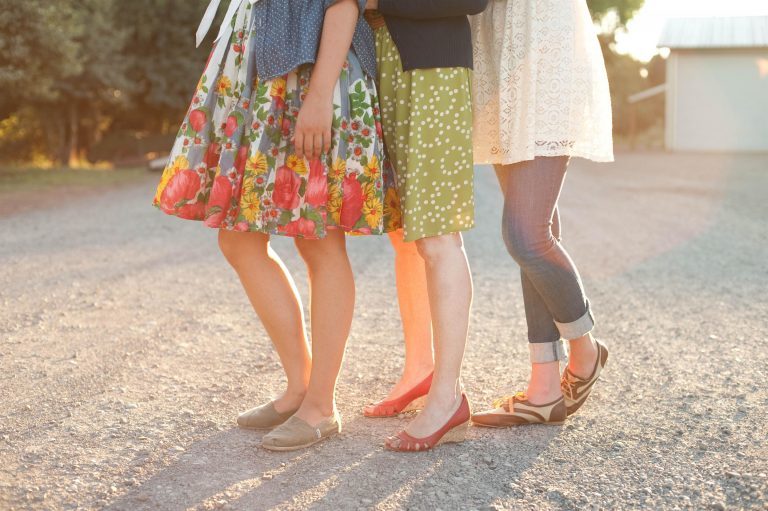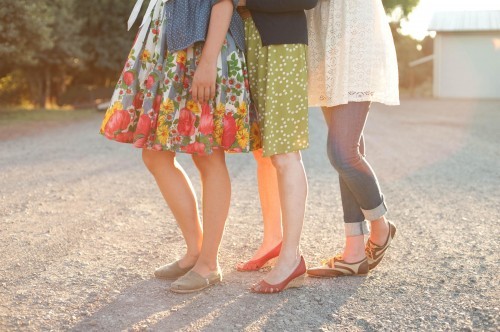 It is also fun to have a few props to use in your picture. Working with your photographer to help create a vision of what you want is great!  I am fortunate to have great photographers to work with.  My friend Meg and I brainstormed a bit about this shoot.  Meg had the idea of hanging the vintage pattern pieces on the line along with the vintage crinolines which I loved.  The mannequin was fun and a great touch for three fashion loving girls.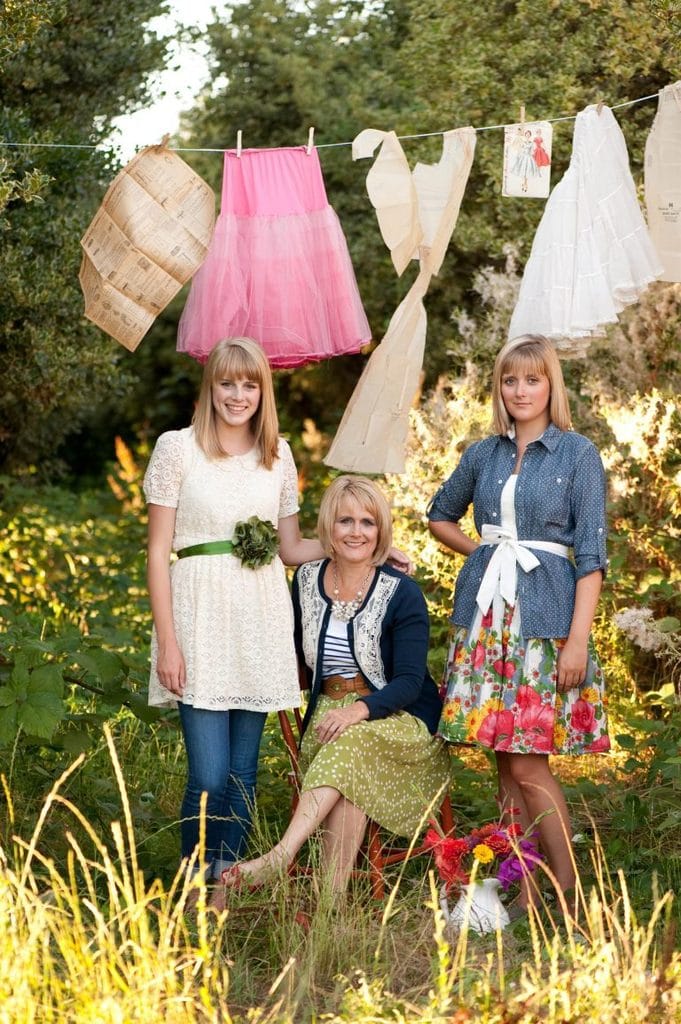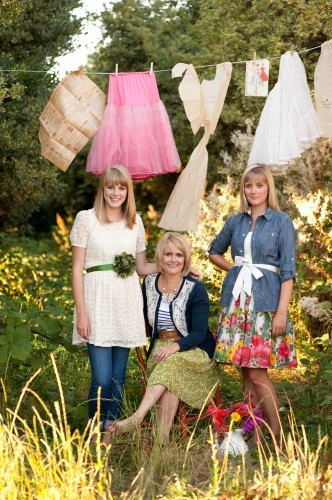 The day of the photo shoot I was at the grocery store and saw the vintage soda bottles and grabbed those.  The colors were perfect.  I also brought some bright colored flowers along.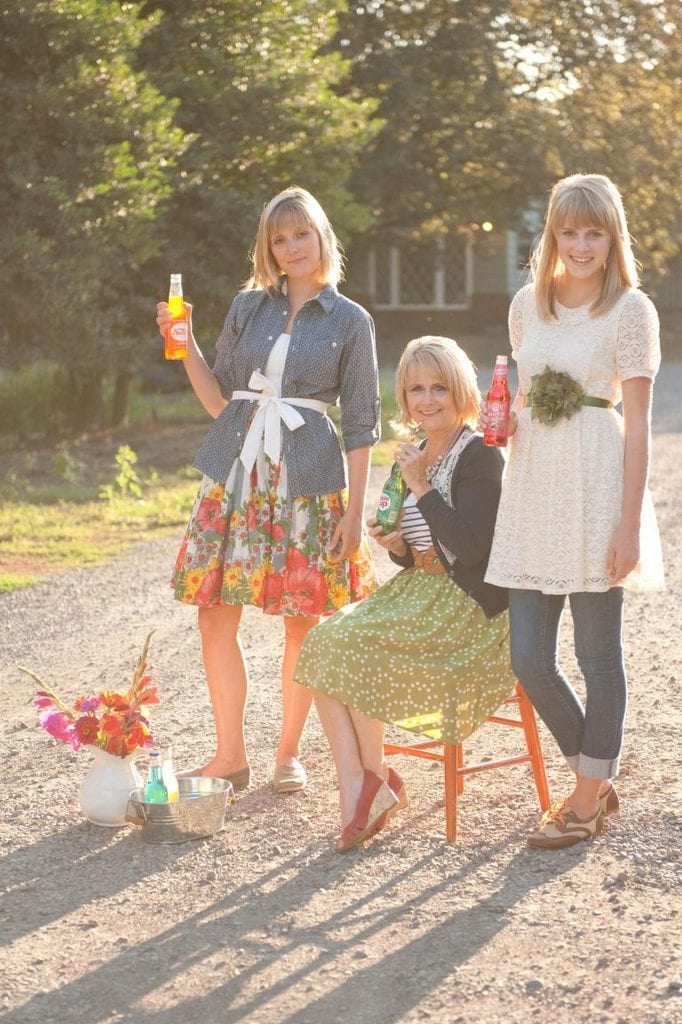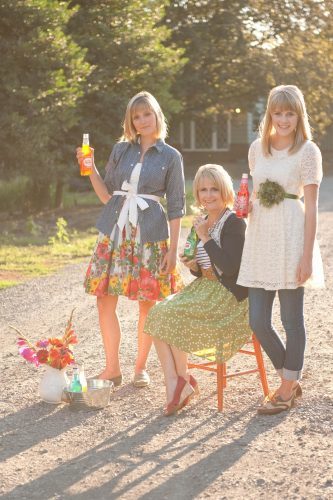 I loved everything about this photoshoot from our outfits to the beautiful lighting that Meg was able to capture. These are photos I will treasure.
For our most recent family photo shoot I had a vision of a photo shoot in the snow.  Knowing it would be hard to find much snow in Oregon I knew I would need to do it when we were in Utah for Thanksgiving.  I also knew I wanted the colors to be bright and vibrant against the white snow.  I knew just the right photographer to help me capture my vision – Tara of Tara B Photography.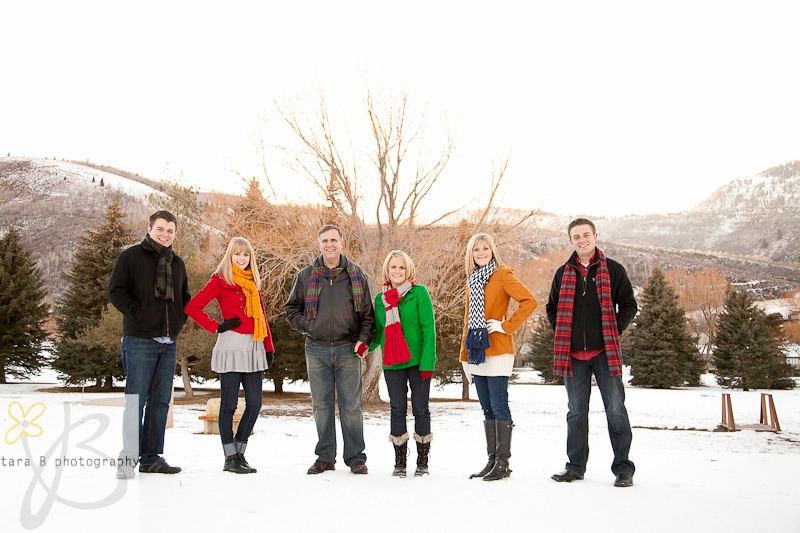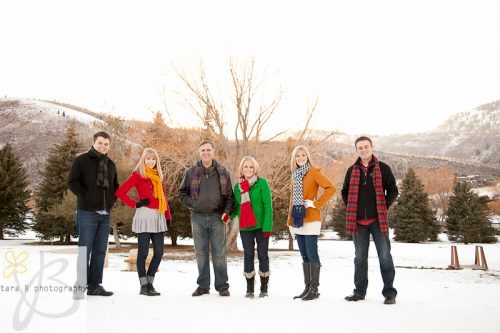 I actually hadn't found my inspiration piece  for this photo when I first started putting outfits together but I had a picture of it in my head.  I wanted a red, and green  plaid blanket.  I searched many stores for one but no luck.  A few weeks before our trip to Utah I was at a vintage fair and found it! Not only was it the perfect color but it was also vintage! The gal  told me the  blanket had been in a Gus Van Sant movie!  My blanket is famous.
It was perfect and I knew it the moment I saw it.  I knew I had to have it but there was no price tag on it.  I held my breath and asked – lucky for me it twas only $25.00!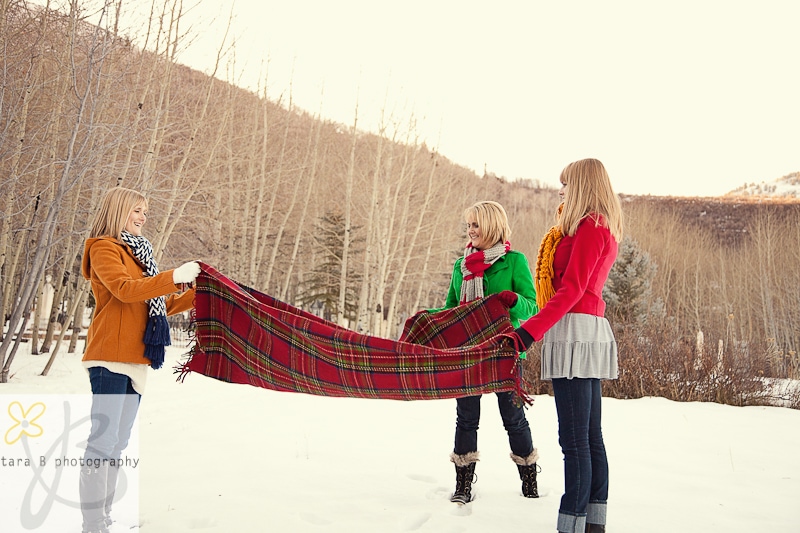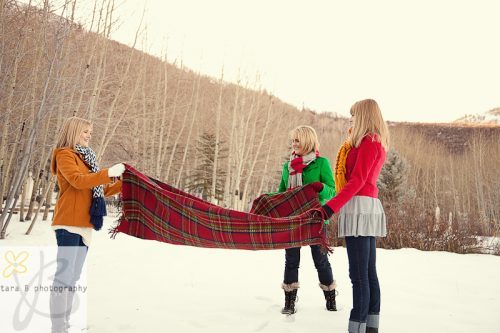 It was the final piece I needed to tie everything together!
And it kept us warm during the photo shoot!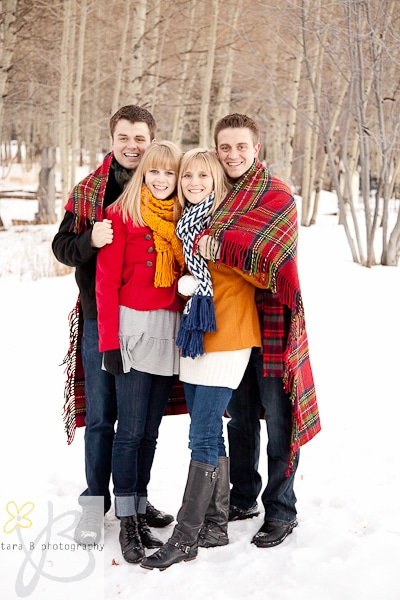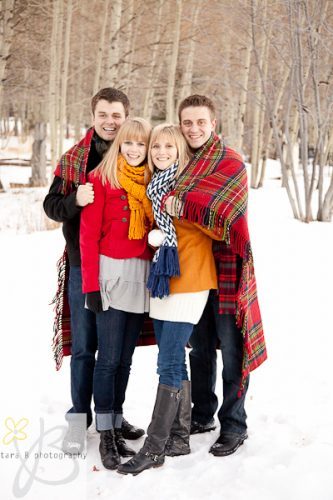 I started putting the outfits together with a bright kelly green coat I found at Old Navy.  Tessa had a red coat and the boys all had black wool or leather jackets so they were set.  I needed something in the mustard yellow family to complete our primary color scheme and was lucky enough to find Cali's mustard coat on the clearance rack at Target.  The navy blue in the color scheme would come from the denim everyone would be wearing – I had my four colors – green, red, mustard yellow and navy blue.
The next step was to find scarves to tie everything together along with the blanket.  And besides, it was going to be cold and we needed them to keep us warm.  One son, who shall remain nameless, refused to wear a scarf but he changed his mind when he discovered how cold it was!
We already owned two of the scarves we used and I went to Target and H&M to find others in my color scheme.  I really wasn't sure who was going to wear which one yet.  I also picked up red, black and cream gloves for the girls to wear – the boys just had cold hands!
I was packing the blanket, coats, scarves and gloves and taking it all with me to Utah – we had to check an extra suitcase just to hold everything.
When I got there I laid everything out on the floor to see how it all looked together.  We then decided which scarf was going to go with which coat.  They worked perfect to tie everything together.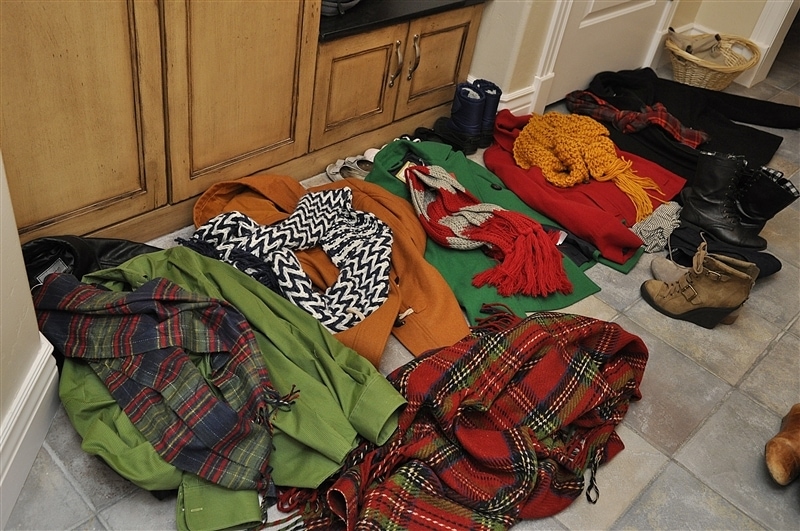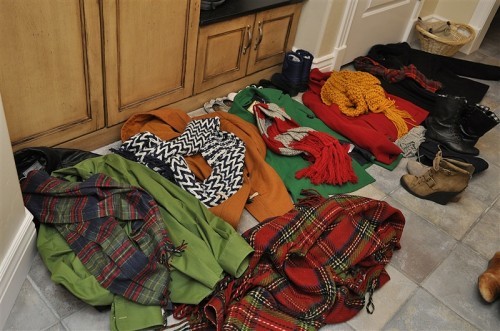 Who knew that the scarves would become a great prop in the picture too.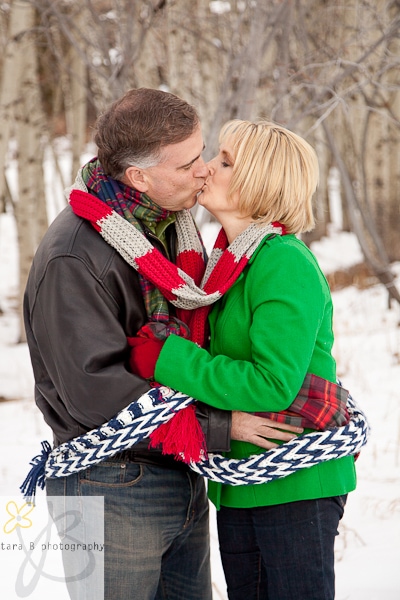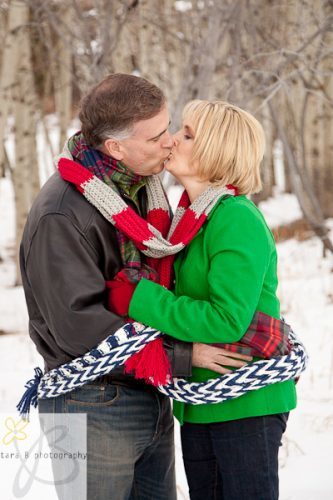 I knew I wanted to use these pictures for our Christmas card and since I always like to incorporate the word Joy into my card I decided these kraft paper letters were the perfect thing.  I did get some funny looks as I carried them through security and onto the plane!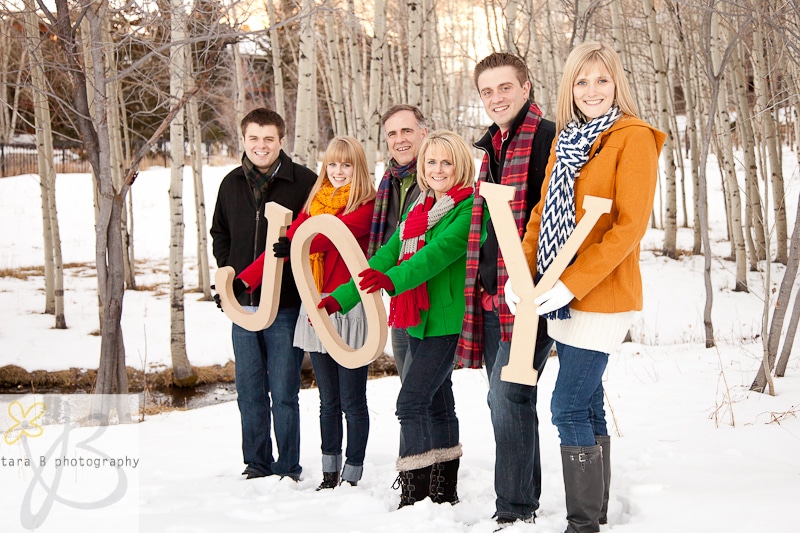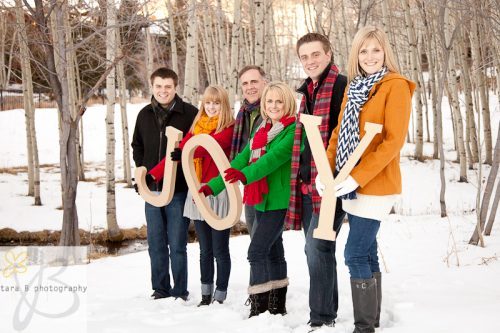 And maybe the kids had a little too much fun with them but I love the photos with the letters.  Can't wait to share my Christmas card with you!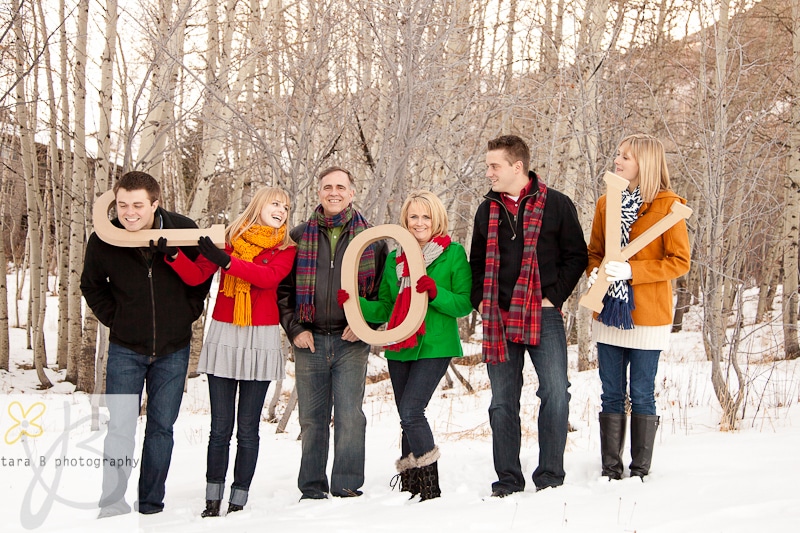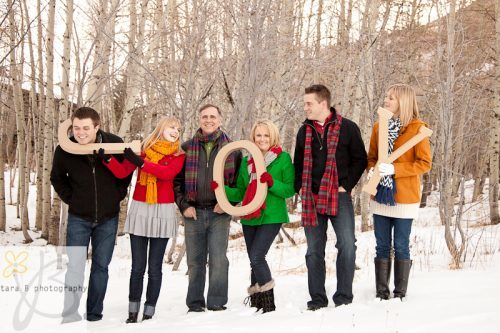 I absolutely love the photos and how everything came together.  Thanks to Tara for helping my vision become a reality!!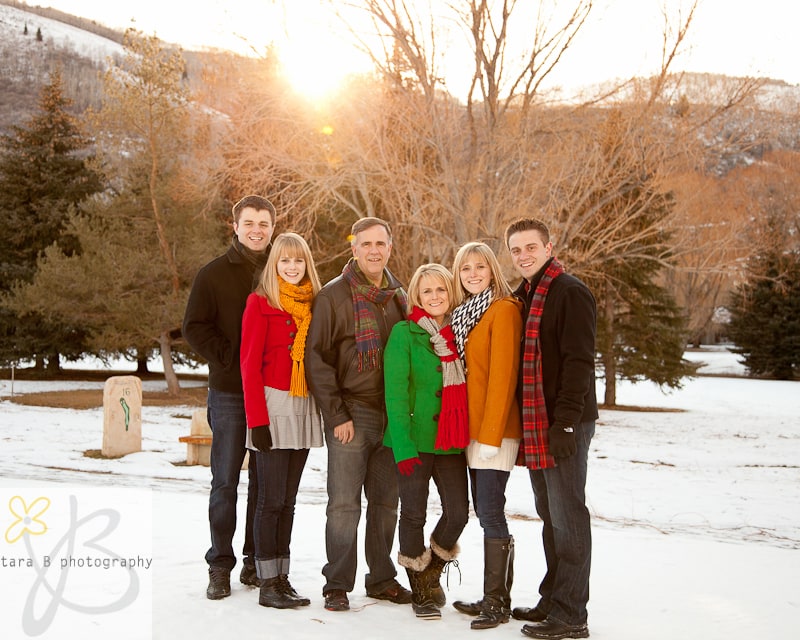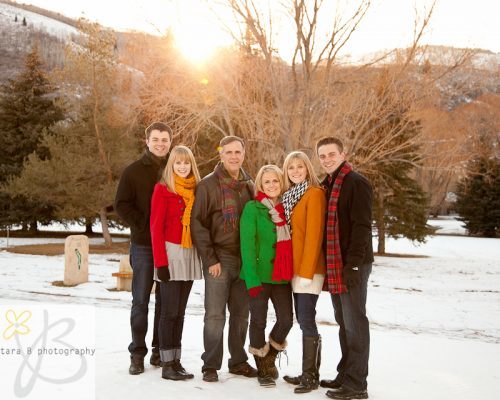 Now what shall we wear in our next family picture….?????