Today I am excited to share with you the Family Dinner that my husband and I hosted in Arizona last weekend for our son's wedding. Traditionally it is called a Rehearsal Dinner but since Clark and Jessica were getting married in the LDS Mesa Temple there is no rehearsal so it is a family dinner. (If you would like more information on LDS Temples please go here.)  It is an opportunity for the two families to come today and enjoy getting to know each other a bit before the big day.
Planning this party long distance was a bit of a challenge but everything worked out great and it was a wonderful evening.
I decided on a Literary Love Theme because Jessica was a literature major and both she and Clark love to read.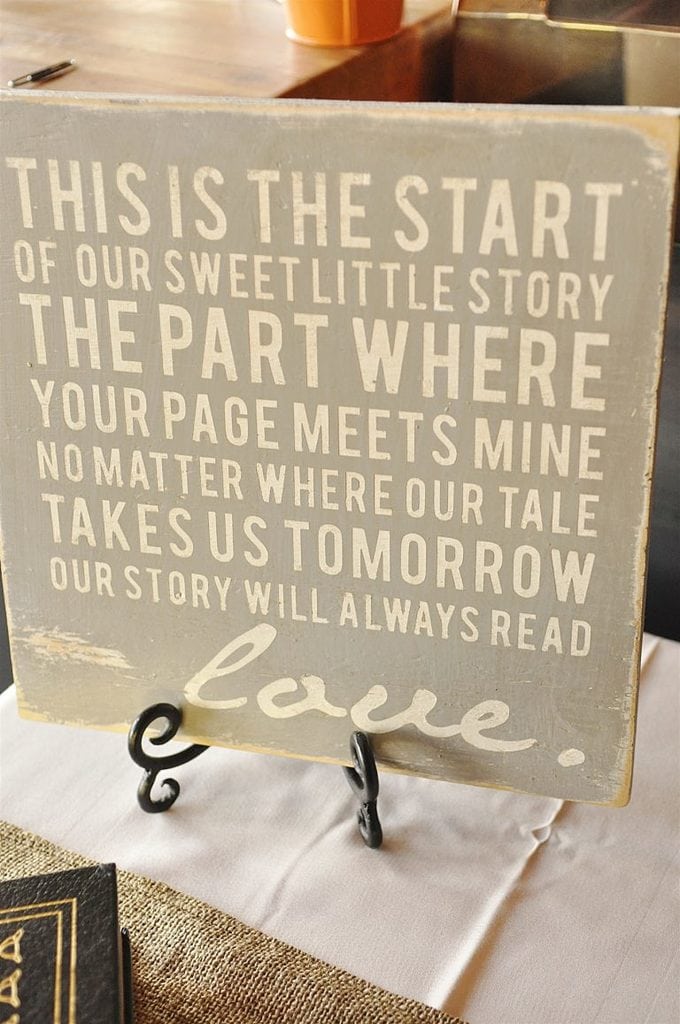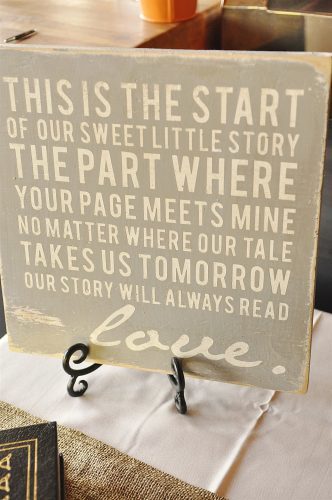 Several months ago I had found this fun piece of Word Art at 13 Pumpkins on Etsy and had given it to them as an engagement present.
It became the inspiration point for the rest of the evening.  I also used the quote on the invite for the family dinner as well as some of the fun engagement pictures they had taken in the law school library by wonderful photographer Tara B.
Fortunately for me we were flying Southwest so we could each take two suitcases for free.  I loaded up our carryons and suitcases with all the decorations for the dinner.  Just a bit of helpful information – security does not like it when you  have a glue gun in your carry on!  You have been warned.
I used books (which I got from my niece who lives in Mesa) to place on each table along with a childhood photo of the bride and the groom.  I also found a bunch of different quotes about love from literature that I printed on the pages of an old vintage copy of Jane Eyre that I found in the Goodwill bins for $2.00.  I just tore the pages out of the book and ran them through my printer.  All my frames also came from Goodwill and they got a coat or two of black spray paint.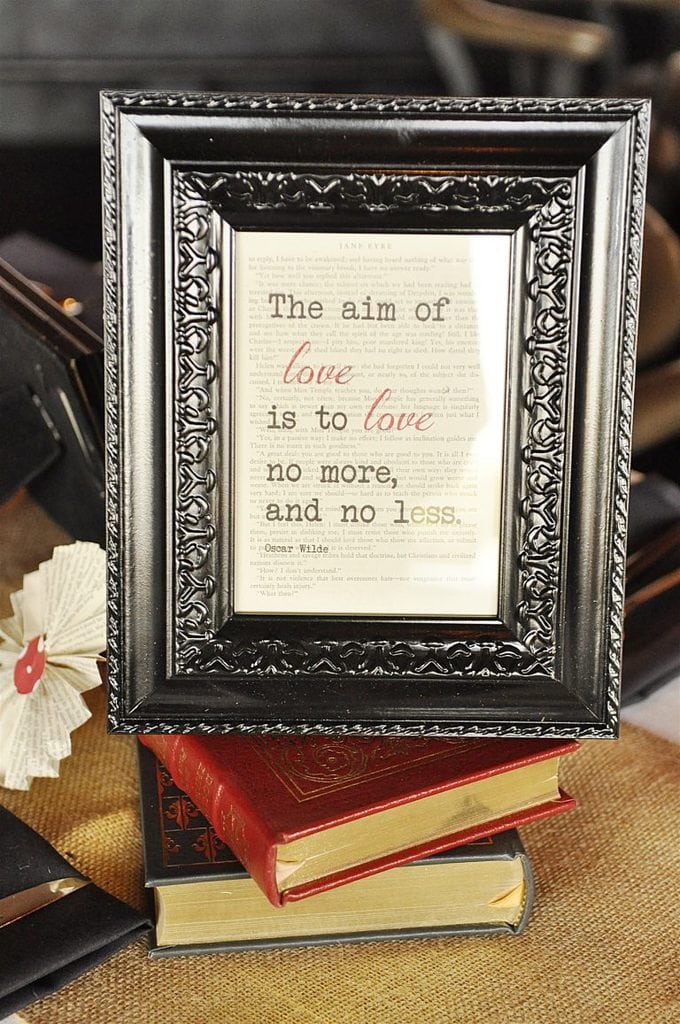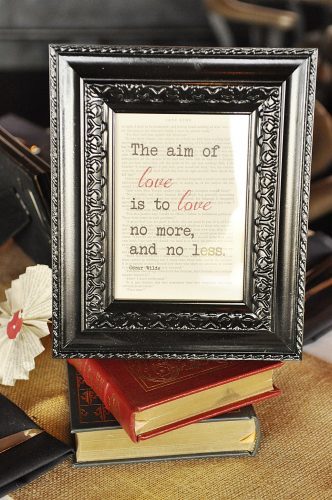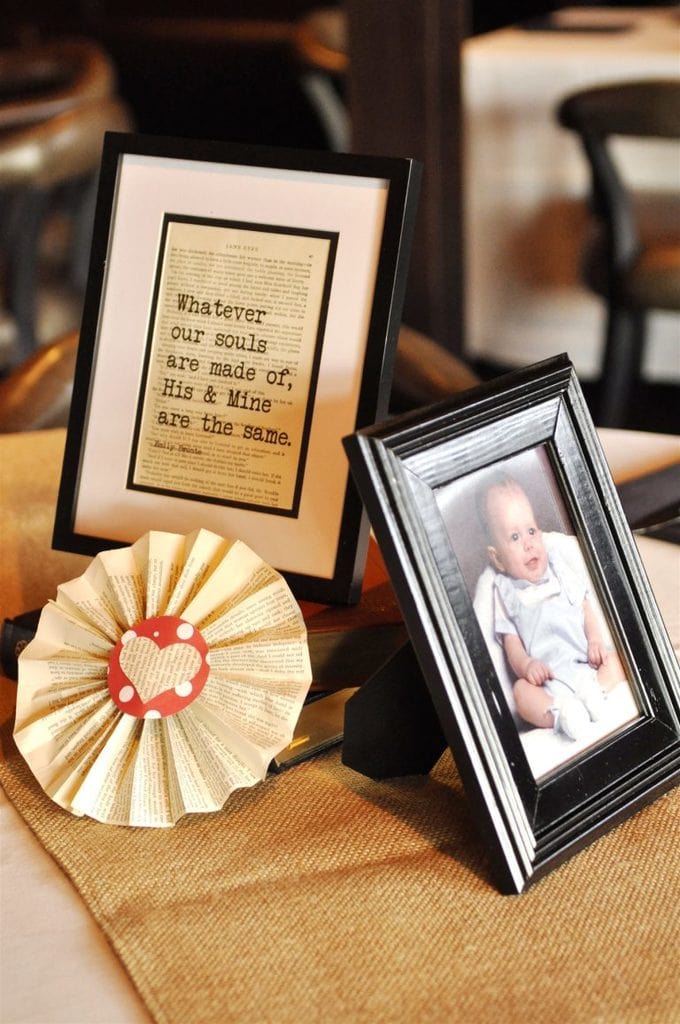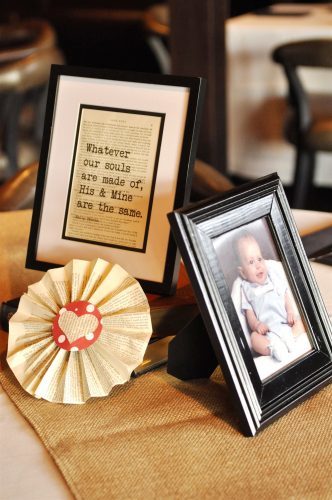 I also made paper rosettes out of the pages from Jane Eyre to use as decoration.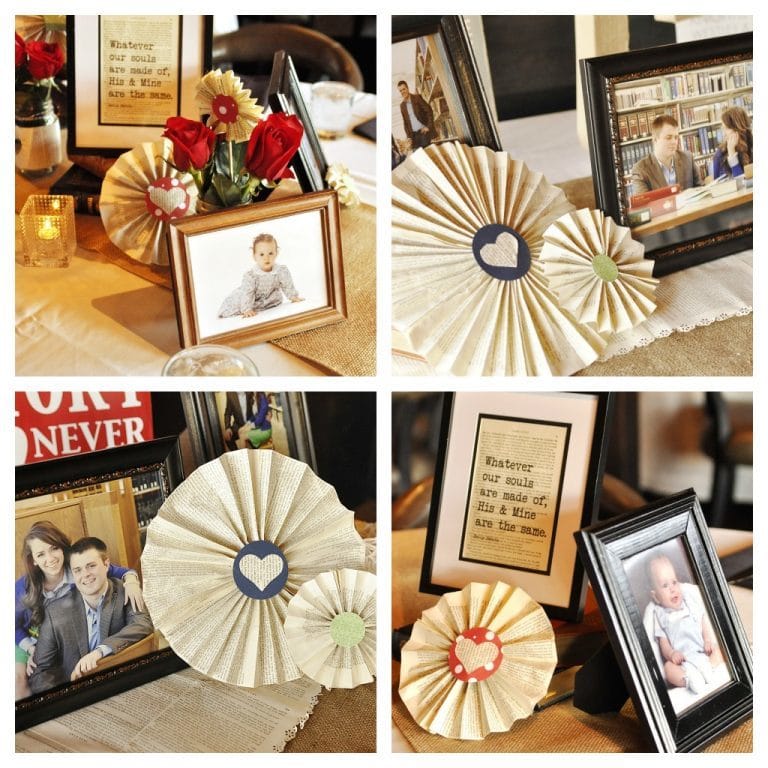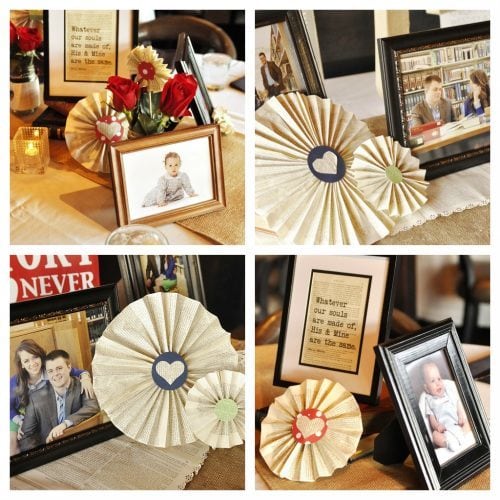 I also used some of the pages to cover pint canning jars which I filled with red roses.  I put some of the paper rosettes on bamboo skewers and they went in with the roses.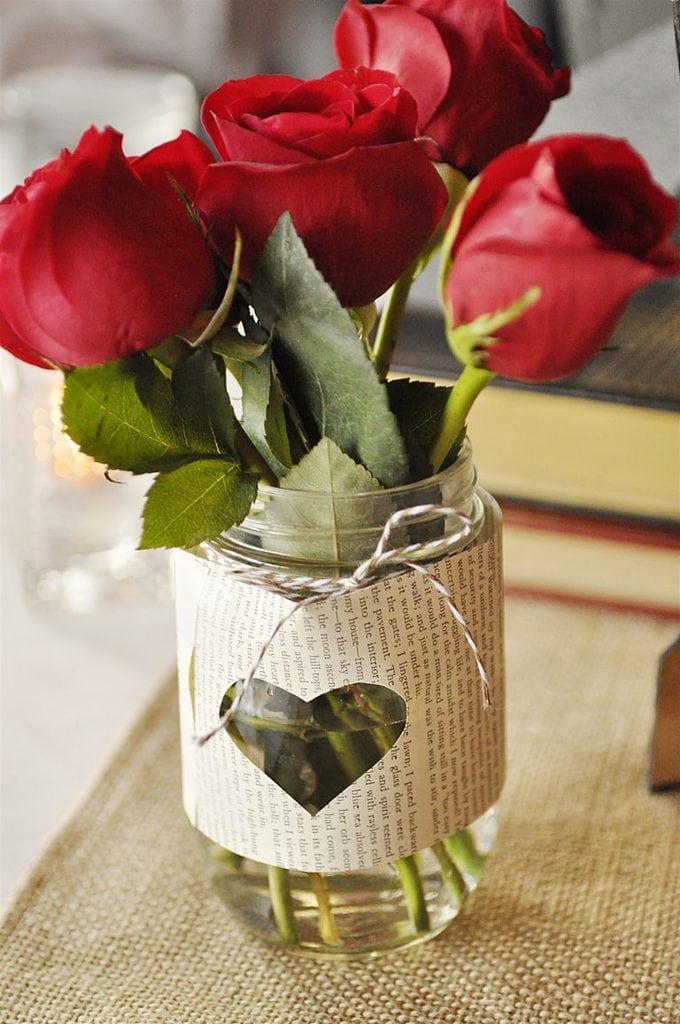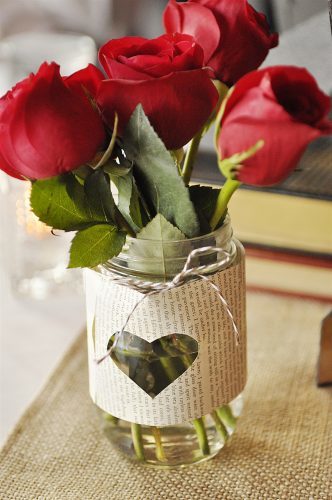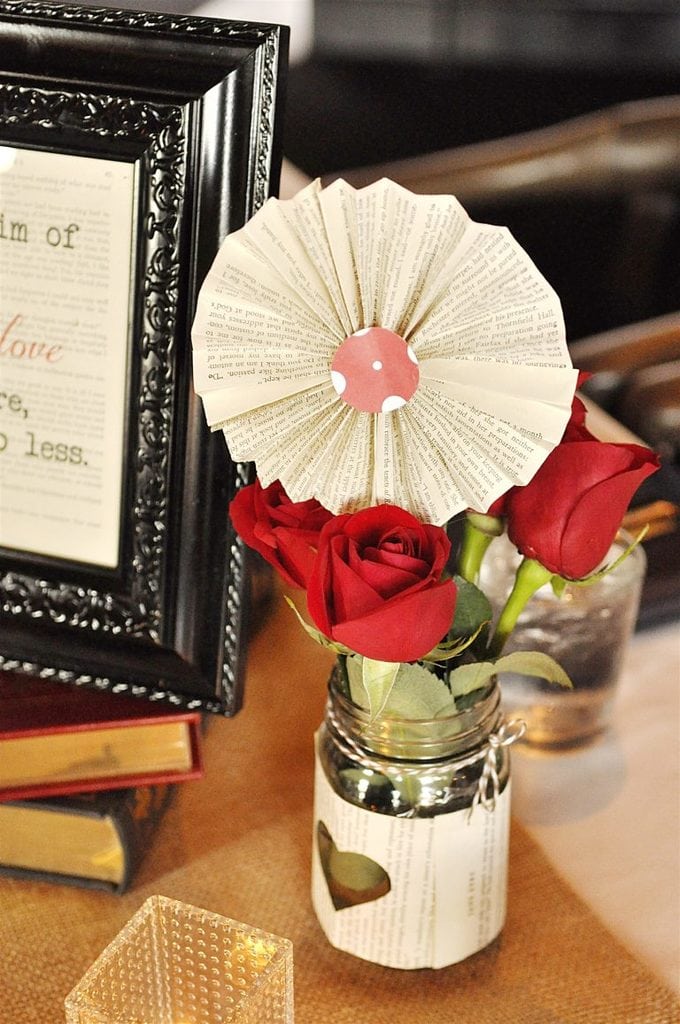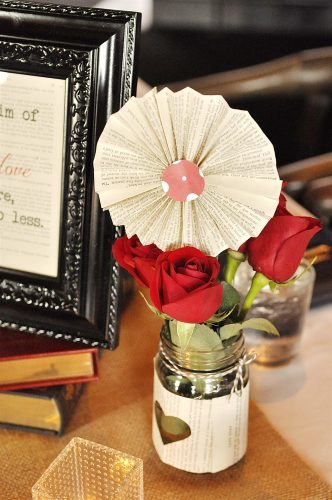 My friend Cherilyn helped me sew up some burlap table runners which I brought from home for each of the tables too.  For a party favor and a remembrance of the evening for each family I created wallet size copies of all the literary love quotes and had them printed off.  I put them in a little muslin bag that I had stamped with the bride and grooms name as well as another love quote from Mr. Darcy.  I had the stamp custom made at StampOutOnline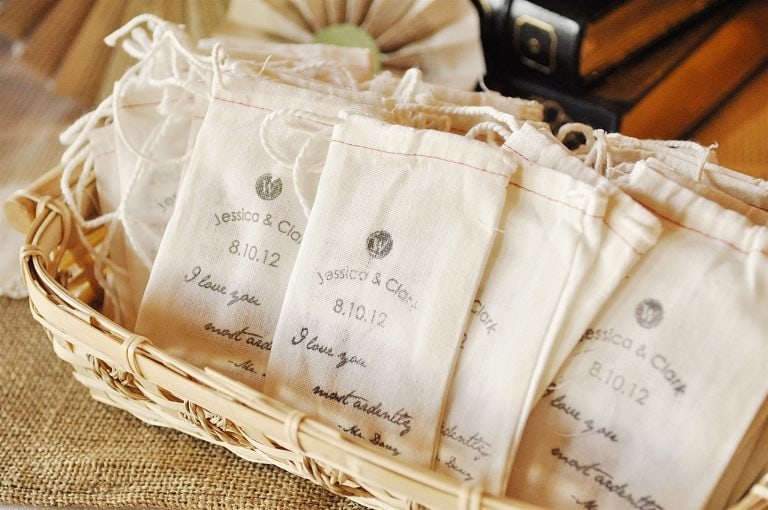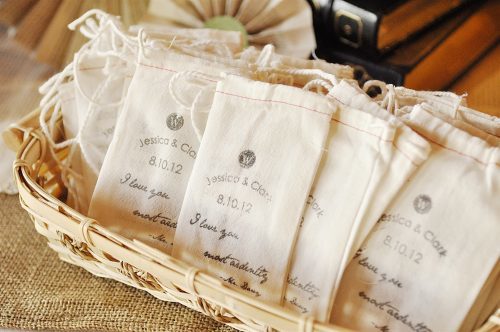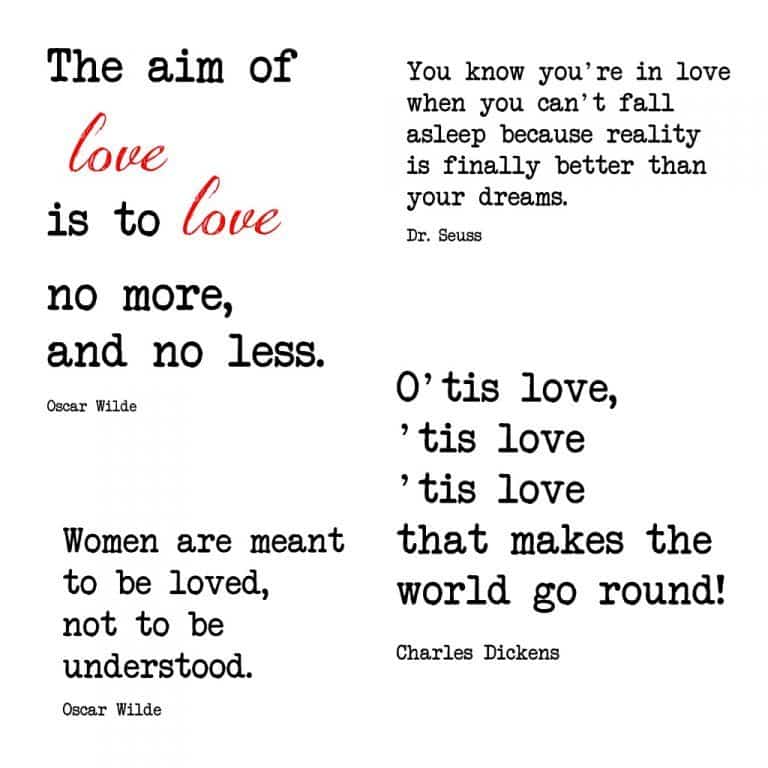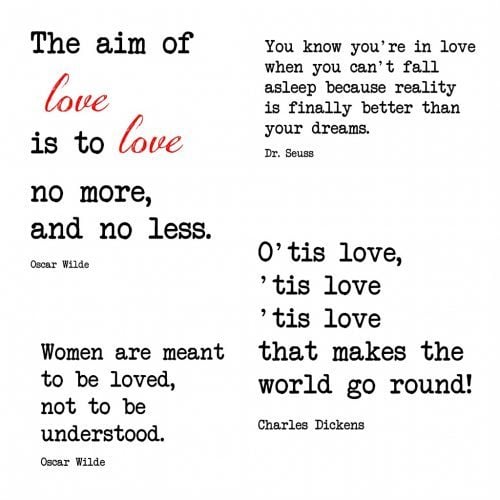 The dinner was held at the Arcadia Room at LGO (La Grand Orange.)  The restaurant came highly recommended and they did a great job.  They were so easy to work with and the food was delicious.  We had gourmet pizza and delicious salads.  For dessert there was gelato.   Everyone loved the food and they were so happy to accomodate our special dietary needs!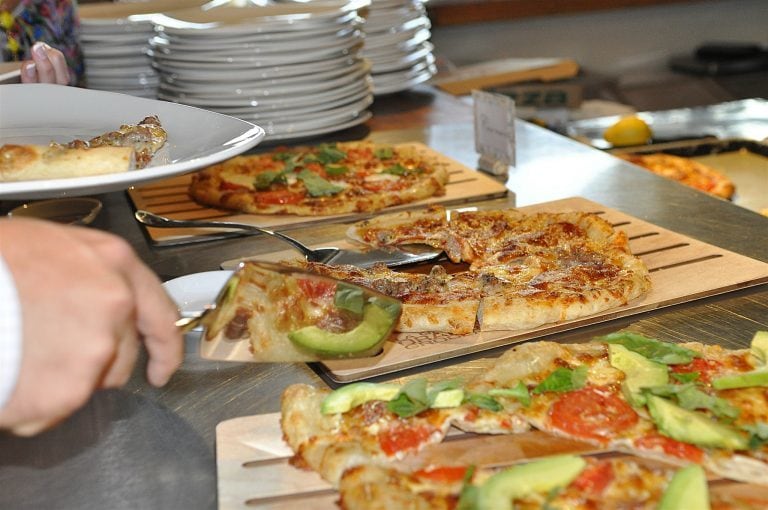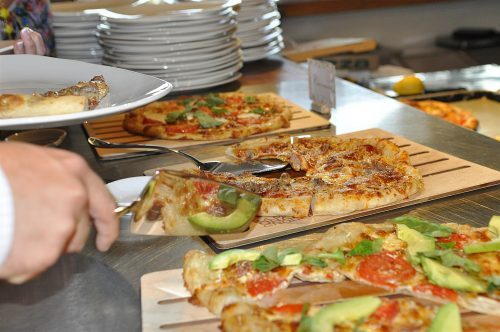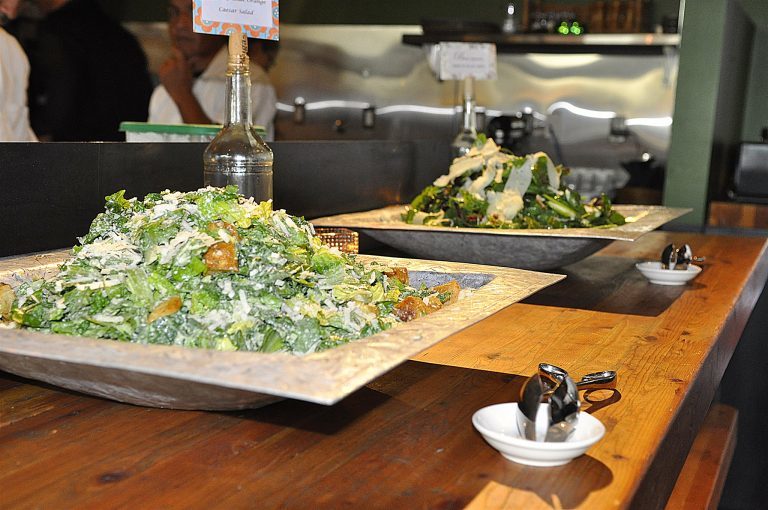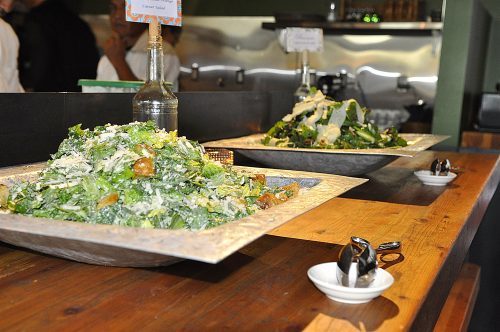 After dinner we had a family program that was fun and entertaining.  The siblings made a special presentation to their new sibling.  Giving them some momento that they thought might come in handy.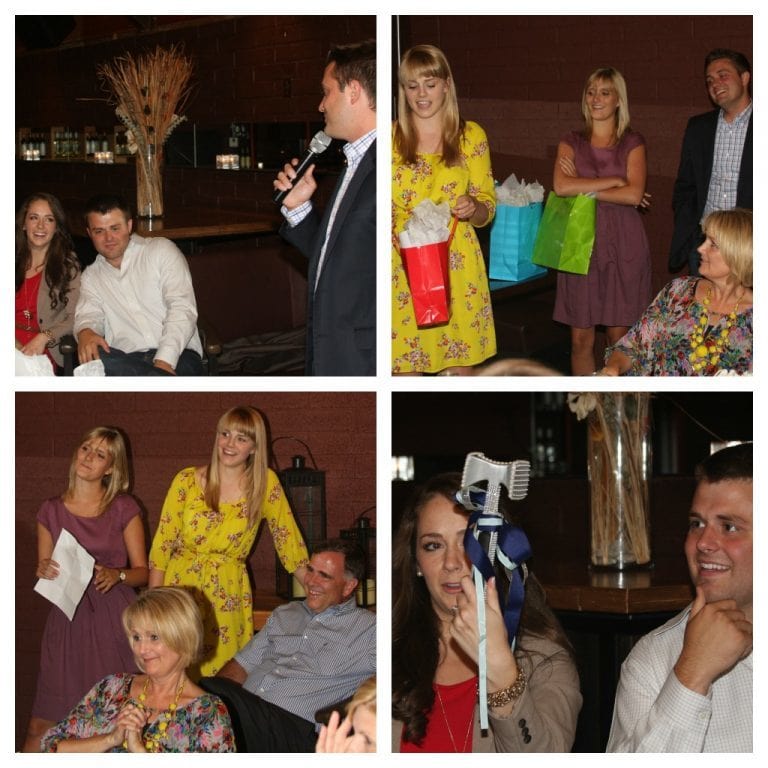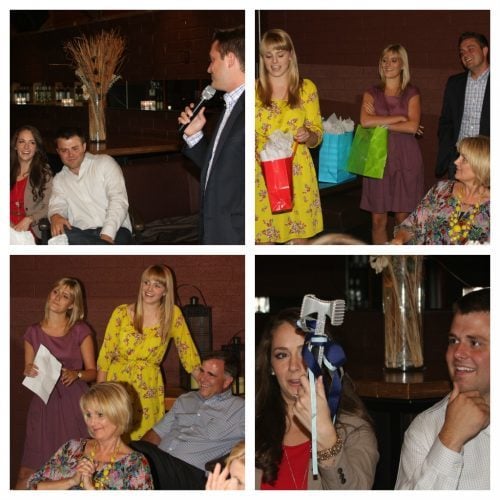 Logan presented Jessica with her own giant Slurpee mug since that is one of Clark's favorite things.  Cali gave her a bedazzled meat cleaver which was suppose to be a gavel and Tessa gave her a box with a padlock on it for her to store away any photos or other things she doesn't want others to see (long story!)  It was great and I think the bride and groom loved it.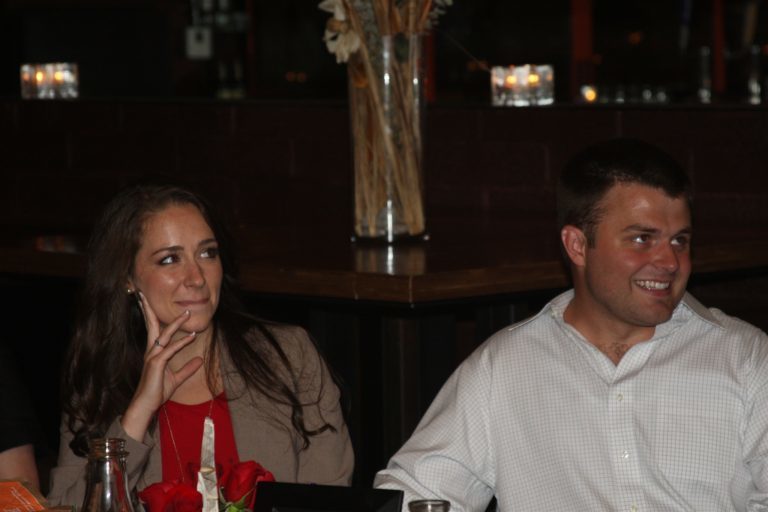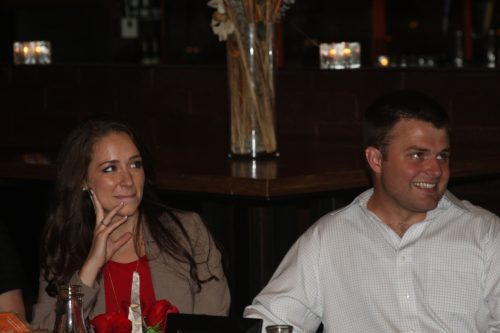 There was a dance number by Jessica's siblings and a musical song by my kids.  Cali rewrote the words to "Favorite Things" so that the lyrics included many of Clark's Favorite Things – so funny!!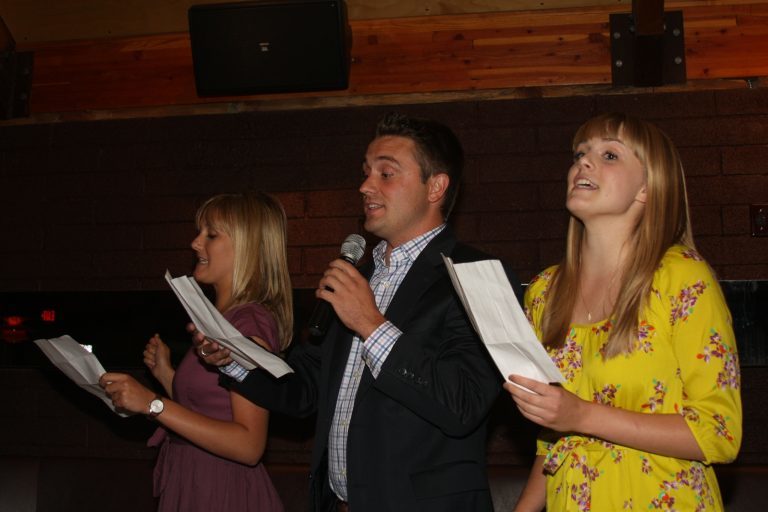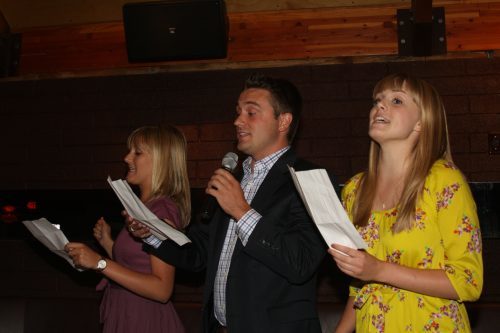 The parents also had an opportunity to share a few thoughts and of course a few tears!  As part of my presentation I gave the bride and groom these fun little signs…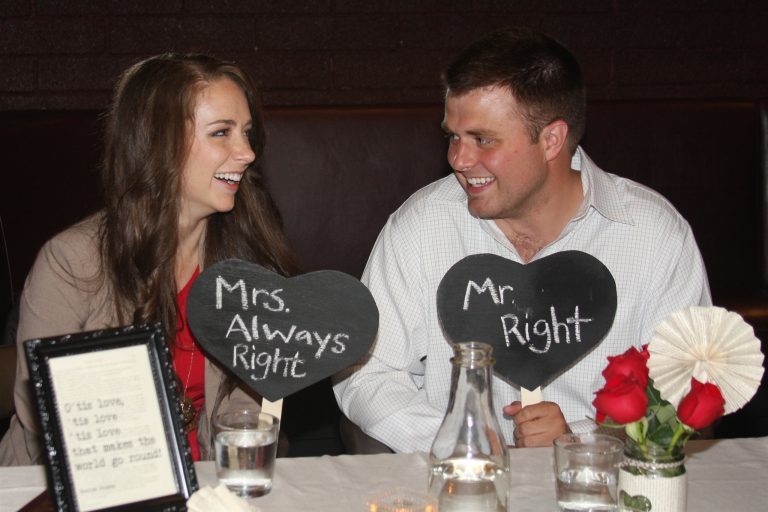 There are just certain times when a girl needs to be right!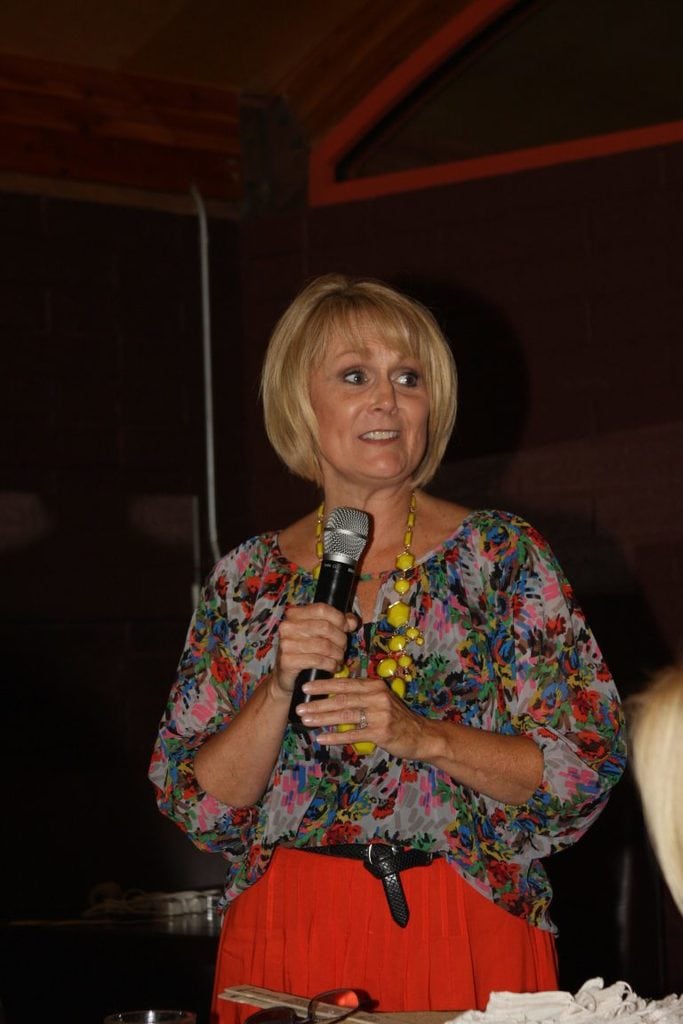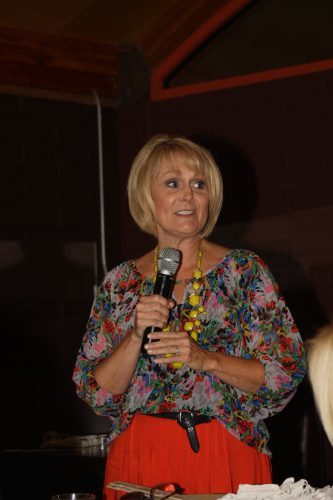 I also created a display table to carry on the literary theme.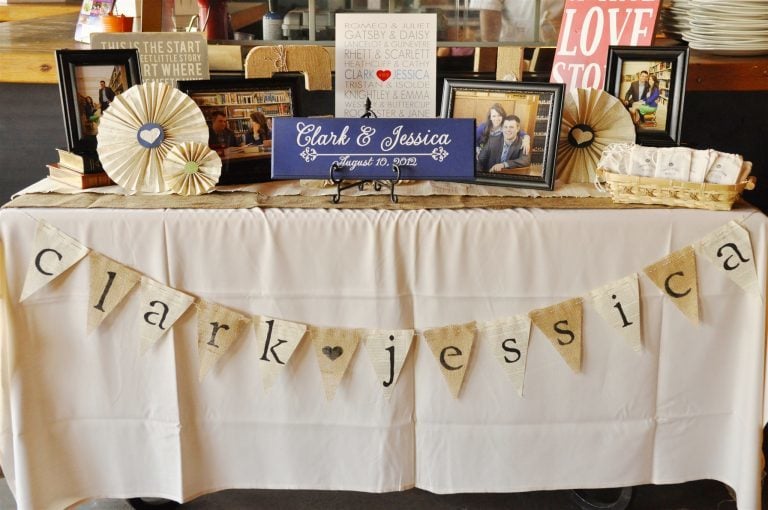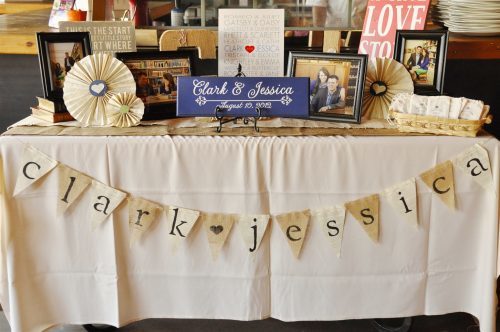 I used more of those pages from Jane Eyre along with some burlap to make a banner for the front of the table.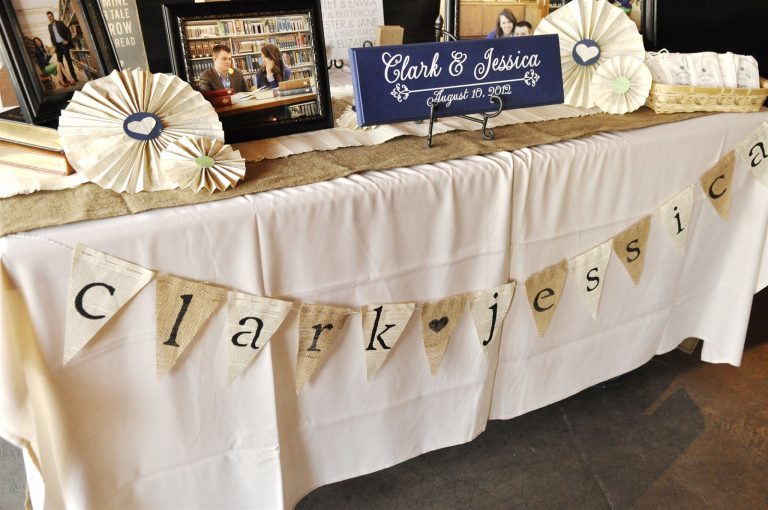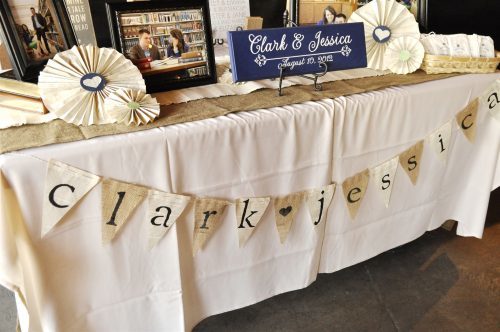 This table also had a burlap table runner along with a table runner I had made out of the pages of Jane Eyre and then punched the edges to give it a lacy look.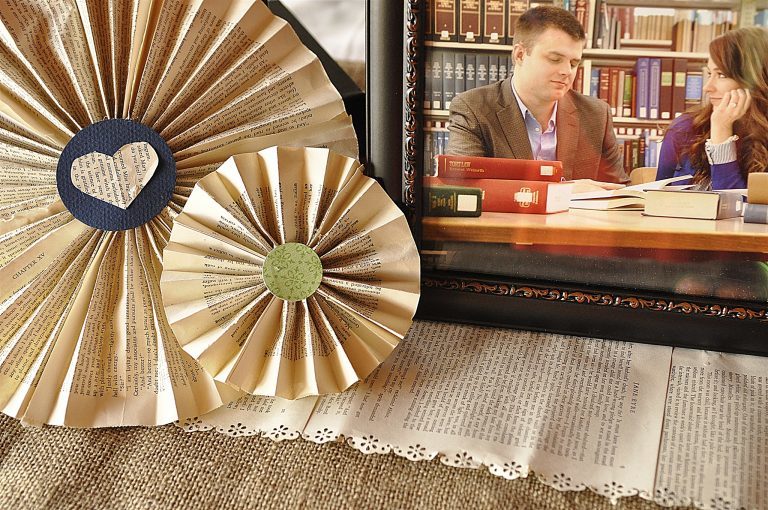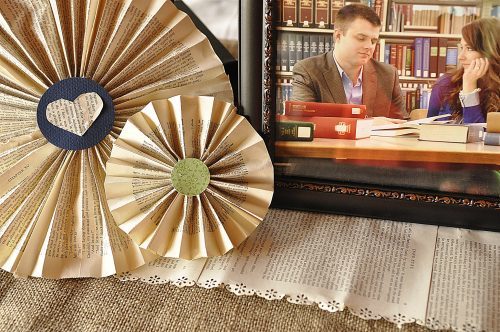 I used some of their engagement photos, more paper rosettes and I covered the letter J and C in burlap. I also created a fun little poster with the names of lots of famous literary love couples.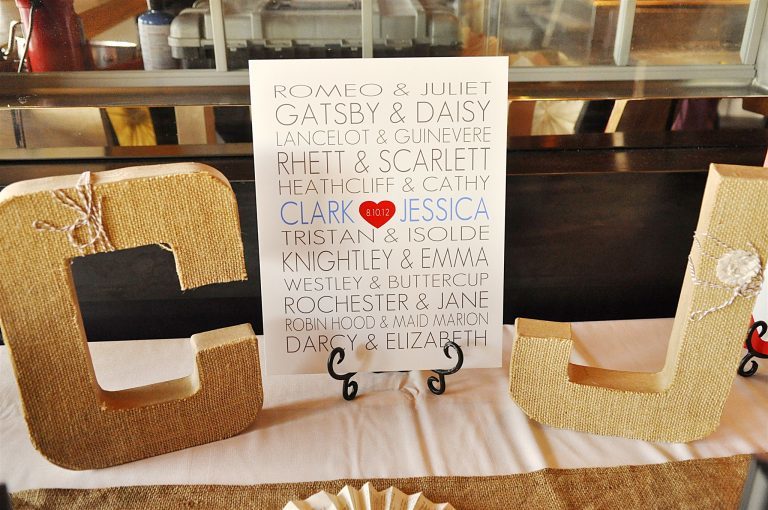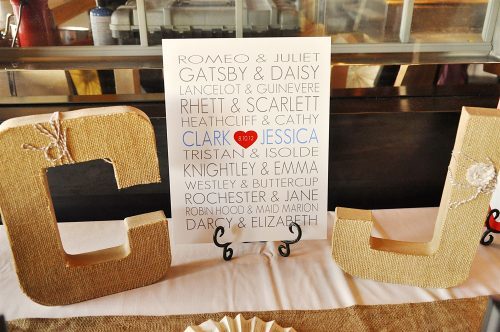 I also put together another piece of Word Art for the occasion using my Cricut and some paint.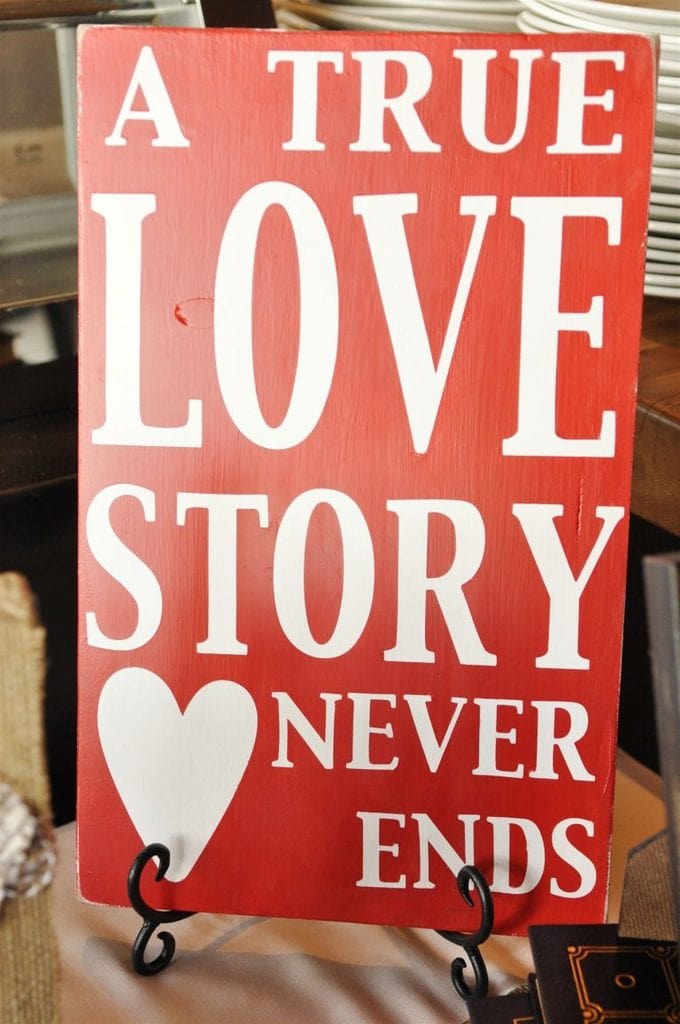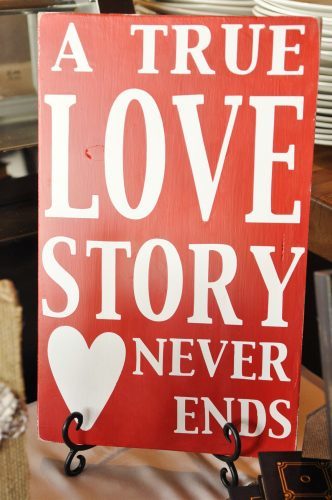 Well of Words also gifted me this pretty sign for Clark and Jessica to remember their special day by.  Be sure and check out their website and all the fun things they do.  Lots of great gift ideas.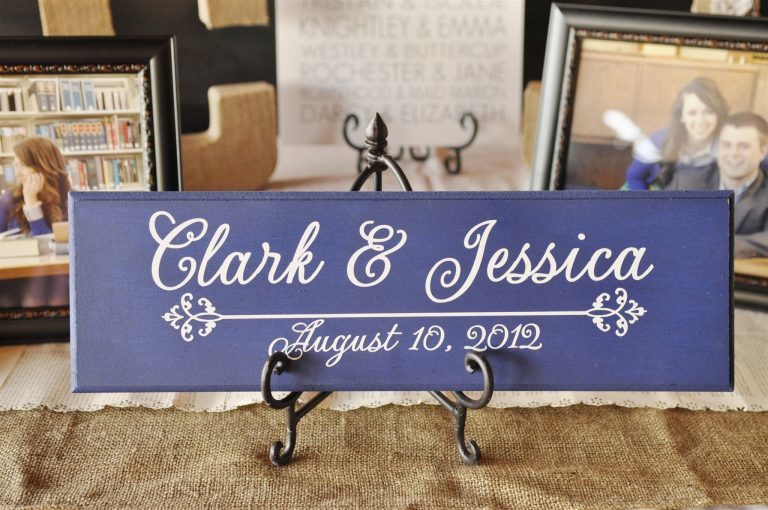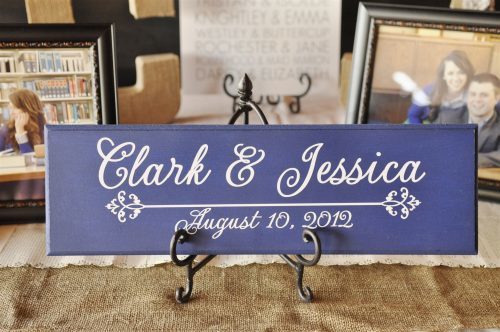 All in and all it was pretty much a perfect evening.  It was a wonderful way to start of a perfect weekend!  But most of all it was a wonderful way to celebrate these two people who we love and are so glad are part of our family!