A vintage birthday party  is the perfect way to celebrate an 80th birthday of any birthday!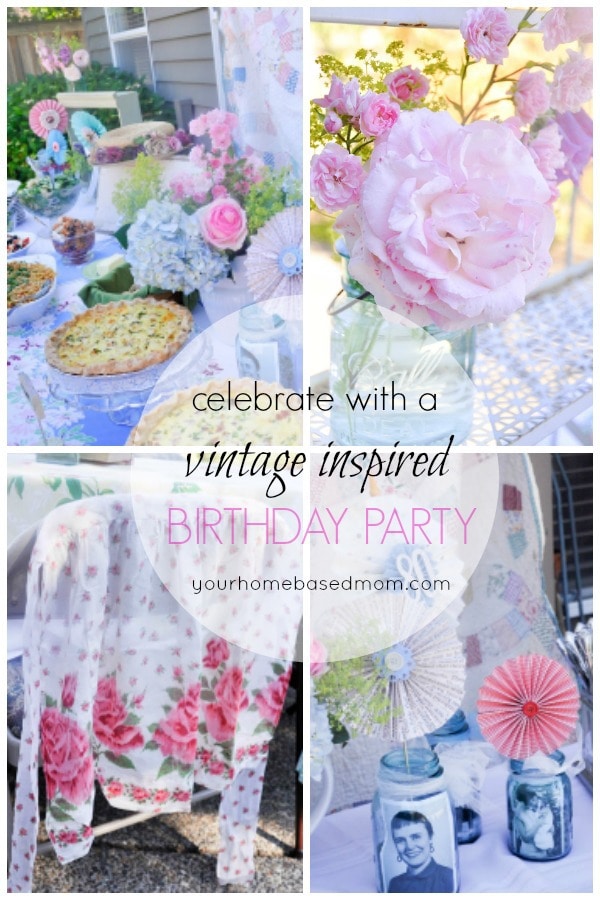 I love everything vintage and have recently developed a fondness for vintage tablecloths so I wanted to incorporate those into a party for my mom.
The luncheon was held out on the patio in our garden.  Fortunately we had wonderful weather.  After a very rainy spring and early summer I was a little worried but the weather came through and it was almost too warm and sunny.  We pulled out the sun hats and sunglasses and everyone did fine.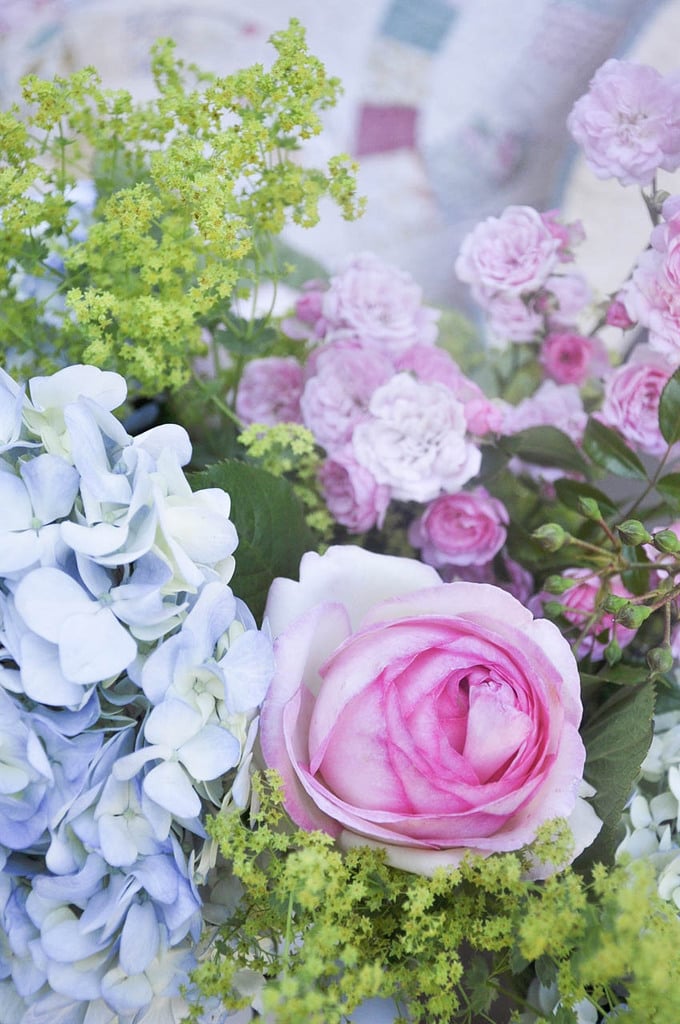 Vintage Birthday Party Ideas
I also have a little collection of vintage aprons.  Since I had to use my ugly folding chairs I decided to dress them up a bit with the vintage aprons.  I used a double sided tape to tape them onto the top of the chairs.  It worked great.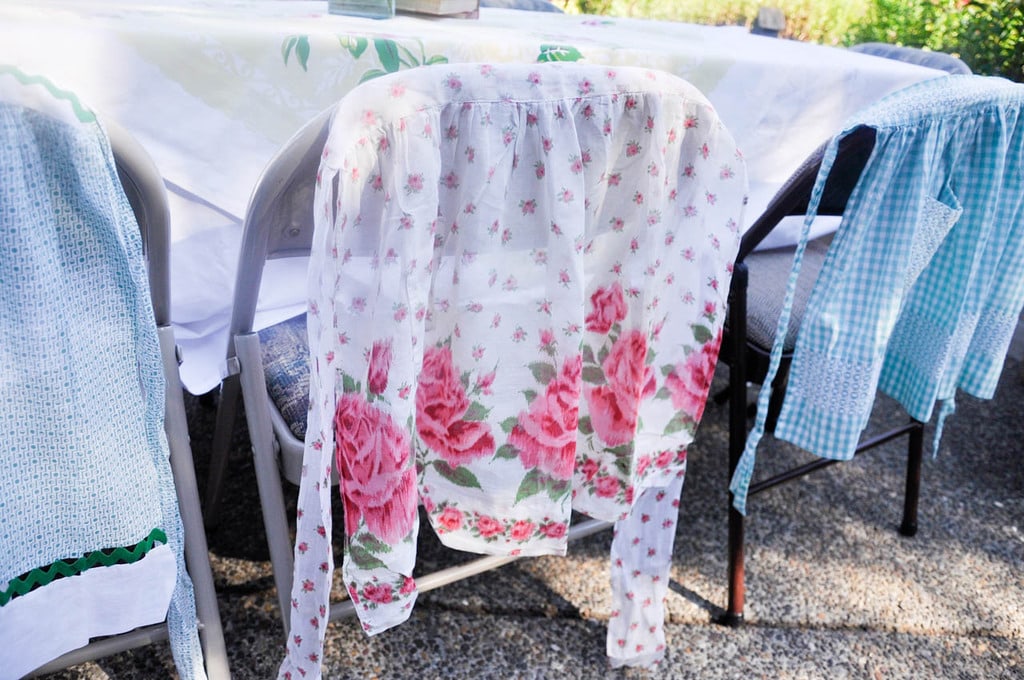 For the table decor I used my blue mason jars I had picked up last year for the backyard wedding reception I helped with.
I filled them with flowers from my garden and placed a jar on each table along with a couple of old, vintage books.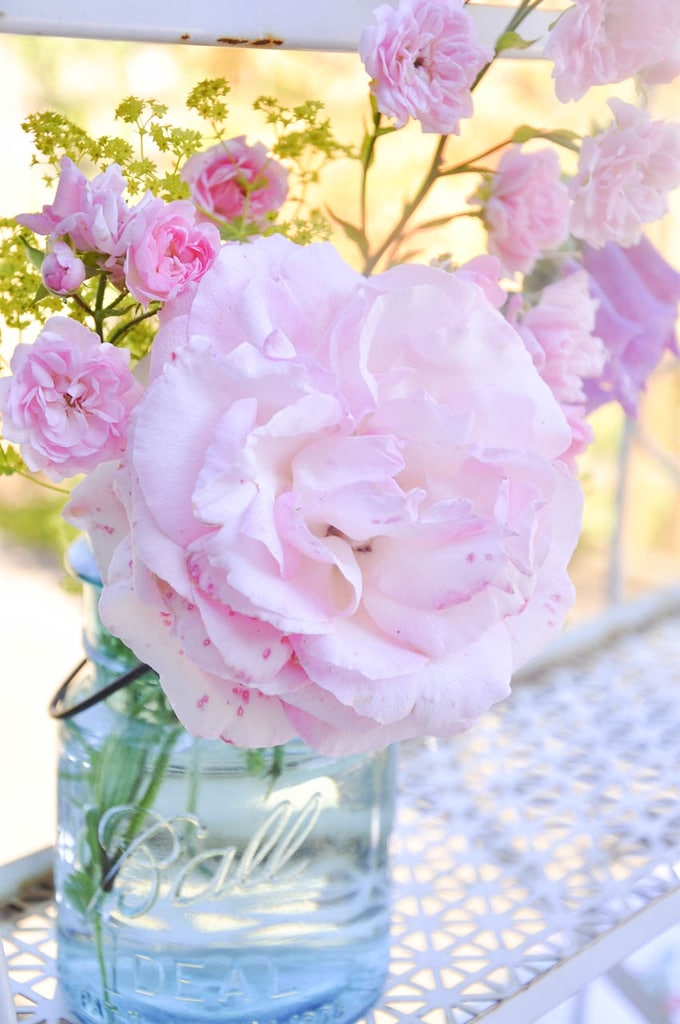 Last week we decided to have a picnic dinner and take in one of the free concerts in downtown Portland.  I pulled out one of my favorite picnic recipes, the Tailgate Sandwich from my Portland Palate cookbook.  It is the perfect make ahead sandwich for such an adventure.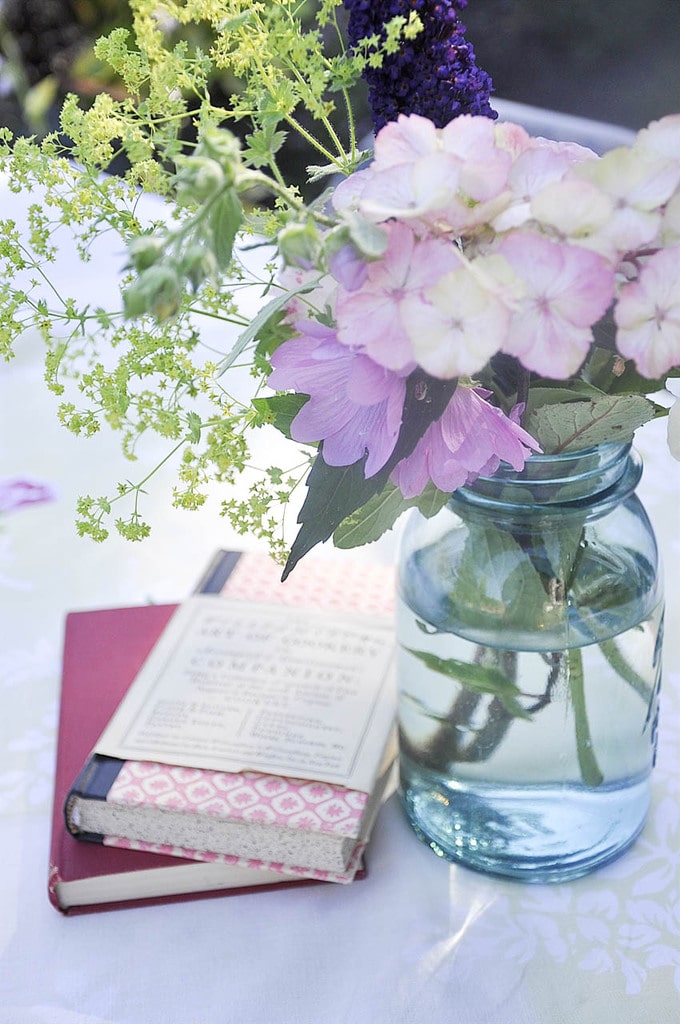 The only flowers I had to buy was one bunch of hydrangea from Costco which I used in the arrangement I put on the serving table.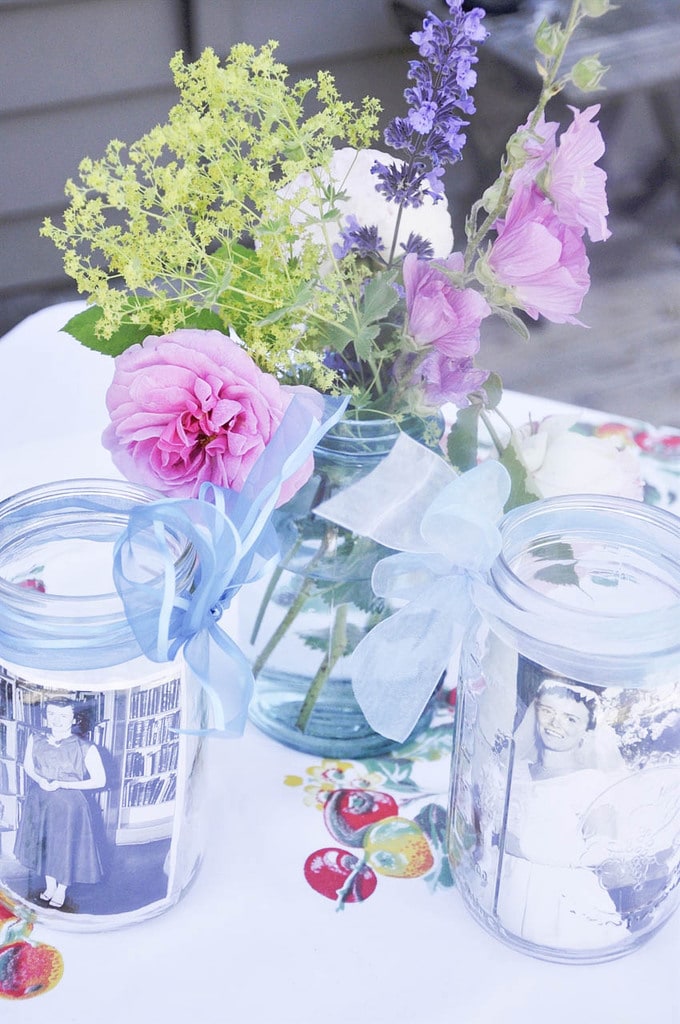 I also used the blue and clear canning jars to display pictures of my mother through the ages.  People loved looking at the photos!
I added some vintage inspired pinwheels into some of the jars.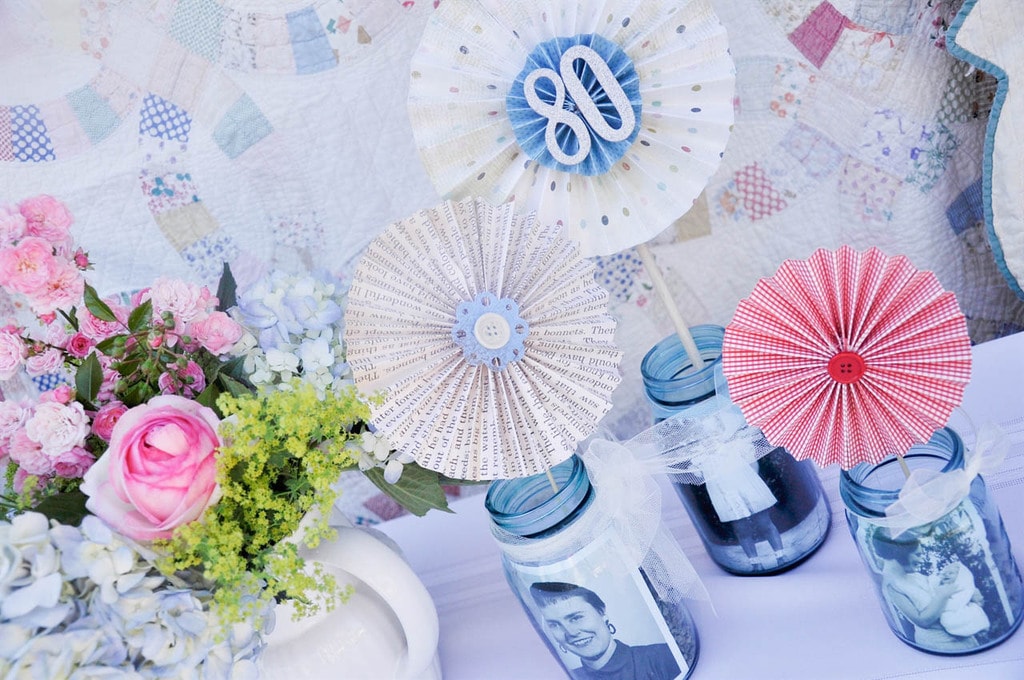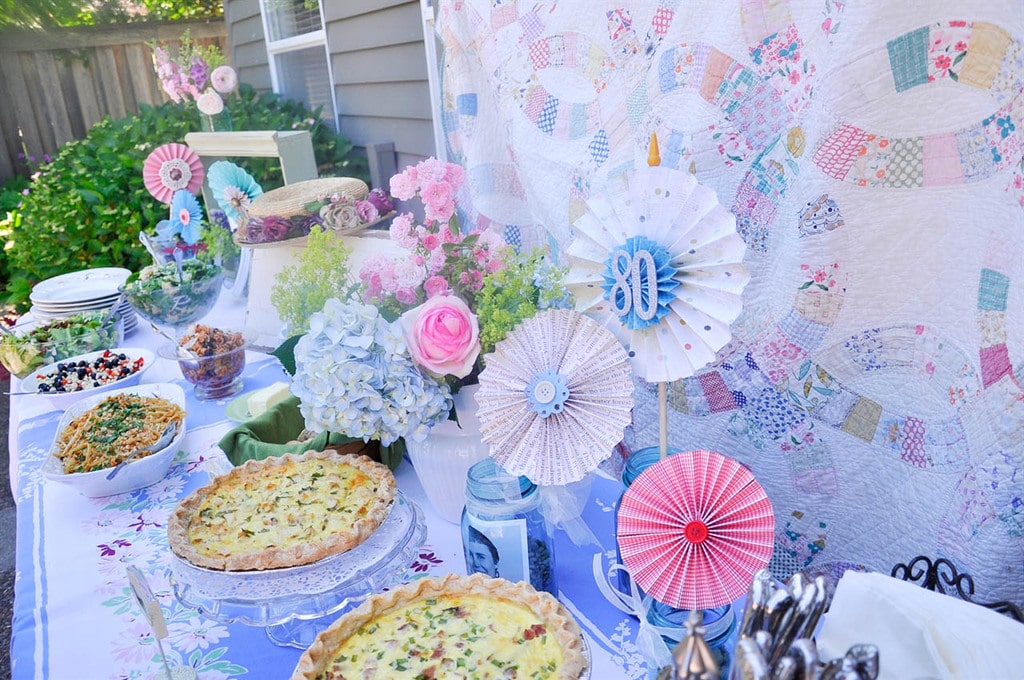 Vintage Party Decorations
I borrowed an old vintage quilt from a friend to use as a backdrop.  The serving table was right up against our fireplace and there was an ugly black vent I needed to cover up.  I ran a wire line and used clothes pins to hang it behind the table.  It worked perfect.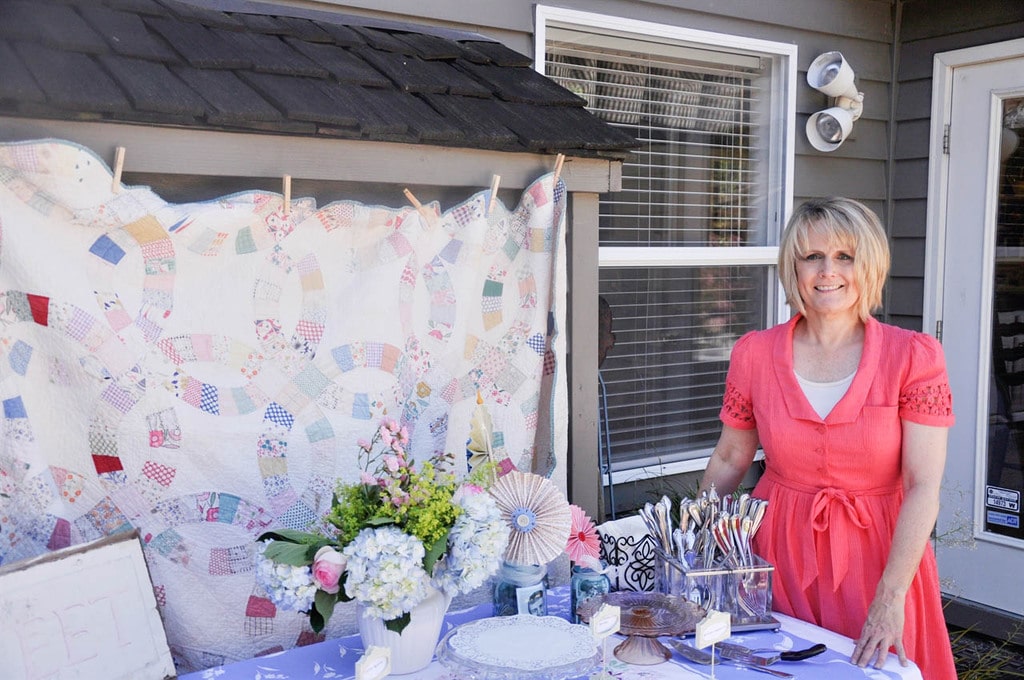 I basically just found every vintage type thing in my house and used it to decorate with.  An old shelf from my girl's room that was in the garage, a sign from Tessa's room, books from the family room.  I just went around the house collecting things.
My Aunt Pam came down from Canada for the party and brought me this beautiful hat she found at a garage sale.  It very quickly became part of the decor.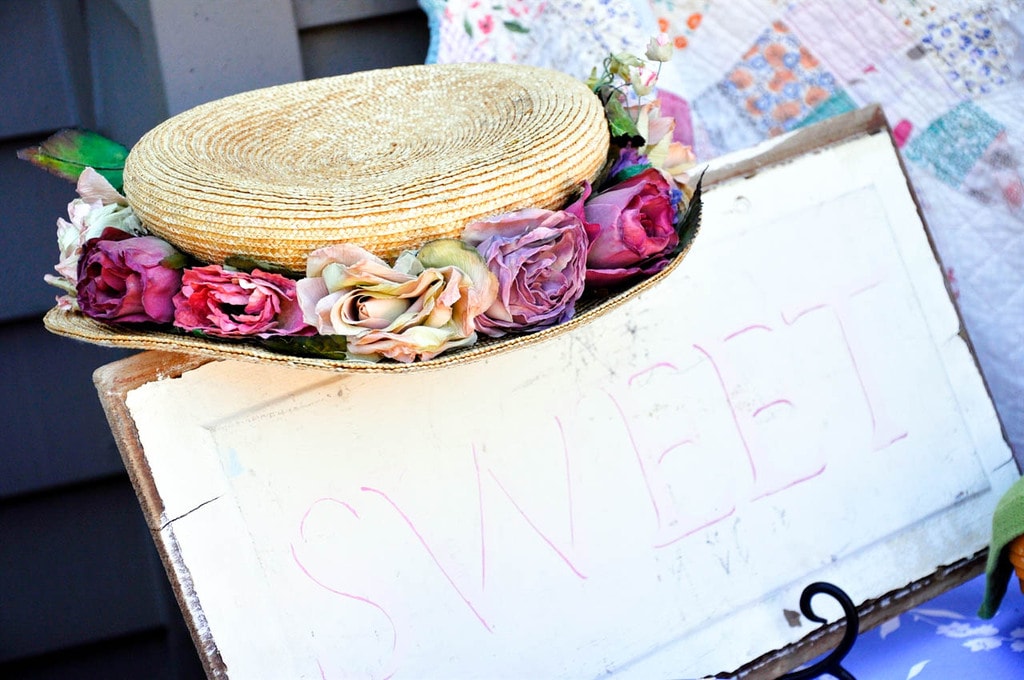 I like to use signage on my serving table.  I always like to know what I am eating and besides that it looks pretty!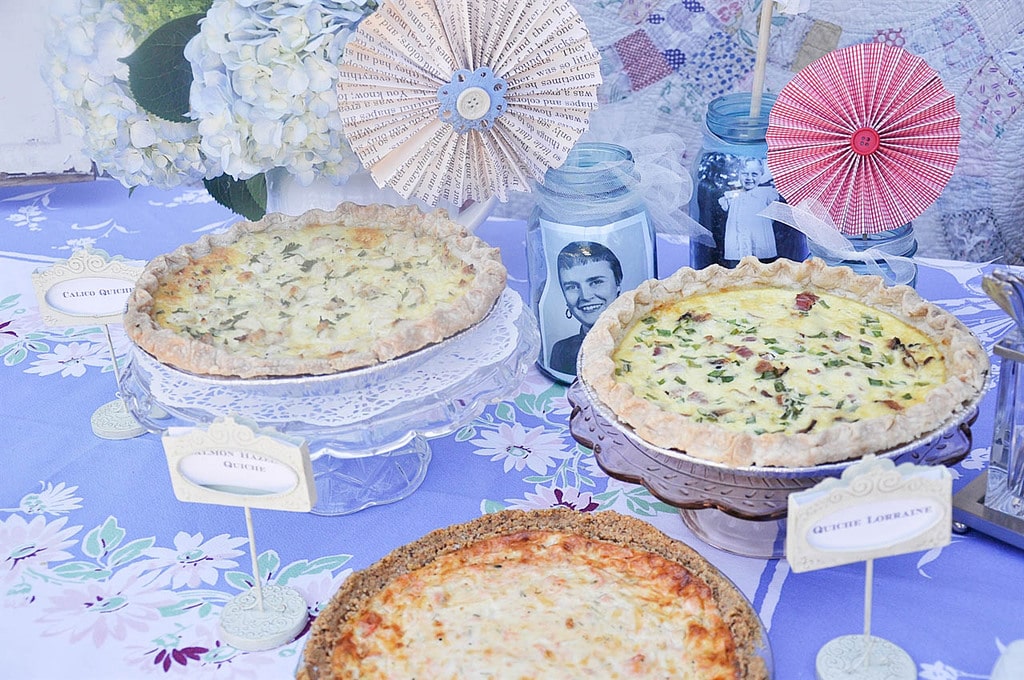 The menu consisted of three types of quiche, four salads, bread, cupcakes and cake.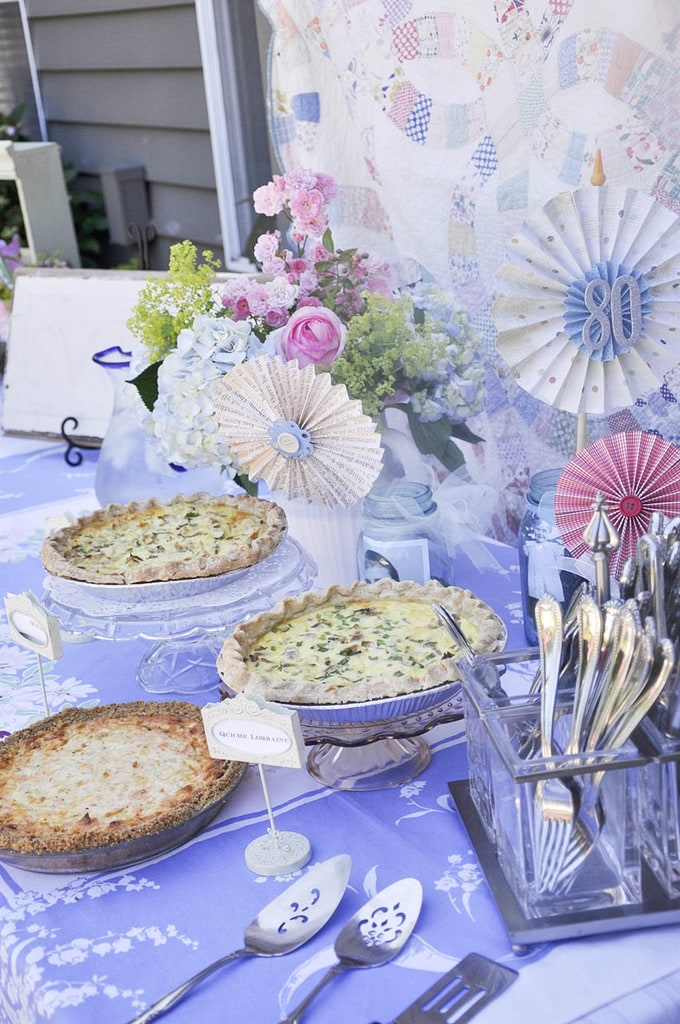 I made four different salads:
And two different quiche recipes. Quiche Lorraine and the hit of the party  Salmon Hazelnut Quiche
We served Pink Lemonade Cake , Chocolate Cupcakes and perfect Lemon Cupcakes for dessert.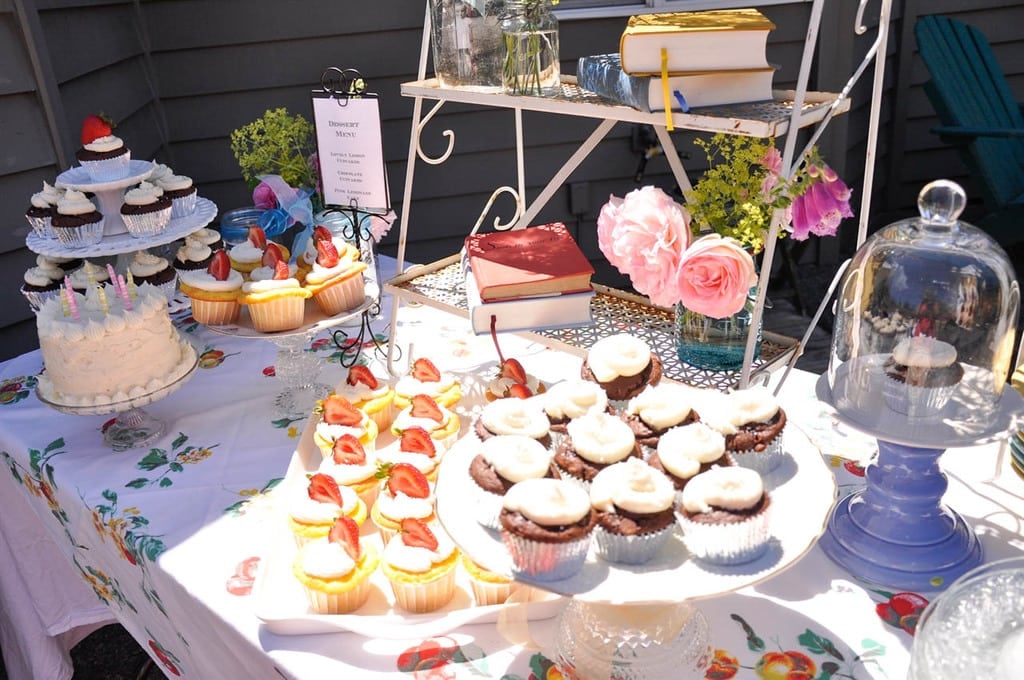 The finishing touch was a pretty girl in a vintage dress and apron to help serve!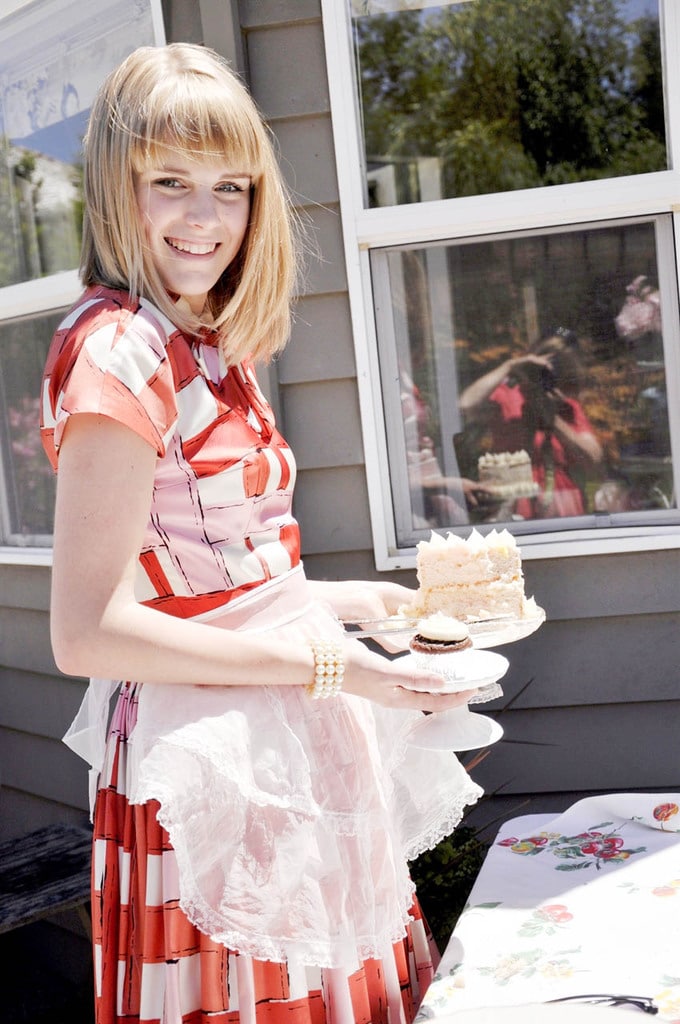 Since the party was back in the garden I wanted people to know which direction to go so I pulled out Daisy and added a sign to her so people knew where the party was!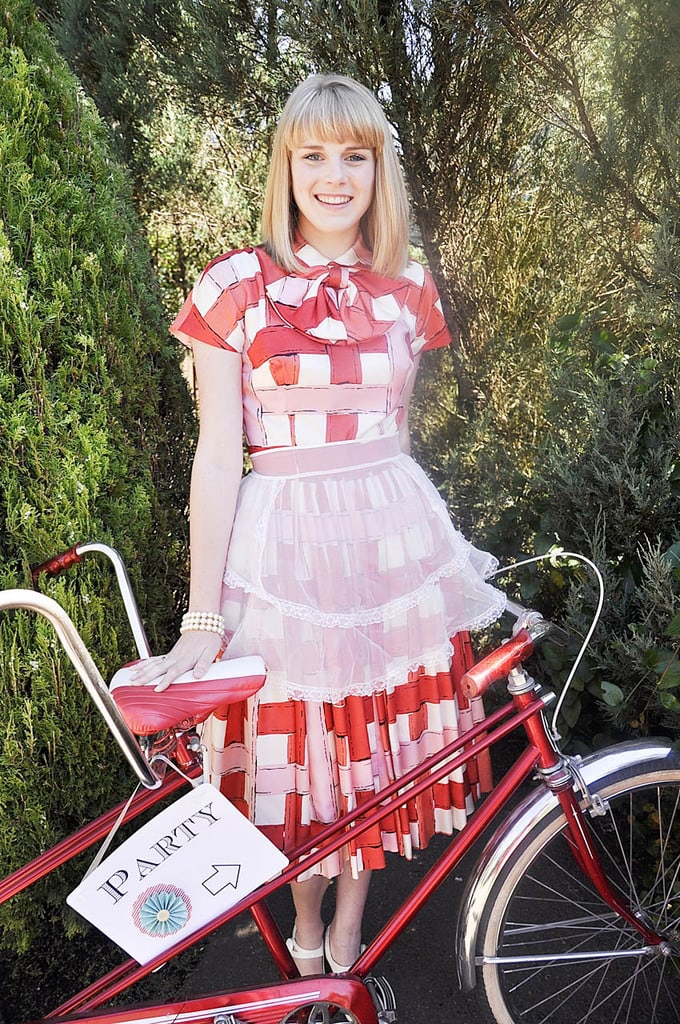 The best part of the party?  Was just watching my mom enjoy herself with her friends!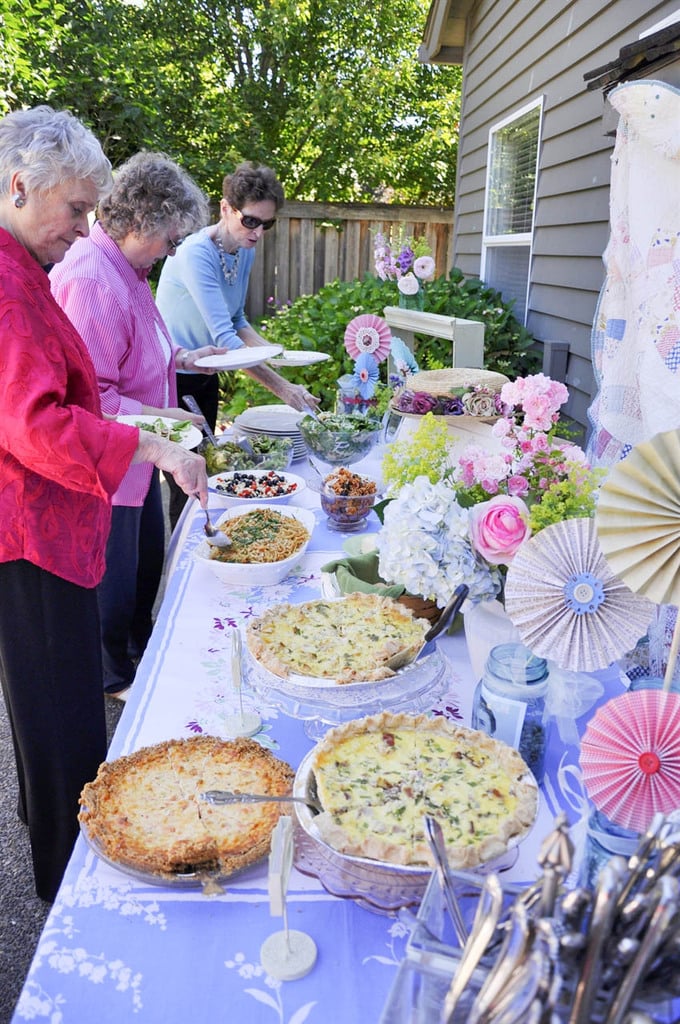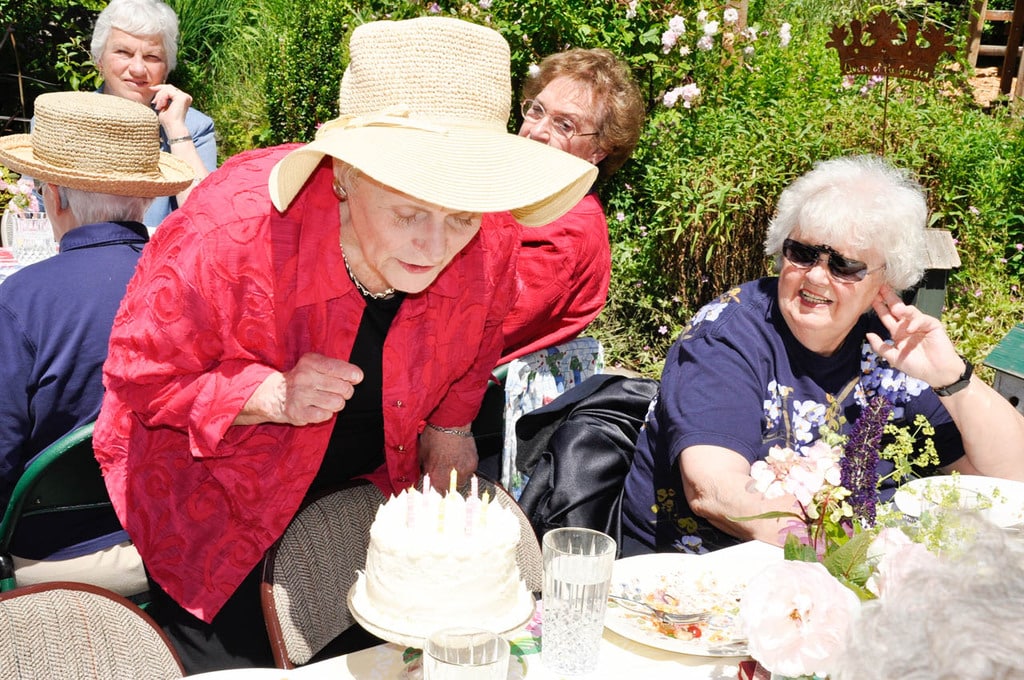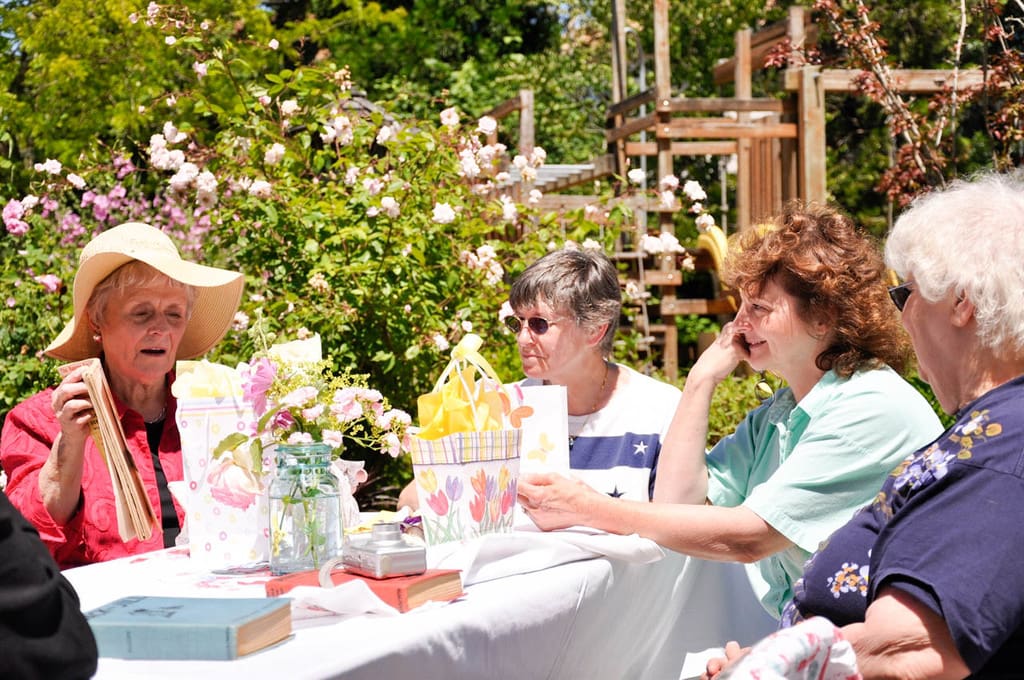 Happy Birthday Mom – we love you!