Show your friends and family how much you love them with a fun and festive Hot Chocolate Bar.
This week I had my Activity Day girls over for our twice a month activity.  Activity Day girls are the girls aged 8-12 at church and I am lucky enough to get to play with them twice a month as my church job!  Best job in the whole church.
I'll share more about our book review and book mark making activity this weekend but I also put together a Valentines Day Hot Chocolate Bar.  How fun is that!
I have shared the idea with you before but had only done a Christmas Hot Chocolate Bar.  I figured if it worked at Christmas it would work for Valentines Day too!
I thought my white antique dresser in my entry way would provide the perfect backdrop for the event.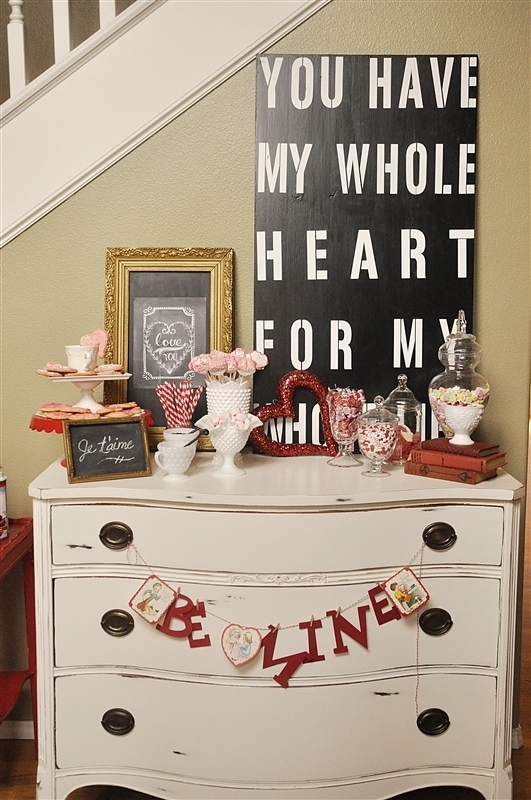 I removed most of the Valentine Decor I had there except for the subway art and the Be Mine banner.  If you want to see what it looked like before check out my Valentine Decor post.
I decided the Valentines Day Hot Chocolate Bar could also use some candy so there were some jars of Valentine candy too.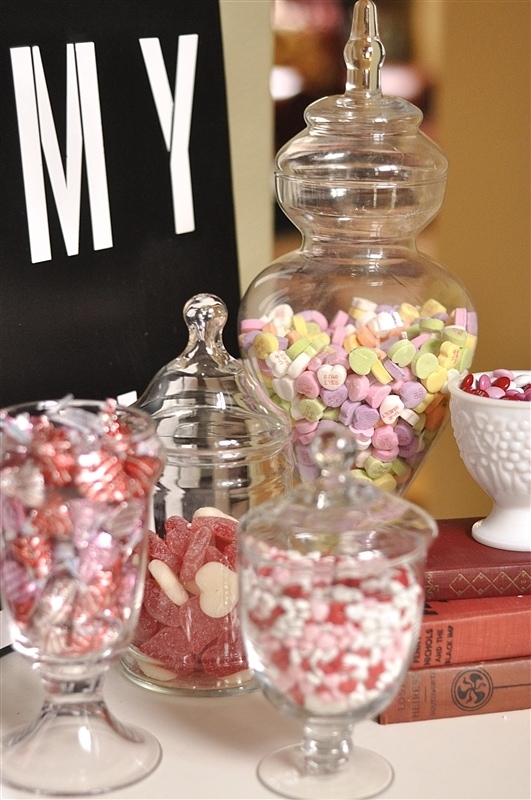 I decided the day of the activity that I really didn't have the right pot to serve the hot chocolate in so I made a quick trip to Goodwill and look what was waiting just for me!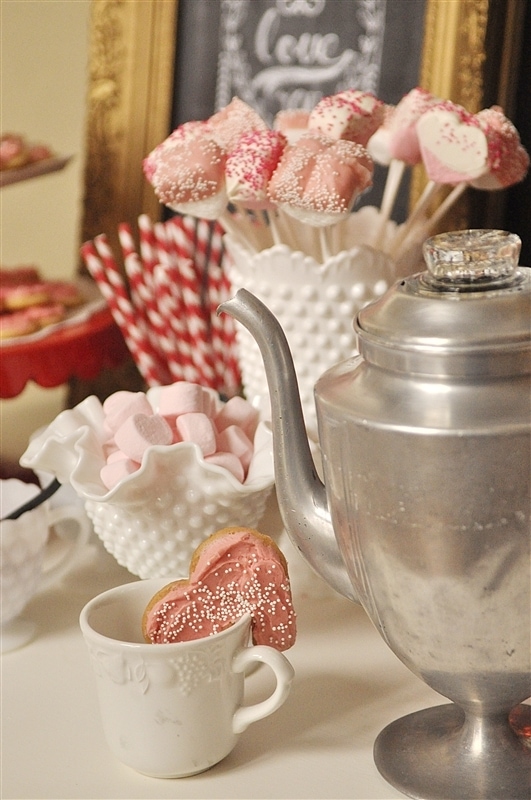 A vintage coffee pot – I was living right!
Of course we had to have some different topping to go on our hot chocolate including whip cream, sprinkles, red hots, strawberry heart shaped marshmallows.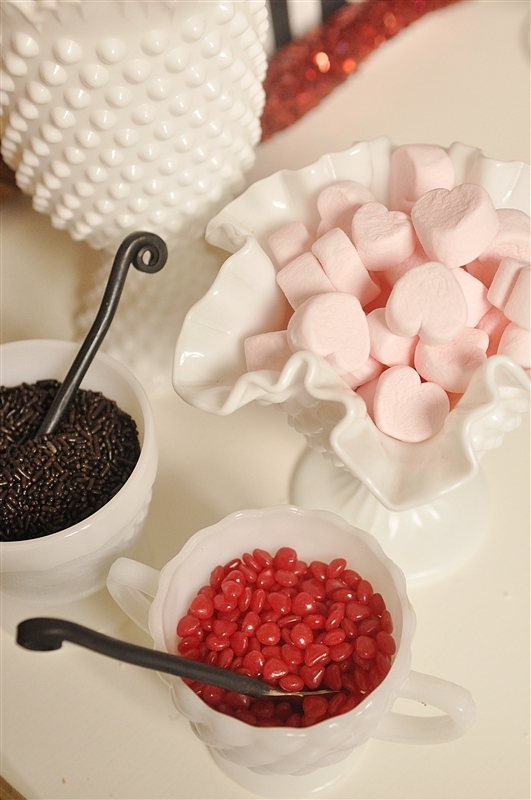 We also had marshmallow stir sticks that I dipped in chocolate and covered with sprinkles.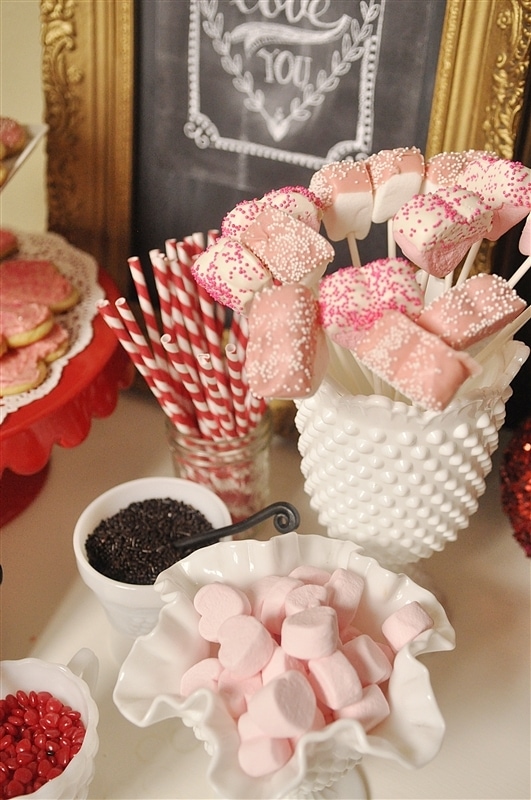 I also made heart shaped sugar cookies.  I've got a great sugar cookie tutorial for you here.   I found this great cookie cutter at Cost Plus World Market that had a slot in it so the cookie could sit on the edge of the cup – the girls thought those were pretty fun!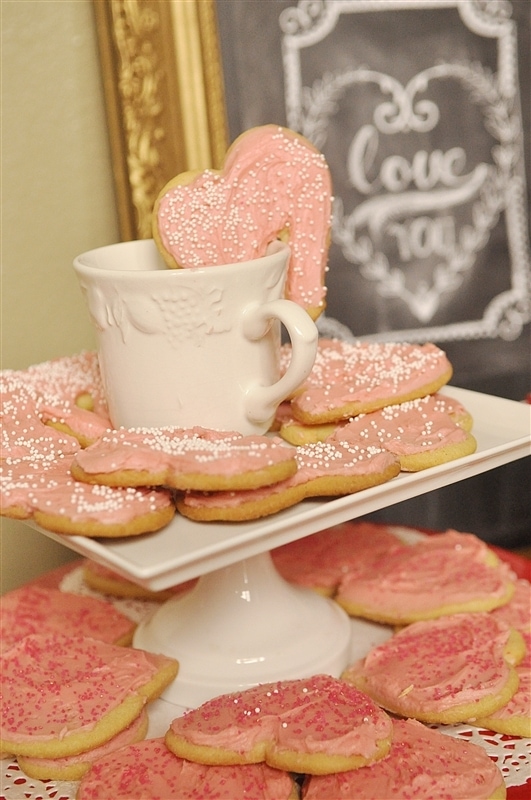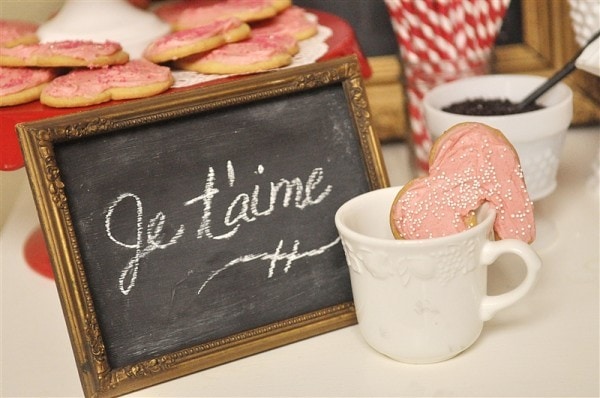 I am taking a French class right now so I thought I'd practice a bit on my chalkboard sign.  I found the gold vintage frame at a vintage junk sale this weekend that became the perfect chalkboard.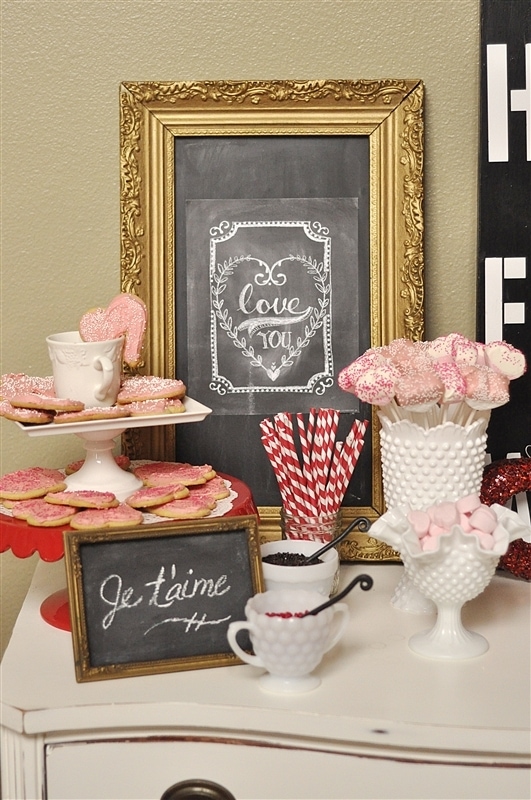 In fact both gold frames came from the junk show I went to.  For the bigger one I printed off some of Rhonna Designs great Valentine chalkboard art that I bought from her shop and just taped it to my chalkboard.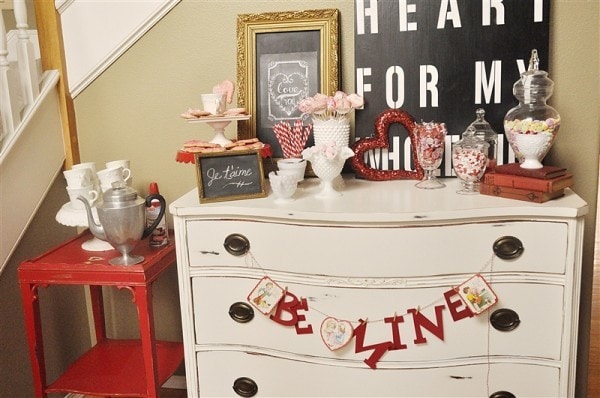 I thought some of my milk glass collection was the perfect thing to hold some of the toppings.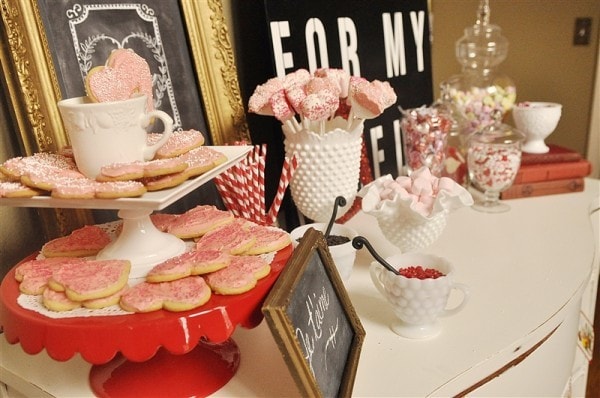 The girls had a blast and had fun drinking hot chocolate as they shared their favorite books.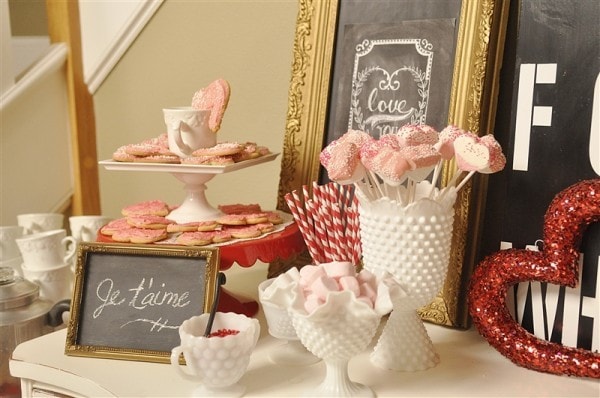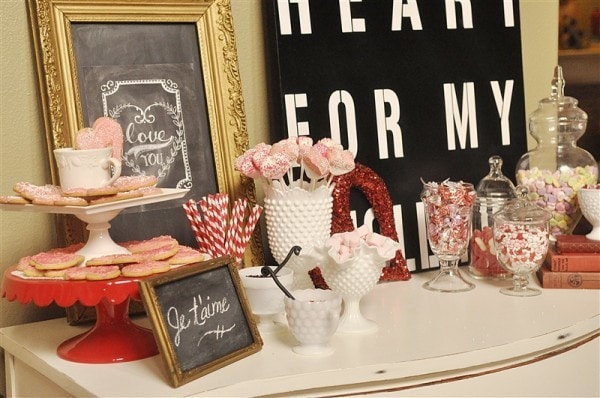 How will you be celebrating Valentine's Day?
For a few more Valentine ideas check out these posts:
Malted Hot Chocolate Mix, Marshmallow Stir Sticks and a Valentine Printable
Valentine Sugar Cookie Tutorial