Home Sweet Home!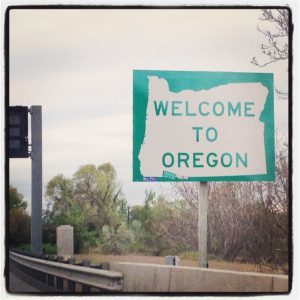 Posting has been a bit light this week because I spent the last 10 days in Utah enjoying the company of my four kids and other family members (Thank you Emily and Wynn for putting up with me that long!!)  Tessa and I are home now and I'm glad to be sleeping in my own bed.  Didn't realize how much I missed green.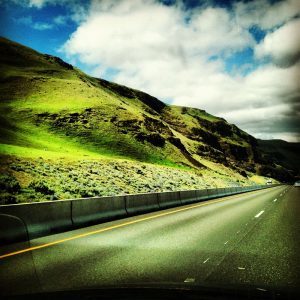 When we pulled into the driveway after our long drive this is what we found!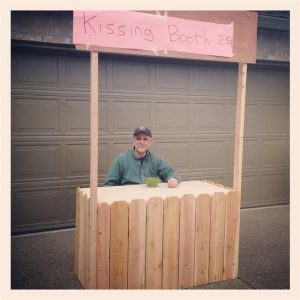 How cute is that !  Jim worked hard while I was gone in the garden and on  building a prototype booth for our carnival wedding reception we will be hosting this summer.  I'm going to have the bride and groom stand in front of the kissing booth to greet people!  Now I just need to get it painted.
The main reasons for my trip to Utah were to attend the Snap Conference one weekend and then hear Logan speak at BYU Women's Conference the next weekend.
He made his mama proud and he made me cry (in a good way!)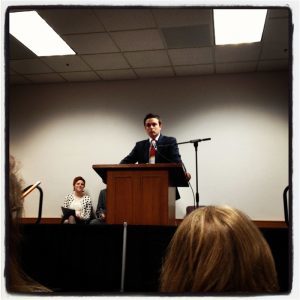 I always love being back on the campus of my alma mater.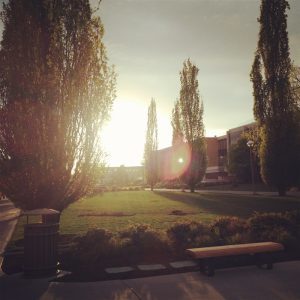 Checking out new restaurants and visiting old favorites is always part of any trip to Utah.
Tessa and I enjoyed a visit to an old favorite – Sammy's.  We shared a chocolate cream pie shake.  Yes, a piece of pie in a milk shake.  So good!!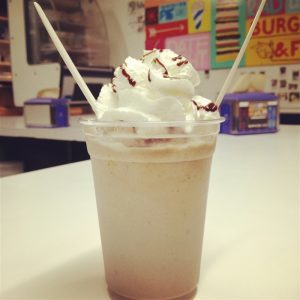 We also check out several new places while we were there and I think my favorite was The Black Sheep Cafe.  It is a fairly new restaurant in Provo and it is delicious.  It is Native American cuisine with a lovely upscale twist to it. The restaurant has a lovely ambiance  and the food is excellent.  Logan commented that this may be his new favorite restaurant in Provo.
I enjoyed a delicious Chili Pork Verde Fry Bread.  Logan ooh and ahhed over his Black Sheep Burger that has Bleu Cheese in it.  The burgers come wrapped in fry bread instead of a bun and are accompanied by some delicious Mexican type corn on the cob.  The Wedge salad was also delicious – it was all delicious.  If you are in the area you should definitely pay them a visit.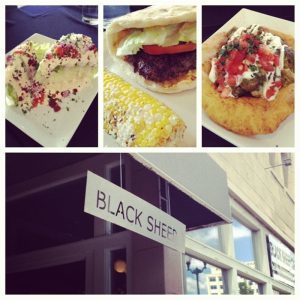 For dinner one night we went to a fun pizza place just south of BYU campus.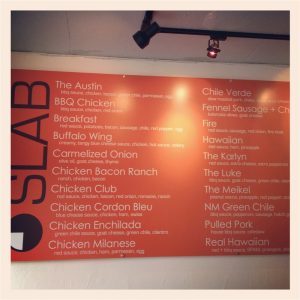 It is called Slab because you literally get a slab of pizza – a fourth of a pizza!  They have lots of fun and different pizza toppings.  I totally need to go back to try a few more.  We went for Chile Verde and pepperoni – both were great.  I've also heard the Chicken Cordon Bleu is pretty fantastic.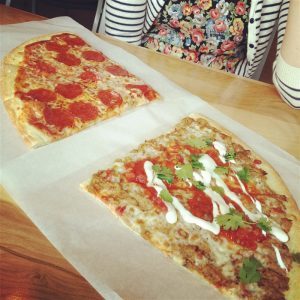 Our gluten free girl had to sit and watch us eat but don't worry, we then went to Malawi Pizza over at the Riverwoods and got her a piece of gluten free, dairy free pizza and she was a happy girl!
I also enjoyed a lovely lunch with three of my favorite people at LaJolla Groves in Riverwoods.  The food was delicious and I enjoyed their LaJolla Groves salad.  Dessert was both pretty and delicious.
Moist Lemon Bundt Cake Served with our Handmade Crème Anglaise Under a Caramel Dome with Berries and Mint.  Divine!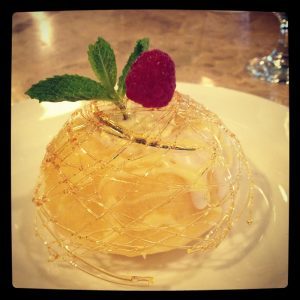 Of course no trip to Provo would be complete without a JDawg.  A local hot dog stand made good.  I rarely eat hot dogs but this is one place where I will eat a hot dog!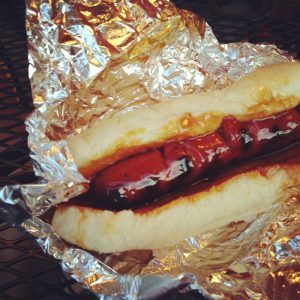 The best part was getting to enjoy it with these two.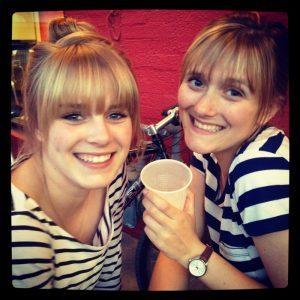 On Sunday I got to cook for three of my kids.  Thank you Emily for letting me use your kitchen.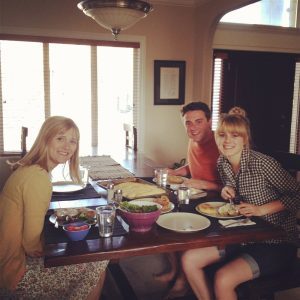 Both of my boys celebrated their birthdays the week I was there and they chose Texas Roadhouse for their birthday dinner.  I think I could just eat rolls and cinnamon butter and be happy.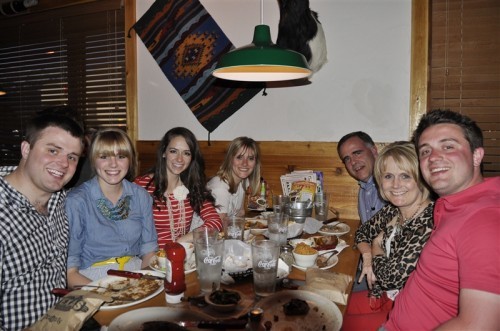 Of course we had to get a little exercise in to burn off all those calories we were consuming so my girls took me scootering through Provo!  We're not talking a motorized scooter but those little scooters you push with your feet!  Let's just say we covered some miles!!!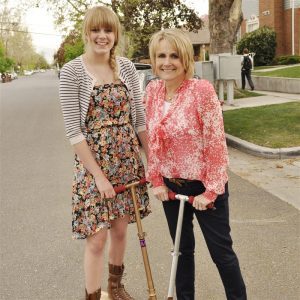 If any of you Provo residents saw two cute blond girls zipping through Provo on their scooters last Friday night and then an old blond about two blocks behind them on a scooter trying to keep up that would have been me!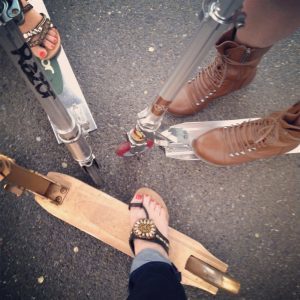 It was a fun and delicious trip to Utah.  The best part  – I got to bring one of my kiddos home with me.  Tessa will be home this summer working and playing with her mother!
There's someone sleeping in this bed and the room may be a disaster but I love it!!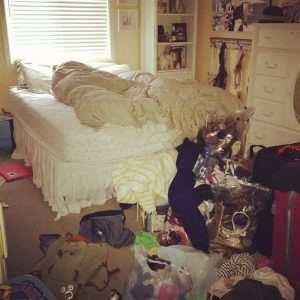 Home Sweet Home!
Get my Weekly Menu Plan for FREE!
Receive my FREE "What's for Dinner?" Meal Planning Course, a copy of my FREE ebook that includes my most popular recipes and my FREE weekly Meal Plan.