Using Instagram for Family History is easy and fun. It's the perfect way to share your photos and stories with your family.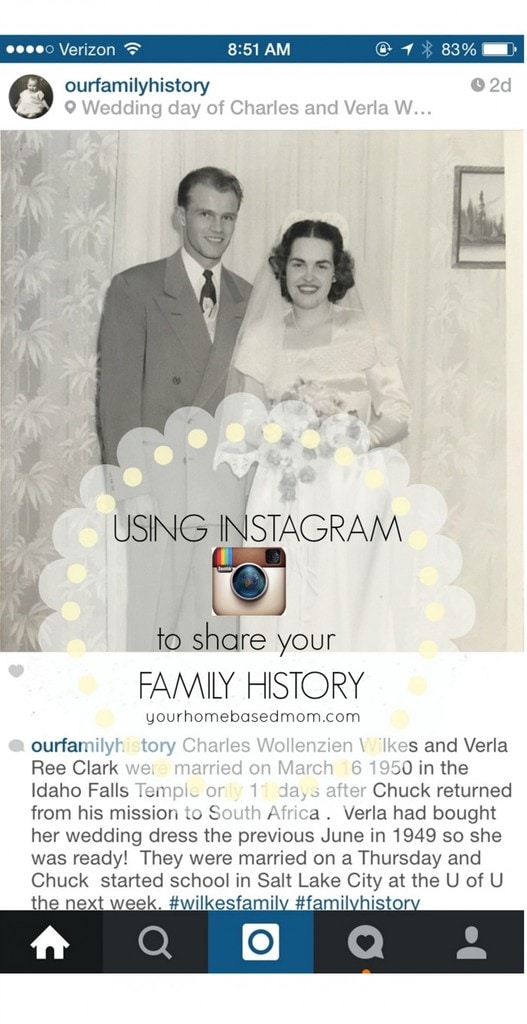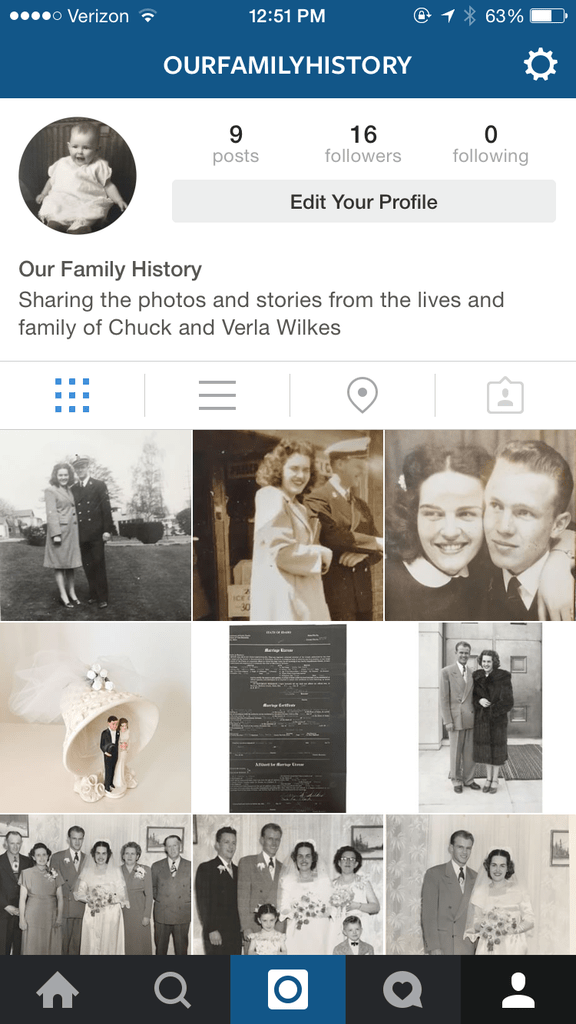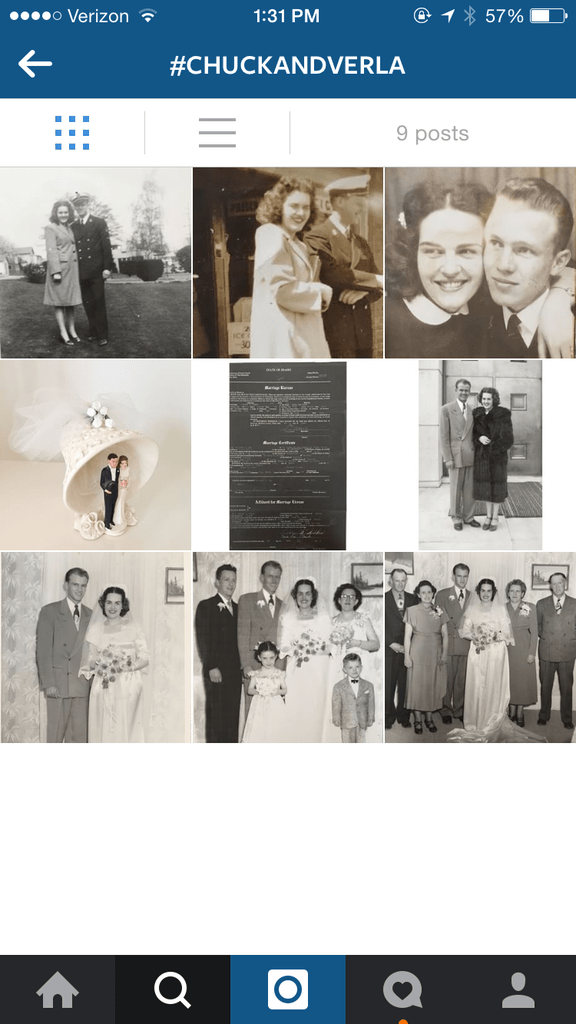 Family History
I grew up with a love for family photos and stories and a mother who loved family history, stories and photos too. She was lucky to have had a grandmother who loved sharing the family stories and photos with her. That is how family history is preserved. It is passed down from generation to generation. The scary thing is though, that if a story is not shared and written down, it can disappear in just three generations. Three generations is only you, your parents and your grandparents. If that story is not told and written down somewhere in those three generations, it will be gone, forever.
A few weeks ago I attended Roots Tech 2015 in Salt Lake City, Utah, the largest family history event in the world. While there I was motivated and inspired by a lot of amazing speakers and classes that I took. The main message of the conference was Celebrating Families Across Generations. One of the biggest topics at the conference was using Social Media to preserve and share your family history. I attended a wonderful class put on by Rhonna Farrer of Rhonna Designs and Crystal Beutler on Family History on the Go Using Phones and Tablet Apps.
I got so excited about what they shared that while I was in Utah and staying at my mother in law's home I decided I needed to digitize her old photos (over 450 of them) and start working with my sister in law, Tamara in getting the stories written down.
It was important to get those photos and stories preserved but it was even more important to get them shared with our family. I wanted my children to know the stories and recognize the photos. Written family histories are important and they are great but I knew that getting my children to read them would be a challenge so I decided to meet my children where they are at – Instagram.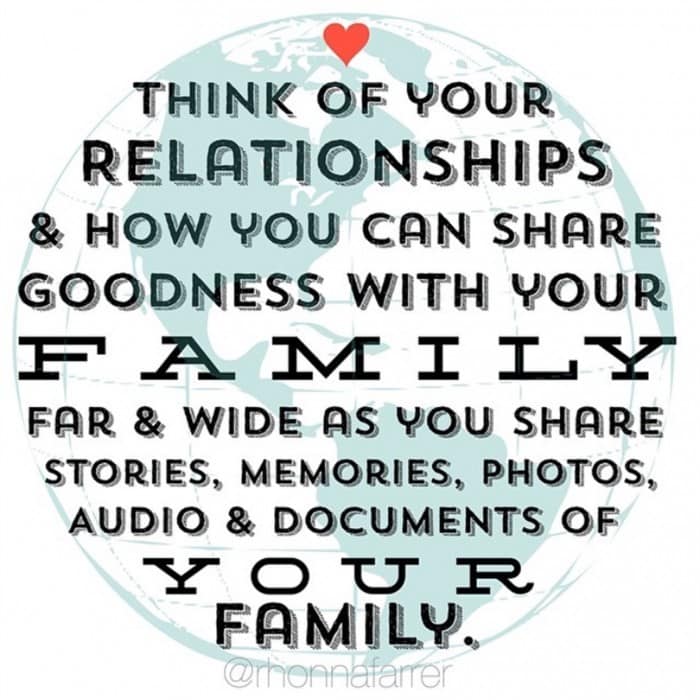 I decided to use both Instagram and Facebook to share the family photos and tell the family stories. Today I'd like to share with you what I am doing in hopes that it might help and inspire some of you to make sure your photos and stories don't disappear from your family.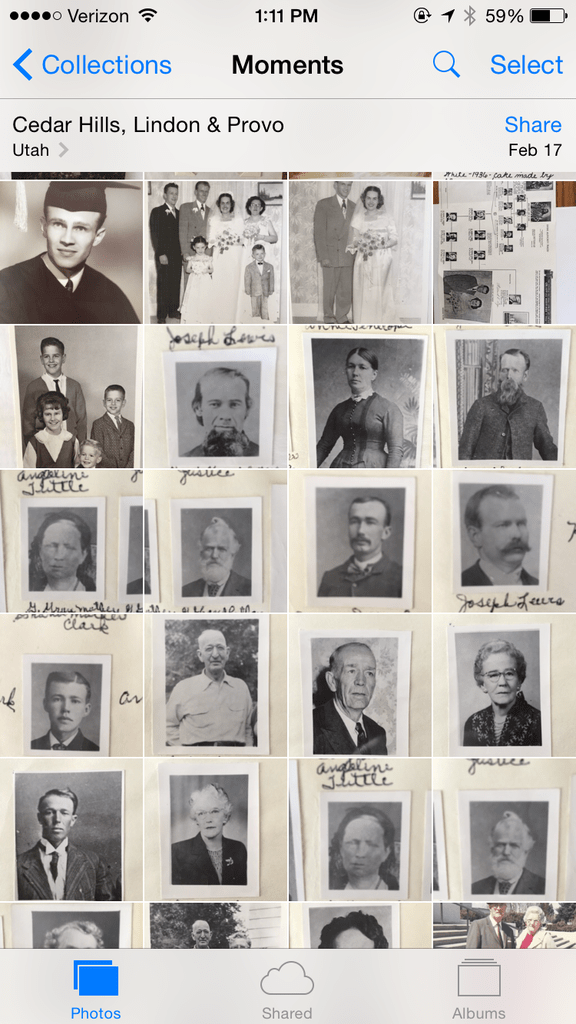 Here is how I did it:
Step One: Gather and digitize the photos. I was lucky enough to have access to my mother in law's photos and with the help of my cell phone and an app called Shoebox by Ancestry I was able to digitize them all in a day! All 450 of them. I took the photo using the Shoebox by Ancestry app. It then allows me to crop and edit the photo and because I use Ancestry as my family history research platform I tagged the photo and uploaded it directly to Ancestry from my phone. You don't have to use Ancestry to use the Shoebox App. Just take your photo using the app, crop and edit and then save to your camera roll. There are also other photo editing and cropping apps out that that you may already own. Because I didn't want to take the time to edit and tag them as I went I just took all the photos and will go back later and crop and edit them using the Shoebox App. If you don't have your family photos in your possession but know who does, make a trip to visit and bring your phone. The photos never have to leave their home. Just snap away.
Here is what they looked like in my camera roll before editing.

I just layed the photos on a piece of white paper near some good natural light (avoid reflections on your photo) and then took the photo. Some of the photos were in an old scrapbook so I didn't' even remove them, just took the photo and then cropped out the black page.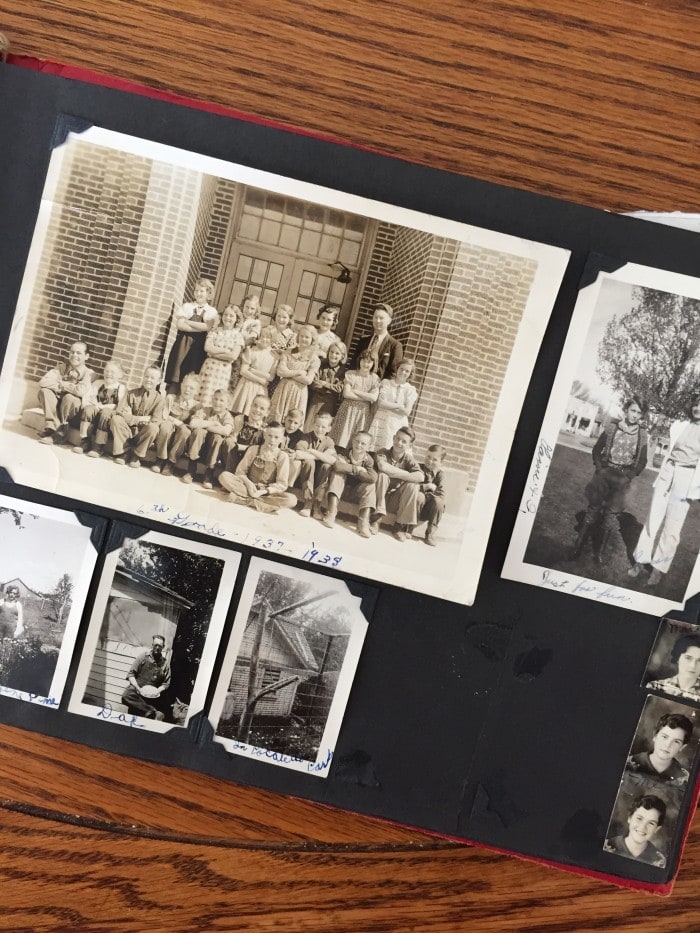 I also took photos of documents, certificates, awards and pieces of furniture and other momentos.
2. Set Up a Family History Instagram Account
If you aren't familiar with Instagram it is a virtual scrapbook/bragbook where you can share pictures & short videos on this app/site with those that 'follow' you. Over 200 million users. It is a fun and easy way to share your family history too.
If you already have an Instagram account you can use it or you can set up a separate Instagram account for your family history as I did. In order to do that you will need a second email address which I did through gmail. Instagram will only allow you to have one account per email. I called my account OurFamilyHistory and if you'd like to follow along and see what I'm doing you can follow me here. You will have to log out of one account and log into another when you want to post. Another option is to keep Instagram open to one account on your phone and then have the other account open on another device such as an I-Pad.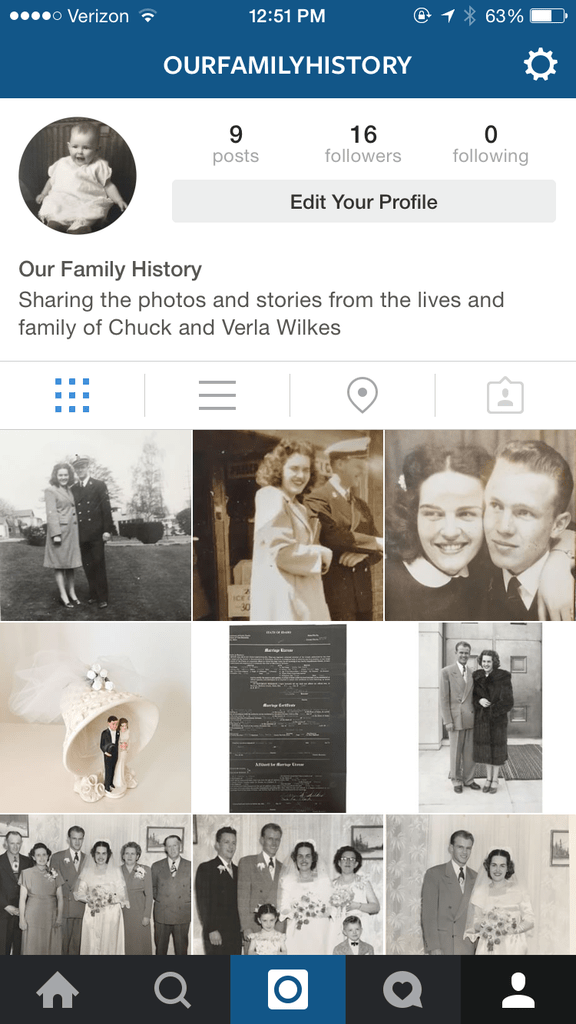 I then sent out an email to my family members inviting them to follow me on Instagram at OurFamilyHistory.
3. Upload Photos to Instagram. Be sure and include the stories with the photos. Don't forget the details and the funny things. Don't just use names and dates. Details are what makes it come alive for people. This is a great way to open up conversation with family members. Ask them what they remember about the people or event in the photo. Get those stories while you can and while the people are still here to tell them. If they are not near by, email them a copy of the photo and ask them for details.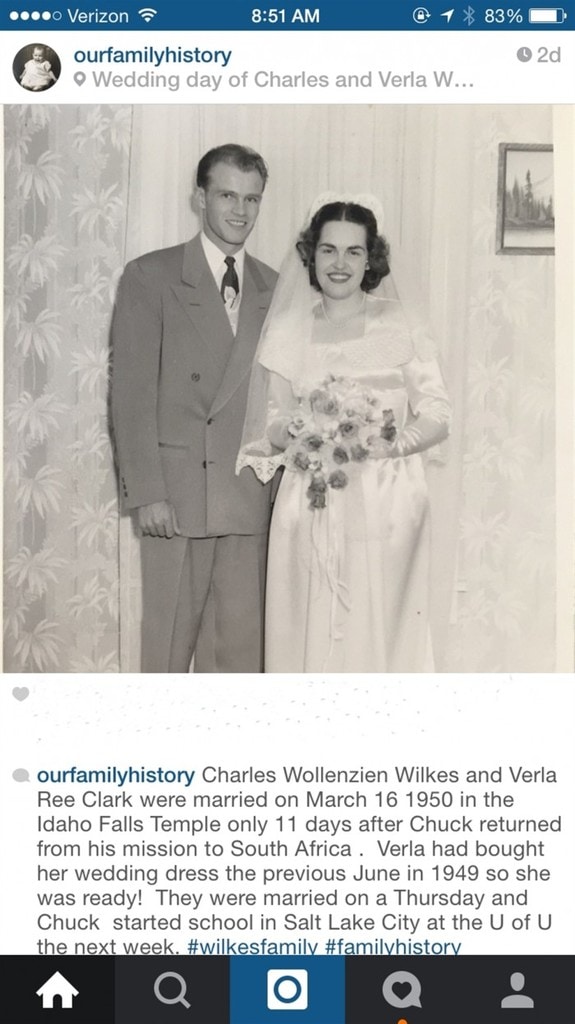 4. Set up Hashtags. Hashtags are a fun thing to use on Instagram. A hashtag creates a virtual file cabinet of all your photos that are tagged with that hashtag. It helps identify photos on a specific topic. Using the hashtag also turns in into a "searchable" link. I use the hashtag #chuckandverla, #wilkesfamily and #family history on most of my posts since the photos I am sharing right now are all of my in laws, #chuckandverla. As I start sharing photos of other family members I will come up with some other hashtags such as #jimandjane, etc. Just put the # sign in front of a group of words with no spaces within the sentence. Don't do it this way, #chuck and verla. Must be #chuckandverla to work.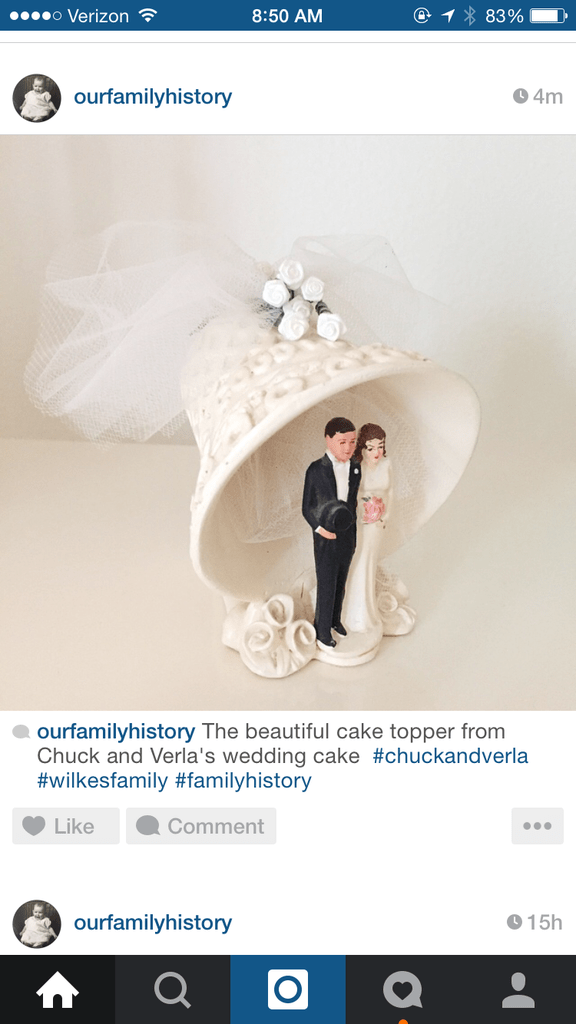 Using 2-3 hashtags per photo is great. Over hashtagging is annoying.
If you clicked on the hashtag #chuckandverla this is what you would see. Every photo I have posted that I gave the hashtag #chuckandverla to.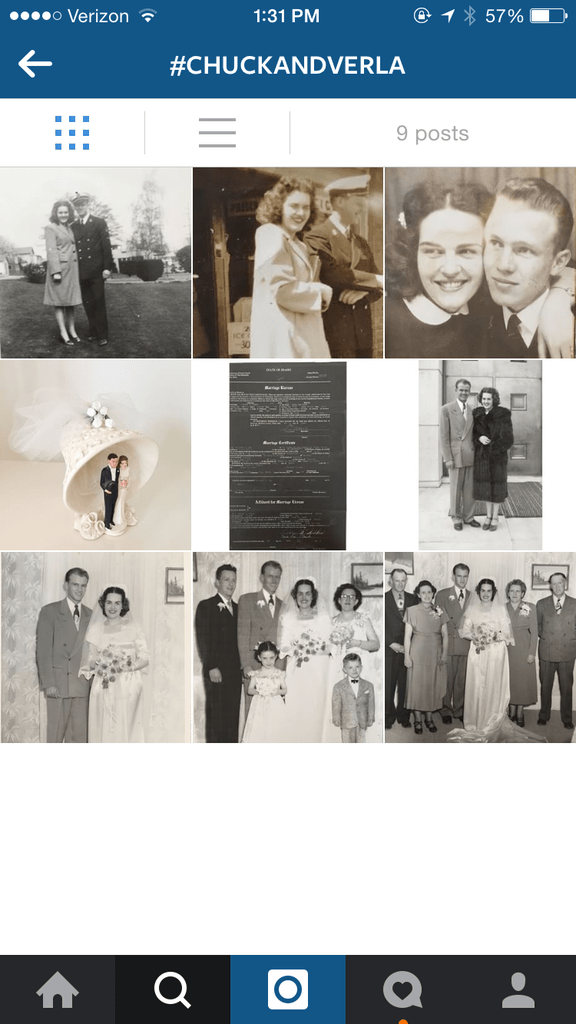 5.  Include Memorabilia.  Be sure and also take  photos of documents, certificates, furniture, jewelry, art work, quilts, and bibles/books.  I love including memorabilia in with the photos. Photos show up as square on Instagram so if your photo doesn't crop well into a square you can use an app like Whitagram so that the entire photo/document shows up.  I used it in the photo below so that the entire document showed up.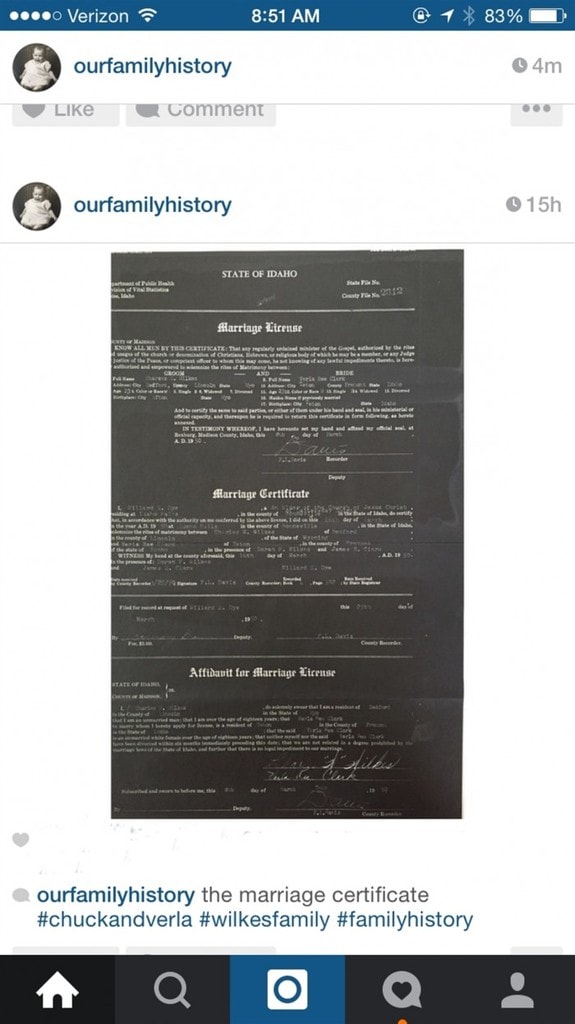 6. Dress it up. You can get as fancy as you want with your photos. There are a lot of fun apps out that that will add decor and text to your photos. I love my friend Rhonna's app Rhonna Designs for dressing up your photos.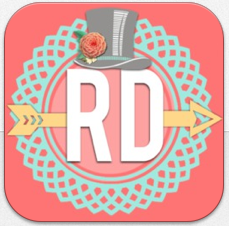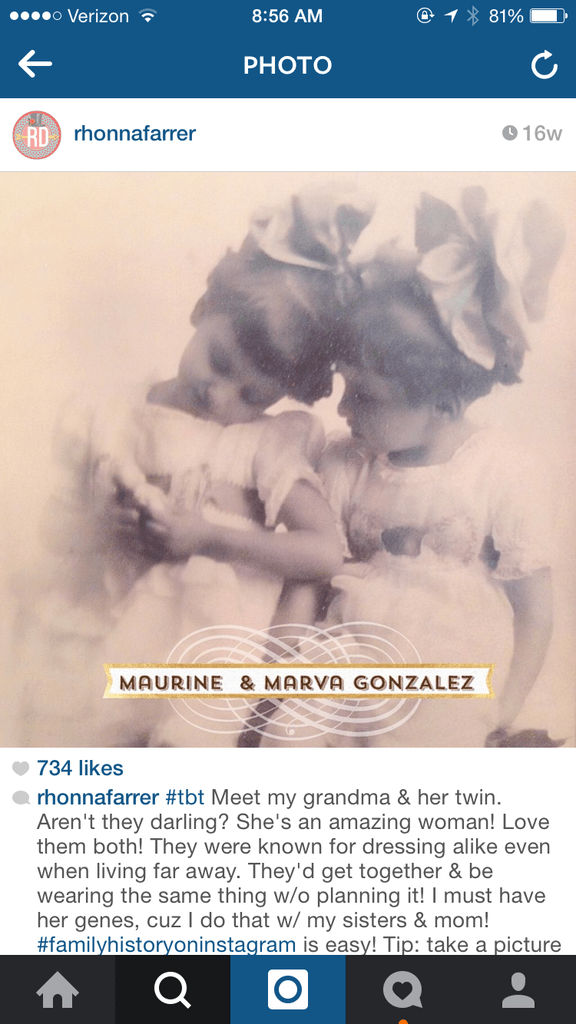 and here is another.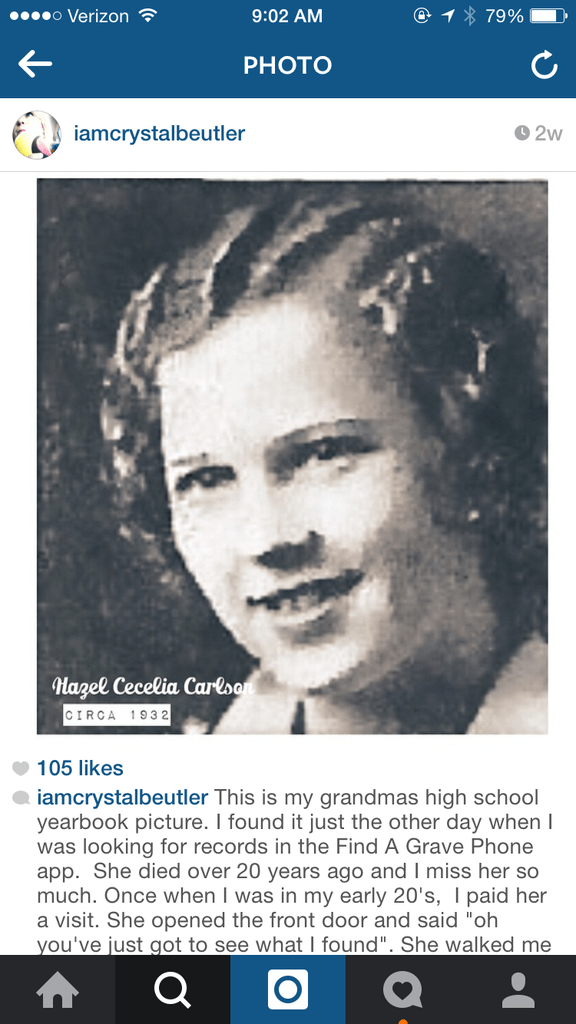 7. Not Just People   – You don't have to just share photos of people. In addition to memorabilia and documents,  sharing photos of favorite recipes and family traditions can be fun too. I am sharing all my family recipes on my blog but if you'd like to share old family favorite recipes with your family Instagram is a great place to do it.  Becky Higgins of  Project Life  is sharing an old family favorite recipe on her Instagram feed occasionally.  I love her Project Life App too for keeping caught up on all my family photos.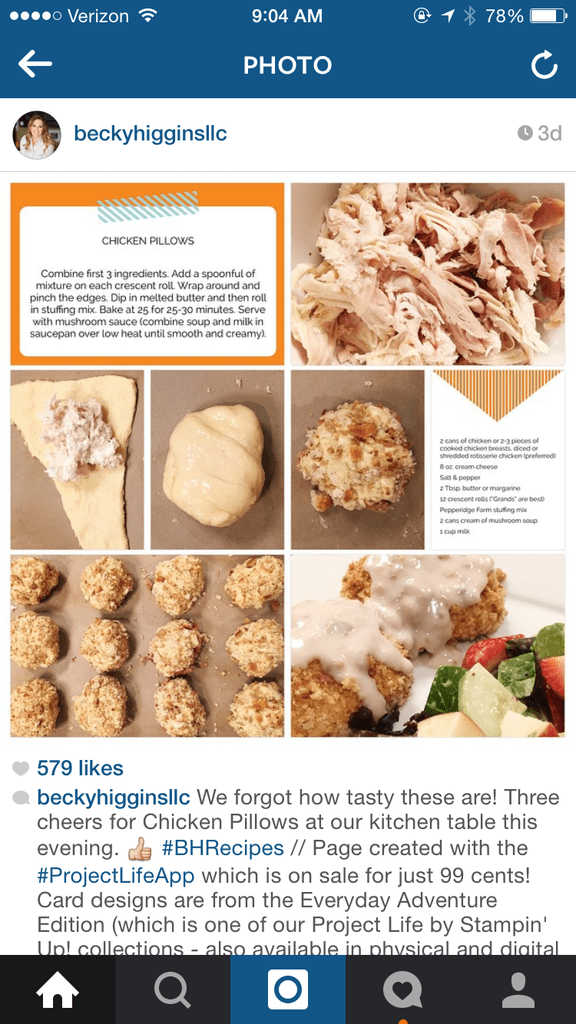 8. Other Apps – I recently discovered another fun Instagram account called @writeyourstory365. Once a week a prompt with a question is posted for you to answer. Within a year you will have your personal history written using the prompts. I have been emailing the questions to my parents and asking them to answer them for me. I will then compile all their answers together into a life story for them.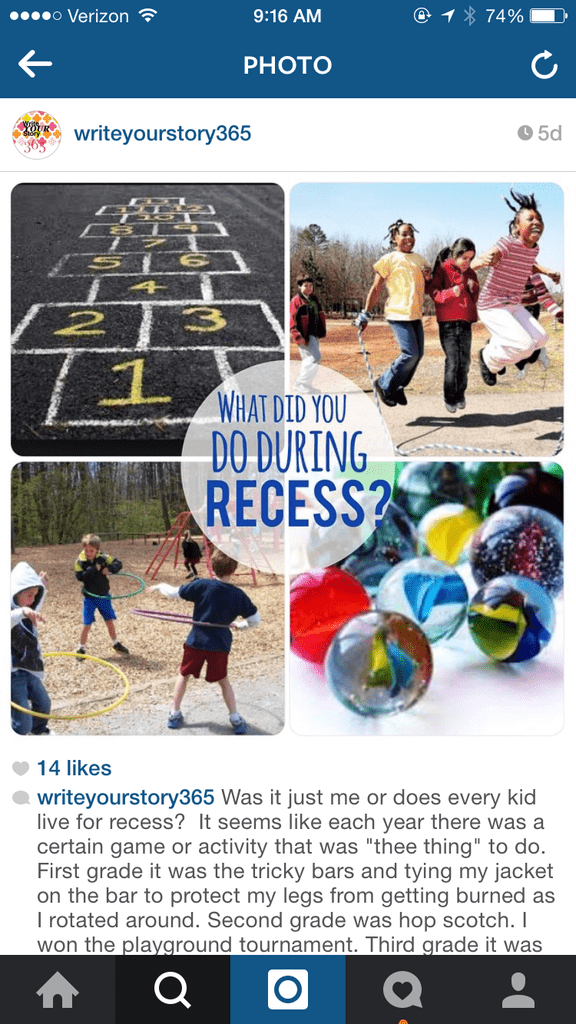 9. Not Everyone in my Family is on Instagram – What do I do? Believe it or not, not everyone is on Instagram! My mother in law and husband are two of them. In order for them to be able to see what I was posting easily I set up a Facebook Page that hooks to my @ourfamilyhistory Instagram account. I call it Wilkes Family History. The name Our Family History was already taken. I now wish I had called my Instagram account Wilkes Family History so the two would have the same name. I may go back and change the Instagram name. After I post a new photo to Instagram I just click share and then it posts to my Wilkes Family History Facebook page. That way everyone can see it. On Facebook other family members can also upload photos to share with each other which my nephew has been doing. I love having people leave comments on both Instagram and Facebook to share their memories and stories about the photos too. Be sure to set it up as a Page not as a Group.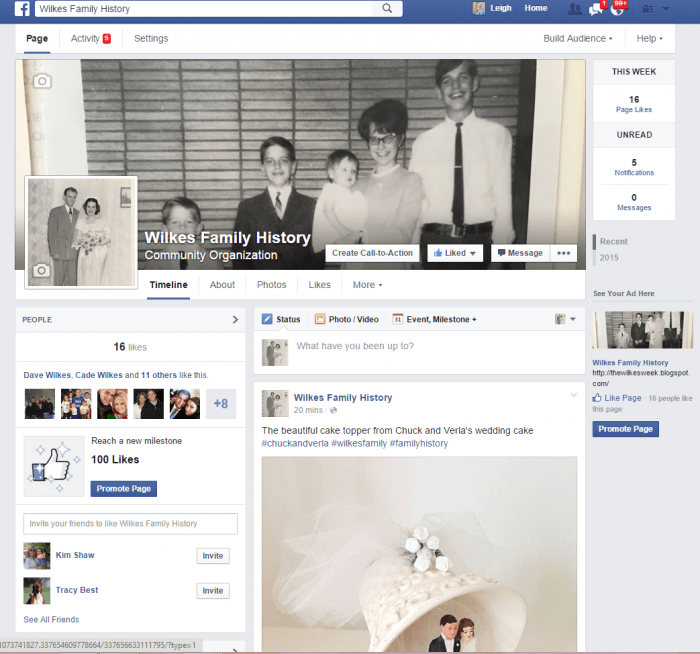 I have been posting twice a day to @ourfamilyhistory and I am having so much fun with it! As soon as I have this one up and going a little more I will be starting one for my side of the family. I already have the Instagram page set up – @bestfamilyhistory.
You are welcome to follow along if you'd like to see what and how I'm doing. Leave a comment below if you have any questions on anything or if you have a favorite family history sharing app or website you love to use! I'd love to hear about it.
Also, if you don't follow me on Instagram at @yourhomebasedmom, please do!
.