For the last several years I have given away a Kitchen Aid on my birthday and it is so much fun, so guess what!? Today is my birthday and I'm giving away my favorite kitchen appliance to one of you again!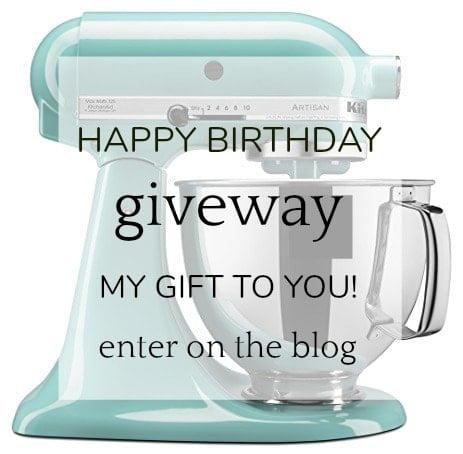 If I had to pick one kitchen appliance as my favorite, it would hands down be my Kitchen Aid. I use it on a daily basis and I can't live without.
So to celebrate my birthday today I want to give one of you one of my favorite things. The last couple years have been a little rough for a lot of us and what better way to kick off the year 2022 than with a little birthday celebration. It's the perfect opportunity for me to express my gratitude for the gift of another year, all my blessings including my family, my friends, this blog and you (I count you as my friends too!)
Giving gifts is one of my love languages and I must admit receiving gifts is also one of them but today I'm giving one of you one of my very favorite things which is a 5 qt. Kitchen Aid Mixer (color of your choice). Like I said, I use mine every day and love, love, love it.
This giveaway is not sponsored by anyone but me. It is my gift to you. I have been so blessed that I just wanted to take the opportunity to share the blessings with someone else. This blog started out on a whim and has now grown to be such an amazing blessing to my family and I couldn't have done it without all of you. This blog wouldn't exist without you!
How to Enter Giveaway
It's easy!
Just leave me a comment below and let me know what is the first recipe of mine that you would make in your new Kitchen Aid if you win!
Giveaway open until midnight January 10, 2022 PST. Giveaway open to Canada and US residents only (due to shipping costs).
Thank you!