These Twix Cookies are the perfect combination of my favorite candy bar and my favorite cookie!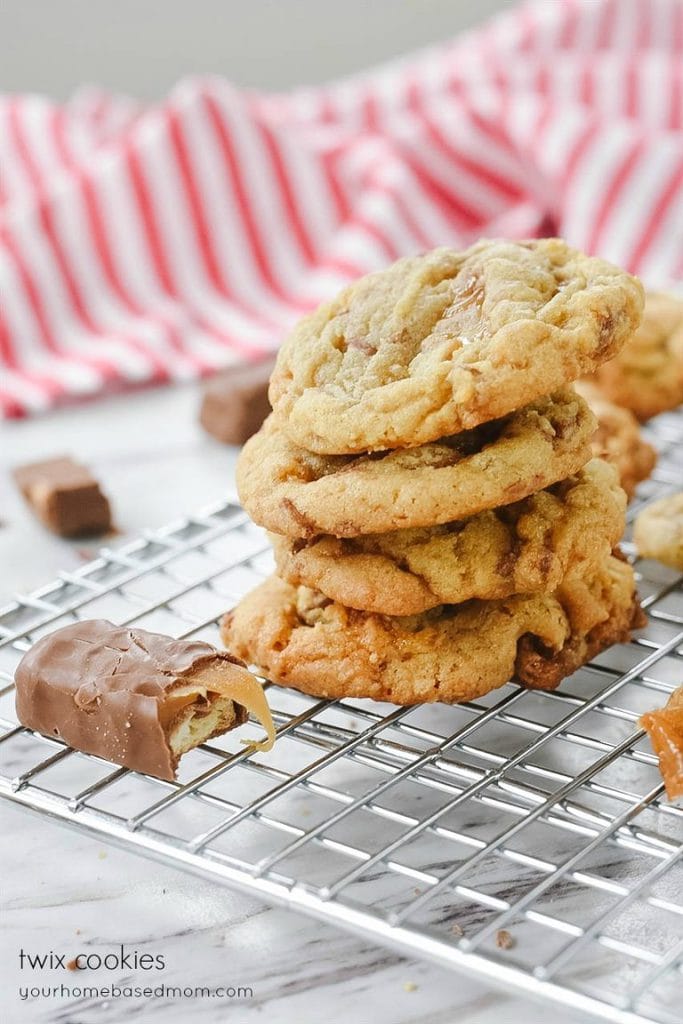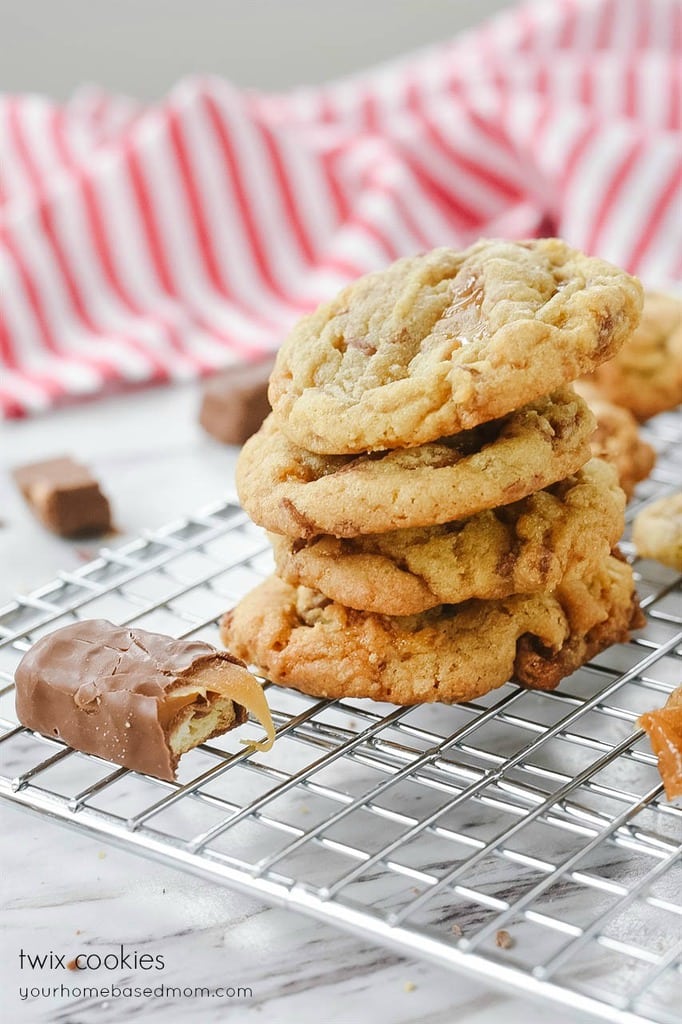 Twix Bar Cookies
I have been a Twix candy bar fan for many, many years.  In fact if I had to pick my favorite candy bar it would be a Twix bar. I like Twix bars so much that my husband proposed to me with a Twix bar!
We had gone out for a nice romantic dinner and then returned to his cousin's house where he was living.  No one was home, the lights were dimmed and George Benson was playing on the record player (yes, a record player)  He pulled out a coupon book he had made with construction paper and Twix bars. How sweet is that?  I have kept the coupon book all these years, minus the candy bars of course.  I ate those!
The coupons were for all my favorite things.  An ice cream cone at Baskin Robbins, a coupon for a foot rub, a doughnut from Winchells, tickets to a Kenny Loggins concert, a ride in his car, "the bomb", and of course a coupon for a twix bar.
The last coupon was for this…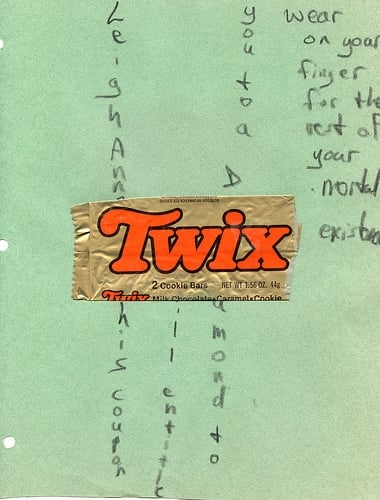 A coupon for a diamond ring and then a coupon that entitled me to the love and devotion of Jim for an extra long time – eternity!  I said yes (but not right away- I made him a wait a little bit but I did eat the Twix bars before I said yes!)  I can never eat a Twix bar without thinking about that event!
So back to the cookies.
Twix Bar Cookies
These Twix bar cookies are really good!!   I have a personal cookie rating system and this cookie is a five cookie recipe.  That means I may have eaten five of them!  They are basically a chocolate chip cookie with out the chocolate chips, you just chop up Twix Bars instead!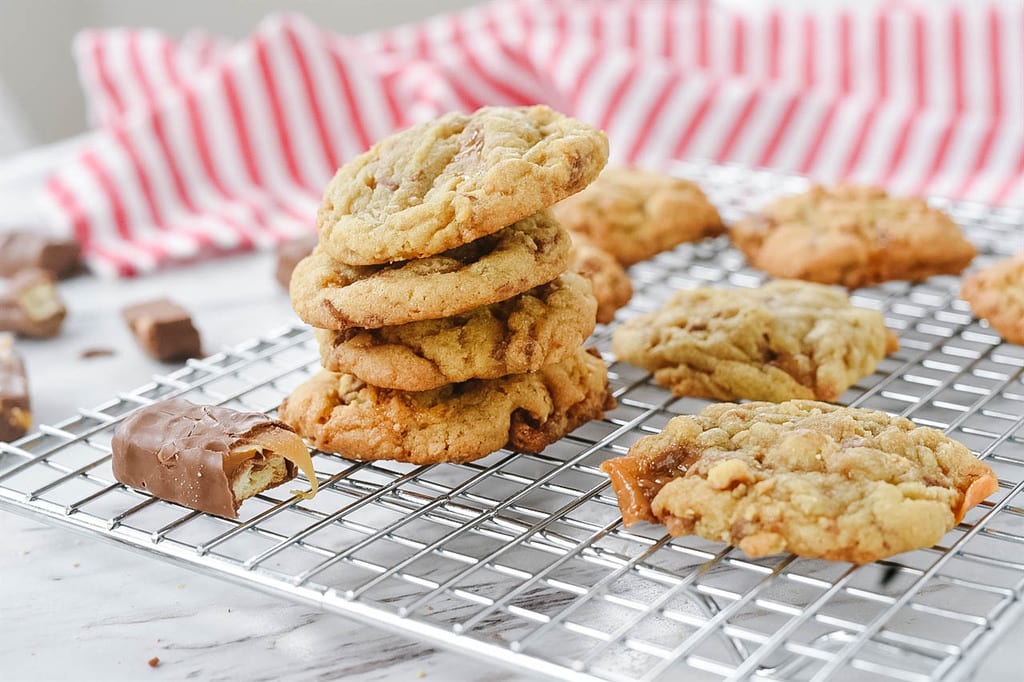 With a Twix Bar cookie, not only do you get chunks of chocolate in your cookie but also caramel.  Even better!  This year we will be celebrating 37 years of marriage this year and a life long love affair with Twix Bars!
If you were going to make a cookie with your favorite candy bar, which one would it be??
Some of my other favorite cookies:
For all of my other favorite kitchen products and tools visit my Amazon Store.
Twix Cookie Recipe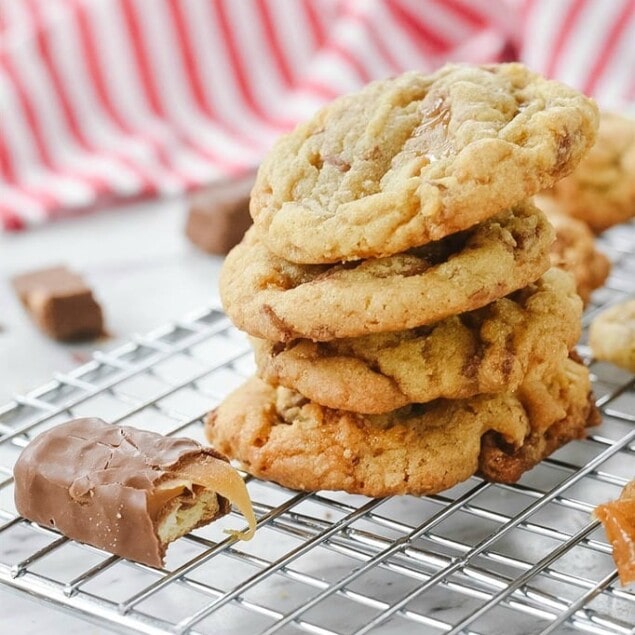 Twix Cookies
These Twix Cookies are the perfect combination of my favorite candy bar and my favorite cookie!
Ingredients
2 C plus 2 Tbsp flour
1/2 tsp baking soda
1/2 tsp salt
12 Tbsp unsalted butter melted and cooled until warm
1 C packed brown sugar
1/2 C sugar
1 large egg plus 1 egg yolk
2 tsp vanilla
2 C coarsely chopped Twix Bars
Instructions
Preheat oven to 325 degrees

Chop your Twix bar into 1/4 inch chunks

Cut each bar in half lengthwise and then chop into 1/4 inch pieces width wise

In a bowl combine flour, soda and salt

Set aside

In your mixer blend butter and sugars together until combined

Beat in egg, egg yolk and vanilla

Add in dry ingredients and beat until just combined

Fold in Twix Bar chunks

Bake for 13-16 minutes until light golden brown and edges start to harden but center is soft

Do not over bake

Because of the caramel in the Twix they may stick a bit to the cookie sheet so use a spatula to remove
Nutrition Facts:
Calories: 242kcal (12%) Carbohydrates: 33g (11%) Protein: 2g (4%) Fat: 10g (15%) Saturated Fat: 7g (44%) Cholesterol: 23mg (8%) Sodium: 119mg (5%) Potassium: 64mg (2%) Sugar: 22g (24%) Vitamin A: 200IU (4%) Vitamin C: 0.1mg Calcium: 33mg (3%) Iron: 0.7mg (4%)
* Disclaimer: All nutrition information are estimates only. Read full disclosure here.
Need some help figuring out what's for dinner tonight?
Come join our Facebook Group!  Join hundreds of others who love sharing dinner time ideas.  You don't want to miss out on the fun!

You'll find lots of ideas for dinner from all our awesome members and you can share your ideas too!  Join the Family Dinner Table today.
Originally posted on June 7, 2011