Easy DIY Twine Storage for your ever growing collection.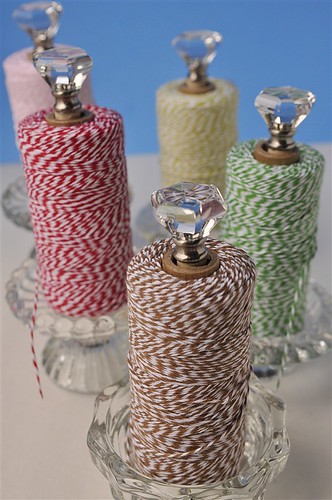 I have a love affair with baker's twine from The Twinery. It is great stuff and it can dress up just about anything!
My blog friend Lisa is the one who introduced me to it and you see it all over the blog world. I have slowly but surely adding to my collection. They currently have 11 different colors and I only own 5 of them. My collection has a ways to go.
While I was in Utah several months ago at a local scrapbooking store I noticed they had several rolls of twine at their counter and they had made some very pretty twine holders. I decided I needed some too so after a visit to Goodwill, Home Depot and the local craft store I was ready to put a few together.
Here's what you will need:
A glass candleholder (Goodwill)
A dowel (Home Depot, close to the size of your candle opening in the candle holder, does not have to be exact)
A knob (Home Depot)
Two magnets (craft store)
Hot glue gun (not pictured)
and of course a roll of twine ( The Twinery)
The first step is to cut your dowel to the right size. Place it into the candle holder and then add the twine on top, make a mark. Then you need to subtract the heighth of your two magnets from that measurement as the magnets will raise the dowel up. Then cut your dowel or get your husband to do it like I did.
Use your hot glue gun to glue the magnet into the bottom of the candle holder and to the bottom of the dowel. Make sure you have the sides of the magnet that attract facing each other!
Attach your magnets together.
Putting magnets on the bottom of the dowel allows you to remove the spool of twine when it is empty. If you didn't, you wouldn't be able to remove the dowel after you add the decorative knob on top! (Which is also hot glued 0n)
Here they are…all in a row. Aren't they cute?
Don't they make you just want to go wrap something?
So what color should I get next??
Note: Now that I have worked with my twine and twine holders I think I would recommend hot gluing the dowel inside the candle holder and putting the magnets on top but cut the dowel down so that the magnets fall inside the twine spool. My concern was not having the magnets show and this would eliminate that problem. It will be more secure that way and you will still be able to remove the knob on the top to put a knew spool of twine on. I find that with the way I made it below that sometimes if I pull too hard on the twine it will pull the dowel over. This new way should make it more secure.