I sent off another college care package yesterday.  Warning:  If any of my college kids are reading this post and you don't want your surprise ruined – DO NOT continue reading!
Even though I am actually going to be in Utah for Halloween with the college kids I thought they might enjoy a little Halloween treat before.
I had so much fun putting this care package together and it turned out so cute I almost kept it for myself!
I purchased empty paint cans at the craft store but I am sure you could buy them at the paint store too.  I covered them with some cute Halloween themed paper and added some fun Gothic style letters.  I filled each of the cans with shredded paper (that matched the paper, of course!) and tied some Halloween colored ribbons on the handle.  Cute!
I filled each of the cans with some fun Halloween treats   Cali's can also had some wool socks and gloves in it because she has been freezing in Utah!  Of course the gloves were green so they matched the container!!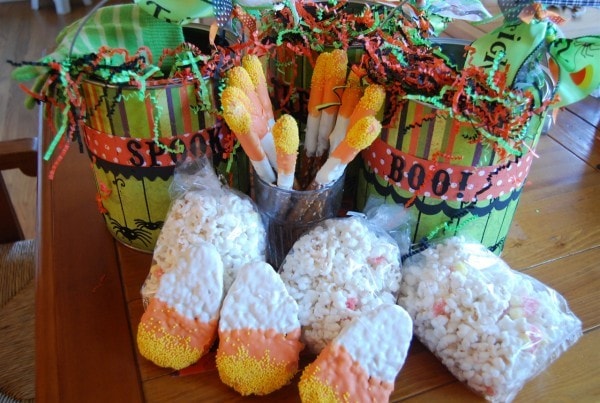 I think the cans would make a darling trick or treat bucket too!  For more details on the treats go here and here. 
Be sure and check back everyday next week for a new Trick or Treat each day!
Get my Weekly Menu Plan for FREE!
Receive my FREE "What's for Dinner?" Meal Planning Course, a copy of my FREE ebook that includes my most popular recipes and my FREE weekly Meal Plan.