Sharing some of my top DIY Wedding Tips and Ideas.  Create your own beauty!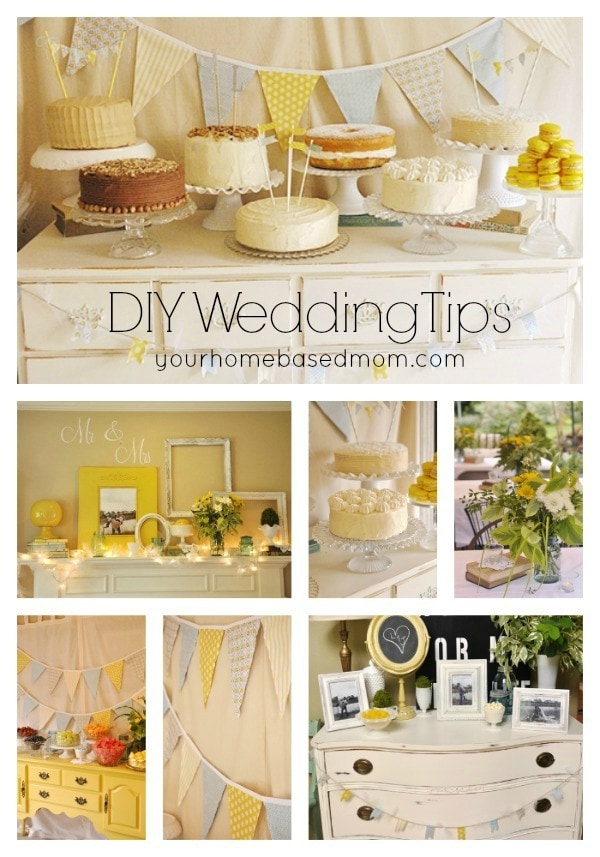 I'm Leigh Anne from Your Homebased Mom.  I am excited to be here today at Bloom to share some pretty & delicious with you.  That's what we're all about over at  blog  – pretty & delicious!
We recently hosted a wedding open house for a young man that my husband has mentored for the last 15 years or so.
My goal for the event was to make it pretty & delicious, create a special memory for James and his bride but to keep costs down.
My first step in putting this event together was to walk through my house and see what I already owned that I could use.  The bride's colors were yellow, robin egg blue and tan.  I gathered up anything I had that was in that color including white. Fortunately for me I had a bit of yellow and blue already.
I had a nice collection of white milk glass and blue mason jars that worked perfect with the color scheme along with some white frames I had collected from Goodwill.  The pretty yellow frame was made by a friend's husband.  I even used part of my Easter decor – the DIY Moss eggs!   Once I got the mantel put together there was an empty space above the yellow frame that bothered me.  My Silhouette came in handy and I cut out the Mr & Mrs.  It filled in the space perfectly.  I also made the tulle light strand with some white lights I already had and two yards of tulle which was only a couple dollars a yard!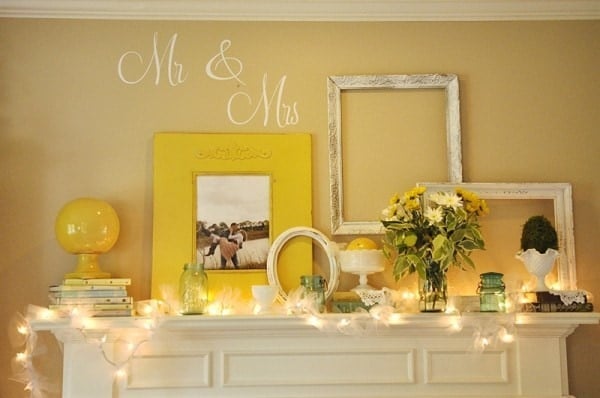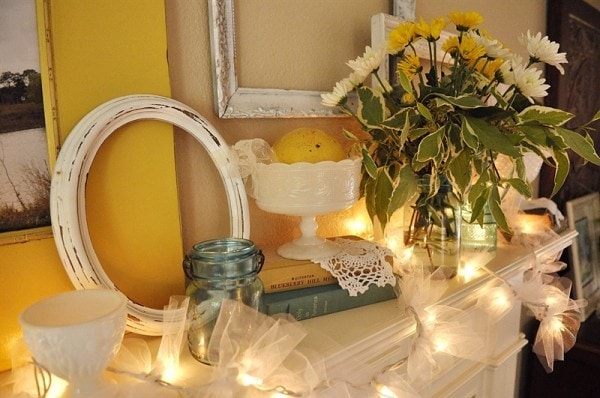 The vintage books mostly came from the Goodwill bins and the doilies were from the Dollar Store.
For the entry way I used my white painted dresser I picked up at an Estate sale for $35.00 as the sign in table.  I filled the space with more of my white milk glass, some white frames and I had a piece of subway art I had made for my son's wedding last summer. 
The fun yellow chalkboard usually lives in my craft room!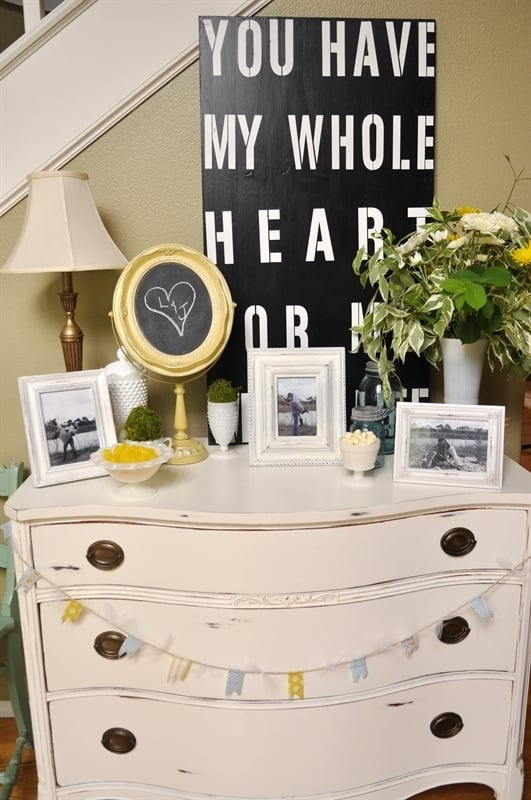 I also made the cute little bunting along the front of the dresser from some fabric scraps I had from making the pennant banner for the cake buffet back drop.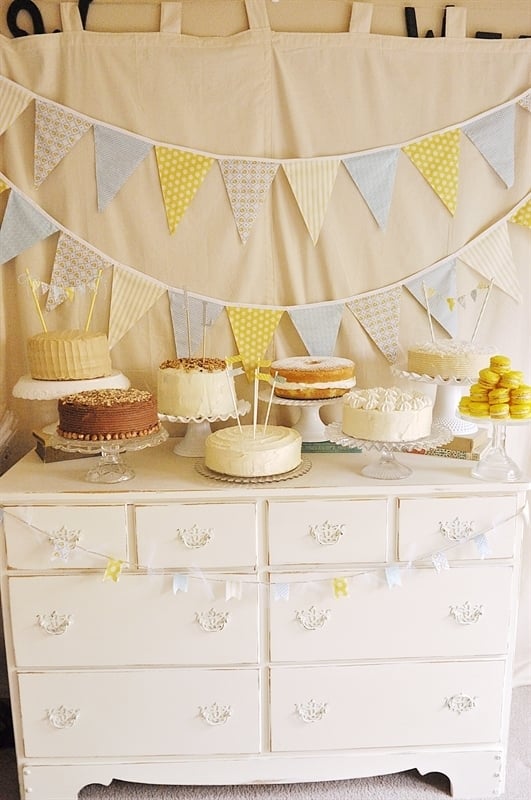 The dresser I used for the cake buffet had been one I had gotten from my parents and the boys had used it in their room and it had been my mother's dresser as a young girl.  I got her permission before painting it and then gave it a fresh new coat of Annie Sloan Chalk Paint which I absolutely love and it became the cake buffet. It now resides back in my craft room and holds all my wrapping supplies!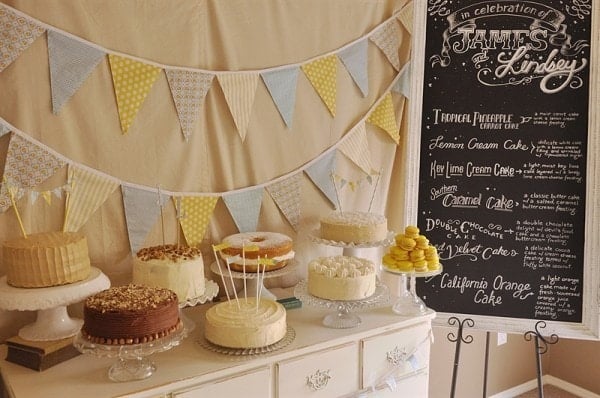 I created the backdrop for the cake buffet using some curtain panels I picked up at Goodwill for about $6.00. I have little tutorial for how I made them here.  One of the few things I spent money on (other than food) was the fabric for the fabric pennant banner.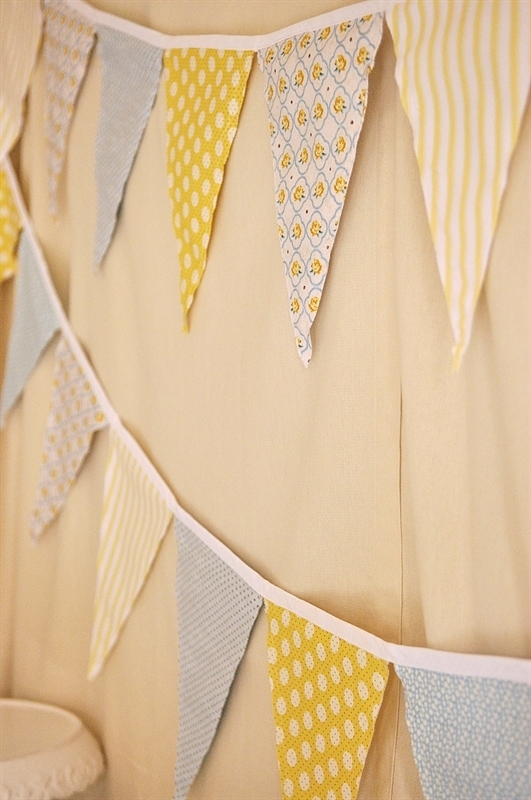 That amazing cake buffet menu was made by our dear friend Bill. He is so talented. I had found the frame at Goodwill and painted it and then just painted a piece of board I had in the garage with some chalkboard paint.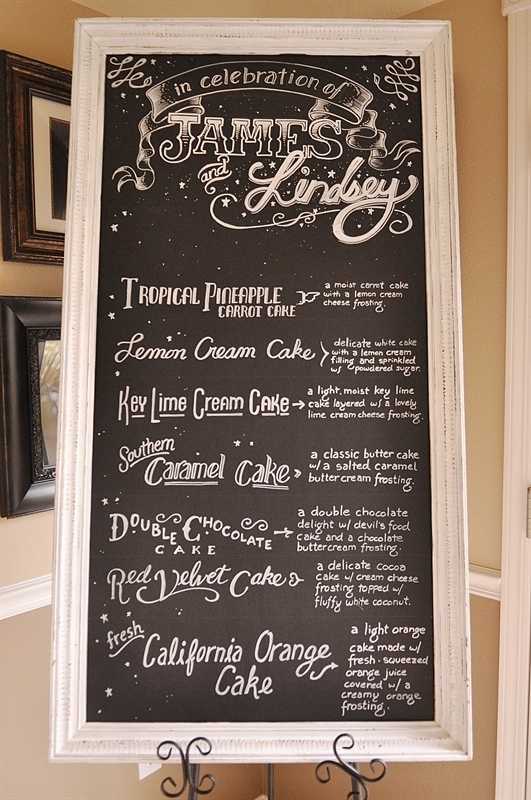 Isn't it amazing. It is still in my dinning room I love it so much!!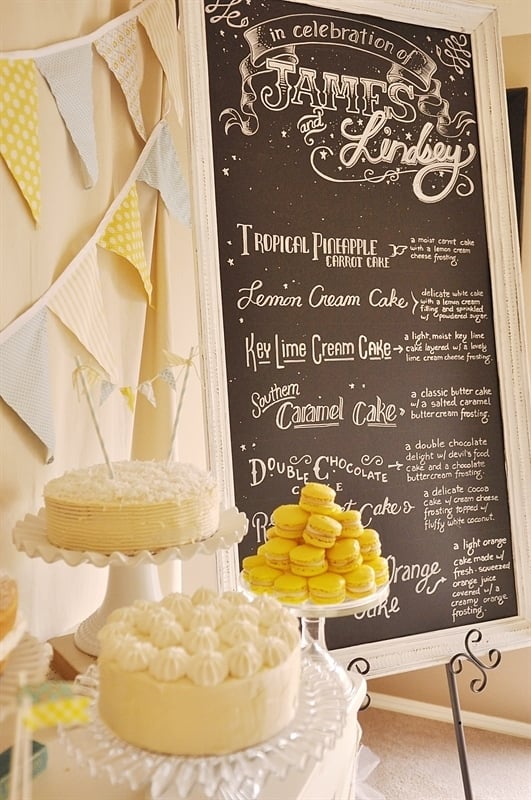 For food I decided to do a cake buffet for a couple of reasons.  Cake is fairly inexpensive and I thought it would be pretty!!  We had a selection of 7 cakes. I spent the two days before the open house baking away. Fortunately I have some wonderful friends who helped pitch in too. There was a total of 11 cakes made and then another dear friend showed up that evening with two more!  For the cake recipes go here.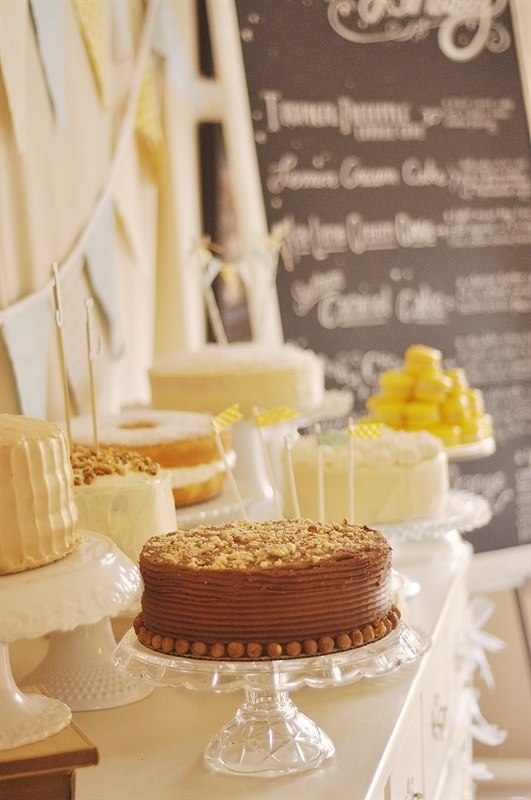 That collection of cake plates I have came in handy! I also made some fun little cake toppers for some of the cakes out of glitter letters, washi tape, straws and fabric. I just raided my craft room.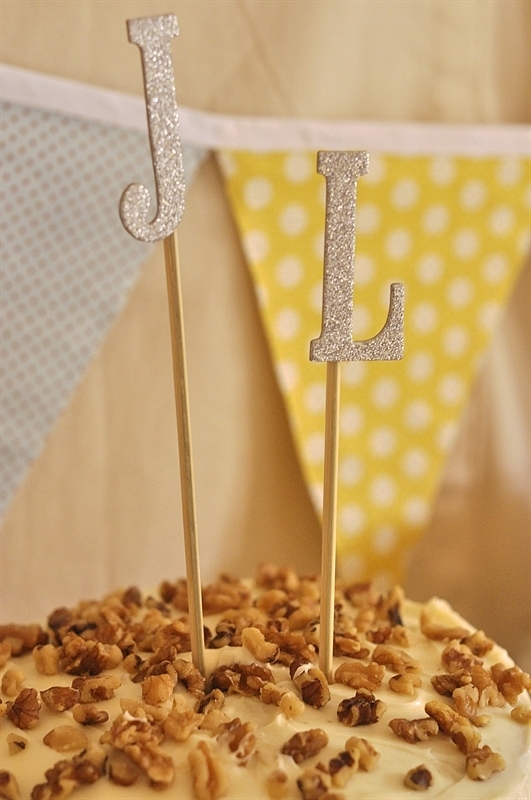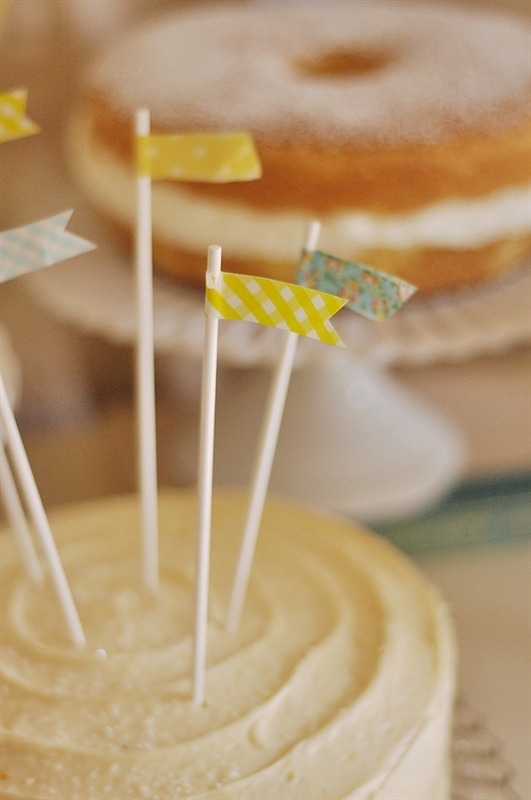 And a little fabric pennant banner: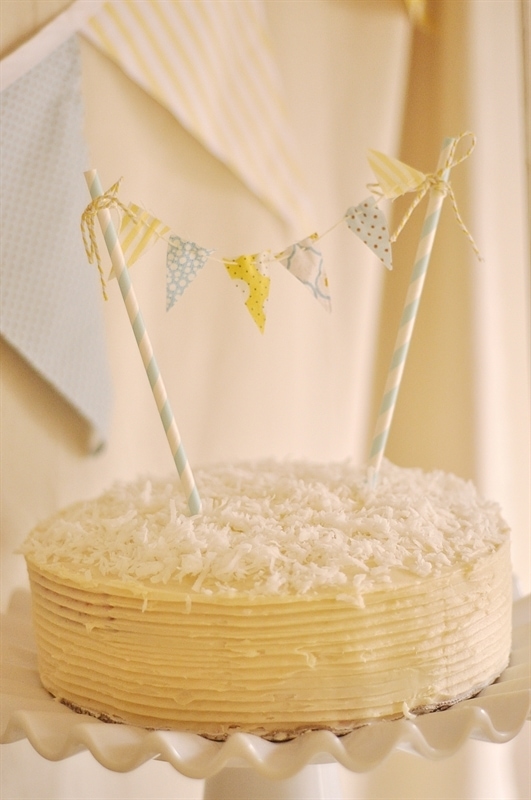 Even though we had the menu board I wanted to have the cakes labeled on the buffet too. There wasn't much room left on the buffet for anything so I just typed up the names of all the cakes and used some washi tape to tape them right down onto the dresser.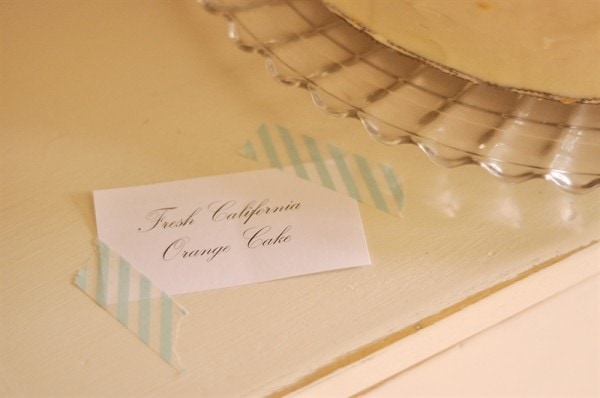 In addition to cake we also had a fruit buffet on the other side of the room. My yellow side board came in handy! So glad yellow was one of her wedding colors.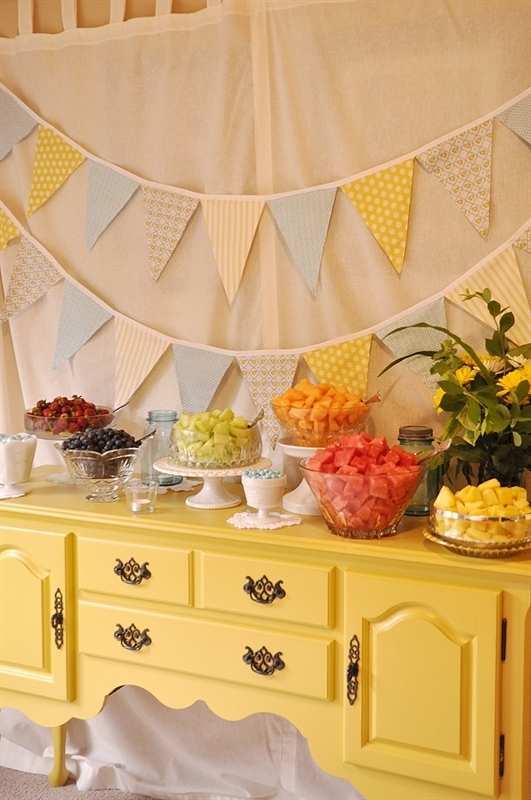 Thanks to good friends who purchased and cut up all the fruit for me so I didn't have to worry about it at all!!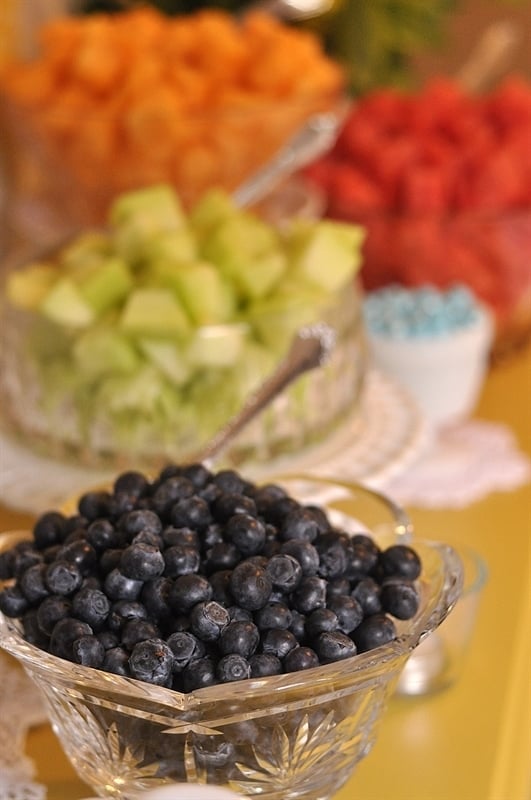 From the dining room they could step through the french doors out onto the back patio. Unfortunately we had had rain all week but fortunately some friends had some tents we could borrow and set up over the patio. The day of the open house it rained and rained and I was so worried that even with the tents people would not be able to sit outside but the weather Gods smiled down on us and the rain stopped 30 minutes before the party started and didn't rain at all during the event!!
We had set up tables with blue mason jars full of white and yellow chrysanthemums we bought at Costco and then all the greenery came from my garden.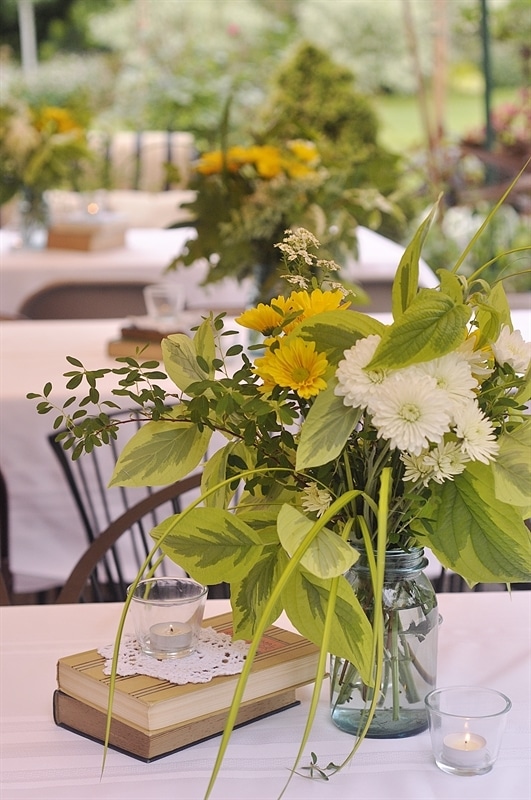 More books from the Goodwill bins, doilies from the Dollar Store and candle holders from IKEA (via the Wedding Carnival)
This was definitely an event on a budget. It is amazing what you can do with a little creativity, things you and your friends already own, a little elbow grease and good friends!  The total cost for the event was less than $400.00 and we had about 150 people or so.
I could not have done this without all my amazing friends. I am a lucky girl!
For other fun wedding ideas be sure and check out The Wedding Carnival.
Enjoy!
Leigh Anne
You can also visit me on Facebook, Pinterest, Twitter or Instagram.
For a list of where I Link Up each week go here.