I thought it might be fun to revisit some of the posts that were viewed the most by all of  you in 2010.  That is, at least, according to my Google Analytics!
Just in case you missed any of them.
Here is my own New Year's Eve countdown.
Starting with Number Ten.
Lemon Cream Chicken – Next time you have one of those comfort food cravings give this recipe a try – it won't disappoint.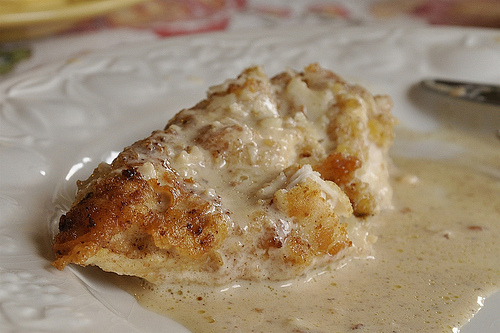 Number Nine
Snickerdoodle Muffins – yum!!  If you haven't tried these yet you really must – really!!
Number Eight
Key Lime Bars – these were a huge hit at the church event I served them at.
Number Seven

The Best Chocolate Cake.  Seriously, this cake is pretty amazing.  My neighbor won the cake contest at her office with this recipe.
Number Six
Mongolian Beef I think I could eat this every week – so good!
Number Five
Bloomin' Onion – if you are still looking for a New Year's Eve appetizer you can't go wrong with this one – bread, cheese, butter and garlic!  It never even makes it onto a serving plate at our house -it's always eaten straight out of the oven.
Number Four
Avalanche Bark – a fun new bark I tried this holiday season thanks to a blog reader sharing the recipe with me.
Number Three
Cupcake Tutorial If you missed my first ever video tutorial be sure and check it out.  Please be kind, I do share some great tips for decorating cupcakes.
Number Two
Cake Plate Tutorial A fun tutorial on how I make cake plates out of things I find at Goodwill.
Since two of my tutorials were in my Top Ten most visited posts for the year maybe I should make another one – any suggestions?  Anything you'd like to see on a tutorial?
AND in first place – my most visited post in 2010 goes to…..
Sour Cream Apple Bars So these are good, they are really good.  You are going to like them, I promise!!
So there you have it – hope you enjoyed my little review of 2010.
Tomorrow I'll have a little review and recap on how I did with my Word of the Year for 2010 and then the next day I'll have the big reveal – my Word of the Year for 2011.