This Toasted Walnut Asian Chicken & Vegetables is full of all kinds of goodness, flavor and crunch!
This post is sponsored by California Walnuts but all opinions are my own.
So how often do you clean out your refrigerator?  I'm on about the every two week schedule.  It really is one of my least favorite household tasks but on nights when I need a little inspiration on what to fix for dinner, cleaning out the fridge works great and usually provides the inspiration I need for dinner that night – I use what I find in the fridge!
This year I have partnered with the California Walnuts  to bring you some delicious recipes using walnuts and this month they invited me to join their Fridge-A-Dare challenge.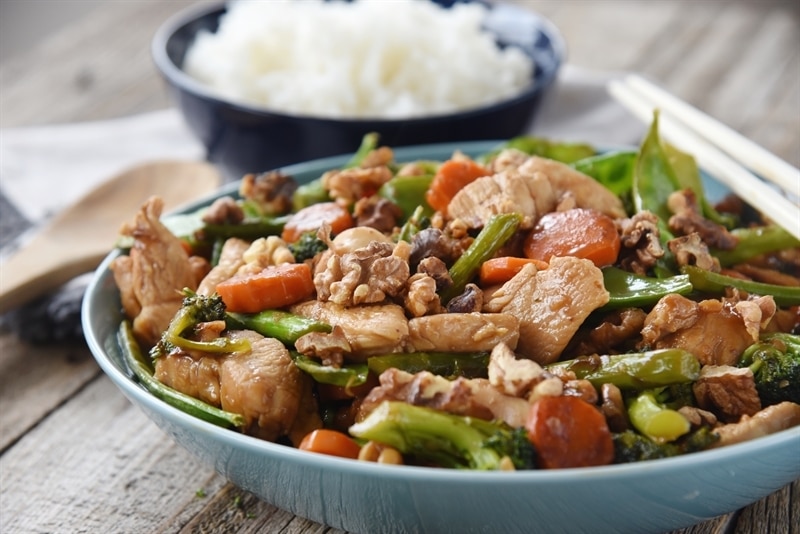 I was challenged to come up with a delicious walnut recipe using ingredients I already had in my refrigerator. It was a perfect way to help clean out and use up some of those things in my fridge.
As I was going through my refrigerator this week I had a lot of veggies in my produce drawer, asparagus, broccoli and carrotts and since I always have a few chicken breasts in their too, the perfect way to meet the challenge was to put together a chicken and veggie stir fry.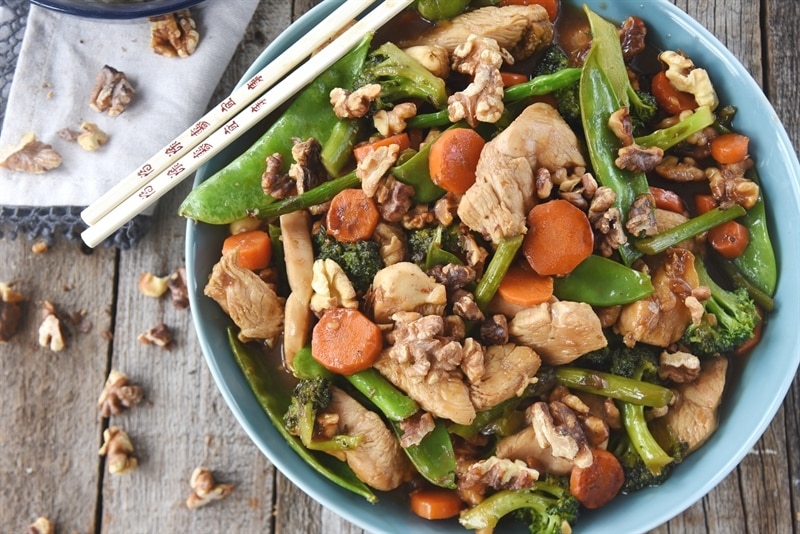 The thing I love about stir fry meals is that it is pretty much a complete meal.  You can always add in some rice but you have your meat and veggies all in one.
I love a little crunch in my stir fry so some toasted walnuts were the perfect addition.  Toasting the walnuts gives them great flavor and the extra crunch that I love.  Toasting walnuts is easy so take the extra 5-7 minutes to do it.  Just place them on a cookie sheet and put them in a 350 degree F oven for 5-10 minutes.  Give the pan a shake half way through to stir the nuts around a bit.  The toasting enhances the flavor of the walnut and gives it extra crunch.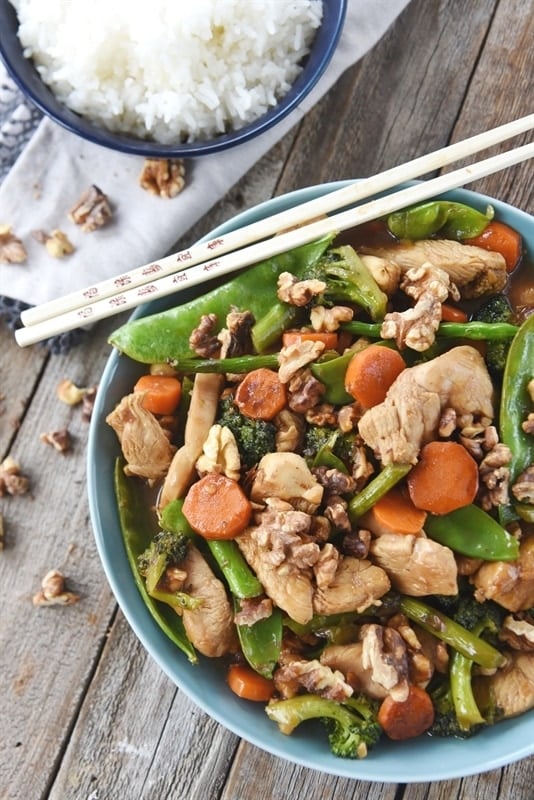 This Toasted Walnut Asian Chicken & Vegetables is a perfect dinner solution and a great way to clean out the fridge!
For some other favorite recipes to help clean out the fridge try these, Red Pepper Chicken Stir Fry, Chicken & Green Bean Stir Fry, Balsamic Chicken & Peppers.
Printable Recipe for Toasted Walnut Asian Chicken & Vegetables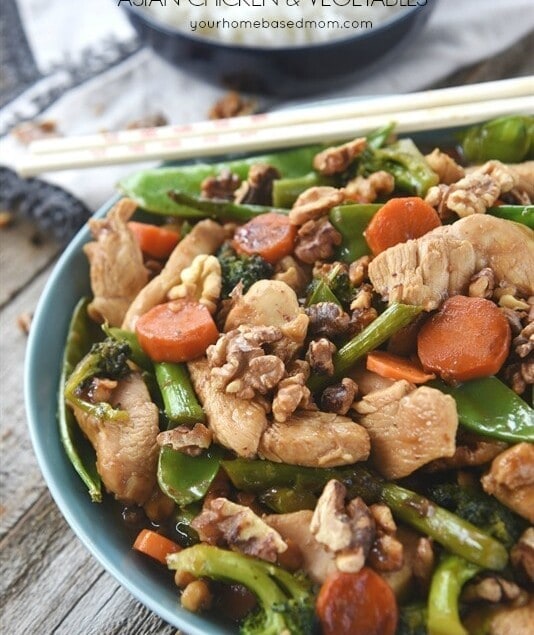 Toasted Walnut Asian Chicken and Vegetables
Ingredients
2 boneless skinless, chicken breasts, sliced into 1 inch pieces
1/4 cup soy sauce
1/4 cup chicken broth
1/4 cup brown sugar
1/4 cup rice wine vinegar
1 Tbsp cornstarch
1 tsp fresh ginger minced
3 tsp garlic minced
pinch of red pepper flakes
2 Tbsp sesame oil
2-3 carrots peeled and sliced
6 stalks asparagus cut into 1.5" pieces
2 cups broccoli florets
1 cup of snap peas
1 cup walnuts toasted and chopped
Instructions
Mix together soy sauce, chicken broth, sugar, vinegar, cornstarch, ginger, garlic and red pepper flakes.

Add in chicken and stir to coat. Allow to marinade for 15 minutes in refrigerator.

Heat 1 Tbsp sesame oil in a large pan over medium heat.

Add in carrots and broccoli and cook until tender, add in asparagus near the end.

Remove from pan and keep warm.

Add 1 Tbsp oil to pan and remove chicken from marinade and reserve liquid.

Add chicken to hot oil and cook until chicken is cooked through. Add in cooked vegetables and uncooked snap peas.

Add remaining marinade to skillet and stir until chicken and veggies are coated and marinade begins to thicken. Add in walnuts and stir to incorporate.

Serve over rice if desired.
To Toast Walnuts:
Placed walnuts on a baking sheet and place in a 350 degree F oven for 5-7 minutes. Shake pan or stir nuts halfway through. Bake until nuts begin to turn light brown.