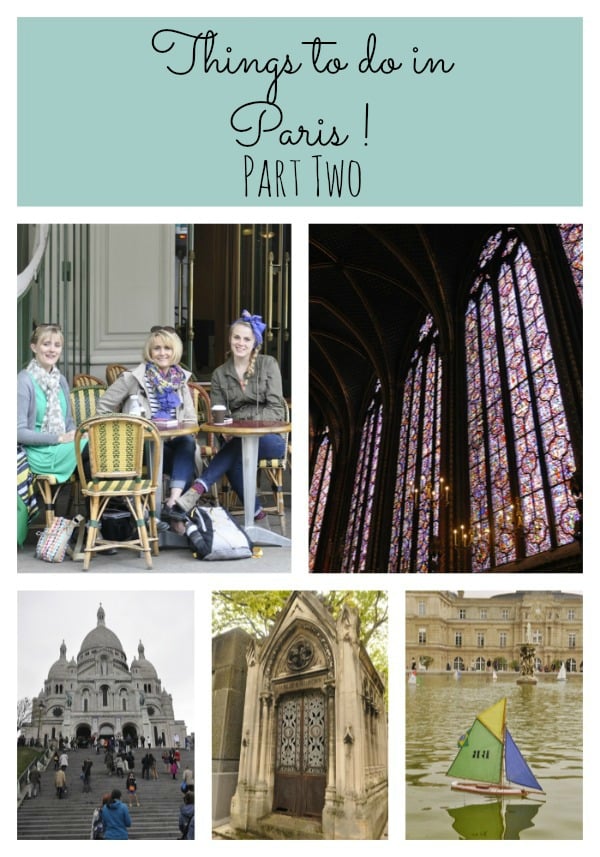 We discovered that our second day in Paris was a National Holiday.  May 1st is their Labor Day and May Day and just about everything shuts down, museums, restaurants, stores etc.  We had planned a trip out to Monet's Garden in Giverney but discovered the trains were running on an altered schedule and it would have taken us half the day to get out there.  We decided to push the trip to the next day but we were left without a plan.  Some of the best things happen when you don't have a plan.
On May 1st the tradition is to give lilles of the valley to people you love so there were lots of vendors on the streets selling flowers.  I love lilly of the valley.  We had them growing in our yard growing up.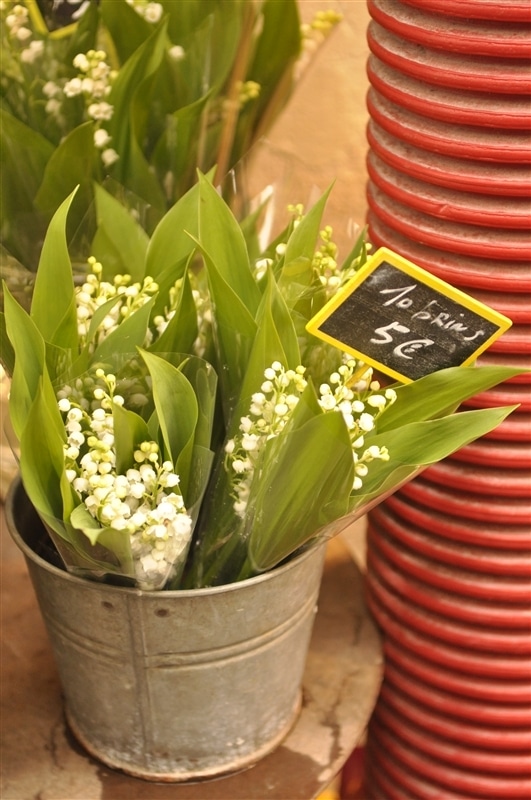 We were talking with another American who was staying at our hotel about some of the things they had been doing and he told us that we must go to the cemetery.  Going to the cemetery on a vacation, especially one in Paris, is not at the top of my list but it ended up being one of my favorite things we did!  But before we headed to the cemetary we took a trip out to see Sacre Coeur in the Montmartre District.  I had been here before and this is a fun neighborhood to wander around.  Lots of shops, artists and restaurants.  It is also where the famed Moulin Rouge can be found. But on Labor Day nothing was open except for Sacre Coeur so we were able to visit there.  It is a beautiful cathedral.  It is set high up on a hill and has an amazing view of Paris.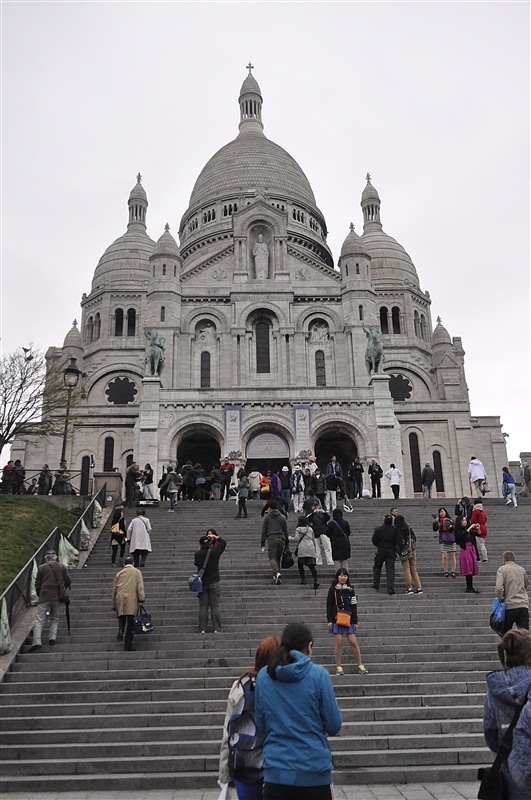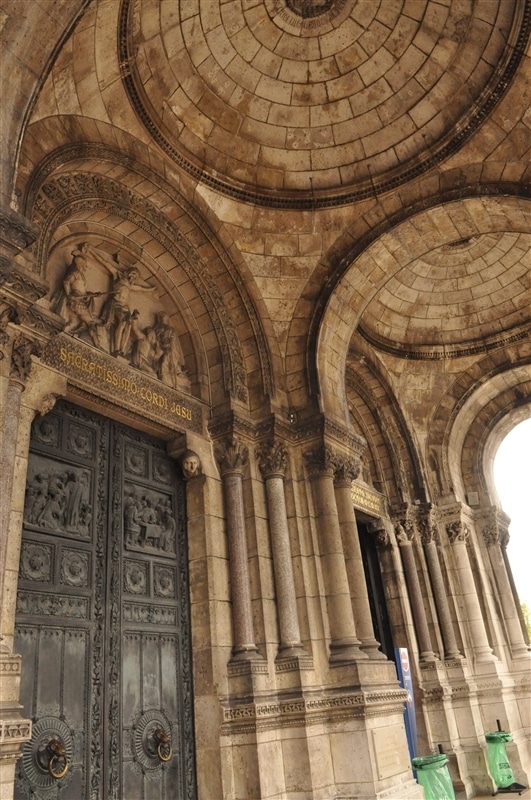 You aren't suppose to take photos inside but I couldn't help myself and had to sneak one on my phone.  The cathedral is full of amazing mosiac work.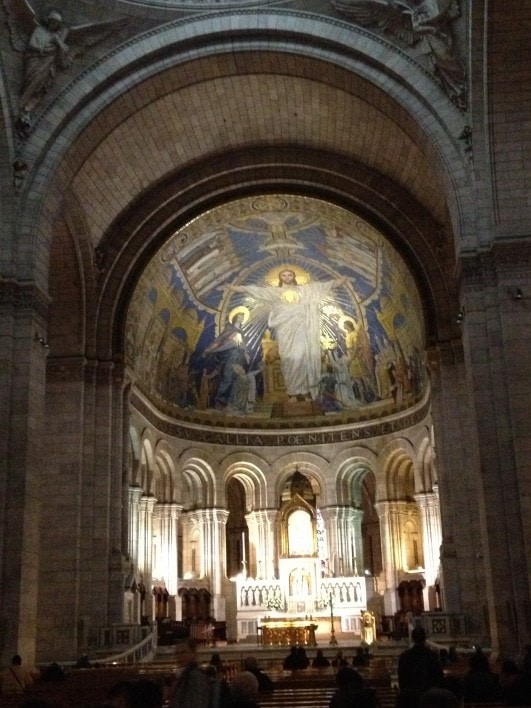 At the bottom of the hill, right before we got back on the metro we discovered this fun Love wall.  It is covered with the words I Love You in dozens and dozens of different languages.  One of the fun things we discovered on our unplanned day!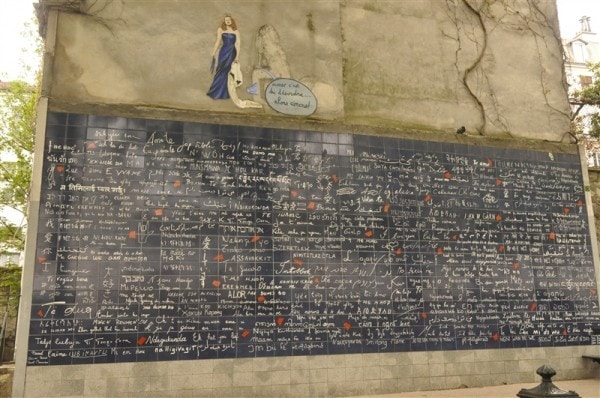 We enjoyed lunch at a little cafe where we had Croque Monsieur and Croque Madame sandwiches.  So yummy!  The Croque Madame has the egg on top.  It is basically a grilled ham and cheese sandwich but the cheese is on the outside of the bread.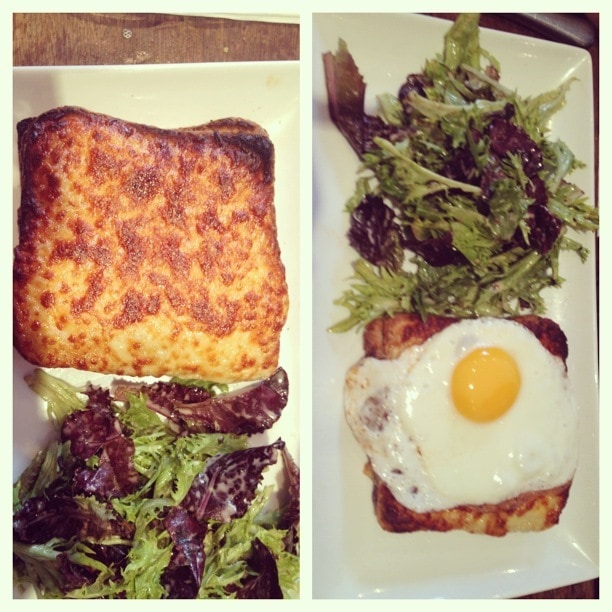 We then headed out to the Pere Lachaise Cemetery, the largest cemetery in Paris.  It is the world's most visited cemetery and  I highly recommend a stop here.  It is an operating cemetery and people are still buried there today. When you enter there is a map that shows you were all the famous people are buried.  So many of them!  We were able to visit the graves of Chopin, Oscar Wilde, Moliere and Jim Morrison.  Others include Charlie Chaplin, Isadora Duncan and many others.  The cemetery is beautiful and we wandered around for several hours.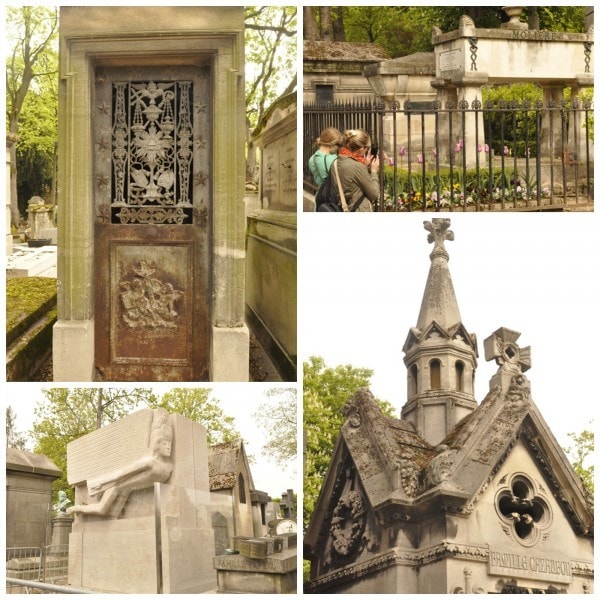 I kind of fell in love with all the pretty doors on the buildings.
Here is where Chopin was buried.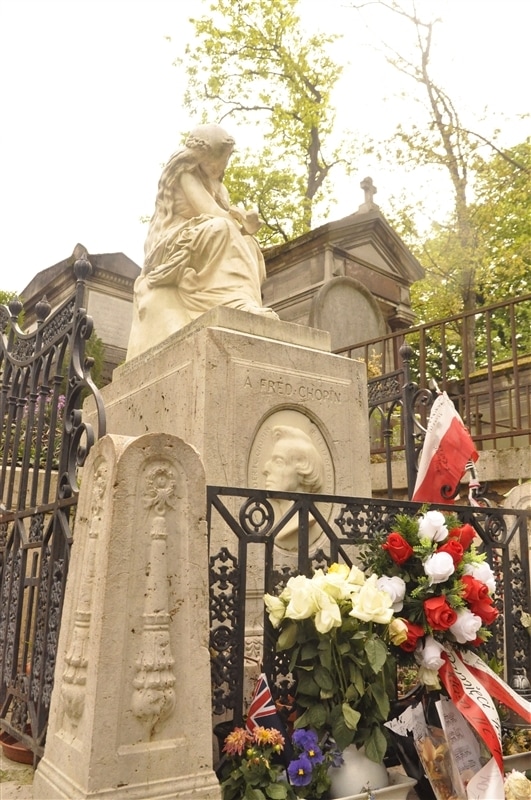 From there we headed over to the Isle St. Louis which is right near Notre Dame.  One of my favorite ice cream places is there, Berthillon.  So good!!  Don't miss it.  We did a little shopping and picked up a few scarves for ourselves and gifts.  You can not go to Paris without a scarf or two or three.  Everyone wears one, men and women!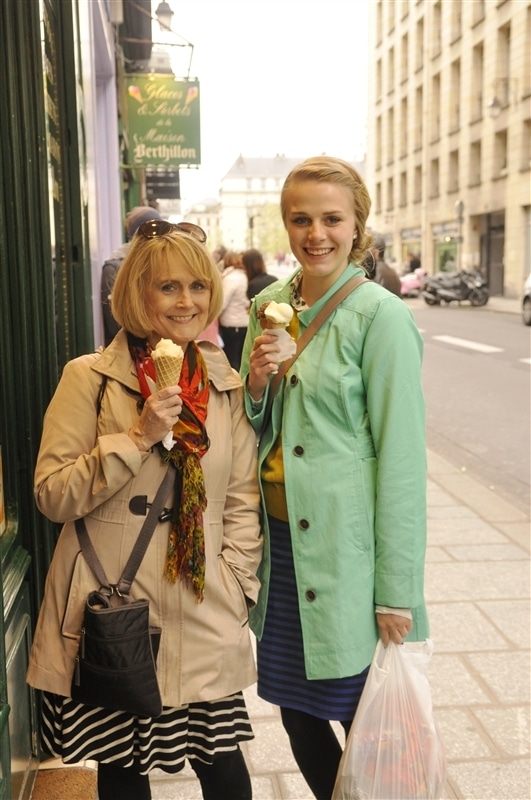 On our way back to our hotel we made another surprise discovery – The Lock Love Bridge right near Notre Dame.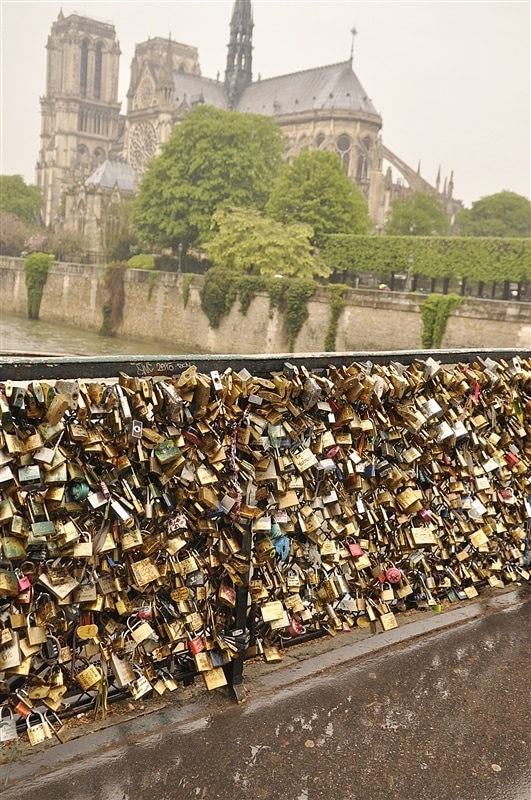 This has become a popular thing in cities throughout Europe.   Sweathearts add a lock to the bridge to symbolize their everlasting love and then toss the keys into the river. Jim went over to a shop across the street and bought a lock for us.  We added our names and date and attached it to the bridge.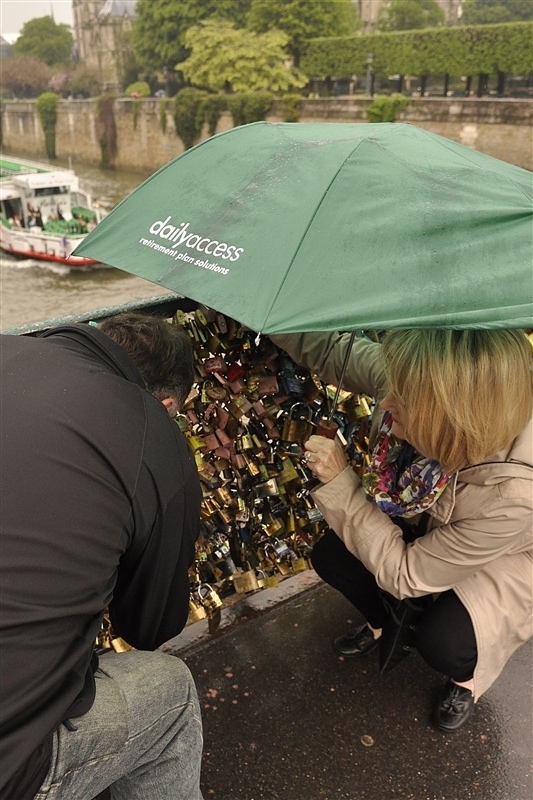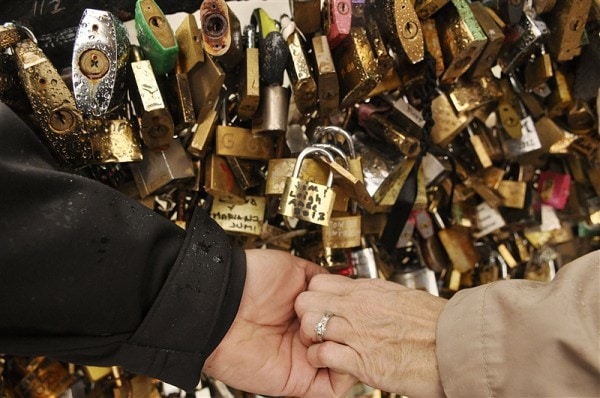 Aren't we romantic!  Except we forgot to toss our keys into the river and then we lost them!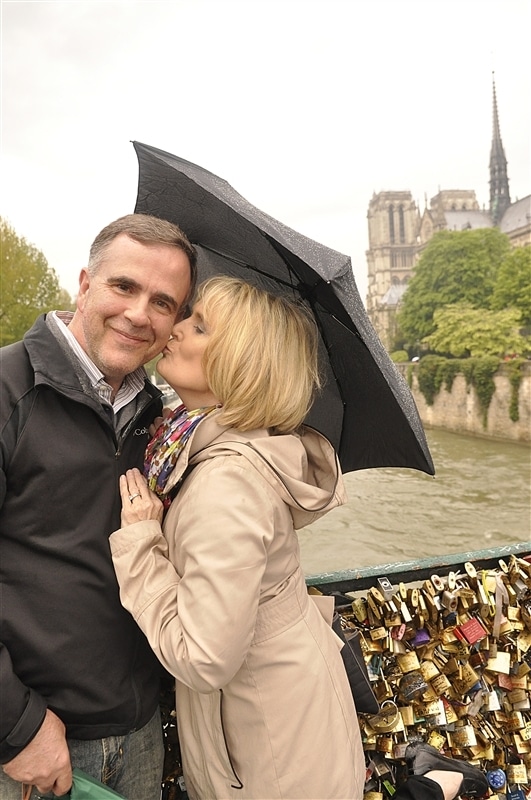 That evening we enjoyed a fondue dinner in the Latin Quarter.  The Latin Quarter is in the 5th Arrondissements (Paris is divided into sections)  and is near the Sorbonne.  This is a fun area where the streets are lined with restaurants, dozens and dozens to choose from.  We decided to enjoy a fondue dinner.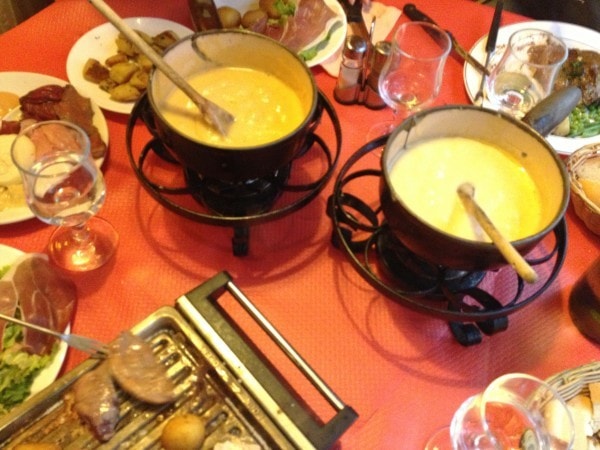 The next day we headed to Giverney.  That day deserves its own post tomorrow.
Our final day in Paris we decided to just wander the city and enjoy our last moments in one of the most beautiful cities in the world. We even slept in a bit but not too much because I told the family – "you can sleep when you get home, we're in Paris!!"
I had heard wonderful things about Ste. Chapelle so I knew I couldn't leave Paris without a visit.  My friends were so right!  It is tucked away next to the Palace de la Citie,  just around the corner from Notre Dame and it is easy to miss.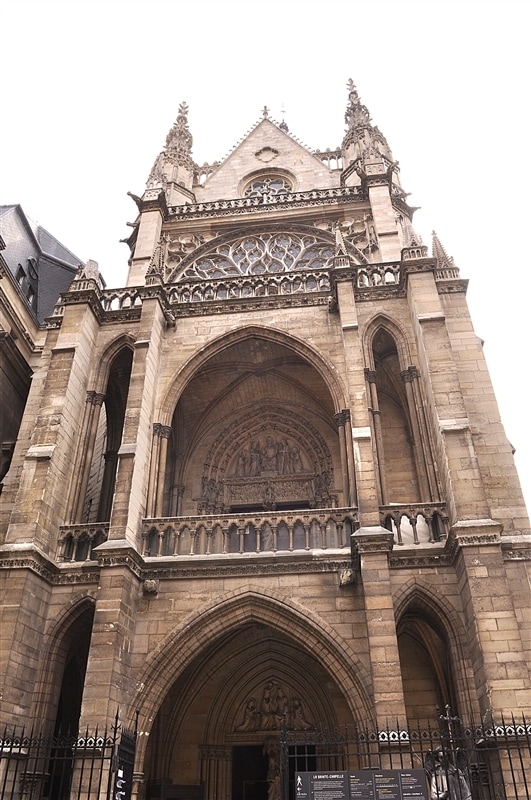 It is a medieval Gothic Chapel and it is breath taking. It is a small chapel in comparison to some of the cathedrals we saw but so beautiful.  It is floor to ceiling stain glass and literally takes your breath away when you step into the chapel.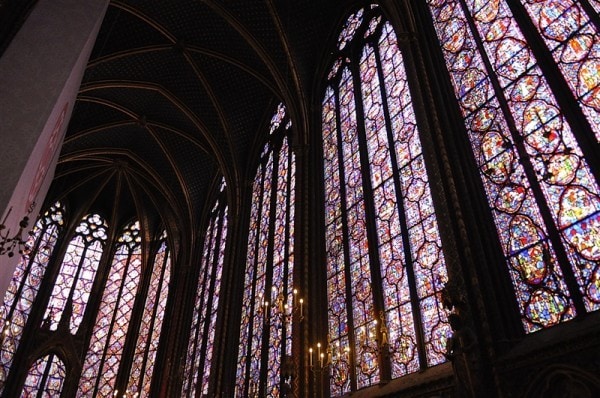 Truly amazing!  We stood in line for about an hour to visit but it was worth every minute.  We also found some very fun and interesting people to visit with while we waited in line.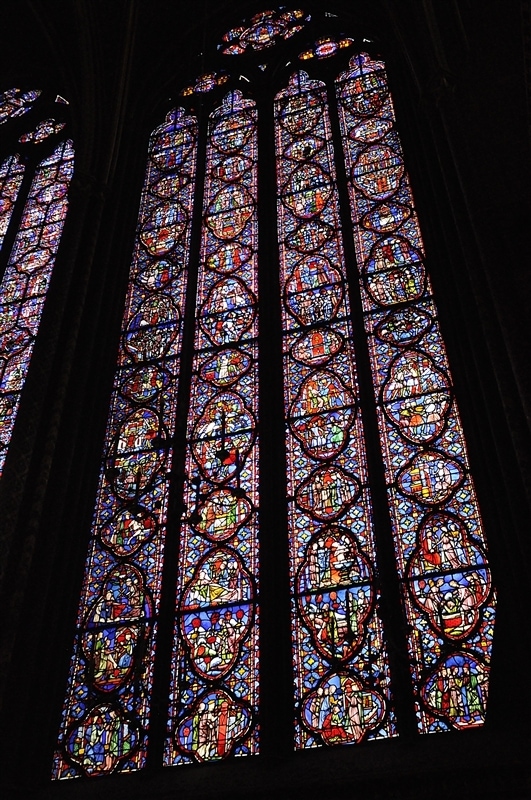 Our next stop was the Musee d'Orsay, my favorite museum in Paris.  It has a wonderful collection of Impressionists, including my favorite, Monet.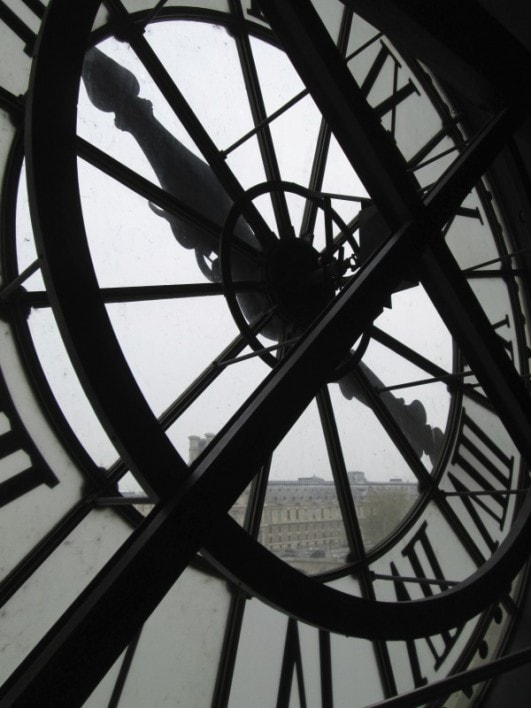 The museum is an old converted train station so the architecture is really interesting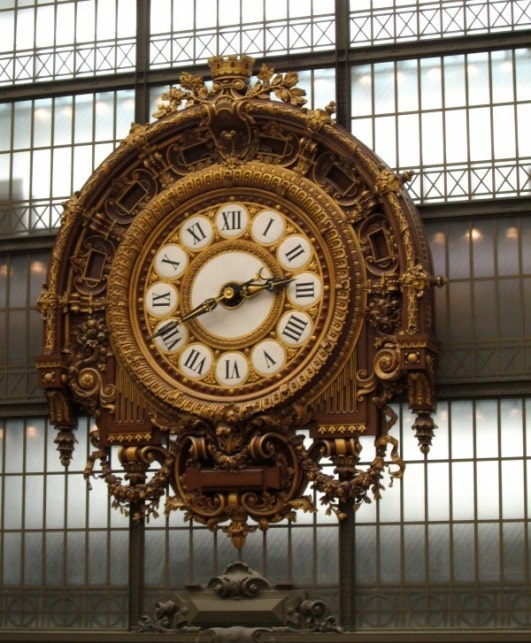 Here's another travel tip for you.  Always carry a  book with you.  We ended up standing in line at the museum as well as several other places and between that and all the train/metro travel you can get some pretty good reading time in.  Tessa was reading Matilda before her study abroad program started as that was one of the shows they were seeing.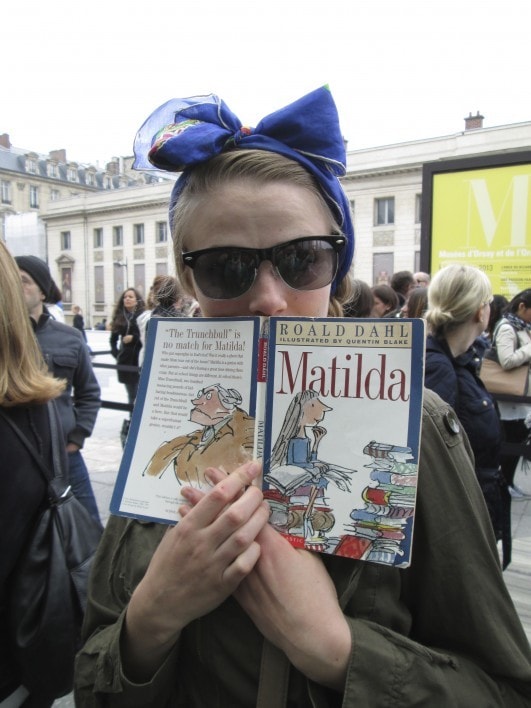 There was usually a bit of this going on too – trying to figure out where we were going and where we were!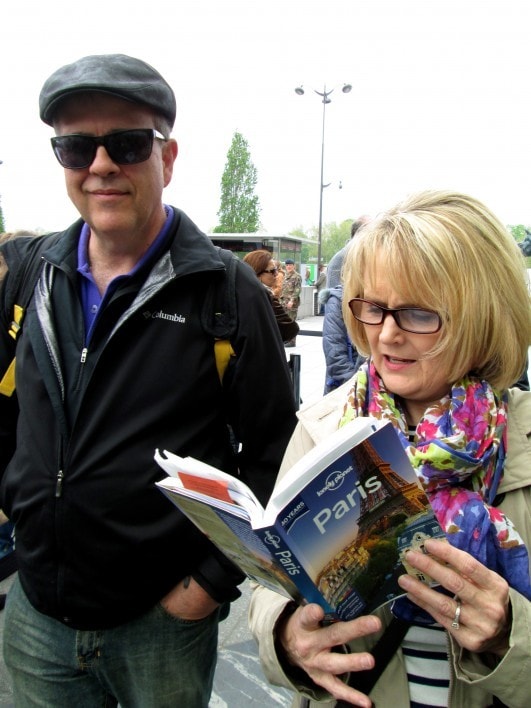 We had to enjoy some more crepes again and then took a stroll through the Luxembourg Gardens and Palace.  It is the second largest park in Paris and spending a little time there can almost make you feel like a local!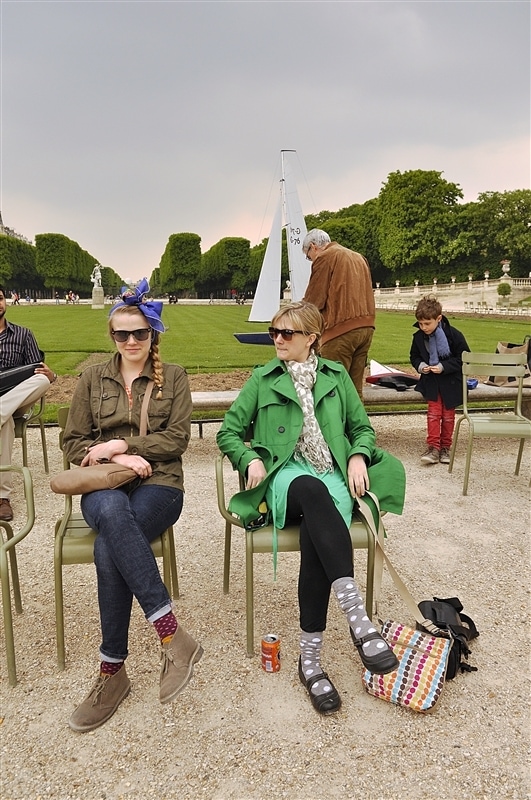 In front of the palace is a fountain.  You can rent these darling little sail boats to sail.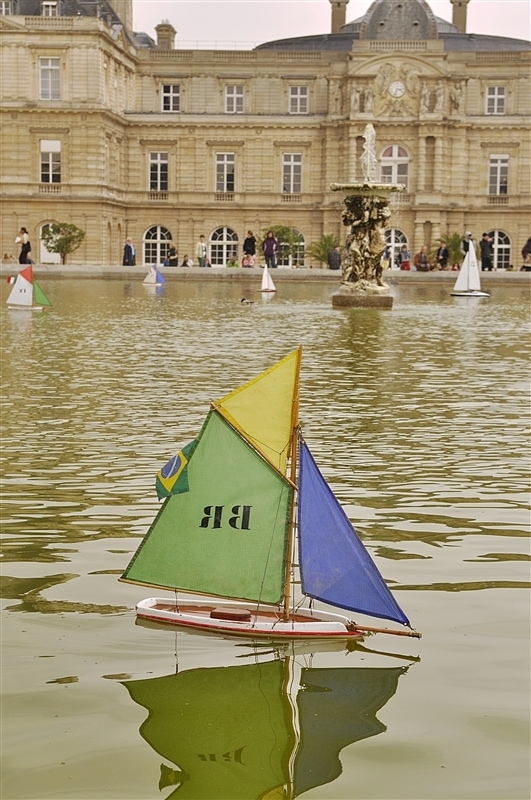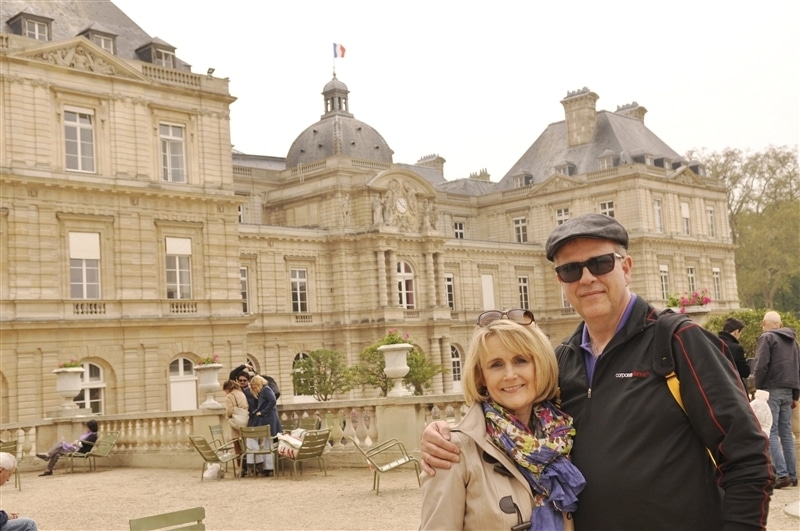 We couldn't leave Paris without trying the famous Angelina's Chocolat Chaud (hot chocolate).  Fortunately for us there was an Angelina's just around the corner from the gardens.  It was like drinking a melted candy bar!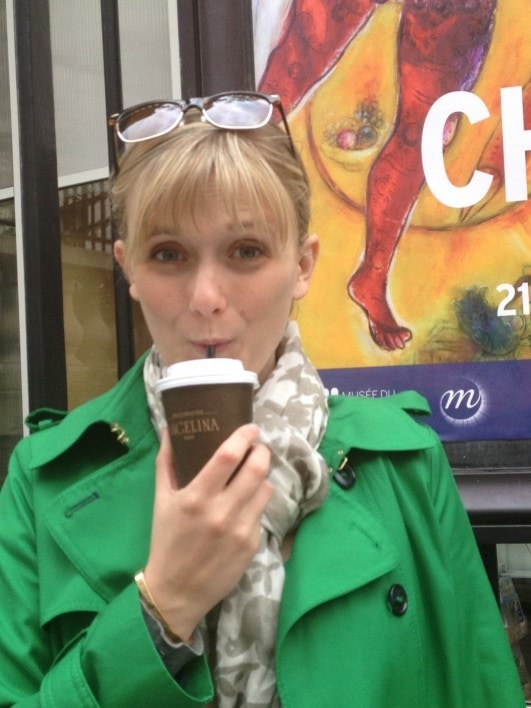 Then we decided for our last meal in Paris we would enjoy a sidewalk cafe for the last time.  It was a great choice.  We sat across from the gardens and just enjoyed people watching.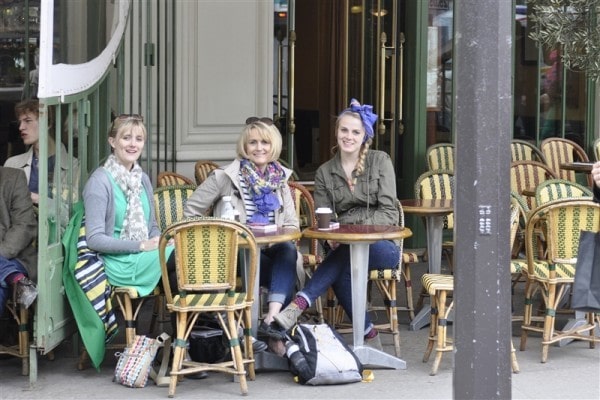 We had our own paparazzi (aka Jim) across the street taking photos.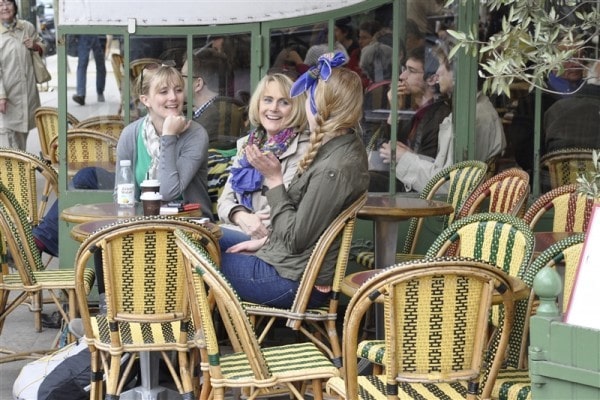 We enjoyed some more of that onion soup, a yummy bread and cheese platter  and some sandwiches.  (They eat a lot of sandwiches in England and France.  Of course, in France they are on a baguette!)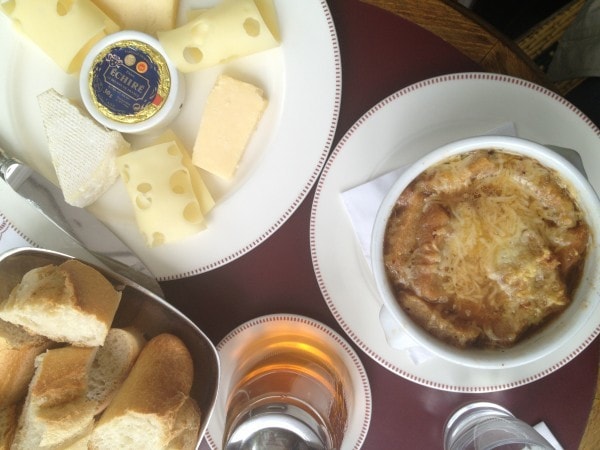 We then sadly headed back to the train station to get our train back to London.  Although how can you really be sad going to London.
Come back tomorrow for our trip to Monet's Garden.
For a detailed itinerary of where we went and stayed you can email me at [email protected]
For Things to Do in Paris  – Part 1
For some additional ideas on what to do and see in London check out my posts from a previous trips.
Paris}Versailles
Paris}Arc de Triomphe and Sacre Coeur
Paris}Champs Elysees and the Louvre
Enjoy!
Leigh Anne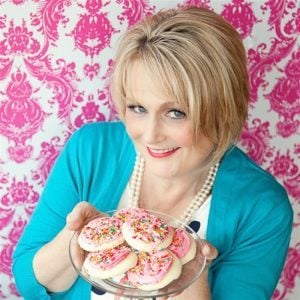 You can also visit me on Facebook, Pinterest, Twitter or Instagram.
For a list of where I Link Up each week go here.
Get my Weekly Menu Plan for FREE!
Receive my FREE "What's for Dinner?" Meal Planning Course, a copy of my FREE ebook that includes my most popular recipes and my FREE weekly Meal Plan.