As I mentioned in my original Wedding Carnival post some of the best money we spent was to have live music at our Wedding Carnival. We knew all along we wanted music but I had originally planned on having a DJ but one Saturday we were at the Farmer's Market where they have live music each week and we were listening to a band we just loved.
My husband surprised me by saying we should go ask them if they were available to play at our Wedding Carnival. I thought it was a great idea too but unfortunately they weren't available. They did give us the name of another band, 24/7, whose musical style was the same. I looked them up online, listened to a few of their songs and emailed them to see if they were available. Lucky for us they were and we booked them – they were awesome. My friends are still talking about how great the music was.

They played both current music as well as a lot of the good oldies that are so great to dance too. Having live music at the Wedding Carnival just made the atmosphere perfect! Live music adds another dimension to things that taped music doesn't do. Also, the interaction of the band with the audience is great.
They even got me to participate with them!!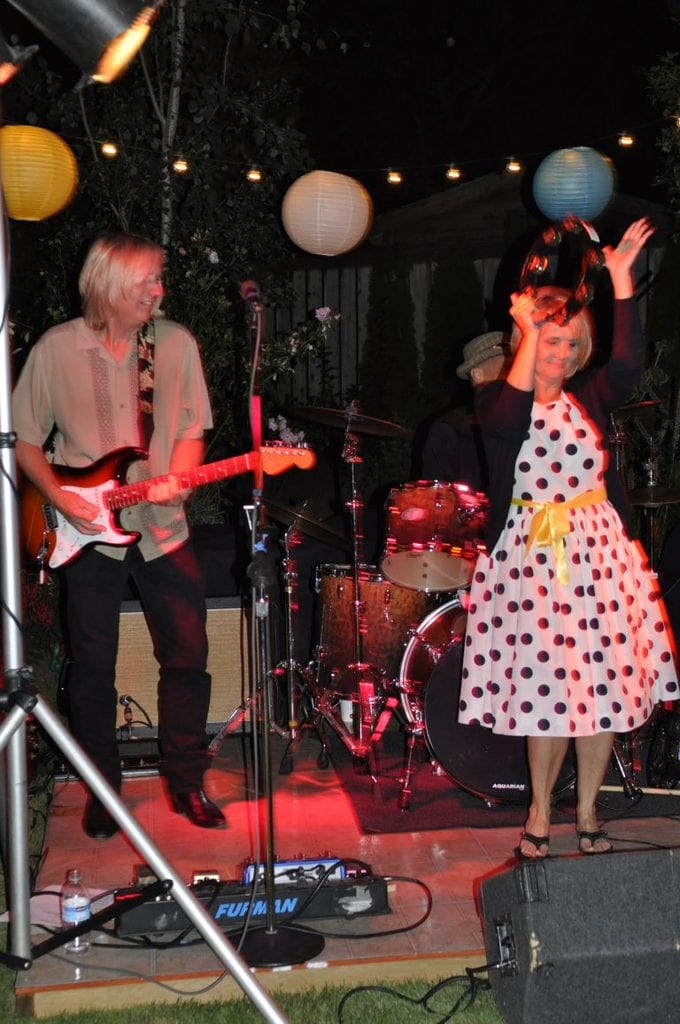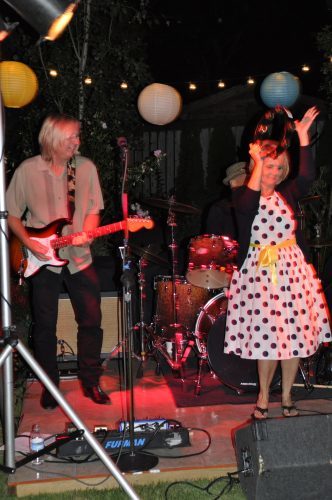 If we were going to have music though I thought we should have a dance floor. My husband didn't agree. He thought dancing on the grass was just fine. I didn't.
So I decided I was going to find someway to have a dance floor with or without his help. I first started with the party rental places but soon discovered it was really expensive to rent a dance floor. Not in the budget.
Next, not to be discouraged I went to Craig's List and actually found a gal that rents a dance floor from her home. Unfortunately it wasn't available. But I did find a smaller dance floor for sale on Craig's List that would be perfect for the band as they needed a hard surface to play on. We negotiated a bit with the owner and loaded it up into our Suburban. (Cost $80.00)
I then started doing some research on line about building your own dance floor. I found some info and instructions but my husband still wasn't on board.
I was excited when the gal who rents a floor from her home emailed to say she was buying a second dance floor and we could rent that one. We were going to have a dance floor.
Unfortunately, the Sunday before the Wedding Carnival she called to say the dance floor was in too bad of shape to use and she was going to return it. So I had no dance floor, yet!
I then enlisted the help of my daughter Cali who was home for a few weeks and her good friend Hannah and asked them if they would build me a dance floor. I think by this time I had worn Jim down and he agreed to go to Home Depot and buy the supplies to build a dance floor. The cost ended up being under $200.00 and Cali and Hannah spent the next two days building me an amazing dance floor!! I'll be providing a How to Build a Dance Floor tutorial next week!
It was the perfect addition to our Wedding Carnival and people danced and danced all night!

The dancing was enjoyed by all ages!

The dance floor also provided a great place to start a flash mob.
Cali, Hannah and Tessa came up with the idea to have a flash mob at the Wedding Carnival. For those of you unfamiliar with a flash mob, according to Wikipedia it is:
A flash mob (or flashmob) is a group of people who assemble suddenly in a place, perform an unusual and seemingly pointless act for a brief time, then disperse, often for the purposes of entertainment, satire, and artistic expression.
Not sure ours was a pointless act but it was for the purposes of entertainment!
The girls chose the song "Call Me Maybe" for the flash mob and did all the choreography. They enlisted the help of friends, family and neighbors and we were all sworn to secrecy so the bride and groom didn't know about it nor did the Wedding Carnival guests!
We had several practices in our backyard before the real thing.
When the band took one of their breaks Cali got on stage and told the crowd that she, Tessa and Hannah were going to do a dance to a song that was about what Jessica had said to Clark the first time they met.
Hey, I just met you, And this is crazy, But here's my number, So call me, maybe?
During the chorus to the song, neighbors who were scattered throughout the crowd would begin joining into the dance!

The crowd loved it and so did the Bride and Groom!!

At the end we formed a dance line and took turns dancing down the middle – encouraging the crowd to join in.


We even got the bride and groom to join the fun!

It was a total highlight of the evening. I can now cross "Participate in a Flash Mob" off my bucket list but it was so much fun I would do it again in a heartbeat – maybe the next Wilkes wedding!!!
My only regret is we didn't get a good video of it. My neighbor who was in the flash mob turned his camera on and set it on a table so we have a side view of what was going on but it is better than nothing. Enjoy!

For more Wedding Carnival fun:
Carnival Pictorial can be found here
The Wedding Carnival}The Food Part One
The Wedding Carnival}The Food Part Two
The Wedding Carnival}Decorations
The Wedding Carnival}Carnival Games