I have always been an ambitious person. I derive a lot of enjoyment from setting and accomplishing goals. For the first 27 years of my married life, many of my goals were focused on the raising of my four children and running a successful direct sales business for 20 years. I got a lot of satisfaction from both "jobs," and the recognition I received from my business validated me professionally.
Two years ago. I found myself in a different place in my life. My husband and I became empty nesters, and I decided to resign from my business. I felt a little lost and lacking in direction. Becoming an empty nester was much harder on me than resigning.  I missed my kids, and being needed on a daily basis.
Fortunately for me, my college-aged daughter Cali came home for the summer and announced that we were all going to run a 5K.
My first thought was – "NO Way!" I am not a runner. I have never been a runner, and I had no desire to be a runner. But one thing I have learned as a mother is that when your teenaged or young adult children ask you to do something with them – you do it!
To fully understand what a stretch this was for me — my fears about it and lack of belief in my ability — you need a little background on my athletic history.  All through school, I hated gym class. At my a private girls' middle school, we spent every PE class playing lacrosse or field hockey. I did everything I could to avoid getting the ball. When we played volleyball in the winter, I always tried to position myself behind the tallest girl so I would not have to hit the ball. I was terrified of breaking my fingers. In high school, I did the same thing. I hid out as much as I could and when you are 5'2″,  it's not that hard to do.
At the age of 50, and in response to this request from my daughter, I decided that I wasn't going to hide out anymore!
My daughter became my exercise inspiration. Cali downloaded the Couch to 5K app on my phone, and we started training.
The first day, we alternated 60 seconds of jogging with 90 seconds of walking. I could handle that, but was sure there was no way I was ever going to be able to run for 20-30 minutes STRAIGHT.  Without stopping! NO way!
But I did. We finished the Couch to 5K program, and although we didn't run an official 5K, we did run our own "Wilkes Girls' 5K."  I had such a sense of accomplishment. Honestly, I couldn't believe I did it.
Then the girls went back to school and my running career ended, or at least I thought it had.
A month or so after my girls returned to college,I got an e-mail from a group of "younger" moms at church — I am old enough to be some of their mothers! They were going to form a running group to work toward running a half marathon, and everyone was invited to join. Much to my surprise, I actually considered it. I think maybe I just wanted to prove to myself that I wasn't "old." I talked to my friend Marsha about it, and we decided to join.
The next February our little group completed our very first official 5K.  It was a run up Mt. Tabor here in Portland. Mount is the important word here!  The course was half uphill and half down, and I don't think there was any level ground the entire time.  It was hard. But I finished.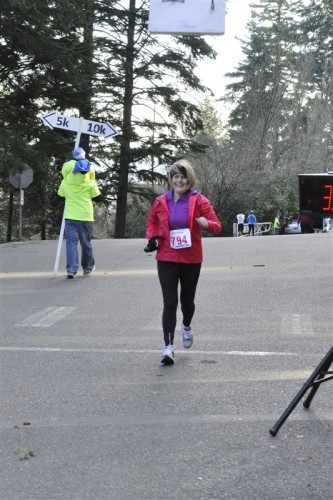 I was the last one of our group to cross the finish line, but I did it, and they were all there, along with my husband, to cheer for me as I crossed the finish line. An enthusiastic audience is one advantage of being the last of your group to finish.
I did it. I was a runner. And I have the medal to prove it!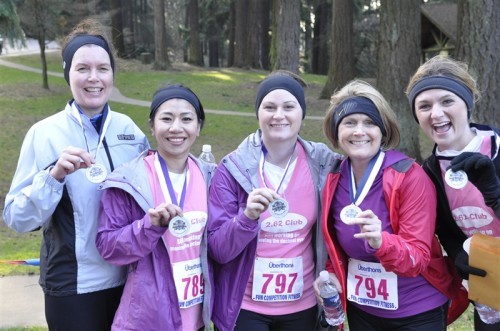 I took a lot of pleasure and satisfaction out of accomplishing my goal to become a runner but I wasn't quite done yet.
I decided I was going to run a half marathon. I totally surprised myself with this one. Who was I?  I didn't even think a 5K was possible a year ago.
I signed up for a women-only race, and got my friend Marsha to do it with me. We started training. It was hard, but on those cold, rainy, Oregon mornings, we had a mantra that we would say over and over: "I can do hard things."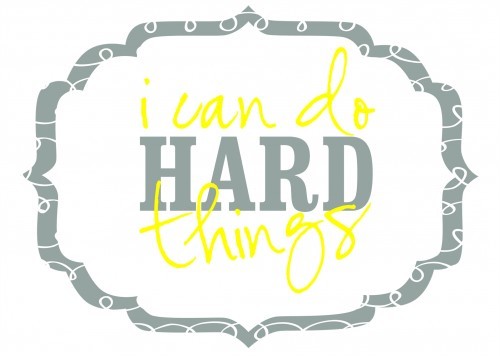 Race day arrived, and we were ready. I had done the work, I had put in the miles, and now I just need to have confidence in myself and enjoy the journey.
It was fun and exciting to be among 3,500 women with the same goal – to finish.  Okay, some of them probably had a goal to finish in a certain time, but ours was definitely to finish.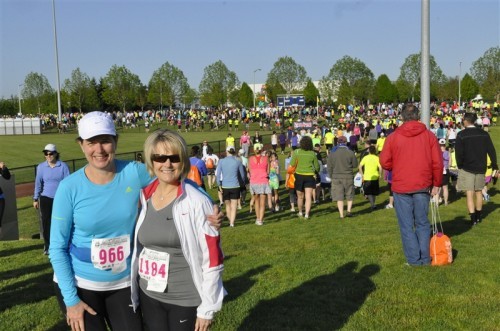 Our cheering squad –- our husbands and my daughter Tessa — were there as we started off, and Jim even showed up along the route to snap a few pictures.  He brought a sign to cheer us on!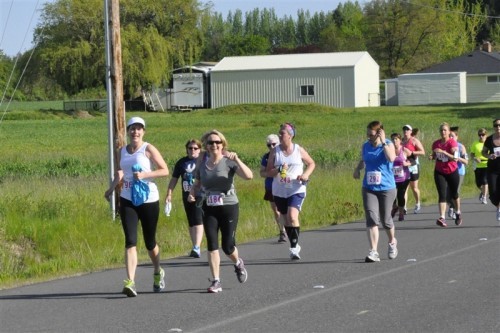 My friend Marsha had only planned on running the quarter marathon and then walking the rest of the way, but she hung in there with me, and we did it together. I was so proud of her, and so grateful to cross the finish line with her. She has been my cheerleader, along with Jim, through this whole experience, and I loved being able to share it with her. My favorite part of the whole race was Marsha yelling to a bystander cheering the runners on: "104 years here!!"  This is our ages combined.
I work hard in life to enjoy the journey, and I did enjoy the race. The weather was perfect, sunny, not too warm, with a nice gentle breeze, beautiful countryside to run through, and a good friend with me.  But I have to admit that I really enjoyed the thrill of finishing.  As we entered the stadium, I heard them announce my name, and as I ran through the finish arch, it felt great!
The satisfaction that comes with finishing something I start, finishing something that I wasn't sure that I could really do at all, is amazing.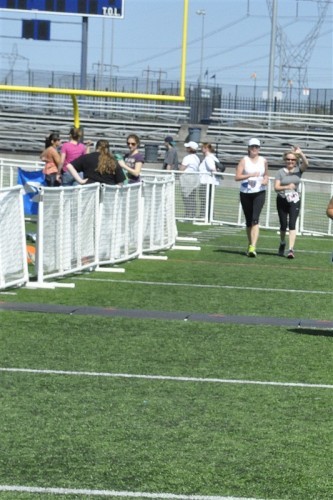 This post is part of BlogHer's Goal, Accomplished editorial series, made possible by P&G Always Infinity.

Get my Weekly Menu Plan for FREE!
Receive my FREE "What's for Dinner?" Meal Planning Course, a copy of my FREE ebook that includes my most popular recipes and my FREE weekly Meal Plan.