Strawberry Poppyseed Salad is a delicious combination, but the addition of oranges, blueberries, and pineapple makes this a perfect summer salad.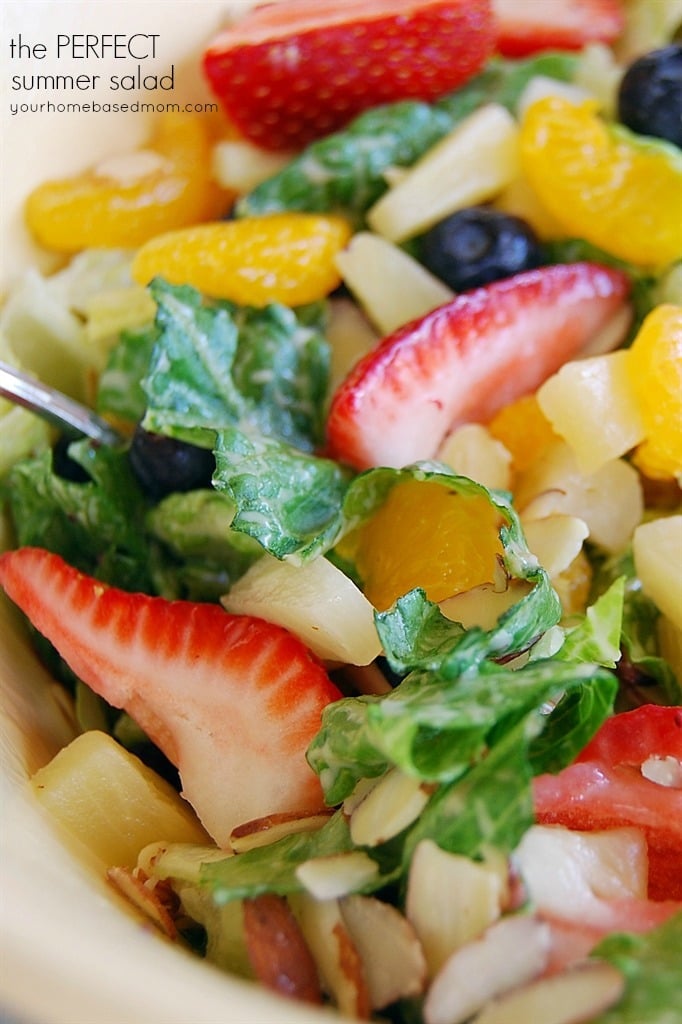 A few weeks ago my friend Sherra was describing this amazing salad she had just had at Paradise Bakery.  Since Sherra typically doesn't eat anything green I figured it must be a really good salad if she liked it!
After she described it I had to google it and find a recipe for this strawberry poppyseed salad.  She was right – it is great. It's pretty and delicious!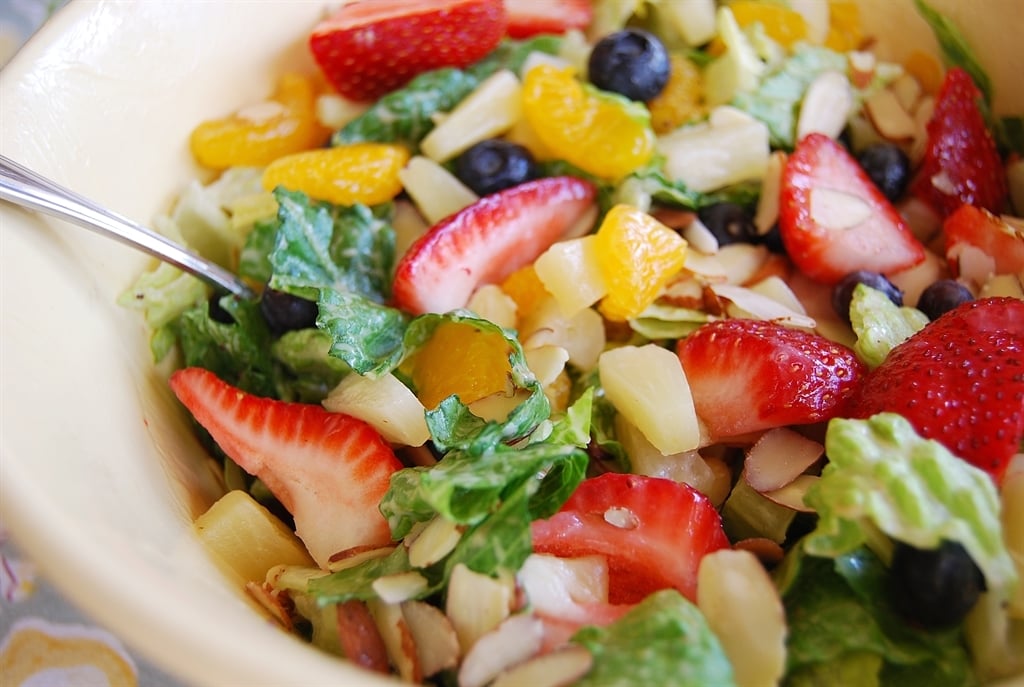 This is the perfect summer salad because it incorporates all kinds of yummy fruit – some canned and some fresh.   Not only is it yummy, it is so pretty with all the different colors!
You could easily adapt it to whatever was in season and in the off-season just use canned fruit. Or just customize your strawberry poppyseed salad with whatever fruit you have on hand.  The poppyseed dressing is delicious with all different types of fruit.  And the addition of some slivered almonds gives it some nice crunch!
In addition to delicious and colorful, this salad is so easy to make.  And easy is the name of the game in the summertime when I would rather play than cook.   I used readymade Kraft Poppyseed Dressing to make it even easier.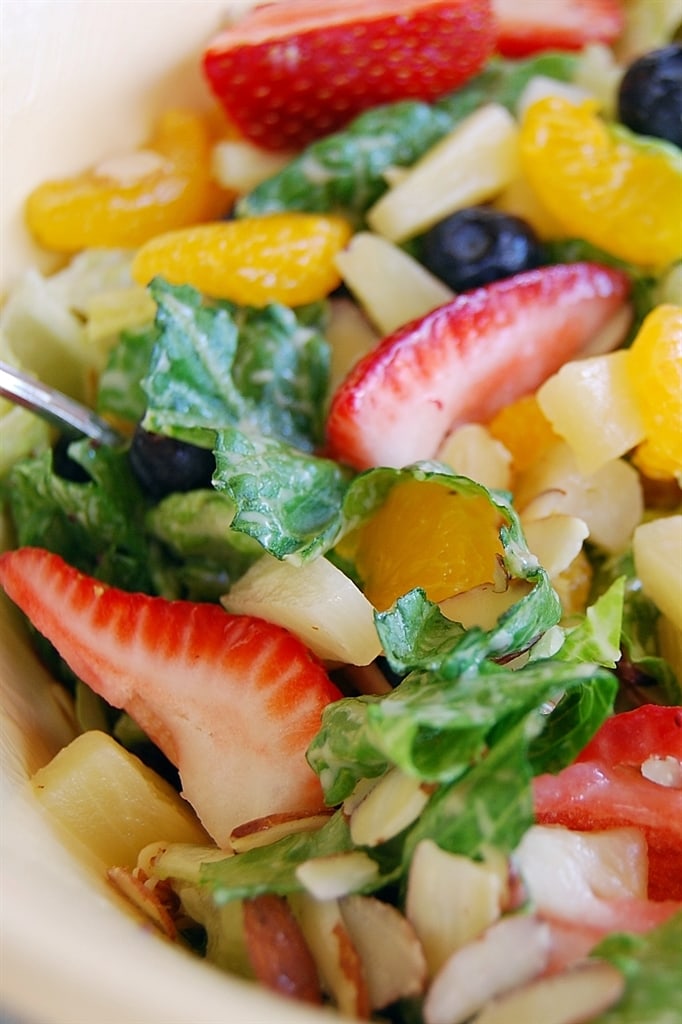 Strawberry Poppyseed Salad Recipe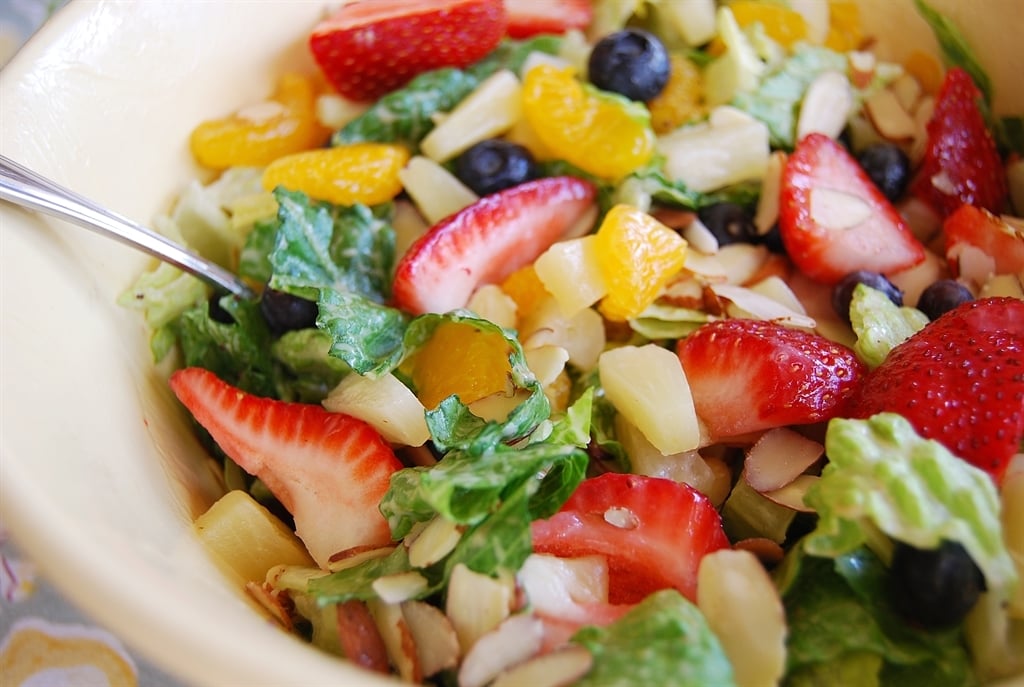 Strawberry Poppyseed Salad
Ingredients
1

lb.

romaine lettuce

1/2

cup

pineapple tidbits

1/2

cup

sliced strawberries

1/2

cup

blueberries

1

can mandarin oranges

1/2

cup

toasted pecans

poppyseed dressing
Instructions
Slice fruit and combined with lettuce and dressing.  Enjoy!
I hope you enjoy your summer and this delicious strawberry poppyseed salad.
Stay Updated!
Need more recipes and creative ideas? Sign up and get a FREE copy of my ebook! Do you think your friends would love this too? Please share my blog with them. Thanks!