I have decided that on one Sunday a month or maybe two, I am going to share some of my thoughts, my musings, my ramblings with you. Ideas that have been floating around in my head.These thoughts will be of a more personal nature. An opportunity for me to share a little more of my personal side. I share a lot with you on the blog but I'd like to share more of the why behind my what. Why I do what I do. You game?
I was recently reading an article in a church magazine we receive each month called the Ensign. The article was entitled "Don't be in a Hurry" by John C. Thomas. The article got me thinking a lot about being busy and how so many of us, myself included, have turned it into an art form – The Art of Being Busy.
Have you ever greeted a friend, asked how they were and they then proceeded to tell you how busy they were and all about everything they had to do. The thing is though, you joined right in, sharing with your friend how busy you were too and everything you had to do. It almost became a friendly competition of who was busier. Been there, done that!
In my magazine article Elder Joseph B. Wirthlin is quoted as having said, "…feel that the busier we are, the more important we are – as though busyness defines our worth."  Does your busyness define your worth?
I have always loved the quote by Henry David Thoreau: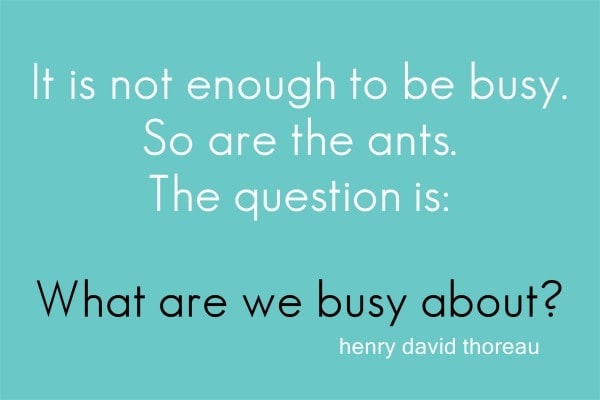 That is my question today – what are we busy about?
I remember several years ago driving behind a car and looking at their bumper sticker.  It said:
"Jesus is Coming. Look busy!"
Well, for most of us that wouldn't be a problem.  There are so many things, both mundane and meaningful that compete for our attention on a daily basis, on an hourly basis and even on a minute by minute basis.  Technology is to blame for a lot of the busyness but we have caused a lot of it all by ourselves!
How many of us play that game of "When this happens (fill in the blank) , then things will slow down."  I know I've played it – many times and I still play it.  I remember years ago sitting in a meeting with a group of ladies from church.  We were all playing the "I'm so busy" game.  Each talking about all the things they have to do and I remember hearing several of the "older" sisters (of which I am now one of!) talk about how busy they were as empty nesters.  I remember thinking to myself, "Yeah, right, you can't possibly be as busy as I am."  But they assured me that their life now was just as busy, if not busier than it was when they had kids at home.  I didn't believe them.
Now, I do.  It is just busy doing different things.  I have discovered that being busy doesn't come with a certain season of life.  It is self induced.  I am just as busy now as I was when I had four children living under my roof.  I have perfected the Art of Being Busy.  I continue to fill my life with activities, work, obligations, etc.  I am sure some of you are shaking your head at me right about now but it's true.  When you have perfected the Art of Being Busy or should we call it the addiction to being busy it doesn't just stop when your kids move out.
But lately I have been trying to work on another art form.  The Art of Being Still.
In the church magazine article I was reading , I found this quote,
"Our hurry to meet the relentless demands of the clock tears away at our inner peace." '
-James E. Faust
How many of you have felt a little like the  Queen of Hearts  in Alice's Adventures in Wonderland when she says to Alice: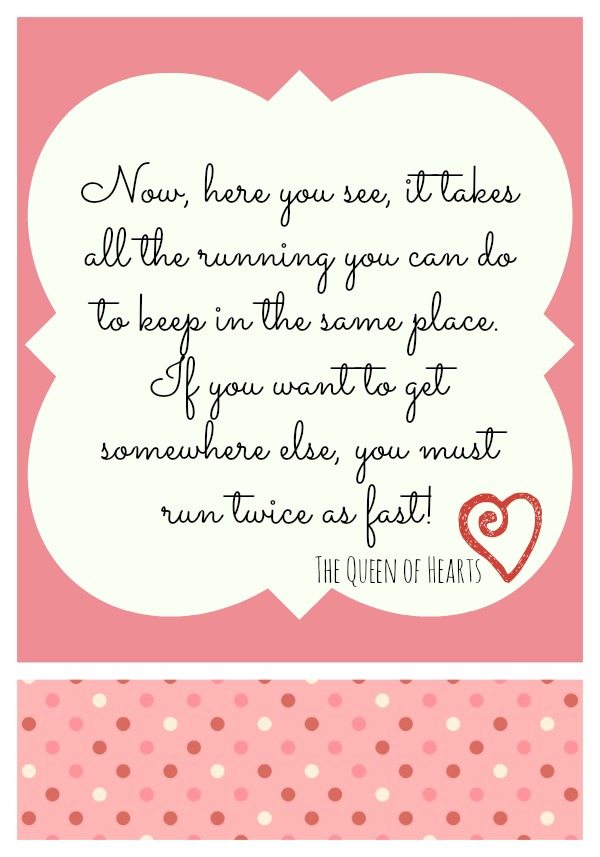 Life just seems to be running at such a pace that we can't keep up or catch up.  There are always too many things on the list and not enough hours in the day.  No matter how late you stay up!  My To Do list as an empty nester is just as long as it ever was before.
But I have decided I don't like it.
Now I'm not going to get into a discussion about how many activities you should be involved in or your kids should be involved in.  That is your decision.  If you'd like to invite me to lunch someday I'd love  to have that discussion with you though.  What I do want you to ask yourself is this –  "How can we obtain the peace we want to enjoy, even in a world of commotion?
Let's face it, we can make some changes, we can eliminate some activities from our life but we are still going to be busy.    Neal A. Maxwell said, "frantic, heedless busyness…crowds out contemplation and leaves no room for renewal."
So ask yourself:
What am I busy about?
How much frantic, heedless busyness do I have in my life?
Is there room in my life for renewal?
How can we leave room for renewal in our life ?
How can we develop the Art of Being Still?
So I'm going to leave you with some food for thought today.  I'll be back the first of next month (or maybe sooner)  to share with you some more of my thoughts and how I have found ways to make room for renewal in my life.  And I promise, you all have room for it if you just choose to make room.
If you'd like some more food for thought today I'd invite you to visit a few of my blogger friends:
Mandy over at Sugar Bee Crafts
McKenzie at Girl Loves Glam
Mariel at Or So She Says
Get my Weekly Menu Plan for FREE!
Receive my FREE "What's for Dinner?" Meal Planning Course, a copy of my FREE ebook that includes my most popular recipes and my FREE weekly Meal Plan.