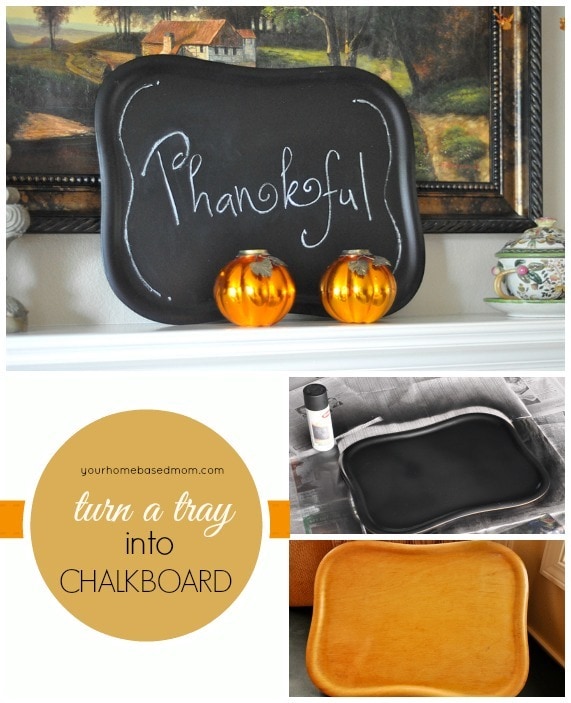 So since I am not planning a menu, shopping or doing any dinner prep for Thanksgiving this year I decided I could use a little of that energy on a craft project.
Last Saturday a few friends and I made a trip to Goodwill.  We were looking for some sweaters for a fun repurposing project which I will share next week.
The best part about trips to Goodwill are the things you find that you didn't even know you were looking for – can you relate to that!?  When I saw this serving tray I knew exactly what I would do with it.
I have been wanting to make a large chalkboard menu board.  Something I could use at parties or dinners to write the menu on.  This tray was the perfect size and shape.
It was mine for only $2.99.  I already had the chalkboard spray paint at home so I was ready to get to work.  I used some steel wool to take the shiny finish off of the tray.
I put a lot of newspaper down on the garage floor so I didn't get in trouble with the hubby this time.  The last time I spray painted I didn't use quite enough paper and we now have a red garage floor – oops!  Some of you may be wondering why I didn't do it outside but if you live in Oregon you'll know why!
It took several coats of paint to cover the whole thing .  I painted the front and back.
Since I didn't need to write our Thanksgiving menu on it I decided to just write a Thanksgiving word on it and display it on the mantle – Thankful!
I am thinking it is going to be the perfect addition to our Christmas dinner table – set on the buffet to showcase what's for dinner!  It would also make a great message board for the kitchen. Any other ideas?
PS – If you haven't linked up to my Thanksgiving Day Menu Link up – please do.  I'd love for you to share one of your favorite Thanksgiving recipes with me.
Stay Updated!
Need more recipes and creative ideas? Sign up and get a FREE copy of my ebook! Do you think your friends would love this too? Please share my blog with them. Thanks!