We're a little late to the game here in Oregon and school doesn't start until after Labor Day. My college girl starts school next week too. Back to school means back to fixing school lunches.
When I was in school I always took my own lunch to school. It might have had something to do with the fact that I was a very picky eater and through elementary school and junior high I think I took a peanut butter and jelly sandwich for lunch every day! Every day! If I remember correctly I also took a peanut butter and jelly sandwich in high school until my senior year. My parents moved away that year and I stayed behind to finish high school and I lived with some friends. Most of that year I bought my lunch at the school cafeteria. It was pretty much the same thing every day. A bag of cheetos and a carton of chocolate milk. Please don't tell my mom! I am a creature of habit. So I shouldn't have been surprised when I sent my oldest to his first day of middle school and he wanted to buy lunch in the school cafeteria. My kids have always been sack lunch kids, not liking what they serve in the school cafeteria, so he had always taken a sack lunch in elementary school. When he came home from his first day of middle school and I asked him what he had had for lunch his response was, "french fries and a donut." I fixed him a lunch the next day. I guess he takes after his mom.
So after four kids and about 21 years of making school lunches I've learned a few things! So to help make that back to school lunch process a little easier I have partnered with Horizon Organic to bring you some tips, ideas and recipes.
1. Be Prepared. Nothing is worse than running around like a crazy mother in the morning trying to figure out what you are going to put in their school lunch! Making lunches the night before is always the best option but that doesn't always happen. Be prepared though by making sure there is food in the house. Having the basics of whatever it is your children like for lunch in the cupboard is a must. For my mom, that was peanut butter, jelly and bread.
At our house, because we have two gluten free members, sandwiches aren't the lunch of choice for everyone. Lots of times there are leftovers from dinner and packing those up in lunch size containers the night before means we just have to grab and go in the morning. I also like to cook up a bunch of chicken each week and a pot of rice and then I know I always have something on hand. Add in a few veggies and some fruit and you've got a delicious and nutritious lunch. But chicken and rice can get a little bit boring too so that leads me to Point Two.
2. Have Variety. Most people don't like eating the same thing every day for lunch. Not all kids will gladly eat a peanut butter and jelly sandwich every day of the week like I did. They probably don't want to eat chicken and rice every day either but by adding in a different dipping sauce you can turn that chicken and rice into a whole different flavor adventure. A variety of dipping sauces can take your lunch from drab to fab.
Today I'm sharing a recipe for a yummy teriyaki sauce, honey mustard sauce and for the more adventerous crowd a sweet & spicy sauce. I like to grill my chicken but you can bake it in the oven or cook it in a frying pan too. I cover it with a bit of olive oil and some salt and pepper before grilling.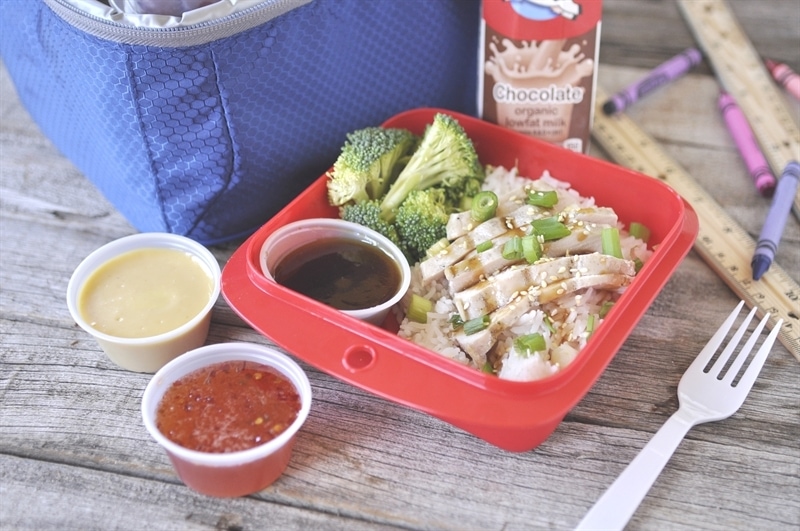 Put the rice and chicken into a container. Add a little teriayki sauce and garnish with some green peppers and sesame seeds and then add in a dipping sauce of choice. You can pick up these little containers at your local restaurant supply house or next time you get take out grab a few extra!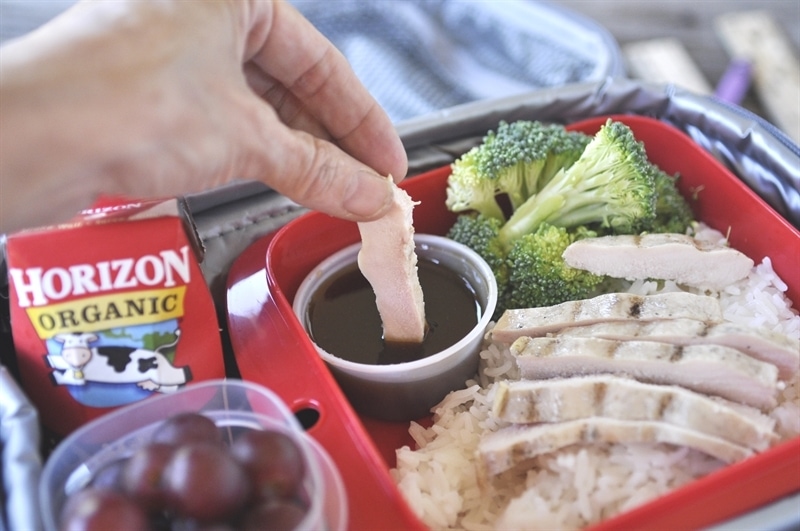 Your kids might even eat their veggies too when there is a yummy sauce to dip them into!
Of course I had to add in some Horizon Organic chocolate milk for old times sake!
What tips and tricks do you have for getting your kids to eat a healthy lunch?
For more back to school tips, meal ideas, and coupons visit Horizon Organic's Facebook page, their twitter page, get inspiration from their Pinterest page, and visit the Horizon Organic website for recipes and more.
This is a sponsored conversation written by me on behalf of Horizon Organic. The opinions and text are all mine.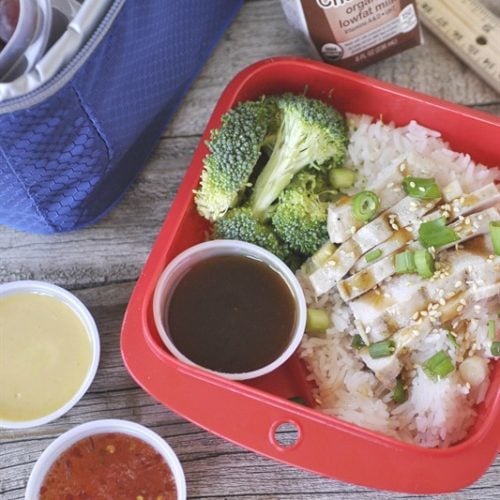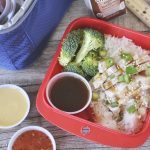 Print
Teriyaki Chicken Bento Box with Dipping Sauces #HorizonB2S
Ingredients
Grilled chicken

sliced

Rice

green onion

sliced for garnish

sesame seeds for garnish
Teriyaki Sauce
1/4

C

soy sauce or Tamari Sauce for gluten free

1

C

water

1/4

tsp

dried ground ginger

1/4

tsp

garlic powder

6

Tbsp

brown sugar

1

Tbsp

honey

1

Tbsp

cornstarch

1/4

C

cold water
Sweet and Spicy Sauce
1/2

C

rice wine vinebar

1/2

C

white sugar plus 1 Tbsp

1

tsp

salt

1

Tbsp

chili garlic sauce
Honey Mustard Sauce
1/2

C

mayo

2

Tbsp

yellow mustard

1

Tbsp

Dijon mustard

2

Tbsp

honey

1

Tbsp

lemon juice
Instructions
Teriyaki Sauce
Mix together all ingredients except cornstarch and 1/4 c cold water in a sauce pan.

Heat and stir until sugar is dissolved.

Mix cornstarch into 1/4 C cold water in a bowl.

Add to sauce in pan.

Heat until sauce comes to desired thickness.

If it gets too thick add some additional water
Sweet and Spicy Sauce
Put vinegar and sugar together in a pan.

Stir over medium heat until sugar dissolves.

Add in salt and reduce heat.

Stir until it thickens slightly.

Remove heat and add chili garlic sauce

Cool before serving.
Honey Mustard Sauce
Mix together mayo, mustards, honey and lemon juice.

Cover and refrigerate until ready to serve.
This conversation is sponsored by Horizon Organic. The opinions and text are all mine.
 Enjoy!
 Leigh Anne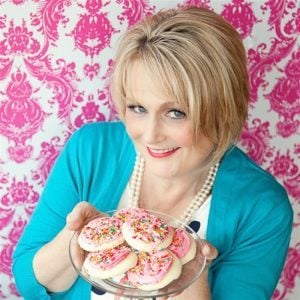 You can also visit me on Facebook, Pinterest, Twiter or Instagram.