These whole wheat chocolate chip cookies are crispy on the edges but chewy in the middle- perfection!
Did you know that October is National Cookie Month?  I think every month should be National Cookie Month.  I love cookies.  I especially love a good chocolate chip cookie.  It is always my first choice.
When I was contacted by Tate's Bake Shop and asked if I'd like to sample their Whole Wheat  Dark Chocolate Chip Cookies I of course said yes.  I was intrigued by the combination of the whole wheat and dark chocolate.
I had heard of Tate's Bake Shop, based in Southampton, NY  but never had any of their cookies.  They are an award winning bakery and have been voted America's Favorite Chocolate Chip Cookie by Rachel Ray!  They also sent along a copy of their cook book which I was also excited to check out.
I have already tried a few recipes from it.
Tate's Bake Shop is famous for their thin and crisp cookie.  A little different than the typical soft, chewy cookie most of us are use too.  But I have decided after sampling a Tate Bake Shop cookie, o.k., I sampled more than just one, that I like thin and crispy.  A lot.  They sent three bags of cookies and given that there are only two of us at home that makes for pretty good odds on the cookies! I guess I could have mailed a bag or two off to the college kids but I didn't.
Of course, I couldn't wait to try making my own Tate's Bake Shop cookie so the first recipe I tried out of the cookbook was their chocolate chip cookie recipe.  Although not quite as crisp as the ones they sent me they were delicious.  A nice thin cookie but yet still chewy.
Remember those chocolate chip cookies I put in my Halloweenie Roast invites?   Yeap, the same ones.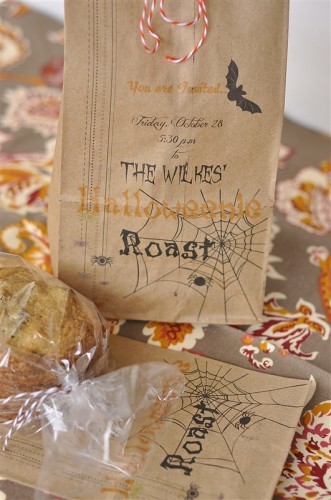 I also tried out their Chocolate Chip Cake when we had dinner guests this week.  Among the oohs and ahhs the comment was made.  "It tastes like a chocolate chip cookie but chews like a cake."  Yum!  I've got a list of other recipes I want to try!!
Now for the best part –  how would you like to try a Tate's Bake Shop cookie??  How about a Tate's Bake Shop cookbook?
One of you  will  receive three bags of Tate's Bake Shop's delicious Whole Wheat Dark Chocolate Chip Cookies AND a signed copy of Kathleen King's cookbook, The Tate's Bake Shop Cookbook.
So how do you enter to win? There are lots of ways!!
1.  Leave a comment to this post and you are entered to win.
2.  Follow Your Homebased Mom on Facebook and leave a  comment on this post that you do.
3.  Follow Tate's Bake Shop on Facebook, and leave a comment on this post that you do.
4.  Follow Tate's Bake Shop on Twitter, and comment on this post that you do.
Be sure to leave each entry as a separate comment on this post.  If you are receiving this via email do you just hit reply – you must visit the blog.
The winner will be selected at random on Monday, October 24th at midnight PST
Good luck!  As an extra bonus EVERYONE can receive a  15% off of Tate's Bake Shop website  until 10/31/11 with discount code COOKIE. They even have gluten free items!  I'm thinking that chocolate chip cookie bark looks pretty good!
I think I need to make a trip to Southampton to visit Tate's Bake Shop in person – look how cute it is!!!
Get my Weekly Menu Plan for FREE!
Receive my FREE "What's for Dinner?" Meal Planning Course, a copy of my FREE ebook that includes my most popular recipes and my FREE weekly Meal Plan.