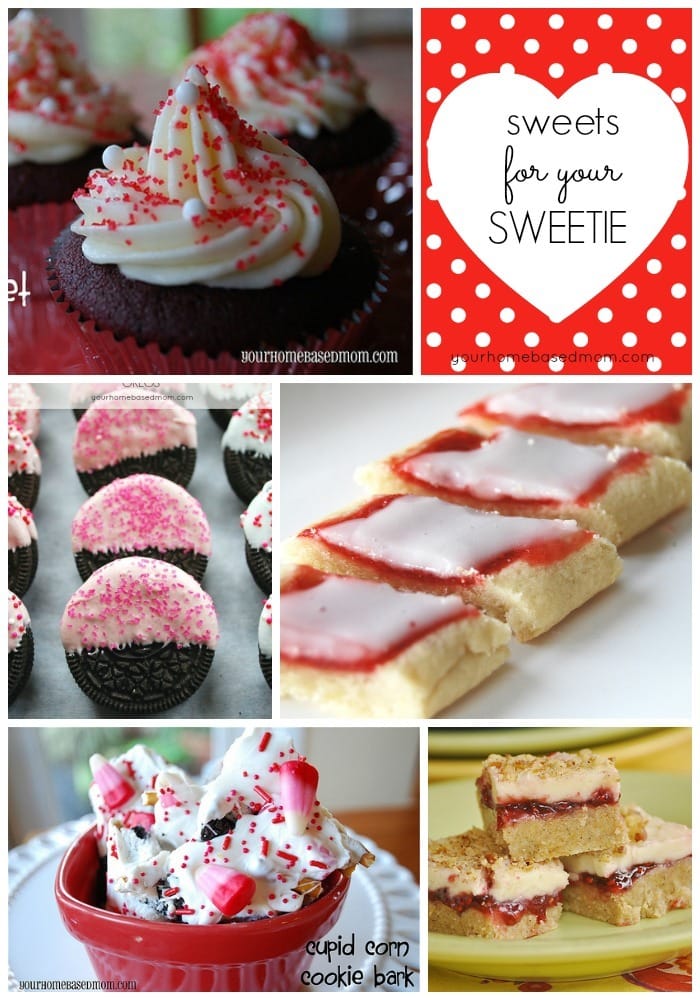 I think my favorite holiday next to Christmas has to be Valentine's Day.  I love the opportunity to express my love to those who mean the most to me.  The way I do this best is through food.  I am a foodie.  I love food and I love giving food as gifts.  I also have selfish reasons for giving food as gifts.  I love to cook and bake and giving it as gifts gets it out of my house so I don't eat it all!
Today I'd love to share with you some of the sweet treats I'm going to be making and giving as gifts this Valentine season.  You will notice a trend with all of the recipes.  They all container sugar and most have either chocolate or something red/pink!
If you don't have much time and need something quick and easy you can't go wrong with some chocolate dipped Oreos.  Use some pink Wilton melts and sprinkles and you have dressed them up.  I prefer the melts over white chocolate because it melts much smoother and easier.  If you only can find white melts you can use some gel food coloring to tint them.  Regular liquid food coloring will cause the chocolate to bind up so stay away from it.
A handful of cookies in a cute Valentine themed box and you've got a great gift.  Someone will know they are loved.
Here's a few more fun Valentine treat ideas:
Cupid Corn Cookie Bark – if you can't find the Valentine candy corn use the Valentine  M & M's instead!
Spiced Nuts are great for the non-chocolate lover on your Valentine list.
Who wouldn't love a bag of pink Mother Goose popcorn!
Use raspberry, strawberry or cherry jam to make these sweet Valentine Jam Diagonal cookies.
Can't go wrong with a Red Velvet Cupcake!
Everyone loves Rice Krispie treats, don't they.  Make a Valentine version by adding some chocolate and cherries!

You will never be the same after you experience Oreo Truffles.  Pure heaven in a little round ball!  This recipe is about as easy as it gets.
One of my favorite combinations is white chocolate and raspberry.  It just doesn't get much better than that.
Enjoy checking out the recipes and make your own list of sweet treats you will be making for your sweetie's this Valentine's Day.
Get my Weekly Menu Plan for FREE!
Receive my FREE "What's for Dinner?" Meal Planning Course, a copy of my FREE ebook that includes my most popular recipes and my FREE weekly Meal Plan.