Sweet Potatoes make the perfect shoestring potatotes. The smokey flavor of the fry sauce is a perfect combination with the sweetness of the sweet potato shoestring fries.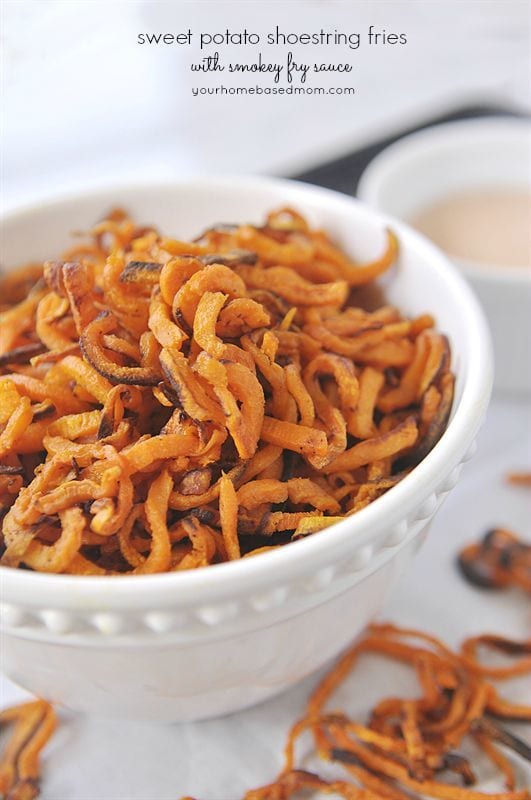 I have always been a fan of shoestring potatoes. It dates back to my non-potato loving days when the only potatoes I would eat were french fries and the thinner the french fry and the crisper the french fry the better! After having been married to an Idaho boy for 34 years I have learned to eat a few more potato dishes other than french fries although I still have mastered mashed ptoatoes!
I am also a fairly recent convert to sweet potatoes. I use to think sweet potatoes were only for Thanksgiving! Man, was I wrong. I have learned to love sweet potatoes and have found all kinds of delicious ways to fix them. These sweet Maple Syrup & Bacon Sweet Potatoes have become a favorite at our house.
I have discovered another way that I love eating sweet potatoes and that is as shoestring fries! I had never made shoestring fries before because there was no way I was going to slice those potatoes into tiny little shoe string pieces but I've discovered an amazing and easy way to do it and it involves my Kitchen Aid® Stand Mixer which is my favorite kitchen appliance of all times. I seriously love this thing and use it on a daily basis. It is my goal in life to be sure everyone owns a Kitchen Aid and today I've joined together with Kitchen Aid and Porch to give you that opportunity. Scroll down to the bottom of the post to enter to win a new Kitchen Aid and a fun new attachment for it!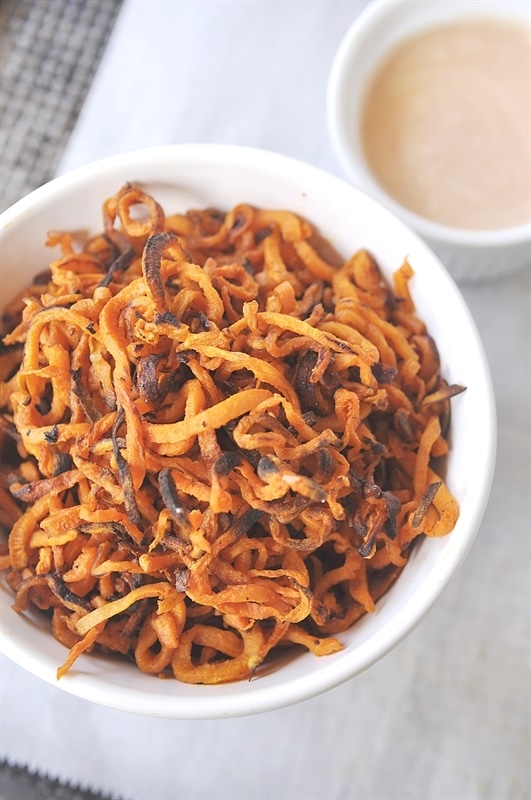 Kitchen Aid has this snazzy spiralizer attachment that fits right on the front of your Kitchen Aid – so easy!! It screws on in a matter of seconds.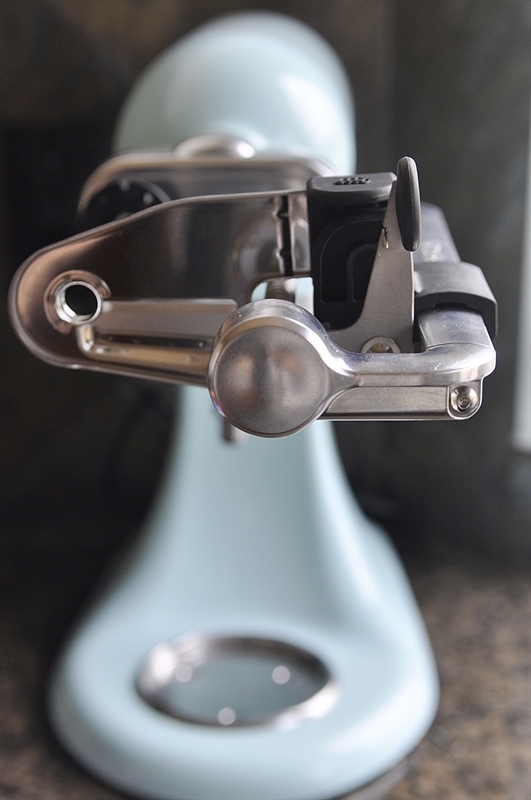 Trim off the ends of your sweet potato so they are flat and press it onto the end of the spiralizer. The attachment is adjustable to accomodate the size of your sweet potato.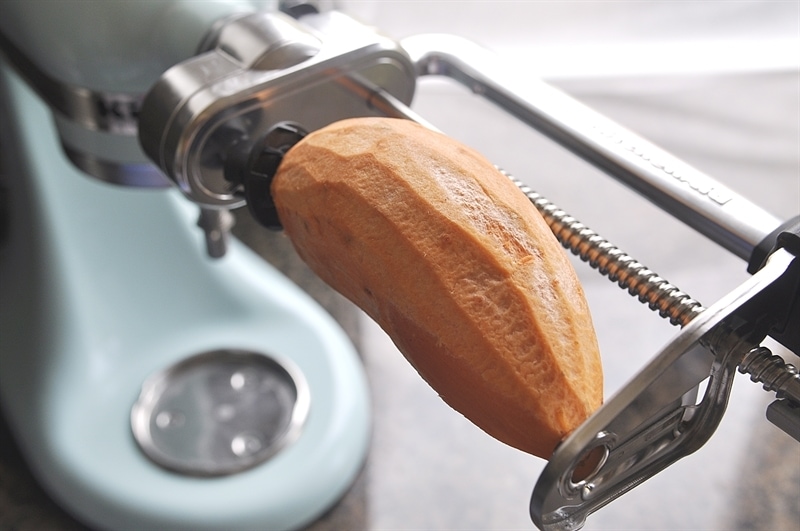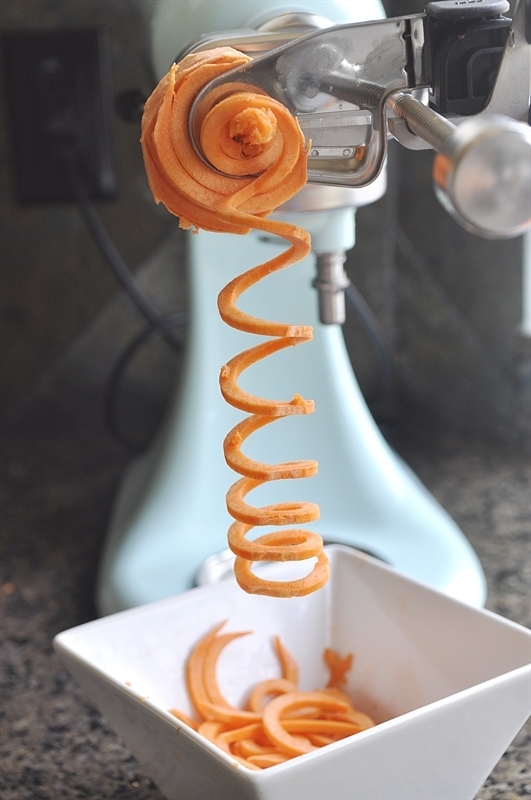 Then just turn your Kitchen Aid on and just like magic – you have shoestring sweet potatotes!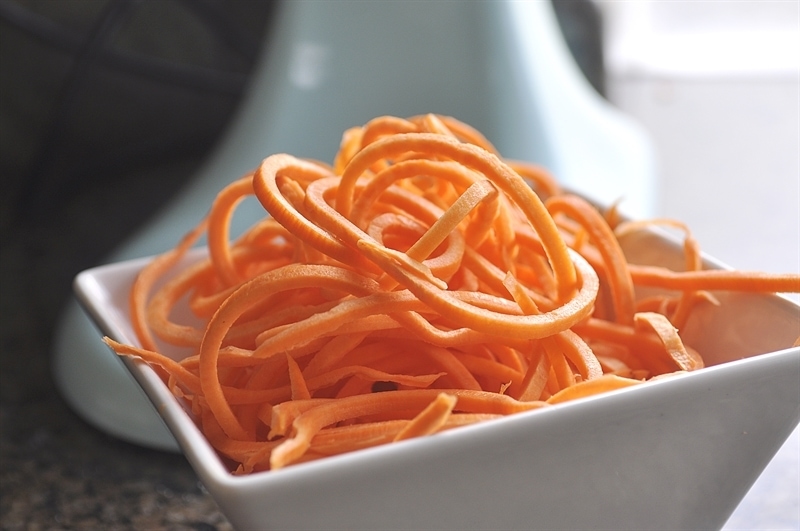 Because I thought it was so amazing I even made a video of it for you to see how easy it is!

After you spiralized your sweet potatoes place them on a parchment lined cookie sheet and give them a nice light coating of olive oil and a sprinkle of salt and any other seasoning you might like.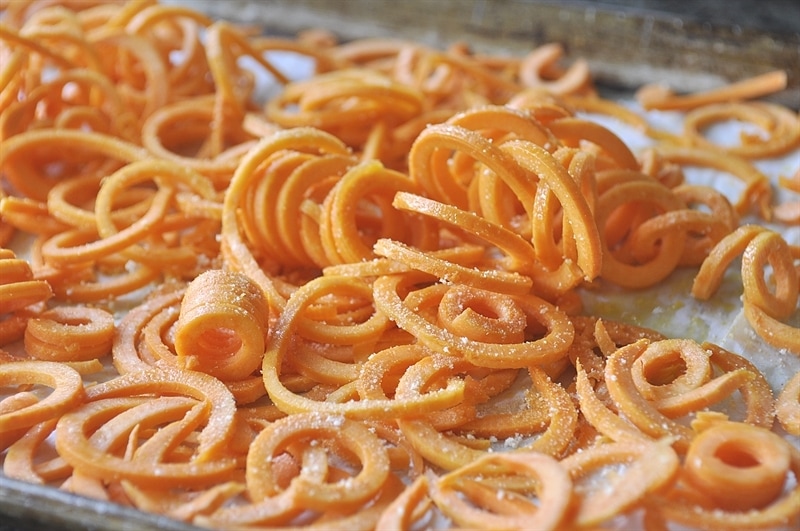 Bake them at 400 degrees for about 15-20 minutes, turning every five minutes or so. You will get some burnt pieces but I like them that way!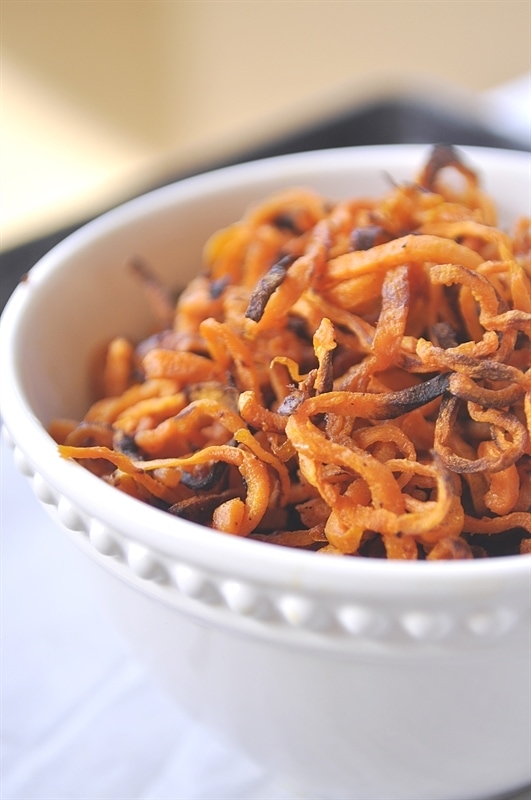 Now remember, I married a man from Idaho and that means that years ago I learned to like Fry Sauce. It is as common in Idaho as ketchup. All the burger places serve it right along with the ketchup and so I have learned to like fry sauce with my french fries. For these sweet potato shoestring fries I made a smokey version of Idaho's favorite fry sauce.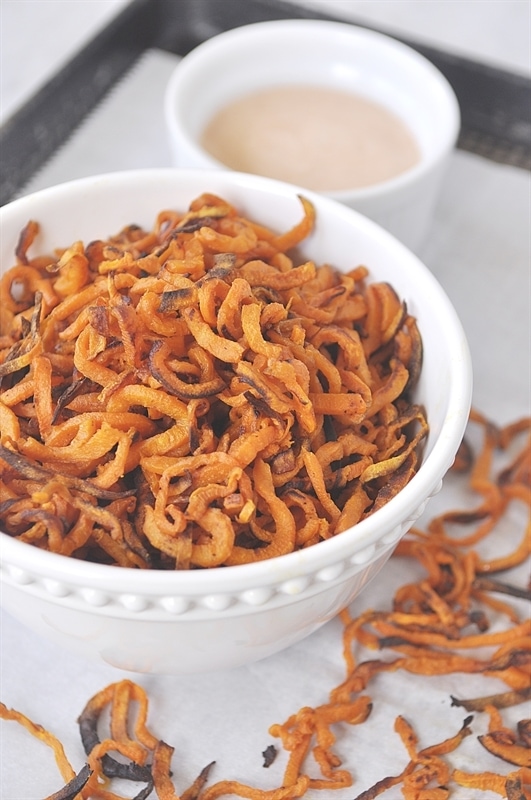 I like to take a fork full of fries and dip them right into my smokey fry sauce.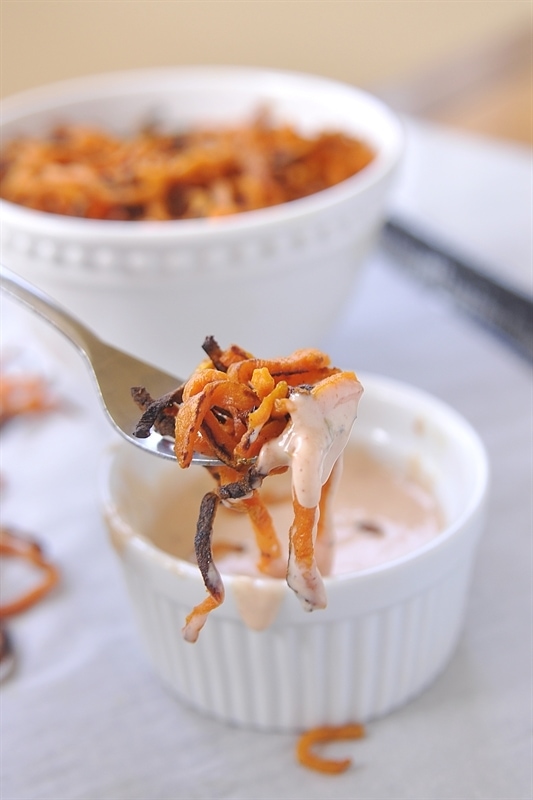 The sweetness of the potato and the smokey flavor of the fry sauce are a perfect combination.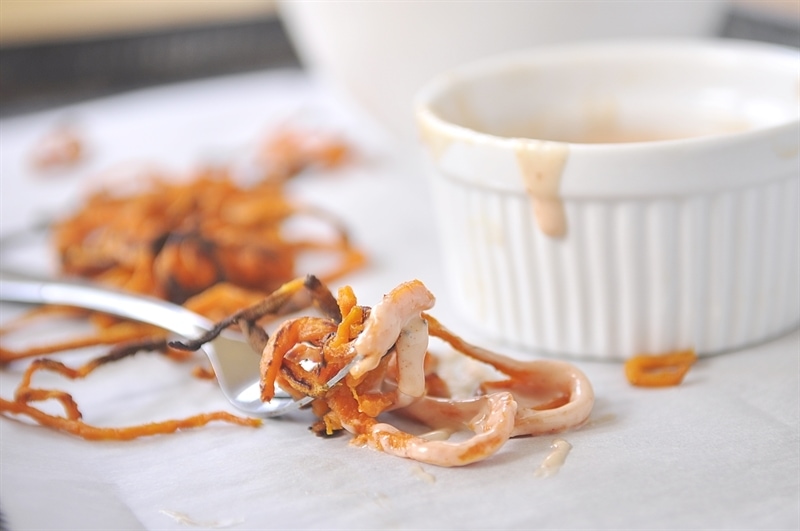 Now here is how you can win yourself a new Kitchen Aid and Spiralizer attachment . Head over to Porch.com and enter to win. Tell your friends about it too because for every friend you refer to the contest you get one more entry!! Go here now! The spiralizer attachment is so easy to use I think I will be spiralizer every fruit and vegetable in my house! #Spiralizerclassic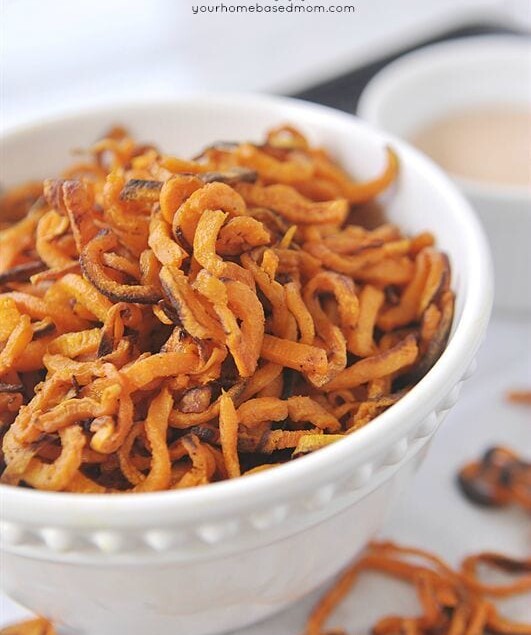 Sweet Potato Shoestring Fries and Smokey Fry Sauce
Delicious shoestring sweet potato fries and a smokey ketchup and horseradish and paprika dipping sauce.
Ingredients
4 sweet potatoes
olive oil for coating
salt for sprinkling
Smokey Fry Sauce
1/2 C mayo
4 tsp ketchup
1/2 Tbsp creamy horseradish
1/4 tsp smoked paprika
1/4 tsp salt
1/4 tsp garlic powder
2 tsp sugar
pinch of pepper
Instructions
Preheat oven to 400 degrees F.

Peel sweet potatoes.

Using your Spiralizer make your shoestring potatoes

Place on a parchment covered cookie sheet.

Lightly toss and coat with olive oil

Sprinkle with salt

Bake for 15-20 minutes turning every five minutes until desired doneness. Some of them will get black and burned but they still taste yummy.
Smokey Fry Sauce
Combine all ingredients and refrigerate until ready to serve
Nutrition Facts:
Calories: 400kcal (20%) Carbohydrates: 49g (16%) Protein: 4g (8%) Fat: 21g (32%) Saturated Fat: 3g (19%) Polyunsaturated Fat: 13g Monounsaturated Fat: 5g Trans Fat: 1g Cholesterol: 12mg (4%) Sodium: 501mg (22%) Potassium: 793mg (23%) Fiber: 7g (29%) Sugar: 13g (14%) Vitamin A: 32168IU (643%) Vitamin C: 6mg (7%) Calcium: 72mg (7%) Iron: 2mg (11%)
* Disclaimer: All nutrition information are estimates only. Read full disclosure here.