Sweet Potato Pie is a must make Southern classic, perfect for your holiday table!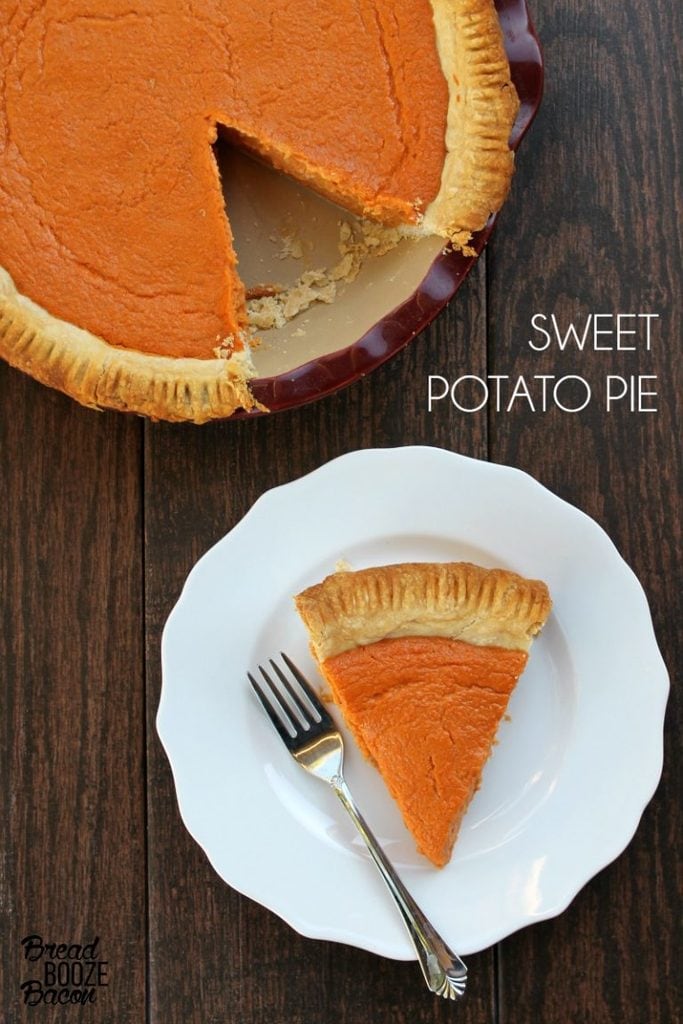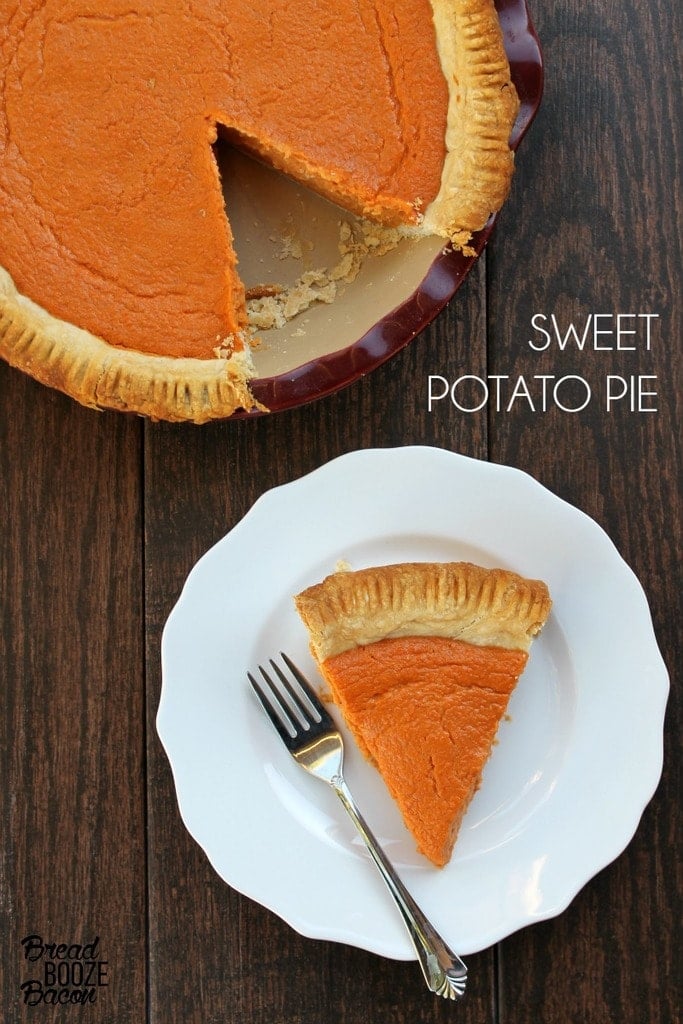 Welcome Julie from Bread Booze and Bacon.   I have never met Julie in person (like a lot of my blogger friends) but she and I have worked together and she use to be a contributor here on the blog (I miss you Julie!)  She has lots of  yummy recipes on her site so please pay her a visit!  Welcome to Bake Craft Sew Decorate  Julie!!   Be sure and pay a visit to my friends Mique who is sharing Craft ideas and Cindy who is sharing Sew ideas and Savannah and Mallory who have lots of great decorate ideas!!    They will have something new everyday too!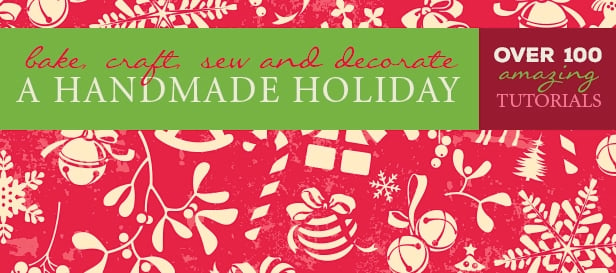 I love love love sweet potatoes! They're one of my flavor obsession, and yet somehow I've never had a sweet potato pie! Today we remedy that. Growing up I had a slew of Southern foods around thanks to my grandma. Black eyed peas for New Year's, Sunday supper with fried chicken mashed potatoes and white cornbread, banana pudding, and chicken & noodles. But I can't ever recall having this very Southern pie. Which now that I've seen that light, is really sad.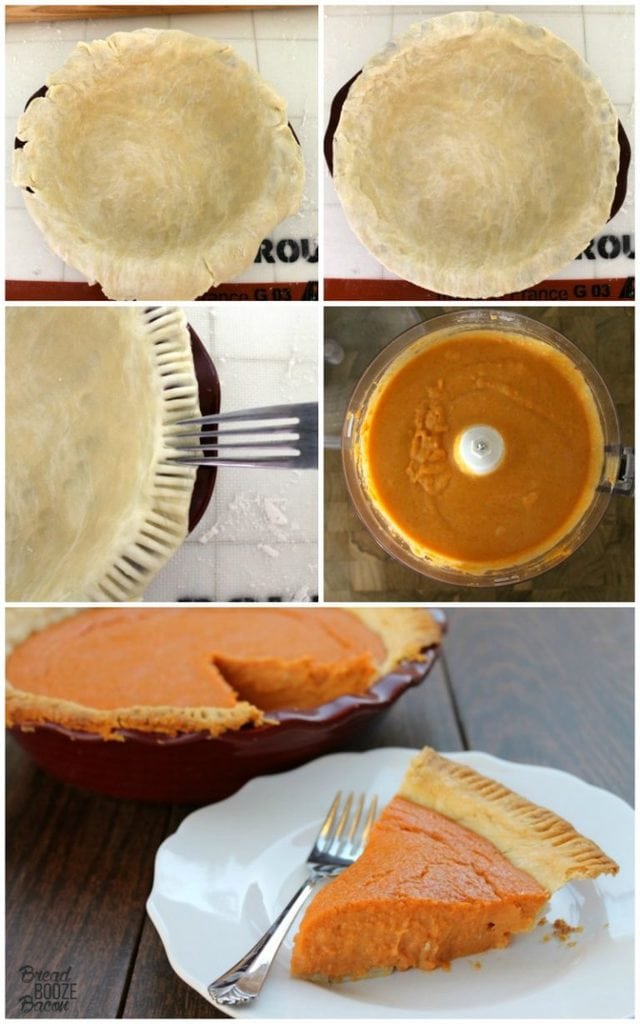 For those that think sweet potato pie is weird, stop it! Stop it right now. This pie is totally divine and you can even serve it to pumpkin pie lovers and I've got 10 bucks they'll happily cheat on their regular pie with mine. This sweet potato pie is creamy, rich, and full of the fall spices we know and love. While it does take a little extra effort because we're roasting the sweet potatoes at home instead of buying some canned filling, you'll know where the effort went when you take your first bite. Give your Thanksgiving guests the Pepsi challenge with their favorite pumpkin pie and this sweet potato pie. It doesn't matter which they choose. Everyone will be a winner!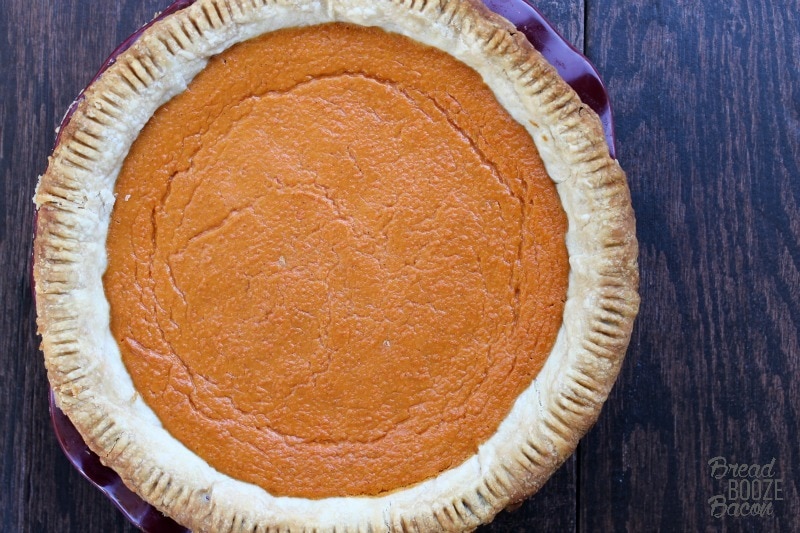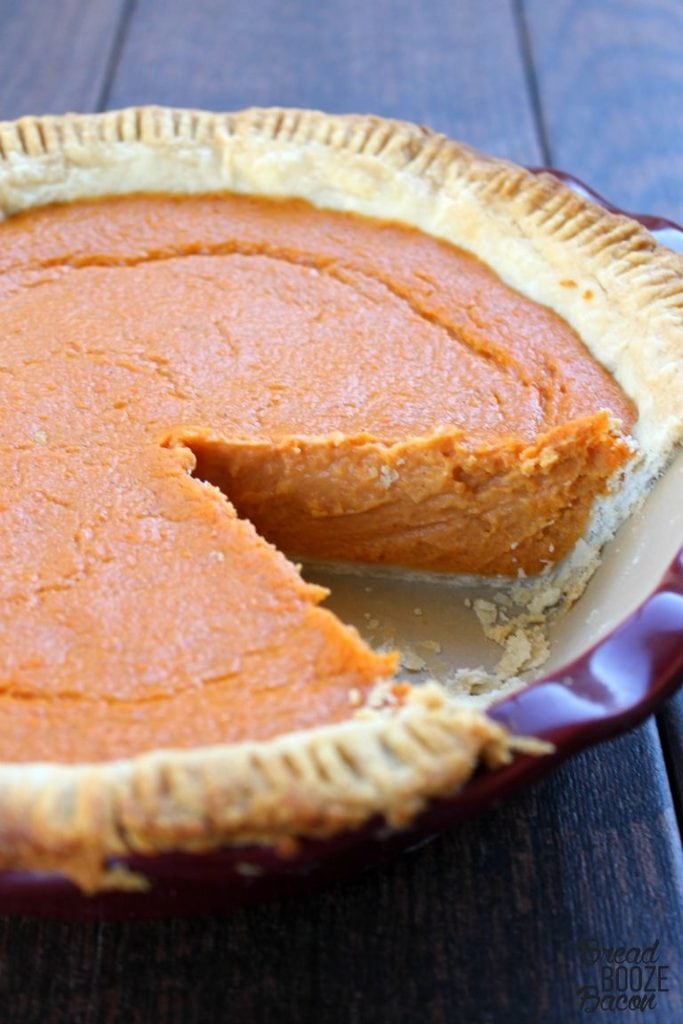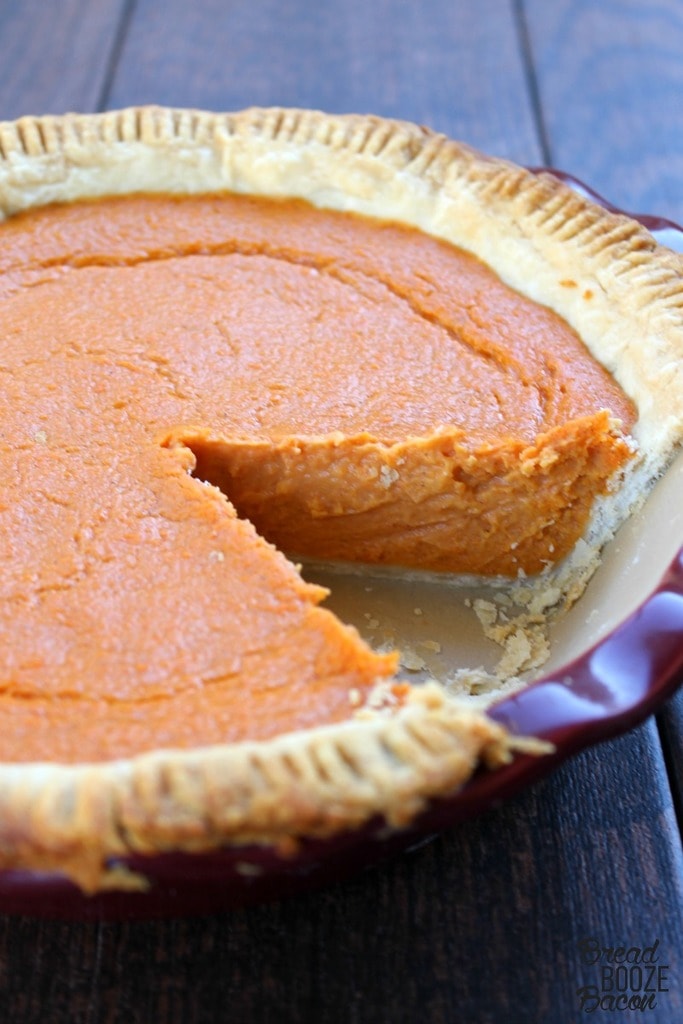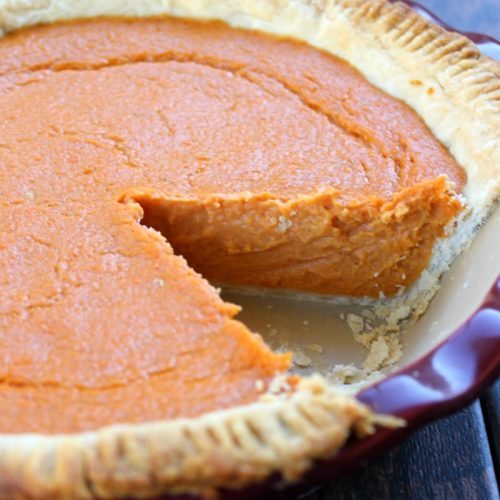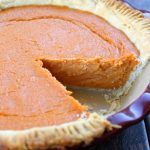 Print
Sweet Potato Pie
Sweet Potato Pie is a must make Southern classic, perfect for your holiday table!
Ingredients
1

deep dish 9-inch pie crust

homemade or store bought

2 to 3

red garnet sweet potatoes

about 1 to 1.5 pounds total, before cooking

1/2

cup

brown sugar

1/2

cup

maple syrup

1

egg

2

tablespoons

flour

1/2

teaspoon

ground cinnamon

1/2

teaspoon

ground ginger

1/4

teaspoon

salt

1/2

cup

buttermilk

1/2

cup

heavy cream
Instructions
Preheat oven to 425 degrees F. Line a baking sheet with foil.

Rinse the sweet potatoes and pierce each one all over with a fork. Place the potatoes on the prepared baking sheet and bake for 45 minutes to 1 hour, until the potatoes are fork tender inside. Remove from the oven and allow to rest until cool enough to handle.

While the potatoes cool, blind bake your pie crust. Place your pie crust into a 9-inch deep dish pie plate. trim off any excess dough from the edges of the plate. Embellished the edge of the crust as desired (pressing a for into the dough is a simple decoration that makes the pie feel a little more homemade). Measure a piece of foil (or parchment paper) large enough to fit over the pie dough. Carefully place the foil into the pie plate, over the dough, and press it down to cover the side and bottom of the dough. Pour 1 pound of dried beans (or pie weights) into the pie plate on top of the foil; spread them out evenly.

Bake the crust for 20 minutes, or until the edges of the crust are lightly golden and the side and bottom are set. Remove from the oven.

Reduce heat to 350 degrees F.

Cut each sweet potato in half and scoop out the center using a spoon. Discard the skins. Place the potato flesh into a food processor or blender (you could use a hand mixer and a regular mixing bow, bot the filling won't be as smooth). Add the brown sugar and maple syrup. Blend until combined and smooth. Add the egg and blend until incorporated.

In a small bowl, stir together the flour, cinnamon, ginger, and salt. Add to the sweet potato mixture and blend until combined. Pour in the buttermilk and cream and blend until smooth.

Pour the pie filling into the prepared crust. Give the pie plate a little shake (carefully!) to evenly distribute the filling.

Bake for 30 to 40 minutes, or until the outer edges or the filling are set and the middle is still slightly wobbly.

Remove from the oven and place the pie on a wire rack to cool completely. Once the pie is cooled to room temperature the center will have set up. If you rush things and cut the pie too early, the center may still be on the runny side.
Notes
You can also put this pie in the fridge, once it's cooled down enough to handle, to help set the center. Just let it come back up to room temperature (on the counter or pop it into a low heat oven) before serving.