Today I'm sharing my summer style, my go to outfit that I put on and it takes me wherever I need to go looking cute and comfortable!
This post contains affiliate links at no additional cost to you.  Please remember, I only share things I really, really like.
Things have warmed up here in Portland this last week and it finally feels like summer!  That's what happens when you live in the Pacific Northwest, it takes a while for summer to arrive.  This has been the summer of the skirt for me.  I think skirts and dresses are just as comfortable and cooler than shorts or pants.  My favorite, go to skirt, is a knit pencil skirt.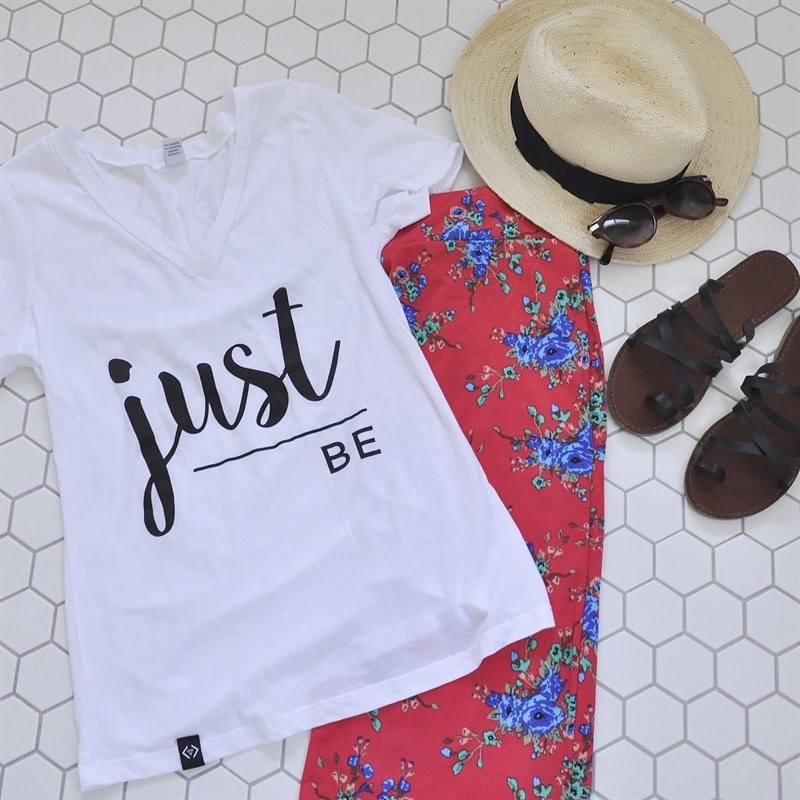 They've kind of taken over my closet!  The comfy knit waistband is just like on a pair of yoga pants and it doesn't get more comfy than that.   I love throwing on a graphic tee with the skirt and you've got my summer uniform!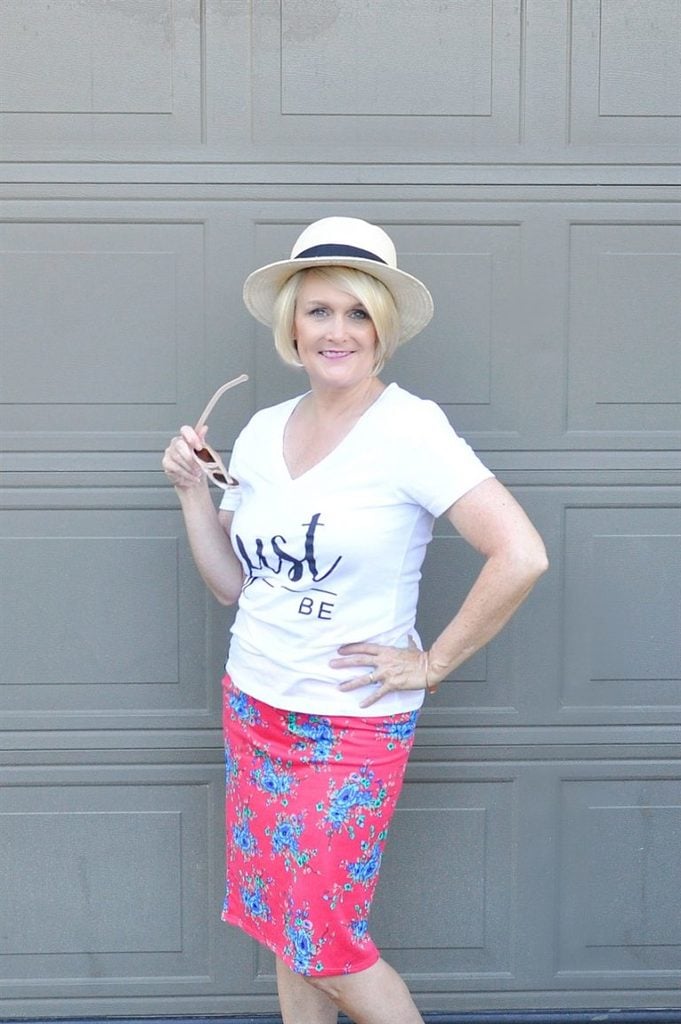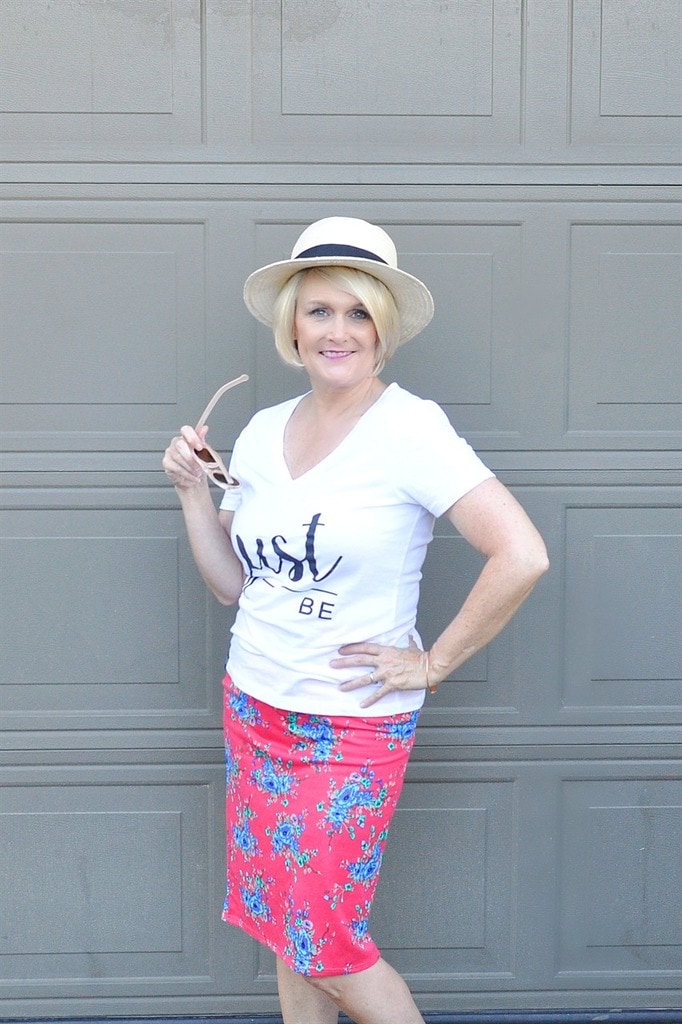 My neighbor asked me the other day why I am so dressed up all the time and I told her, it's just as easy to slip on a knit skirt as it is a pair of yoga or workout pants!  Don't get me wrong, I love a good pair of yoga  or exercise pants but I like to reserve mine for yoga or lounging around the house.  I'm going to get on my soapbox a little bit here ladies.  I know yoga pants are comfy but come on, let's take it up a notch.  We can still be comfy but not look like we've just come from the gym all the time (unless of course you have but that wouldn't be the case for me!)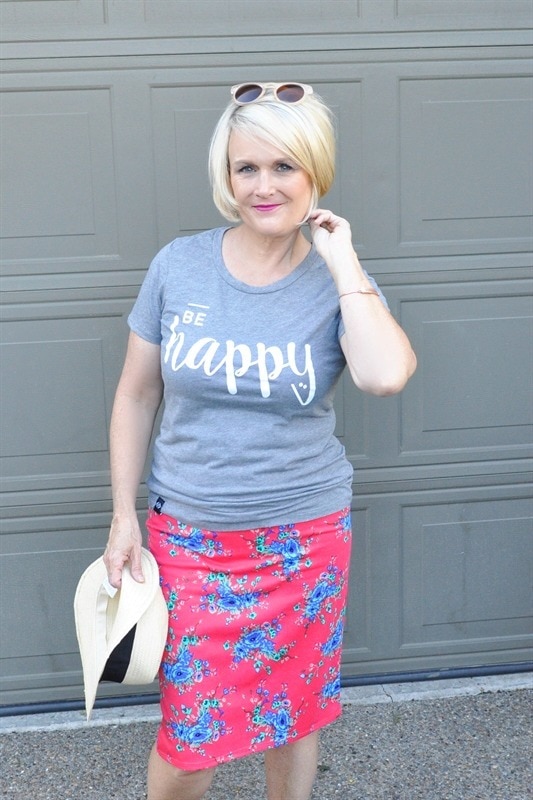 Cents of Style has a great collection of comfy knit pencil skirt and awesome graphic tees (Use the code Homebased1 to get a 25% discount, good until August 5th).  Their  graphic tee collection of fun and empowering sayings is great!  I picked out two of my favorites and they work great with my floral skirt. I just added a little sun hat, a pair of sandals and sunnies and I'm ready for the day and I look cute too!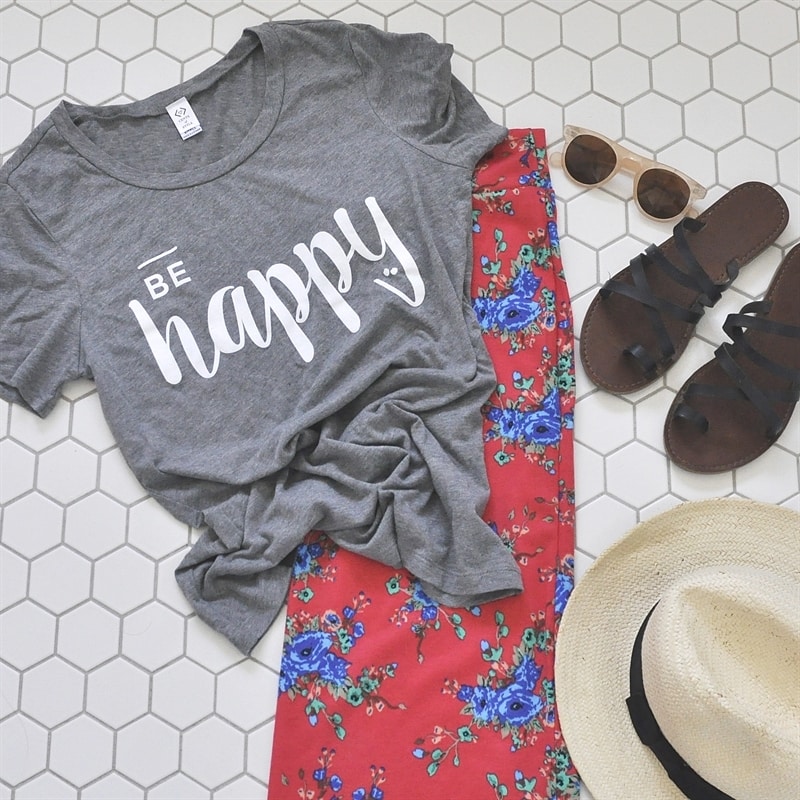 The great thing about this skirt is it can go from day to night with just a quick change of my top and shoes.  All I have to do is change from the graphic tee to this pretty scalloped edged top and I'm ready for date night or my Sunday best.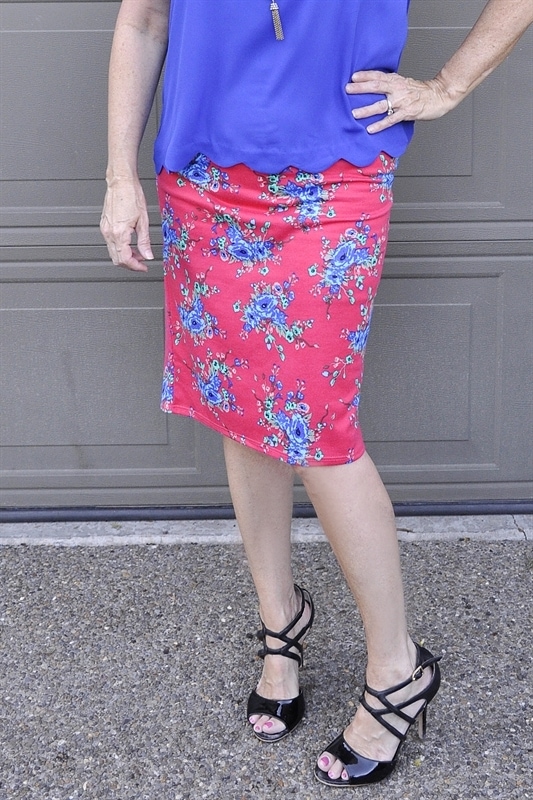 I just changed out my sandals for some heels to dress it up a bit and added a necklace. This pretty top comes in three different colors.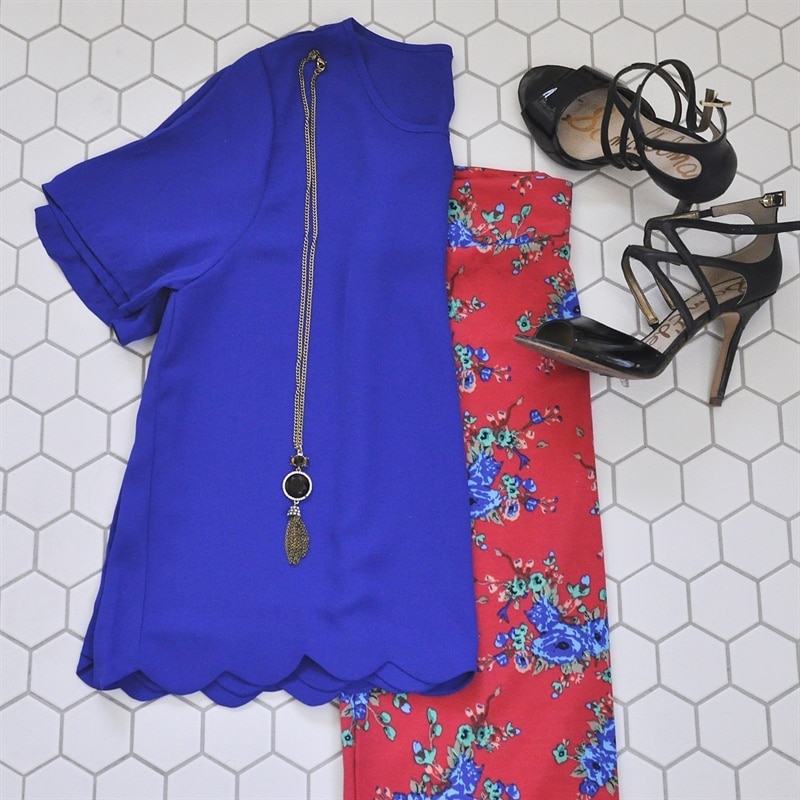 I can easily get three different looks with the one skirt and this is perfect for traveling too!  Throw in a pair of jeans and you've got a weekend wardrobe. The great thing about this look is that it totally transitions into fall or a cool summer evening by adding a cardigan or denim jacket to the mix.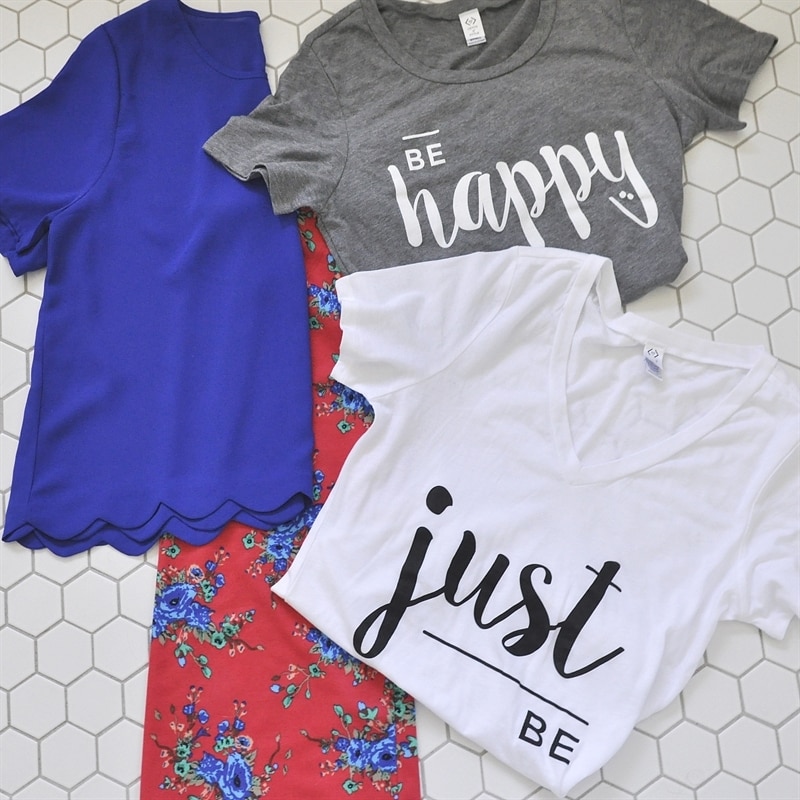 If I'm feeling super fancy I will also put on a bracelet and I love Cents of Style Tribe Bracelets.  I love jewelry that has a meaning and their Tribe Bracelets have all kinds of encouraging and empowering words and sayings on them.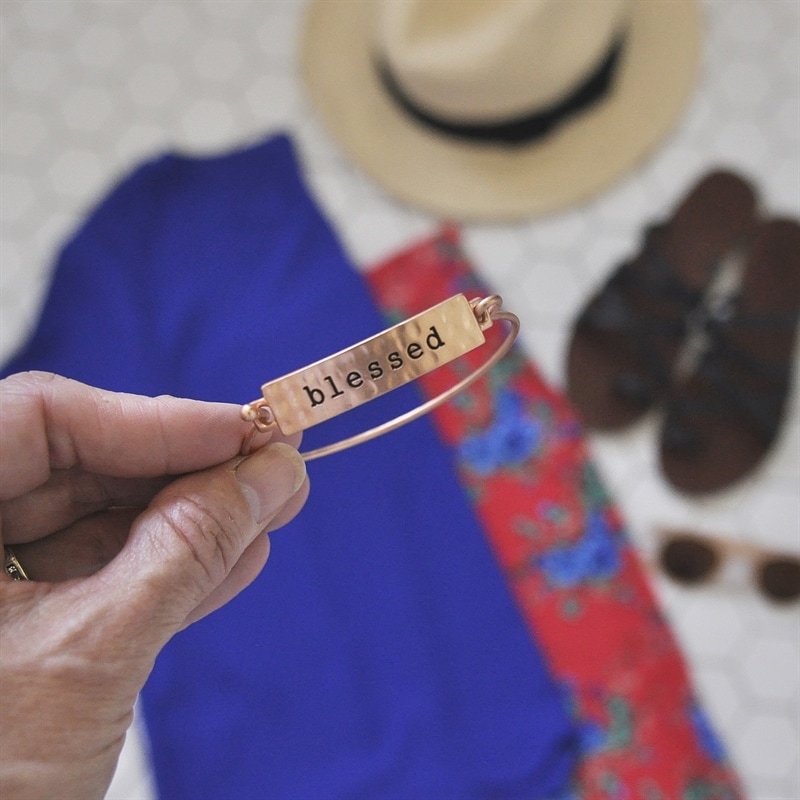 Head on over to the Cents of Style site and check out all the cute, fun things.  You can get a 25% discount off the Classy Clutter Collection  until August 5th by using the code Homebased1.