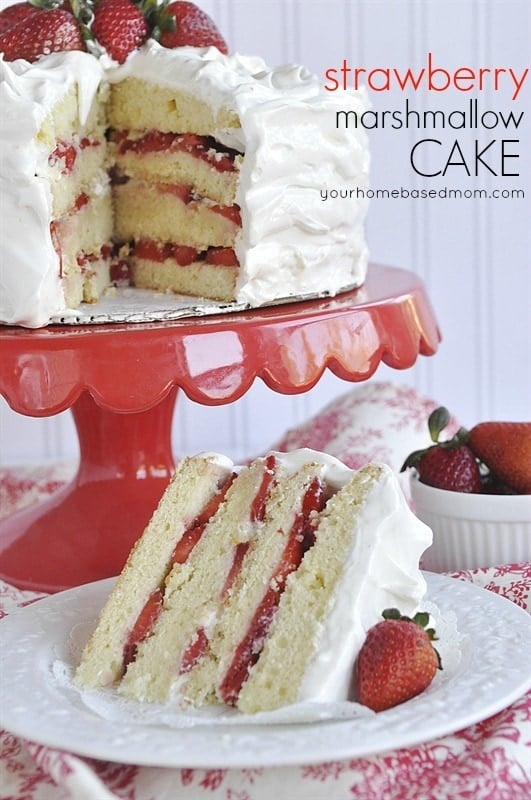 This Strawberry Marshmallow Cake tastes as good as it looks!
I love strawberries! We have a strawberry patch in our backyard and I am lucky to live in the NW where we have yummy berries every summer. Usually in the winter the strawberries are big, white and lack flavor but lately my local grocery store has had some beautiful red berries so I couldn't resist. What would Valentine's Day be without strawberries!
My first thoughts when it comes to strawberries always go to strawberry shortcake. Today's recipe is a strawberry shortcake like cake. The cake is not as dense and dry as shortbread can be but it is a denser cake.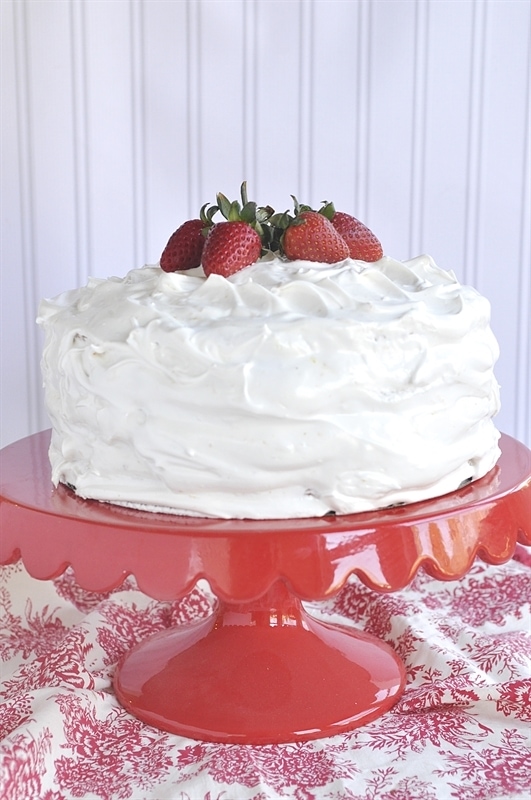 The best part this cake is pretty AND delicious!

I tried my hand at 7 minute frosting for the first time. It actually turned out to be about 10 minute frosting but it was totally worth. I think the frosting may be the best part of this cake (aside from the strawberries) The name of this recipe is a bit of a misnomer as there is no marshmallow in the recipe but the light, fluffy, sweet frosting is marshmallow like and looks like fluffy marshmallow. And it is made out of the same ingredient as marshmallow – sugar!
The cake can easily be made a day or so ahead of time and then wrapped up airtight. The frosted assembled cake is really best the day it is put together so if you can make it the day you are going to serve it.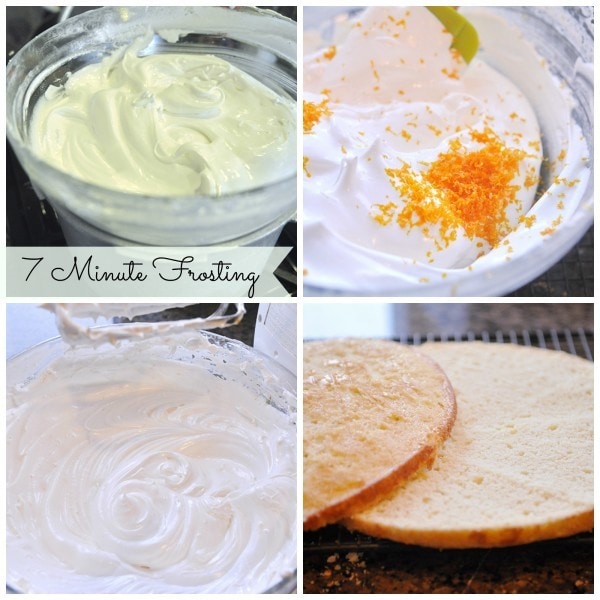 7 Minute Frosting is made on the stove top – I have never made a cooked frosting before. Find a large bowl that will sit inside of a pot. You will put an inch or so of water into the bottom of the pot and the bowl should not touch the water in the pot. Heat the water to a simmer and add your ingredients into the bowl and start beating it with a hand mixer. The directions says it takes about 7 minutes to get a nice light and fluffy frosting but I found it took a bit longer. Your arm gets a bit of a work out but it is totally worth it. Besides you need to burn off some of those calories. You want the frosting to form nice soft peaks.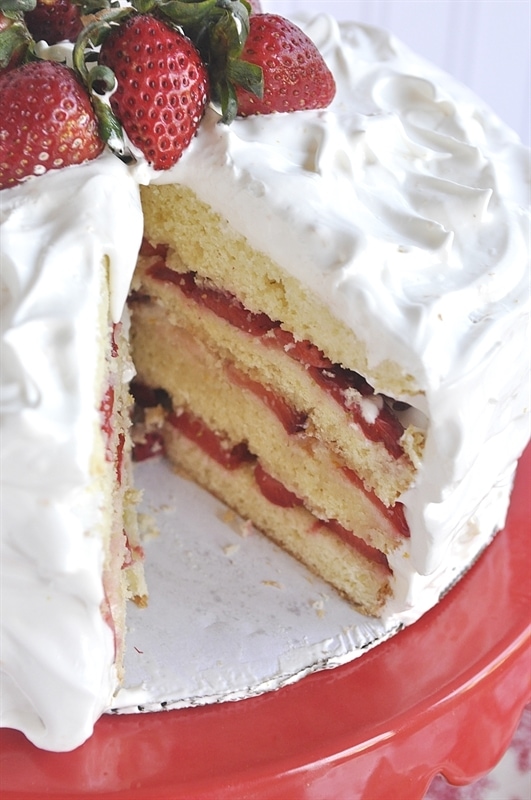 Bake your cake in two 9 inch round cake pans and after they are cool slice each layer in half so you have four layers of cake. Place one layer on your plate or cake stand and cover with 1/3 of your sliced strawberries.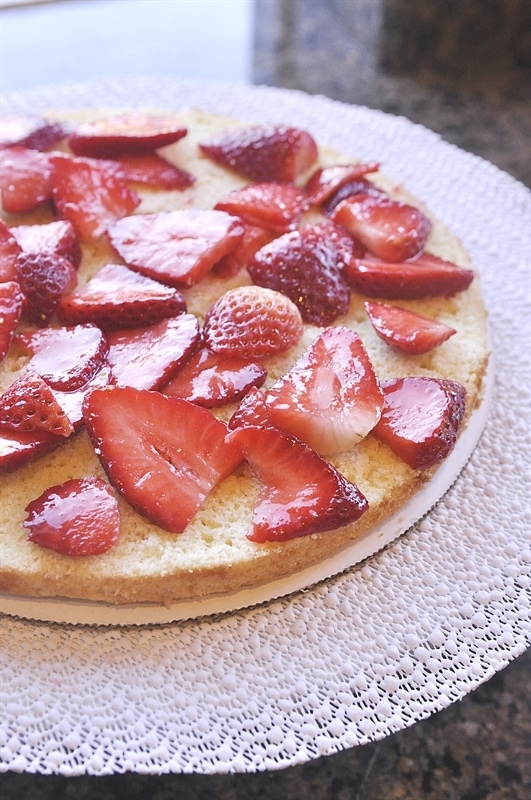 Add a cake layer and cover with another 1/3 of strawberries and one cup of the frosting mixture.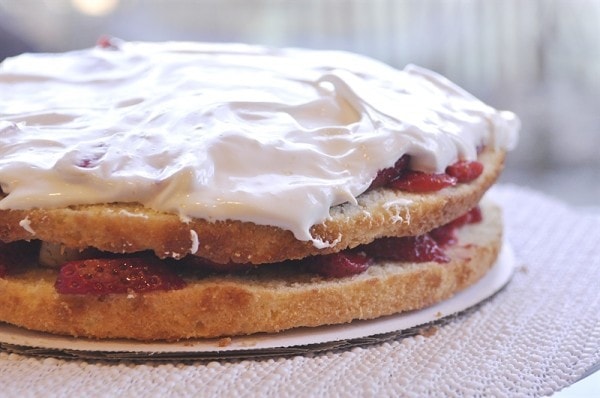 Then add the next layer and repeat with 1/3 of strawberries.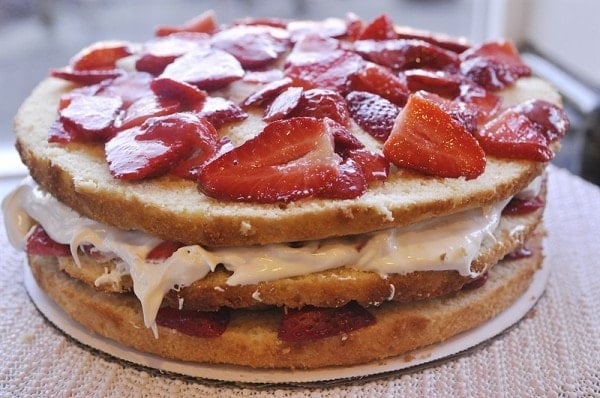 Then use the rest of the frosting to frost the top and sides of the cake.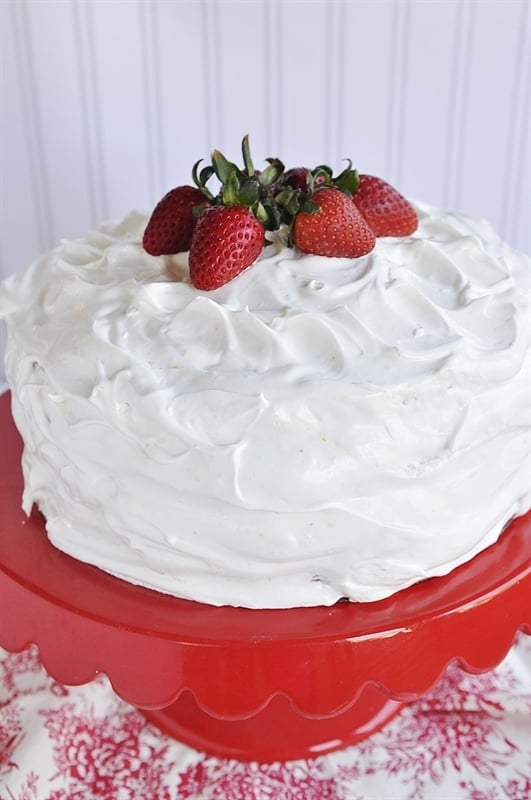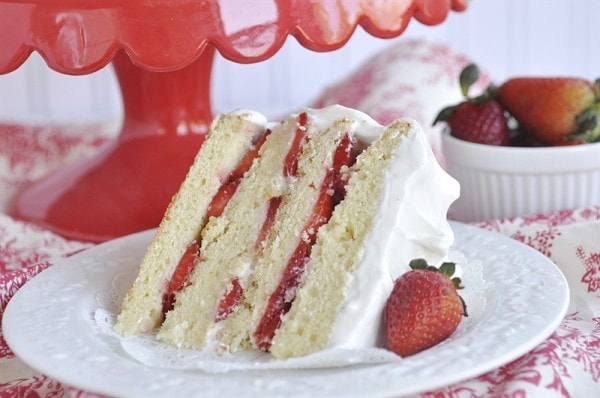 The final step is to slice yourself off a nice big piece of cake and enjoy!
I often get asked how I manage not to weigh a ton with all of the goodies I make. Well, here is my answer.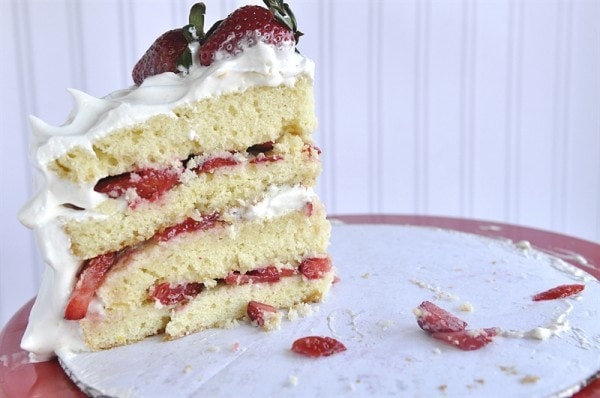 I give most of it away! Won't you be my neighbor!?
For some other strawberry goodness try these:
Strawberry Pizza – Strawberry Cream Pie – Strawberry Sour Cream Cake
Strawberry Marshmallow Cake
The delightful cake is full of layers of marshmallow and strawberries. Perfectly light and fluffy.
Ingredients
CAKE
1/2 C milk
1/2 C fresh squeezed orange juice
3 C cake flour
2 tsp baking powder
1/8 tsp salt
1 C butter softened
2 C sugar
4 eggs
2 tsp vanilla extract
7 – FROSTING
1 1/4 C plus 1 tablespoon sugar divided
1/3 C water
3 egg whites
1/4 tsp cream of tartar
2 tsp grated orange peel
1 tsp vanilla extract
1 lb. strawberries about 4 cups, sliced
whole strawberries halved or whole for garnish
Instructions
Heat oven to 350°F. Spray 2 (9×2-inch) round baking pans with cooking spray. Line bottom of pans with parchment paper; spray paper.

Combine milk and orange juice in small bowl.

Whisk flour, baking powder and salt in medium bowl.

Mix butter and 2 cups sugar in large bowl at medium speed 2 minutes or until smooth and creamy.

Add eggs one at a time, beating well after each addition.

Add in 2 teaspoons vanilla.

Beating slowly, beat in flour mixture in 3 parts alternately with orange juice mixture, beginning and ending with flour mixture. Divide batter between pans.

Bake for 30- 35 minutes or until toothpick inserted in center comes out clean. Cool in pans on wire rack 15 minutes.

Remove cakes from pan and remove parchment. Turn cakes top-side up; cool completely.

(Cake can be made 1 day ahead. Cover and store at room temperature.)

Beat 1 1/4 cups of the sugar, water, egg whites and cream of tartar in large heatproof bowl at high speed 1 minute or until egg whites are foamy and opaque. Place bowl over saucepan of barely simmering water (bowl should not touch water); beat at high speed 7 minutes or until soft peaks form

Remove bowl from saucepan. Add orange peel and 1 teaspoon vanilla; beat at high speed 2 minutes or until slightly cool and thickened.

Combine sliced strawberries and remaining 1 tablespoon sugar in large bowl; let stand 15 minutes.

Slice cake layers in half horizontally. Spoon one-third of the strawberry mixture, including juice, over bottom layer; top with second layer and one-third strawberry mixture. Spread 1 cup of the frosting over strawberry mixture; top with third layer and remaining strawberry mixture. Top with fourth layer.

Spread remaining frosting over sides and top of cake, swirling to decorate.

Garnish with strawberries. Store in refrigerator.
Nutrition Facts:
Calories: 429kcal (21%) Carbohydrates: 61g (20%) Protein: 7g (14%) Fat: 18g (28%) Saturated Fat: 10g (63%) Cholesterol: 96mg (32%) Sodium: 199mg (9%) Potassium: 238mg (7%) Fiber: 2g (8%) Sugar: 37g (41%) Vitamin A: 594IU (12%) Vitamin C: 27mg (33%) Calcium: 65mg (7%) Iron: 1mg (6%)
* Disclaimer: All nutrition information are estimates only. Read full disclosure here.