This Strawberry Lemon Curd Cheesecake is the perfect way to use those fresh summer strawberries.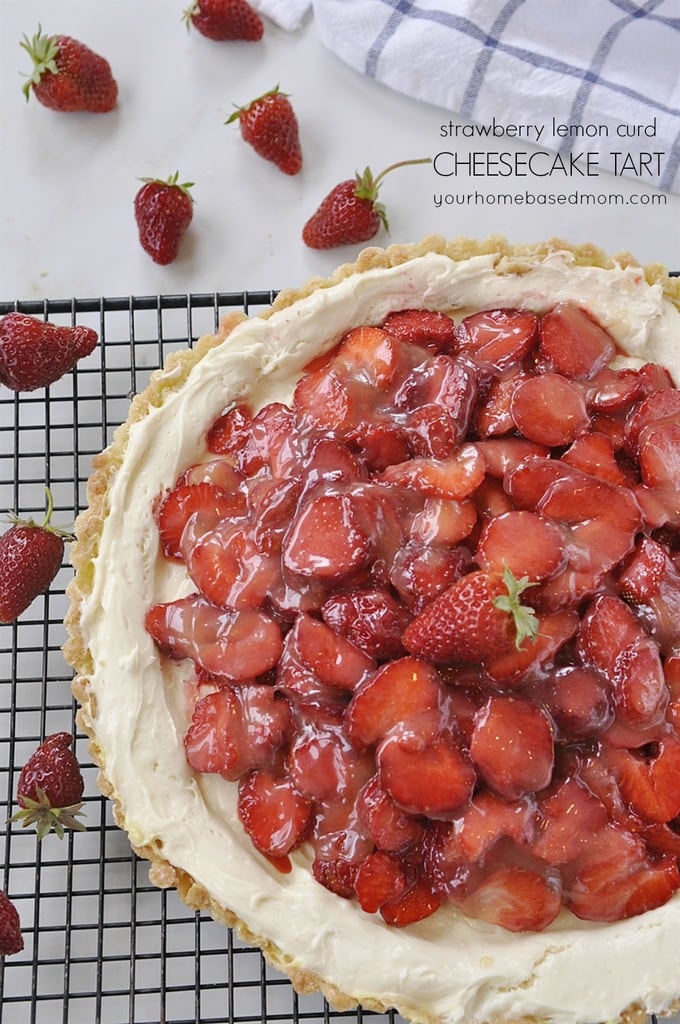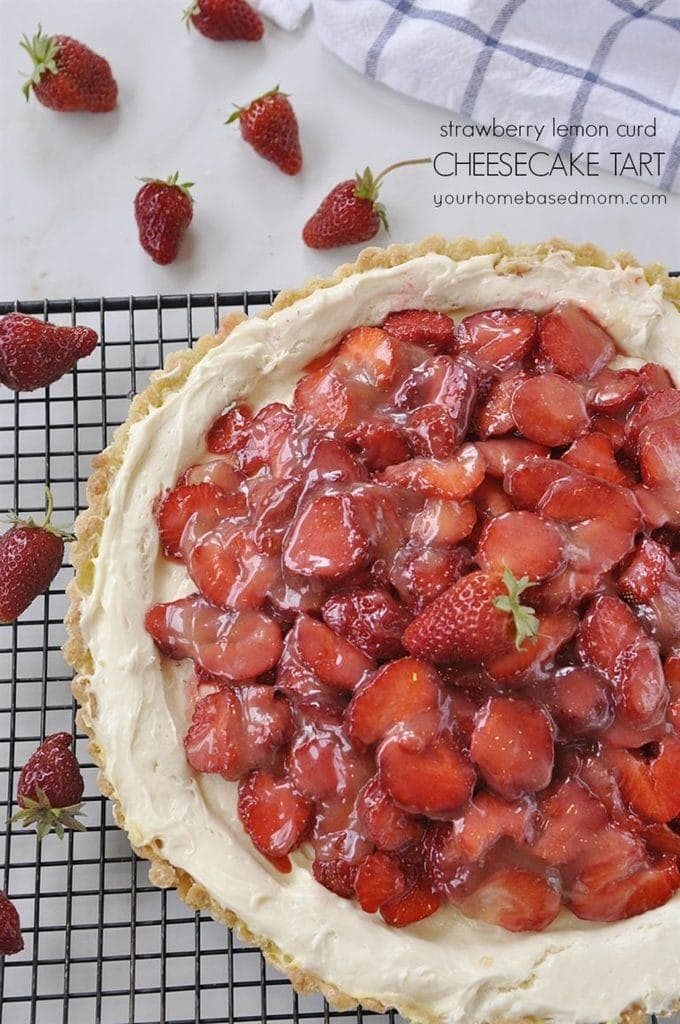 Our favorite way to start our weekend off is with a trip to one of our local Farmer's Markets.  This weekend we headed downtown to the Portland Farmer's Market and the Oregon strawberries were out in force!  I picked up a pint of fresh berries and along with the berries that are ripe in my own garden I made this delicious lemon curd cheesecake with strawberry lemon curd topping!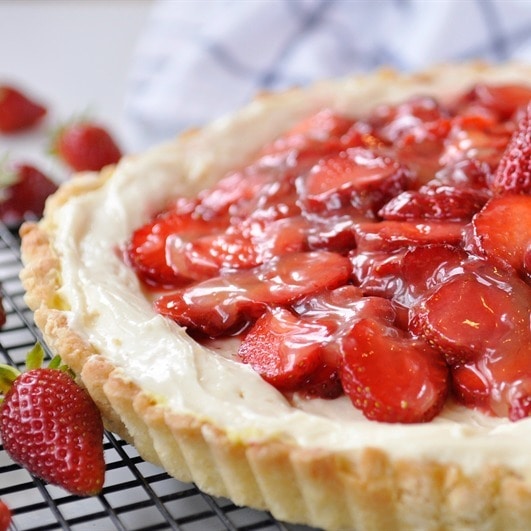 I love the combination of strawberry and lemon.  Lemon is great with just about anything, but in the summer, strawberries and lemon curd are the top of my list.  And the combination of cream cheese, whipping cream and lemon curd is perfection.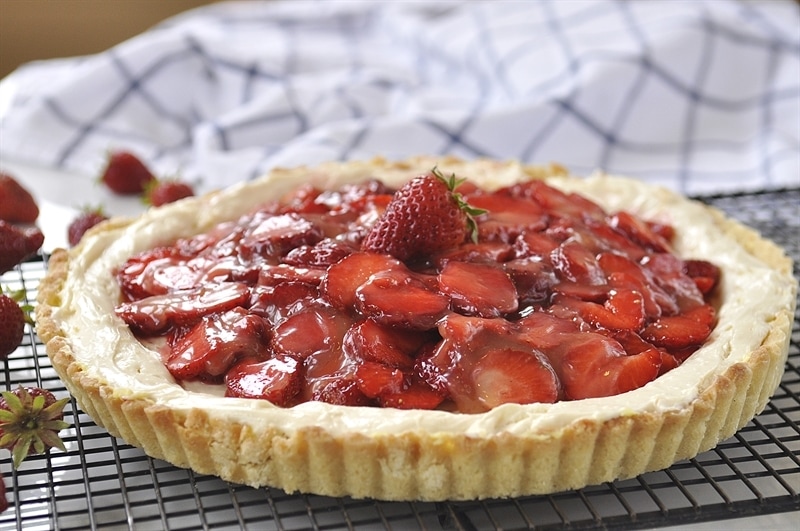 The crust is almond flavored butter crust that is baked and then filled with the cream cheese mixture.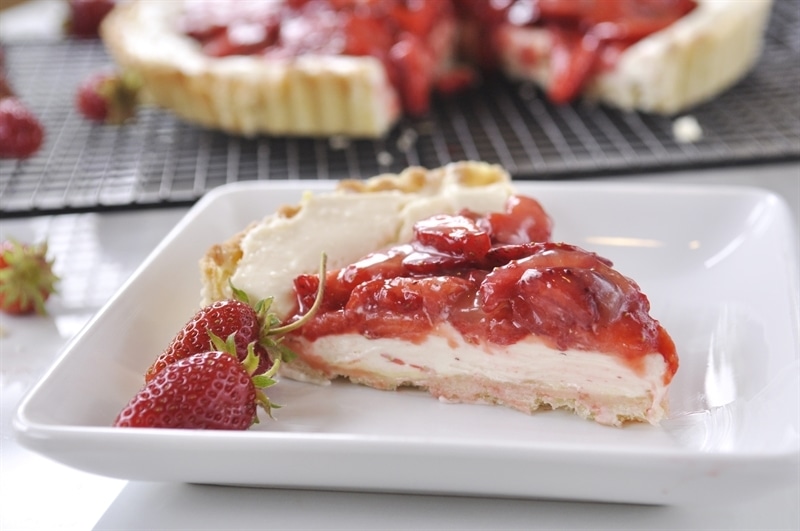 The lemon curd cheese cream mixture is spread into the crust and then topped with sliced berries.  I have these two amazing strawberry tools I use anytime I am working with strawberries.  If you love strawberries and you don't own these two things – you must!  They are pretty much life changing when it comes to hulling and slicing strawberries.  The strawberry huller and the strawberry slicer are amazing!!  Seriously, get yourself one.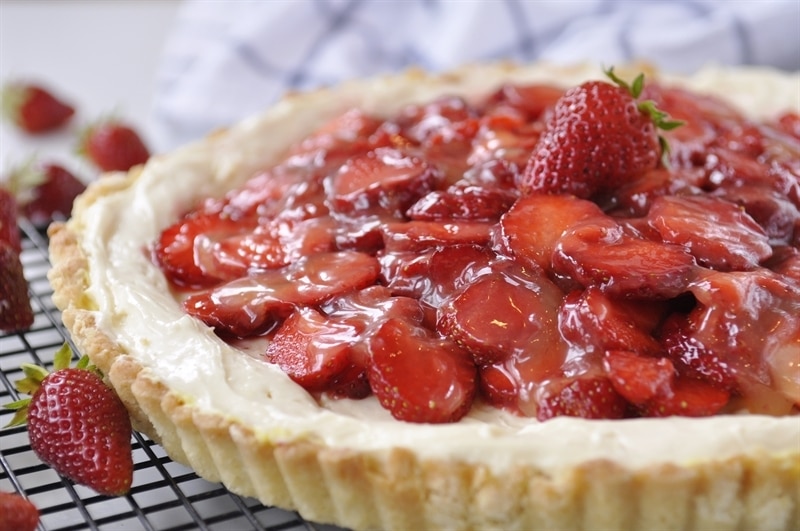 After I sliced the strawberries and topped the tart with them I warmed up the remaining lemon curd and drizzled it over the top.  More lemon goodness.  You could also use strawberry jam if you prefer.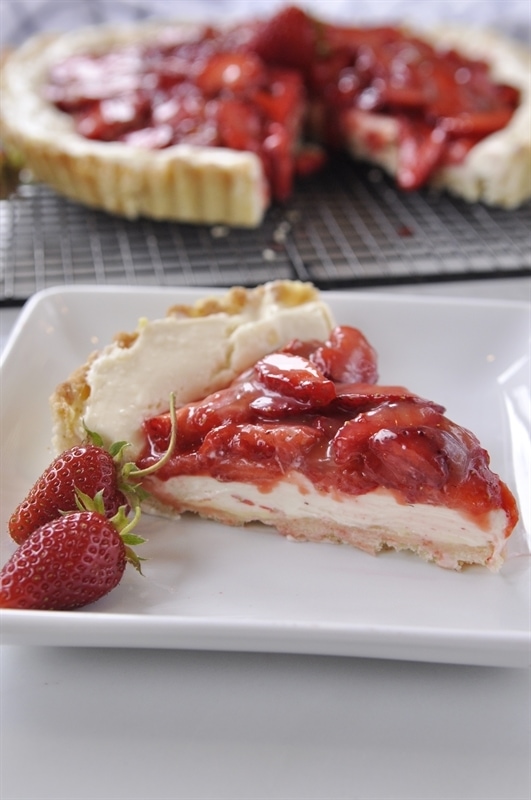 After it is chilled and set up all that is left to do is, grab a fork!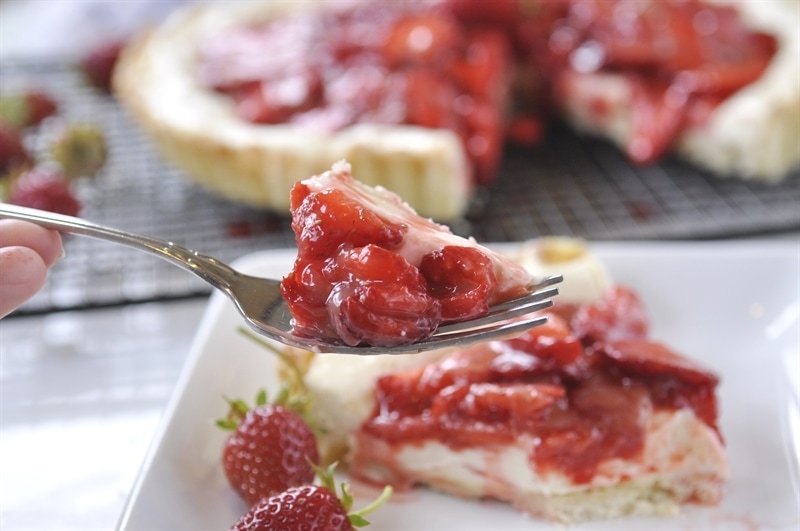 Some of my other favorite strawberry treats:
Lemon Curd Cheesecake Recipe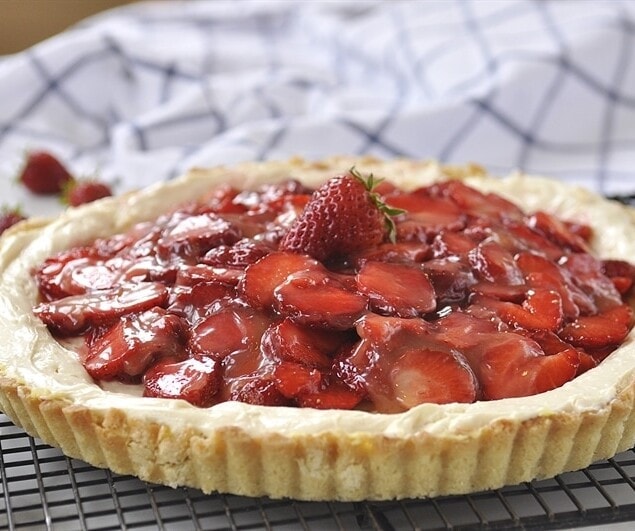 Lemon Curd Cheesecake with Strawberries
Ingredients
Crust
1/2 cup butter softened
1/3 cup granulated sugar
1 1/4 cups all purpose flour
2 Tbsp milk
1/2 tsp almond extract
Filling
8 oz. cream cheese softened
1/2 cup lemon curd
2 Tbsp whipping cream
2 Tbsp powdered sugar
1 tsp vanilla
Glaze
1/3 C lemon curd melted
2 cups sliced strawberries
Instructions
Preheat oven to 400 degrees F.

Combine butter and sugar in a bowl, beat until light and fluffy.

Add in flour, milk, and extract. Mix until dough comes together and leaves side of bowl.

Press dough into bottom of 10 inch tart pan. Prick with fork

Bake for 15 minutes or until lightly golden brown.

Cool completely
Filling
Combine cream cheese and sugar. Beat until smooth.

Add in whipping cream, lemon curd and vanilla.

Spread mixture into cooled crust.

Chill for 1 hour.

Add slice strawberries

Brush or drizzle on melted lemon curd.

Chill until ready to serve.