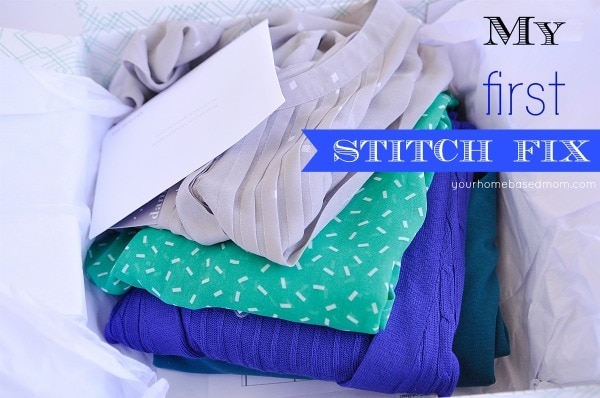 I have always loved clothes.
I learned to sew in the 4th grade so that I could have more clothes. When I was in college I worked at a small little clothing boutique in Temple City, CA. Let's just say I never brought home much of a pay check.
My mom began shopping at that same boutique when I was a baby and maybe even before. When we moved from California to Wisconsin when I was four The Band Box (name of the boutique) would send her a box of clothes every so often. I remember how exciting it was when that box arrived. I would sit on my mom's bed and watch her try on all the different clothes. She would keep what she liked and send the rest back. Eloise, the owner of the Band Box knew my mom's size and what she liked.
When I first heard of Stitch Fix it reminded me so much of my mom and her box of clothes that came in the mail.
What is Stitch Fix?
Stitch Fix is a monthly subscription service that provides a personal stylist and an opportunity to get hand-selected women's fashion shipped free, straight to your door. You can then try them on in the privacy of your own home -risk-free. Keep what you love and send the rest back. A shipping bag is included, addressed and postage paid. You have three days to return it.  You can sign up to have a box come every month or just pick and choose the dates you want.  No contract, no obligation.
You're own personal stylist for FREE!
I was pretty excited when my first Stitch Fix box showed up at my door.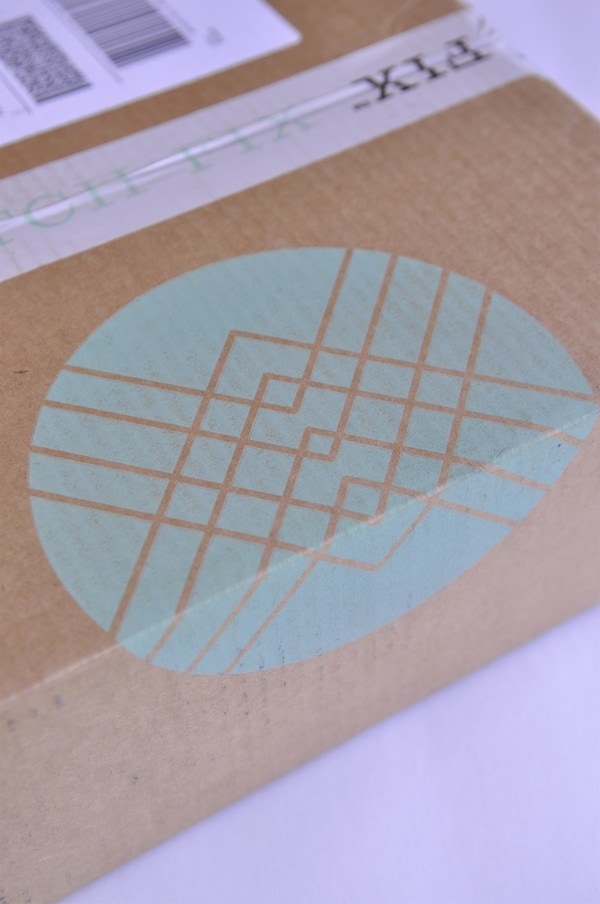 All you have to do is go onto the Stitch Fix site and fill out a style profile where you fill out a very detailed questionnaire based on your style preferences,lifestyle, body type, sizes, weight, height etc. They then assign you to a personal stylist who selects 5 pieces of clothing (including accessories if you want) that they feel matches your profile.
You pay a $20.00 stylist fee up front but that is credited towards anything you keep so it is pretty risk free.  The process is pretty simple.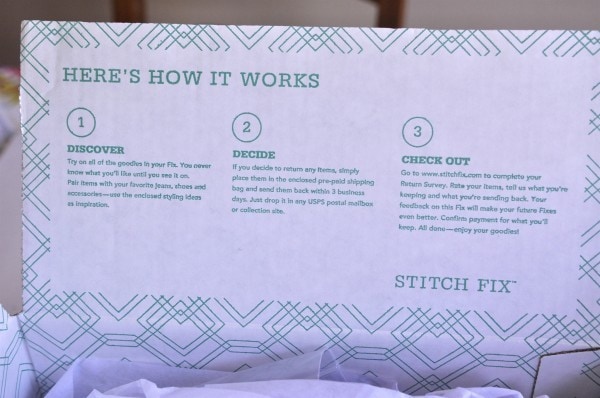 Opening your Stitch Fix box is a little like Christmas morning.  You don't know what's inside .  It is so exciting.
Here is what was in my first box: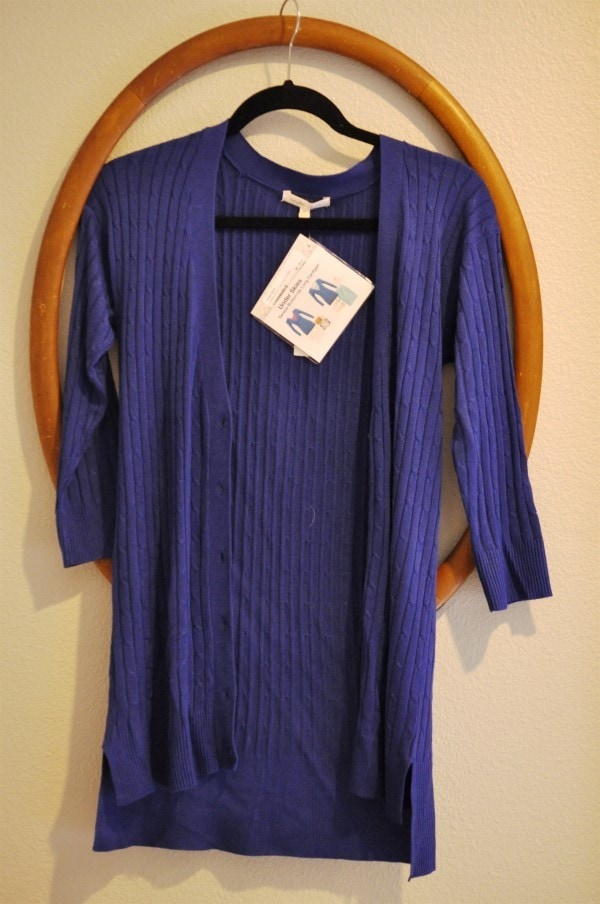 I loved the color of this Under Skies Serene Button Up Long Cardigan.  I didn't keep it because I already had a sweater this color in my closet.
Price:$48.00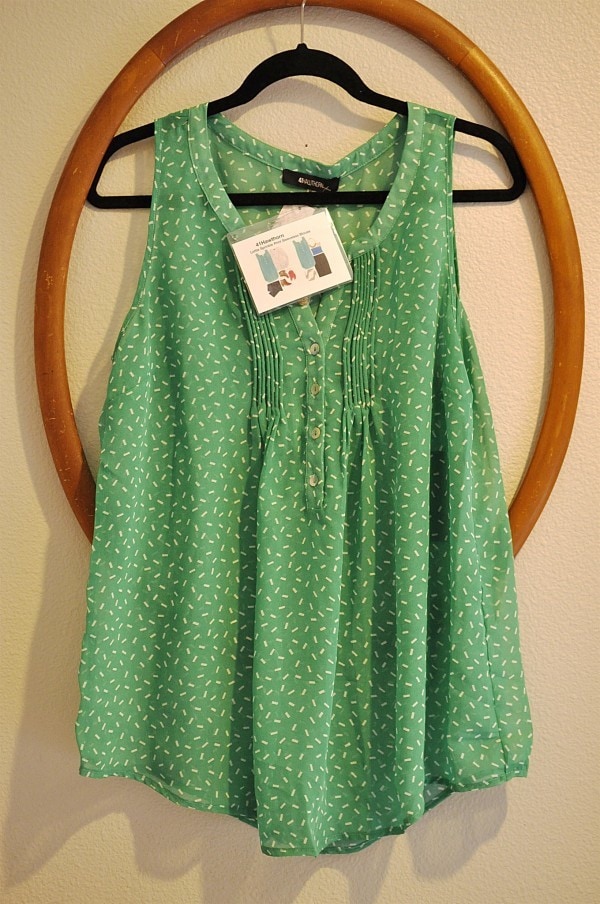 Next up was this fun 41Hawthorn Lottie Sprinkle Print Sleeveless Blouse. Price: $68.00
Again I had something similar in my closet so I didn't keep it but it was fun to see that they were doing a good job in selecting things I liked!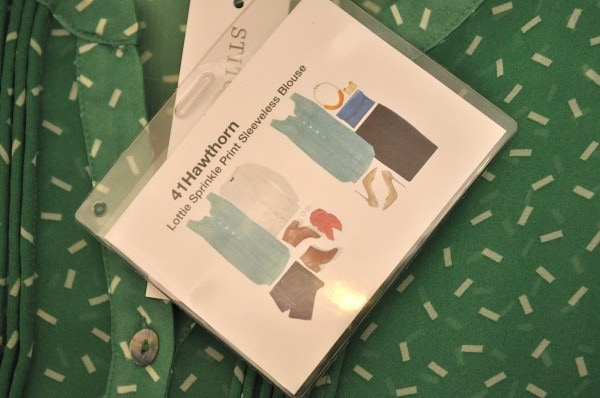 One of the best parts of Stitch Fix is this little card that is attached to each item showing you different ways to wear and accessorize the item.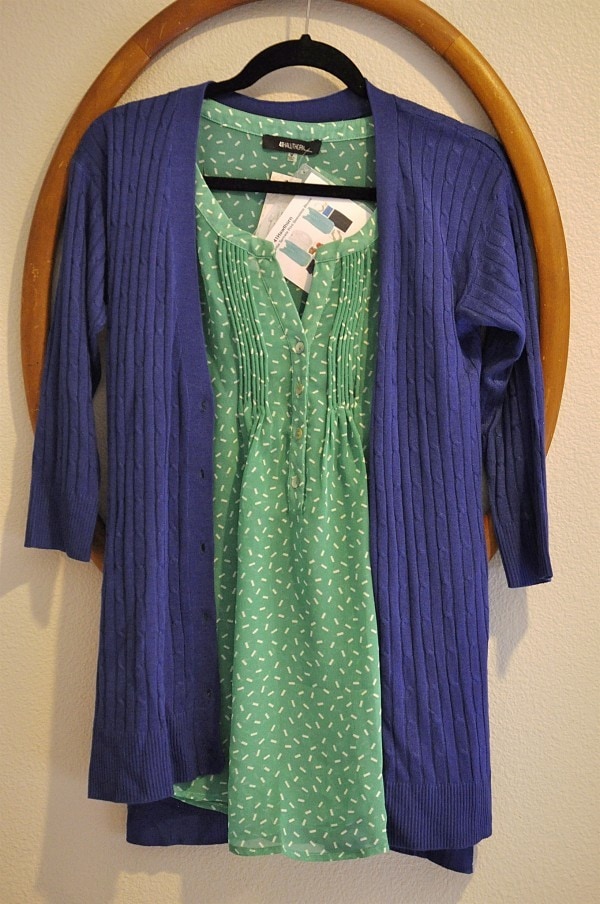 Seeing the royal blue clutch that they suggested in the photo gave me the idea of combining the blue sweater with the green shirt.  Love it!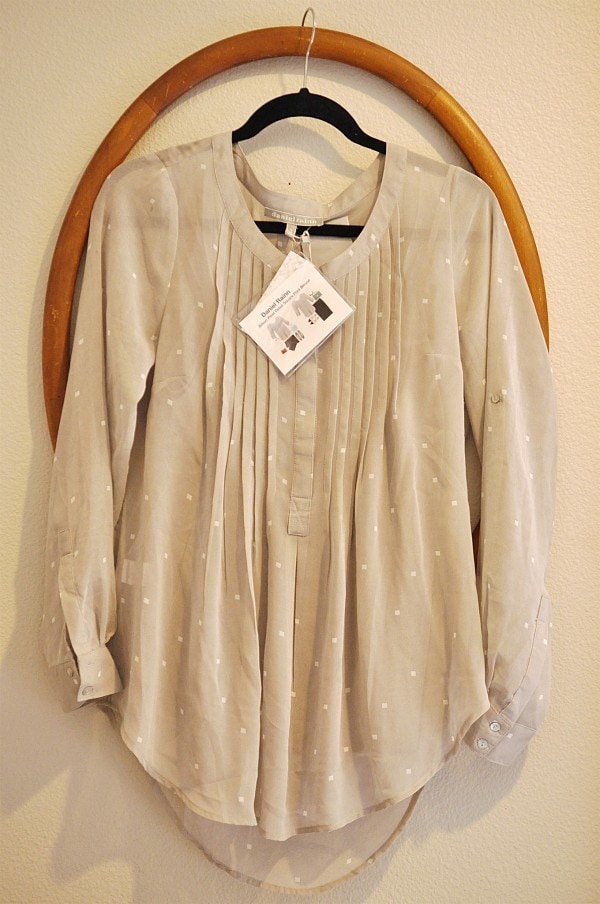 This Daniel Rainn Bilson Pleat Detail Square Print Blouse was also quite lovely.  Price:  $68.00
I have a pretty small frame and am short so even though I loved the blouse it was too long and I felt like it overwhelmed me a bit so I did not keep it.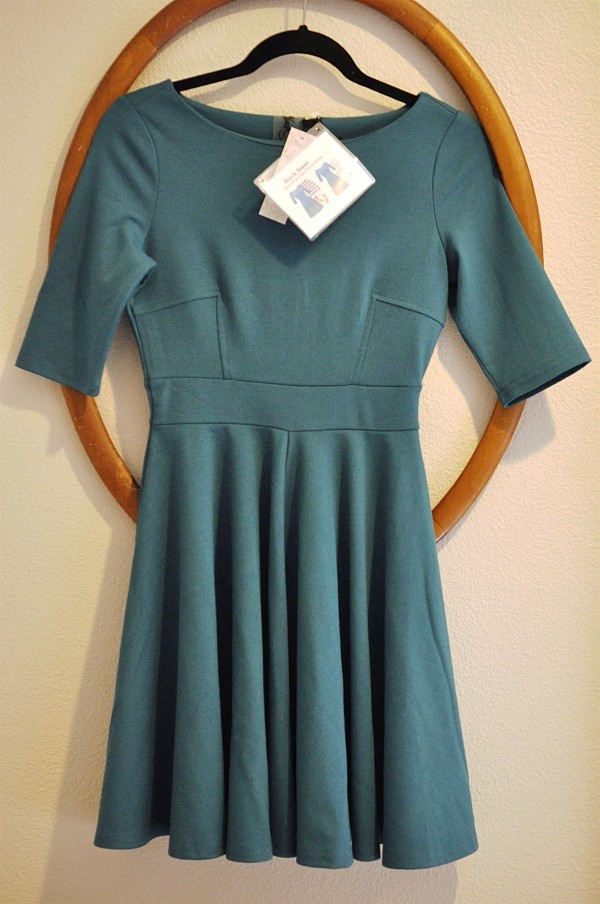 I loved the color, style and fabric of this  Black Swan Olive Fit & Flare Ponte Dress.   Price  $78.o0
I also loved the sleeve length,  unfortunately it was a bit short on me so I returned it too.  If this had been a bit longer I definitely would have kept it.
After you receive your items and return the things you don't want you have the opportunity to fill out an online survey that gives your personal stylist feedback to what you liked and didn't like so they can better serve you next time. If there is a special event or trip you need clothes for they can help you with that too!
What I did keep: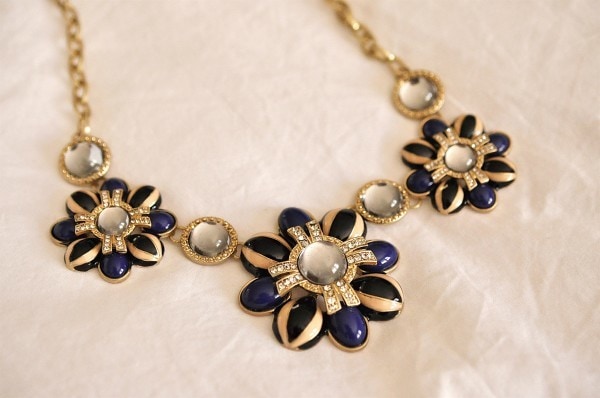 I asked to have some accessories included in my box and this lovely 41Hawthorn Flower Stripes & Clear Gems Bib Necklace was included in my box.  Price $42.00  I loved it and it is now mine!
So although I only kept the necklace from my first box I am excited to try it again. From what I have learned from others who have used Stitch Fix, many times they don't keep much from the first box but with the feedback given on the survey it gets better and better with future boxes.   Since I had already paid my $20.00 stylist fee I was only charged $22.00 more dollars for my beautiful necklace.  The quality was excellent and I love it!
If you decided to keep everything in your box you are given a 25% discount.

If I had kept all of my items it would have been a total of $213.00 which is an average of $42.60 an item.  I was very impressed with the quality of all of the items.
If you have any questions just ask away in the comment section.

I was not compensated for this post but if you decide to use Stitch Fix and use the link I have provided I am given credit towards my next order.
Enjoy!
Leigh Anne
You can also visit me on Facebook, Pinterest, Twitter,  Instagram
and Google+
For a list of where I Link Up each week go here.
Get my Weekly Menu Plan for FREE!
Receive my FREE "What's for Dinner?" Meal Planning Course, a copy of my FREE ebook that includes my most popular recipes and my FREE weekly Meal Plan.