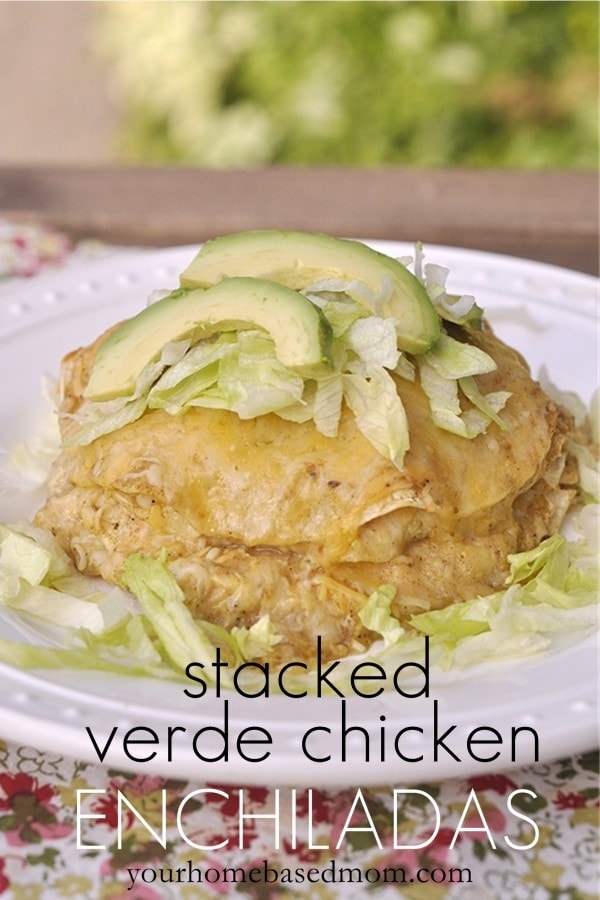 True Confessions: Some nights I just don't feel like cooking!
Yes, even food bloggers get tired of cooking. Life gets busy, I don't plan very well and people get hungry at my house!
I always tell my family, it's really not the cooking that I mind, it's the decision making, deciding what we are going to eat. Do you ever feel that way, too?
Today I am excited to share a recipe and a product with you that helps solve all of my problems mentioned above. I love to provide meals that are homemade and use fresh ingredients. I usually make everything from scratch. Recently, Kraft sent me some of their new Kraft Recipe Makers to try out and I was glad that I did. When I served the first Recipe Maker at dinner the other night, I commented, "This is good." My daughter, Tessa, then replied, "This is WAY good!"
Each Recipe Maker comes with two sauces and three recipes along with a list of fresh ingredients to use with the sauces. I loved the idea because it gave me the convenience of getting dinner together quickly while still using fresh, real food! The flavors are designed to layer in your dish and compliment each other. The sauces provide a nice depth of flavor to the dish that gives it that homemade taste. Having the delicious sauces ready to go saves you so much time!
My college student, Tessa, loved the concept and idea and could see how it would simplify cooking for her at college. I also loved the fact that there were three recipe suggestions but I could still put my own twist on it, too. That's what I decided to do.
There are 9 different Recipe Makers and honestly, they all sounded so good I had a hard time deciding which one to use first. I finally decided on the Verde Chicken Enchilada. Here's Kraft's take on how to prepare it:
I love that the thinking and decision-making is kept to a minimum. There are just nights when I don't want to have to do either– think, or decide! I just want to feed my family quickly and with good food.

On the back of the box is a recipe and there are two more in the box to choose from as well.
Along with the two sauces that came in the box, all I needed to add were chicken, tortillas and cheese. Generally things I always have on hand.
Instead of following the directions exactly as they are on the box, I decided to tweak it just a bit and do a Stacked Verde Chicken Enchilada instead of rolling the enchiladas the traditional way.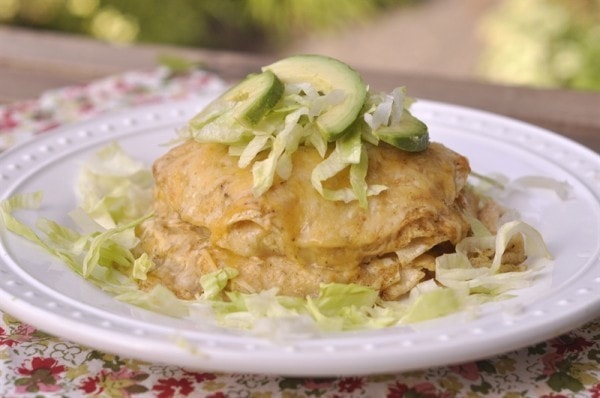 The prep was easy and quick. I cooked my chicken and shredded it and then added in the Creamy Ranchero Filling Sauce.

I then used the second sauce – the Tomatillo Finishing Sauce to layer between the tortillas. I put a little in the bottom of the pan and then spread a thin layer on each tortilla as I layered them.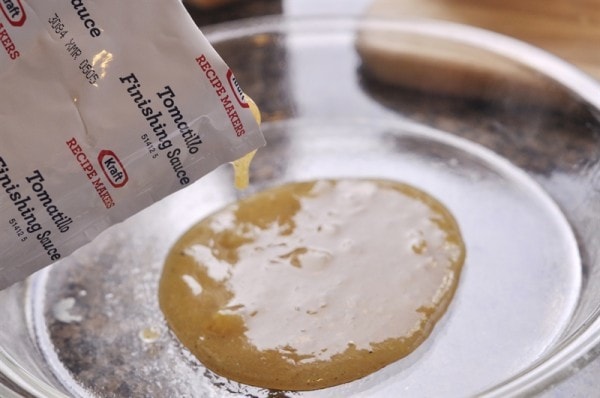 I would use a tortilla, a layer of tomatillo sauce, a layer of chicken, a layer of cheese and then repeat!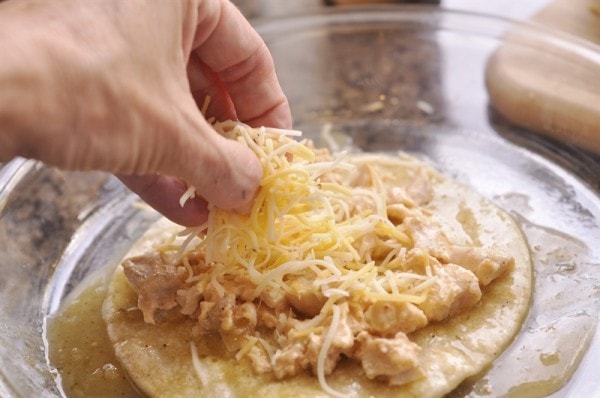 I used 5 tortillas in all.
I made two enchilada stacks, which fed four people. I used one packet of finishing sauce on each stack. I finished off the top with more sauce and cheese.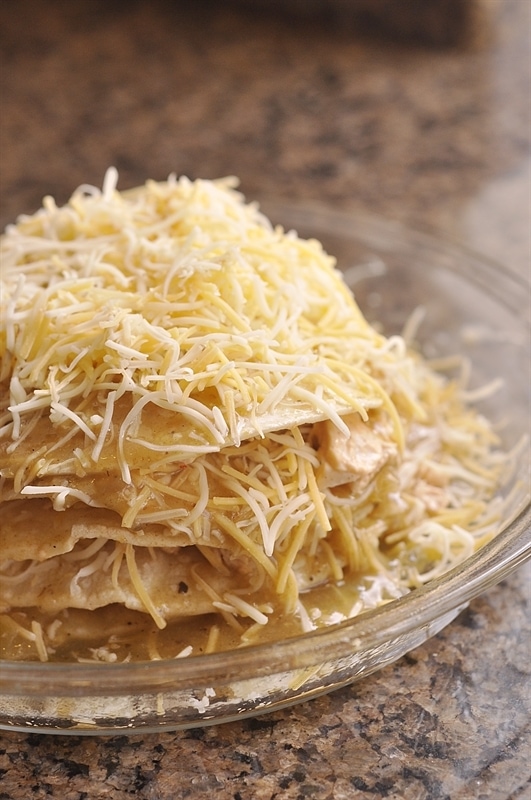 Then I popped it in the oven for about 20 minutes until it was heated through and the cheese was nice and melted.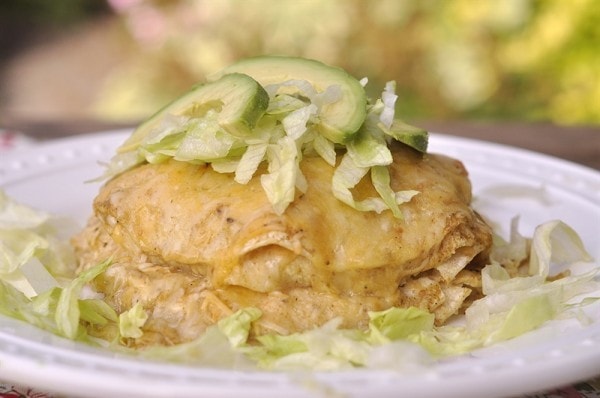 I love a little lettuce with my enchiladas so I topped it with some shredded lettuce and a few slices of avocado. Yum! Like I mentioned above, my family loved it! I am totally sold on the Recipe Maker concept and can't wait to try more of them. I've got a few more recipes to share with you in the coming weeks using other Recipe Makers. Stay tuned!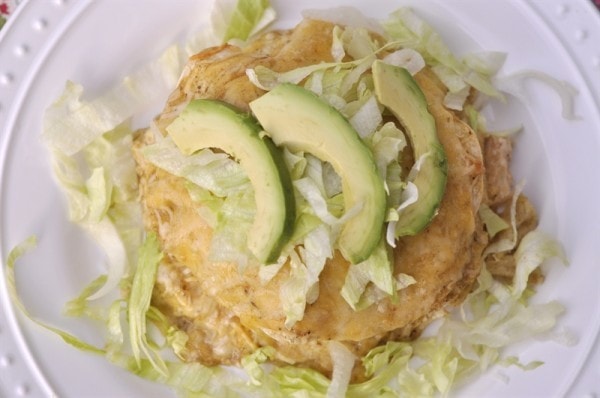 Enjoy!
Leigh Anne
You can also visit me on Facebook, Pinterest, Twitter, Instagram
and Google+
For a list of where I Link Up each week go here.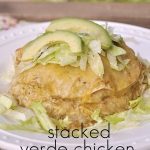 Print
Stacked Verde Chicken Enchiladas
Ingredients
1

box of Kraft Recipe Makers Verde Chicken Enchilada

10

corn tortillas

2

C

shredded Mexican

2

C

shredded cooked chicken
Instructions
Spray the bottom of two 9 inch glass pie pans

Mix chicken with Creamy Ranchero Filling Sauce

Pour a little of the Tomatillo Finishing Sauce into the bottom of each pie pan

Layer tortillas with chicken mixture, cheese and sauce. Use a thin layer of Tomatillo Finishing Sauce on each tortilla then layer with chicken, cheese and repeat.

Layer 5 tortillas high.

Top with sauce and cheese

Bake at 350 for 20 minutes or until heated through and cheese is melted.