This ooey gooey cake was the perfect addition to my recent baby shower.  Everyone loved it!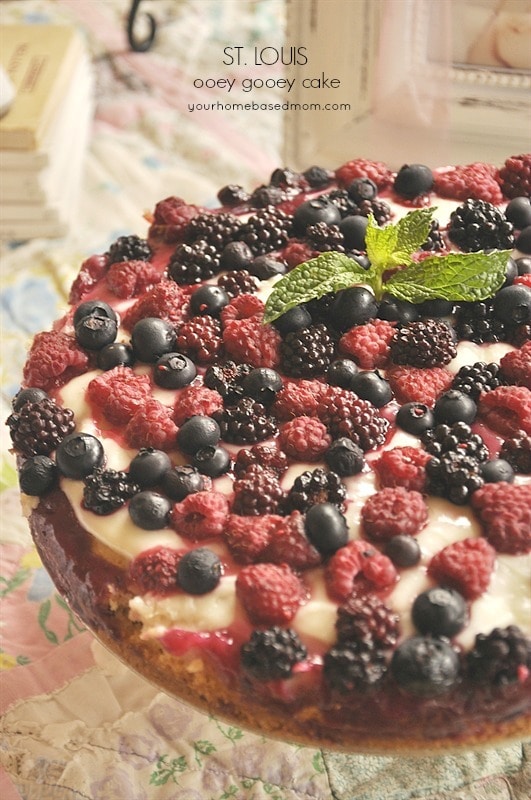 Earlier this month I hosted a baby shower for a new mom from church. Every woman who has a baby deserves a party.

The menu included:
Fruit salsa and cinnamon chips
Pita chips and hummus
Sun dried tomato pesto palmiers (recipe coming)
and today's recipe St. Louie Ooey Gooey Cake.
For more details on the party and all the pretty decorations head on over to Your Homebased Parties.  But here is a little peek….
The cake was a new recipe for me.  My friend Sara had emailed it to me telling me it was one of their summertime favorites.  Sara is a great cook so I felt pretty safe in trying it for the first time at a party.
One of my flaws is (and I have many), is that I am a skimmer.  I skim when I read.  That is probably one of the reasons I read so fast and have read 3 books already this week.  Check out my Facebook page to see what they were.
But one problem is I often skim recipes too.  I have gotten in trouble doing this numerous times and you would think I learned my lesson, but not so.
I skimmed through the recipe Sara sent me for the St. Louie Ooey Gooey Cake.  I had all the ingredients and loved that it used the fresh berries I had bought at the farmer's market.  I decided to make it just a few hours before the party.    I neglected to read the part of the recipe that said the cake needed to be refrigerated and then brought back to room temperature before serving.  As I pulled the cake out of the oven 45 minutes before the party started that was a bit of a problem.
I stuck the cake into the freezer and hoped for the best.
Well I have to tell you, sometimes skimming isn't so bad.  The cake was still a bit warm when I served it and it was delicious!
The St. Louie Ooey Gooey Cake originated when a baker mistakenly doubled the amount of butter specified in a coffee cake recipe. The resulting rich confection now is sold at virtually every St. Louis area bakery.
I used a combination of raspberries, marionberries and blueberries on top.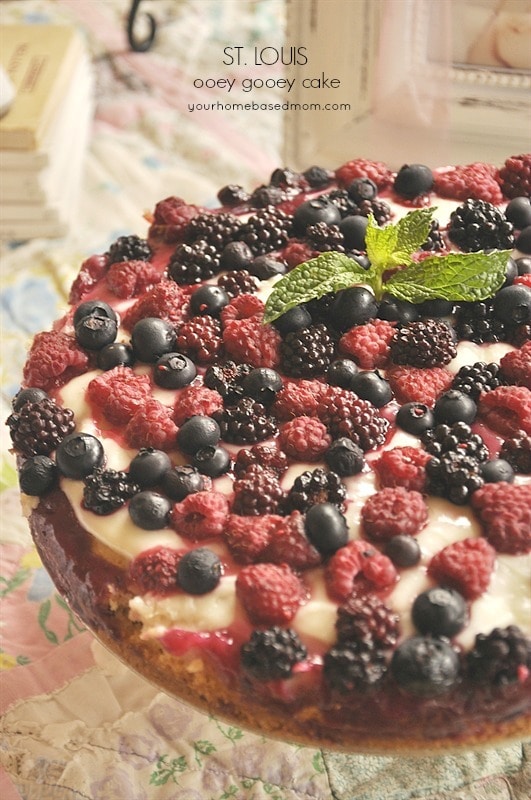 St. Louie Ooey Gooey Cake
Ingredients
Butter & flour a 9" spring form pan

5

Tbsp

melted butter

1/2

C

sugar

1

egg

2/3

C

sour cream

1

C

flour

1/2

tsp

baking powder

1/2

tsp

baking soda
Cream Cheese Mixture:
4

oz.

cream cheese

1 1/2

C

powdered sugar

2

C

fresh berries
Instructions
Combine melted butter, sugar, egg and beat until pale and thickened

Add:sour cream

Sift together: flour, baking powder, baking soda

Add flour mixture to above sugar/sour cream mixture and beat until smooth

Bake cake at 350 degrees for about 20 minutes or until cake is golden brown and springs back when pressed gently

While baking cream 4 oz. of softened cream cheese with 1 1/2 C powdered sugar

Spread cream cheese mixture over cake and arrange 2 cups berries on top

Return cake to oven and bake for 25-30 minutes until edges are set and the center still jiggles when pan is gently shaken

Remove from oven and cool completely

Loosen from pan by running a knife around the rim of the pan and then push out

Chill cake in the refrigerator and bring the cake to room temperature before serving
Stay Updated!
Need more recipes and creative ideas? Sign up and get a FREE copy of my ebook! Do you think your friends would love this too? Please share my blog with them. Thanks!