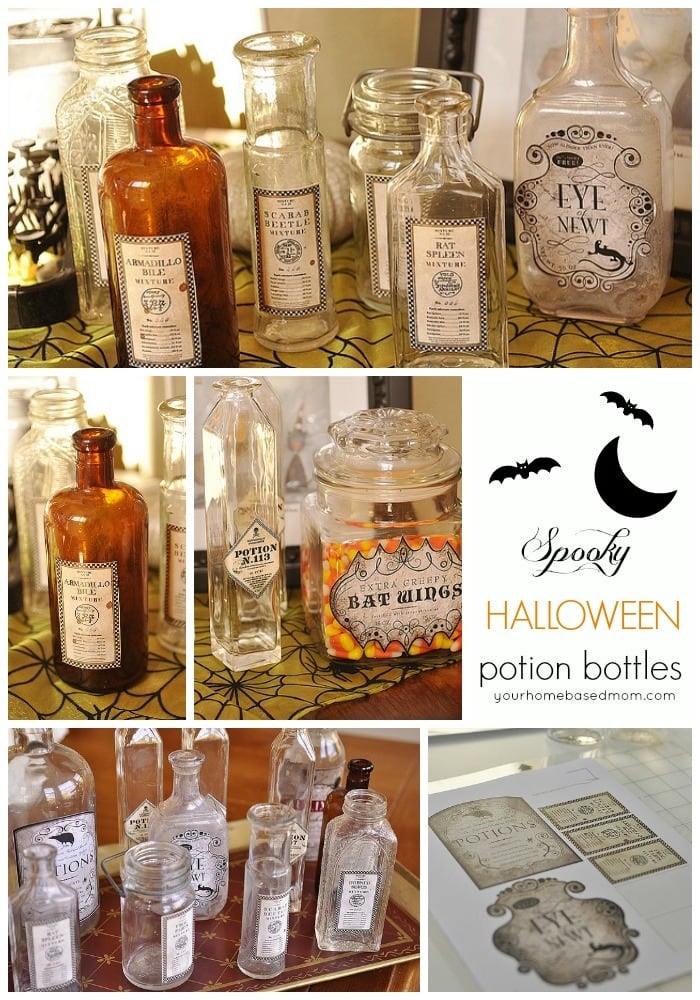 I've been busy decking the halls for Halloween this week and I can't wait to show you what I've been up to.
I've made a few trips to Goodwill and found a few treasures this week including some great old apothecary style jars.  As soon as I saw them I knew what I wanted to do with them.  I recently became the proud owner of a new Silhouette Cameo and it has been so fun!
Silhouette sent me some of their great new printable gold and silver foil as well as white sticker paper.  I decided to create some  labels for my new "old"  Halloween Potion Bottles.


I purchased the label designs from the Silhouette store and then using the Print and Cut feature of the Silhouette I printed them onto the sticker paper using my printer.


Then fed them through the Silhouette Cameo which cut them out! I was a little nervous about figuring all this out but Silhouette has lots of great video tutorials.
I also found several helpful ones on YouTube.


Then all I had to do was add the labels to the bottles.


I filled some of them with candy and the others I will be filling with colored waters as well as some herbs and spices.


How fun and easy!

For more fun ideas on how to use the new printable foil and labels check out the Silhouette Blog.
Here's a sneak peek at a few others things I've been doing with the Cameo – this time I used vinyl.


I'll be back on Monday with more photos and more details of my Halloween decor.
Stay Updated!
Need more recipes and creative ideas? Sign up and get a FREE copy of my ebook! Do you think your friends would love this too? Please share my blog with them. Thanks!