This time of year I am always on the lookout for a fun new food gift idea for the holidays.  If you are like we are there are lots of people on your holiday list that you'd like to give just a little token of holiday cheer to without spending a lot of money.
Last week I was standing in line at the local craft store and was checking out all the fun little treats they like to tempt you with while you wait in line when I saw a S'more on a Stick.  I instantly fell in love and decided I could make my own version at home.  And so I did!  And you can to!!

Of course you will need some graham crackers, marshmallows and chocolate. I also threw in some crushed up candy cane, chocolate jimmies and minature marshmallows for fun!
Break your graham crackers into squares and cut your large marshmallows in half.


I like to use the Wilton Melts because they melt easily and smoothly in the microwave. I used both white and milk chocolate. After your chocolate is melted you need to glue your marshmallows down to the graham cracker by dipping the marshmallow into the chocolate. It's your glue!


Glue down both halves of the marshmallow.


So you may notice that my marshmallows are a little wrinkly. My bag of marshmallows was a little old. Buy a fresh bag of marshmallows!!
Next you need to glue in your stick. Dip the end of the stick into the chocolate and then insert between the two marshmallows and allow to harden.


I poured my melted chocolate into a pie plate so that I had plenty of flat surface to dip into. You want a wide, shallow container.
After your glue job has set you are ready to dip the graham cracker into the chocolate. I dip the back side in first.


Turn it over and dip the front in. You may need to use a spoon to fill in the chocolate a bit if it doesn't cover totally. Tap it gently to remove excess chocolate.


Before the chocolate sets up sprinkle with your topping of choice. Maybe some candy cane.
Or chocolate jimmies!


Lay them onto wax paper to set up and harden.


If you are in a hurry you can put them in the refrigerator and they will harden faster.


I added a little ribbon to the stick to dress them up a bit.

Add a little plastic bag (available in the cake decorating section of the craft store) over your S'more on a Stick, tie with a piece of ribbon and you are ready for gift giving season!


Enjoy finding the pretty and delicious in your day!
S'mores on a Stick
Ingredients
Graham Crackers 1 square per s'more
Large Marshmallows 1 per s'more
Chocolate and White Chocolate Melts
Crushed candy cane mini marshmallows and or jimmies
Lollipop Sticks
Instructions
Break graham crackers into squares and cut marshmallows in half.

Melt chocolate in microwave.

Dip marshmallow half into chocolate and "glue" both halves to the graham cracker square.

Dip end of stick into melted chocolate and insert between the marshmallow halves and allow chocolate to harden.

Dip back side of s'more into melted chocolate and then the front side. Tap off excess chocolate.

Sprinkle with topping of choice

Set on wax paper to dry and harden.
Enjoy finding the pretty and delicious in your day!
Leigh Anne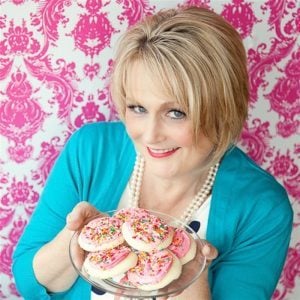 You can also visit me on Facebook, Pinterest, Twitter or Instagram.
For more pretty and delicious ideas please come visit me over at Your Homebased Mom.  I am all about making things easy and doable in the kitchen.  I love sharing some of my quick and easy tips including my Perfect Pie Crust Tutorial, 60 Minute Cinnamon Rolls and 30 Minute Dinner Rolls!