Chocolate Covered Oreos are quick and easy to make and add a festive touch to any party. Use whatever color candy coating you want to match your cookies to your party color scheme.
Other favorite desserts that use Oreo cookies include this amazing Cookies and Cream Ice Cream, Oreo Cupcakes and make your own Homemade Oreos with this recipe.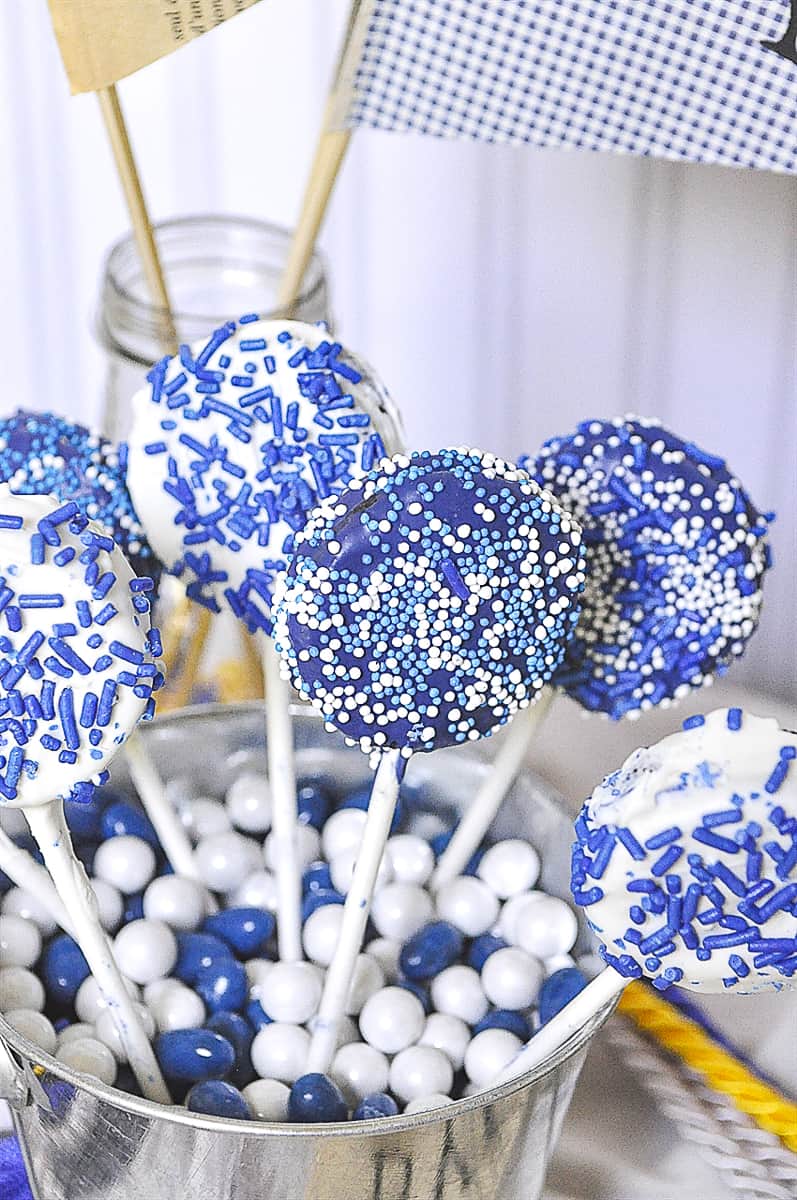 These chocolate dipped Oreos add a festive touch to any party you serve them at. They are a fun way to tie in the color scheme of your party or holiday. I also love wrapping them up and giving them as gifts at the holidays.
How to Make Chocolate Covered Oreos
Supplies needed:
Carefully remove one side of the cookie. There will be breakage but that's o.k., you can still use them. The chocolate coating will cover a multitude of mistakes.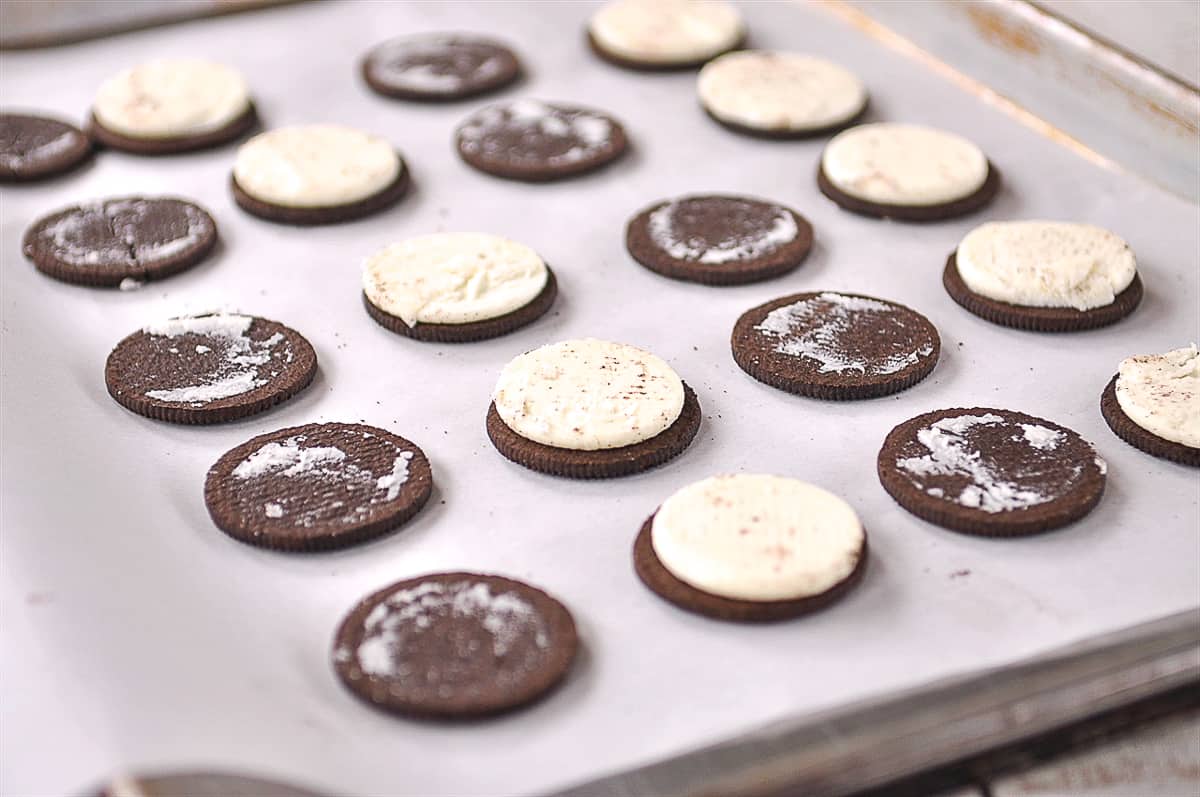 Melt your chocolate. I do mine in the microwave but it can also be done on the stovetop.
Add a dollop of the melted chocolate to the cream filling and gently press the lollipop stick into it.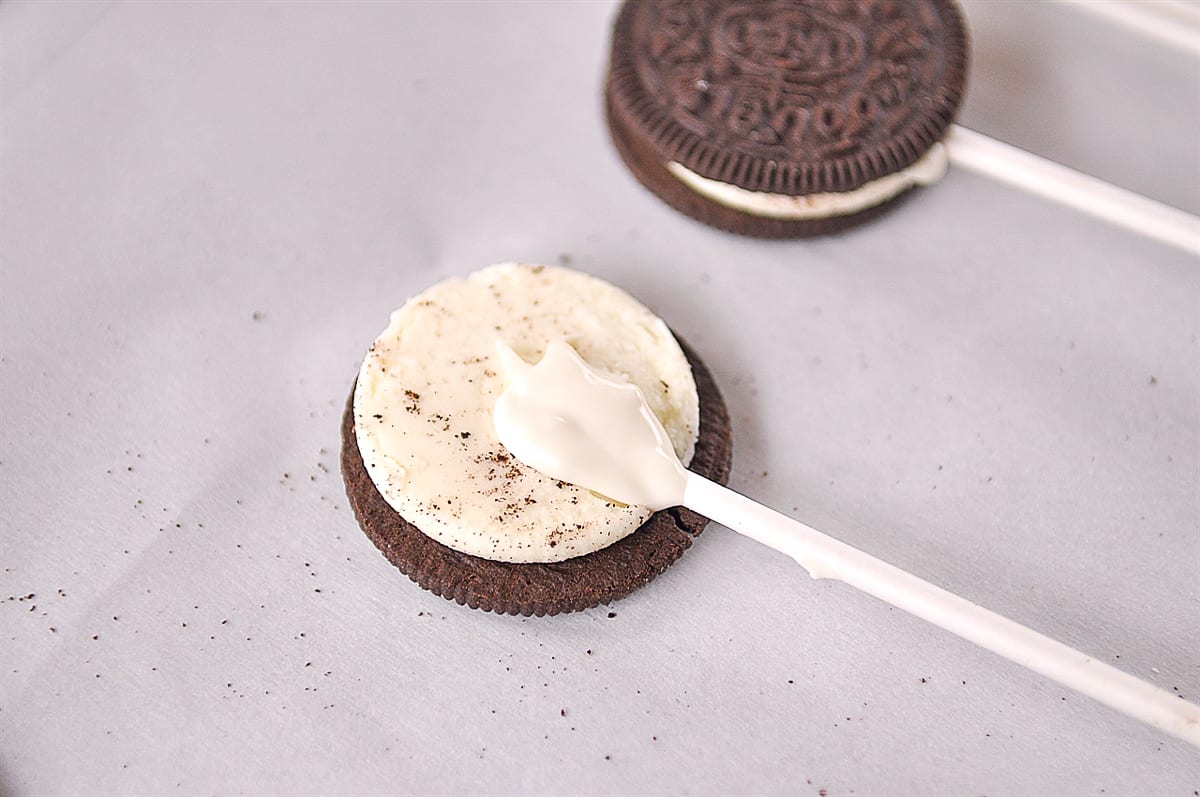 Place the other half of the cookie on top and press gently down. Again, prepare for breakage. Note the broken cookies in the photo below. The melted chocolate will hold the cookie together as it sets up.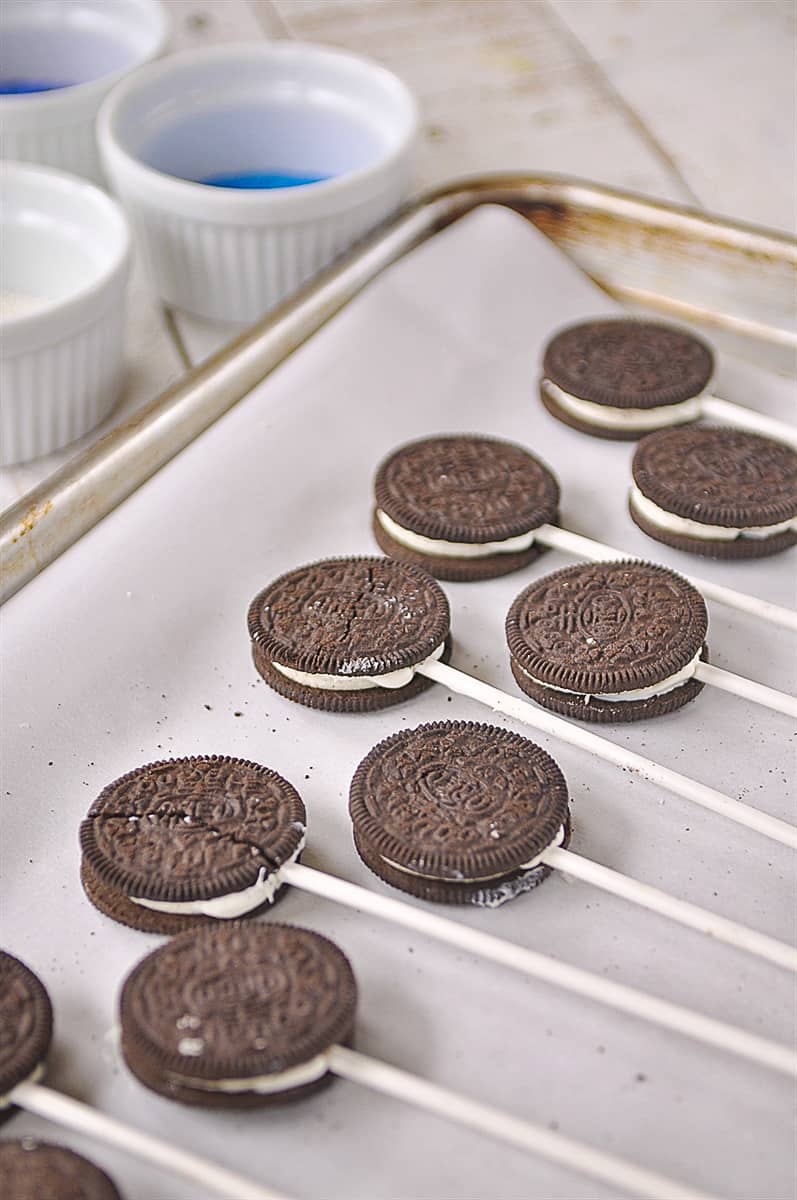 Dip cookie lollipop gently into the melted chocolate, covering both sides. I used a spoon to scoop the chocolate up to help cover better. My chocolate may have been a bit thick so it didn't cover really smoothly but that is o.k. because the sprinkles covered it up!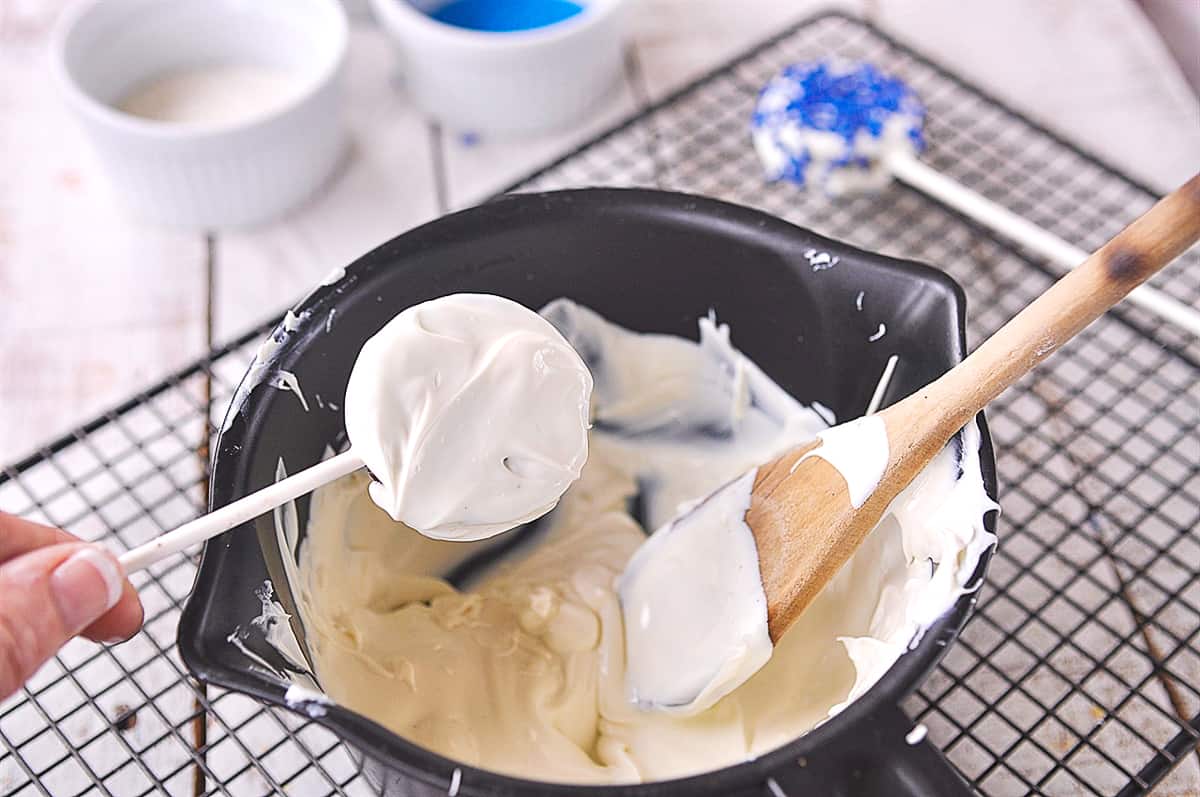 Add your sprinkles in the color of your choice.
Place them on a wire cooling rack or you could also place them on parchment paper. I had a bit of a problem getting them off the cooling rack so I recommend the parchment paper. Allow chocolate to harden completely before removing.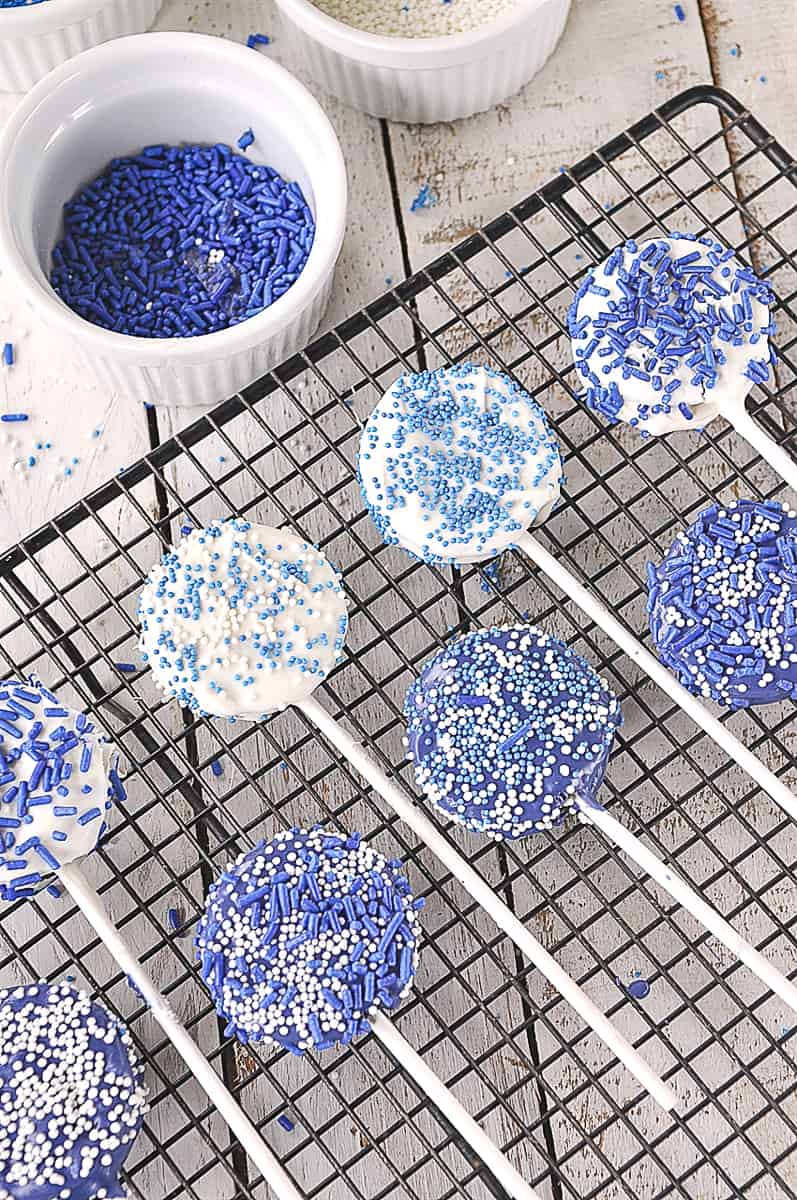 Can I Use Chocolate Chips Instead of Candy Coating?
You can but I find that the candy melts or a good quality melting chocolate works best. Chocolate Chips don't melt as smoothly as the melts do and make dipping more difficult.
If you find your chocolate or melts are too thick for easy dipping, add a little vegetable oil to the chocolate to thin it out.
School Colored Chocolate Dipped Oreos
I was making these for my daughter's college graduation party so I used her school colors – blue and white.
The chocolate dipped Oreos became part of the decorations for our graduation party when I filled a little bucket full of blue and white candy, I used Blue Jelly Bellies and White Sixlets and placed the Cookie Lollipops in there adding in some cute little BYU pennants too.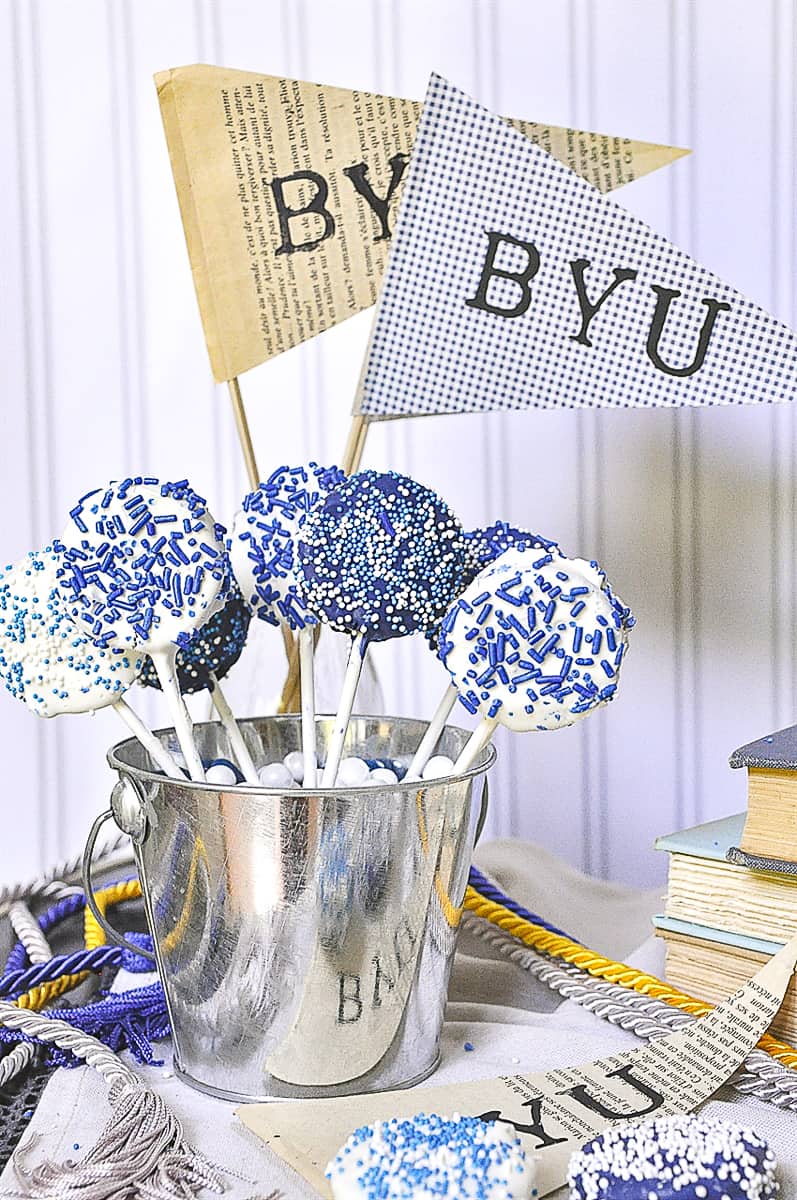 Chocolate Covered Oreo Variations
There are so many possibilities and variations you can do.
I love making them for holidays too. For St. Patrick's Day I did a slight variation where I only dipped half of the cookie into the chocolate. It's a little quicker and easier and I didn't mess with putting them on sticks.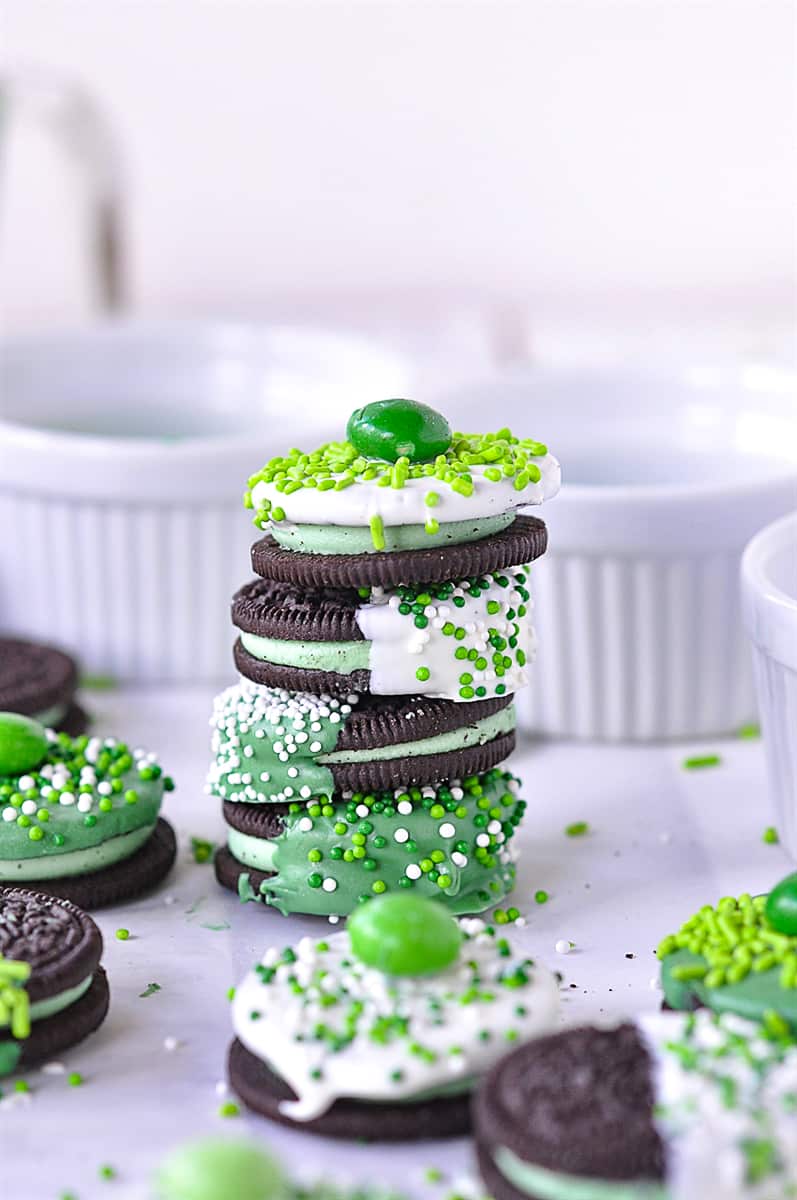 I've also made them for Valentines day by dipping them into pink chocolate and adding pink sprinkles.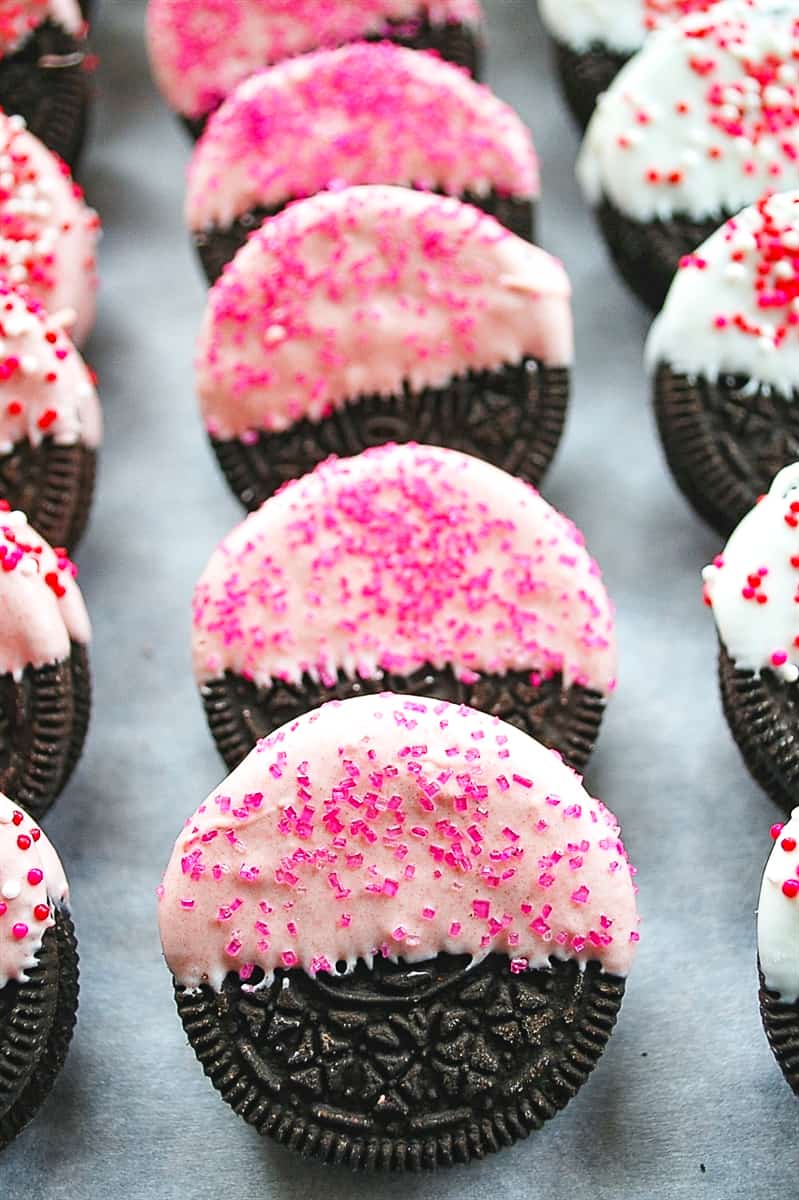 How Long Will Chocolate DIpped Oreos Last?
If you keep them in an airtight container they can last up to two weeks but they always disappear before that at our house.
For all my other favorite kitchen products and tools visit my Amazon Store.
Did you know I wrote a cookbook? Check out the Holiday Slow Cooker Cookbook for 100 delicious recipes.
Be sure and follow me over on You Tube for weekly cooking demos.
Chocolate Covered Oreos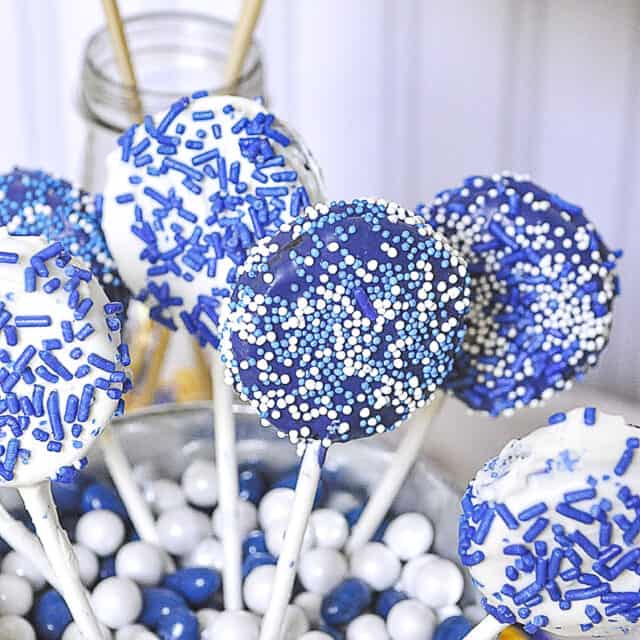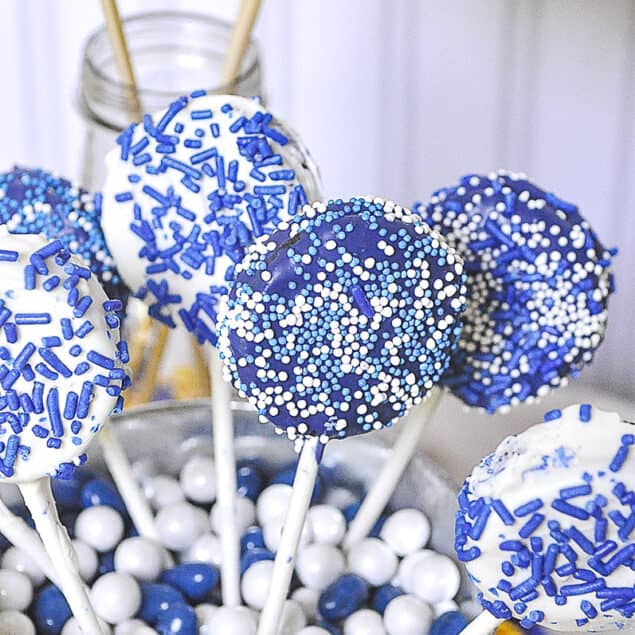 Chocolate Covered Oreos
Chocolate Covered Oreo Cookies are perfect for any occasion and can easily be decorated to match any theme.
Ingredients
30 Double Stuff Oreos 1 package
1 lb. Wilton Candy Melts
Sprinkles
Lollipop Sticks
Instructions
Remove top of cookie.

Melt chocolate.

Melt chocolate and place a dab on the cream filling of the cookie and gently press a lollipop stick into it.

Top with the other half of the cookie.

Allow to set up.

Gently dip into melted chocolate covering all sides.

Add sprinkles.

Place on parchment paper or wax paper and allow to harden.
Nutrition Facts:
Calories: 90kcal (5%) Carbohydrates: 13g (4%) Protein: 1g (2%) Fat: 4g (6%) Saturated Fat: 2g (13%) Polyunsaturated Fat: 1g Monounsaturated Fat: 1g Trans Fat: 1g Sodium: 62mg (3%) Potassium: 26mg (1%) Fiber: 1g (4%) Sugar: 9g (10%) Vitamin A: 1IU Calcium: 3mg Iron: 1mg (6%)
* Disclaimer: All nutrition information are estimates only. Read full disclosure here.